Christine Bell | Happy Fall

September 25, 2013
AVAILABLE

September 2013
On Sale: September 23, 2013
ISBN: 1622663187
EAN: 9781622663187
Kindle: B00EWZNC0E
e-Book
Add to Wish List

Also by Christine Bell:
Home for the Holidays, November 2016
Reforming the Rock Star, October 2014
Dirty Deal, September 2014
Fix You: Bash and Olivia Part 2, May 2014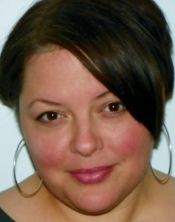 Hey Fresh Fiction readers, HAPPY FALL to you! Okay, so with my favorite time of year rolling in, I gotta tell you, I'm pretty giddy. From snuggly sweaters to sexy brown leather boots, from football Sundays to chilly nights where the wind whistles through the windows, from fat, orange autumn moons to meteor showers, from pumpkin spice flavored stuff to…MOAR PUMPKIN SPICE FLAVORED STUFF, this season rocks. One of the best parts about it for me is Halloween, so when the Entangled Brazen folks said they wanted to do a collection of Halloween books this year, I was all about it.
Dirty Trick is about a SWAT commander named Patrick (Trick for short, because Halloween :oD) Mathews who lives in Salem Massachusetts (naturally) and is madly in love with his neighbor and best friend, Grace Love. Only Grace sees Trick as a player (because, until about six months ago, he was. Then he realized that she was everything he wanted in a woman, and now she is all he can see). Now Trick needs to figure out how to change her mind about him.
Grace Love owns a matchmaking company (because what else would someone with the last name "Love" do, right?) and has a sort of witchy sixth sense when she sees people who are destined to be together. Except the only time her tingles start tingling are when she's around Trick. That can't be right, because he would never settle down, and she would never put her already battered heart on the line for a guy with a revolving bedroom door like him, no matter how much she'd like to.
So in order to get the chance he needs with her, Trick takes advantage of Salem's most revered holiday and dresses in costume to seduce her as a stranger. Needless to say, things don't go quite as smoothly as he hopes.
Today, I spoke with Trick and he wanted to give you his top 10 list of this season's must haves!
10. Sam Adams Octoberfest beer. Up here in New England, it's a staple this time of year.
9. Apple cider
8. Hot sex


Christine: Well, that's not really a seasonal thing, it's just-
Trick: Right, but it's a must have. Any time of year. And you asked for my must haves, so…*shrug*
Christine: -_-

7. Fantasy Football
6. Hiking with the dogs
5. Real football
4. My gun

Christine: Again, not exactly sea-
Trick: *stare down*
Christine: *sigh* Fine. Whatever. It's your rodeo, I guess.

3. Beef stew
2. A good costume. Here in Salem, they skewer you if you come half-assed.
1. Gracie Love. All day, every day.
So there you have it, Trick's must haves. What about you, readers? What can you not live without this time of year?
Comments
42 comments posted.
Re: Christine Bell | Happy Fall

I wish I could say it was my pumpkins for pie or some other fresh garden produce. I have some really fun recipes. But I have to go with my allergy medicine; with the dust from harvest & the pollen still around I can't live with out it.
(Laura Gullickson 1:34am September 25, 2013)
A nice warm blanket, a big over sized chair, a comfy pair of
sweats, a glass of wine and a great book. This is my idea of
comfort...
(Sandie White 4:26am September 25, 2013)
Pumpkin soup. A co-worker taught me to use coriander as a spice for the
soup rather than nutmeg. Yum, it gives it an Asian flavour kick. I also
need a warm comfy spot and a good book to sink my teeth into.
(Chris Coulson 4:42am September 25, 2013)
Fresh apple cider. Our friends own an apple farm and make the best!
(Sue Galuska 10:29am September 25, 2013)
Fresh apples for pie.
(Wilma Frana 10:39am September 25, 2013)
pumpkin pie
(Denise Smith 10:52am September 25, 2013)
I can't do without my heated throw, my snuggly velour sweaters, making pots of homemade soups and stews, filling the house with smells of special baked goodies, curling up with a cup of hot chocolate and a good book!!
(Peggy Roberson 10:59am September 25, 2013)
HELLO CHRISTINE. YOUR NOVEL SOUNDS VERY INTRIGUING AND SEXY. I LOVE THE TITLE!!!
(Tiffany Miles 11:34am September 25, 2013)
Happy Fall! Love the colors, the cooler weather, & Halloween! Oh and have to have some pumpkin pie, apple pie and cider!
(Colleen Conklin 1:07pm September 25, 2013)
Halloween movies, apples cider, caramel apples, screaming pumpkin beer:) and anything pumpkin: roll, candles, pies!
(Lynne Pearson 1:10pm September 25, 2013)
Fresh apple pie
(Susan Tso 2:49pm September 25, 2013)
apple cider is one thing I crave in this weather the most.
(Hetal Gandhi 3:47pm September 25, 2013)
Apples !!I love them a lot plus good for you.
(Jean Benedict 4:37pm September 25, 2013)
Apples, cider and soup - any kind of soup. LOL
(Marcy Shuler 5:10pm September 25, 2013)
All snuggley on the couch, dozing, while trying to read a good book with a good cup of coffee. That's how I would like to spend my fall afternoon, but only in my dreams.
(Sheila True 5:44pm September 25, 2013)
My polar fleece blanket and a good book to read!
(Theresa Fischer 5:45pm September 25, 2013)
Caramel apples, apple pie, apple cider, pumpkin bars with cream cheese frosting, pumpkin pie, homemade soups and chowders, chili, corn bread, banana bread and burning fall scented candles, snuggling up on the couch with some great books to read in front of my fireplace. Also, love fall decorating (colors are so pretty). I don't have a Kindle so I won't be able to read your book...so don't count me in for your contest.
(Linda Luinstra 6:03pm September 25, 2013)
Fresh apple cider, homemade pumpkin cake, apple crisp, thick sweaters
and my heated throw. Congratulations on your book and thanks for the
chance to win!!!
(Linda Brennan 6:10pm September 25, 2013)
books and cooler weather. Granted books aren't always seasonal unless you read the ones that designed around the holidays but as far as I am concerned they are a must. :-)
(Larena Hubble 6:38pm September 25, 2013)
hot apple cider with cinnamon
(G. Bisbjerg 7:25pm September 25, 2013)
Hot apple cider and a crackling fire in the fireplace along with a good book! That is a cozy way to spend the season.
(Barbara Wells 7:48pm September 25, 2013)
Wow, Congrats on your new book: DIRTY TRICK. I love the hot
book cover too! During the Fall, I cannot live without my
Football and my team is the Kansas City Chiefs and my
husband loves the Dallas Cowboys. I also do not want to do
without pumpkin pie and whipped cream and hot apple cider.
Your book sounds like a fascinating book to win and read
this Fall. Thank You so much. Cecilia CECE
(Cecilia Dunbar Hernandez 8:20pm September 25, 2013)
Football, finger food (for watching football), and hot chocolate with
marshmellows (if I wasn't pregnant, this would be alcohol - to go with the
finger food and football! lol)
The book sounds great! Thanks for the giveaway!
(Becca Luman 8:41pm September 25, 2013)
Pumpkin anything, hot cider, snuggling with a good book or hubby if he's available (LOL), and college and pro football. Sadly though where I live all this comes to an end and it's snowy, icy and yucky... but I will enjoy fall while I can. And Dirty Trick sounds like just the thing I need.
(Annetta Sweetko 9:43pm September 25, 2013)
apples cider and donuts
(Debbi Shaw 10:07pm September 25, 2013)
Pumpkin pie and hot apple cider! Sitting by a fire with a great read and enjoying downtime!
(Darci Paice 10:17pm September 25, 2013)
fresh hot apple cider and turkey with homemade stuffing
(Shirley Younger 10:23pm September 25, 2013)
This is APPLE weather! Sweet potatoes, pumpkin roll, acorn squash, fluffy wool socks, wool felt clogs, wool sweaters and a turtle neck. Other than that, I dread the season because I lose my voice and get a massive upper respiratory infection.
(Marcia Berbeza 10:32pm September 25, 2013)
Hot apple cider, pumpkin pie, a cozy throw, and a good book to read!
(Bonnie H 10:49pm September 25, 2013)
I love, love, love this time of the year. When the weather gets crisp and the leaves start turning....those two things are what I love the most and oh yes, the fact that my anniversary in October 24th!!!!!! Definitely my favorite month of the year!!!! Thank you for the opportunity to win!
(Melanie Backus 10:54pm September 25, 2013)
Homemade soups, a hot cup of chai and a good book.
(Mary C 12:24pm September 26, 2013)
Fall is my favorite time and love Halloween. Only problem is the season
lasts for such a short time anymore.
(Vicki Hancock 9:35am September 26, 2013)
Zuccini bread fresh from the oven. Mmmmmm-m good. And a
copy of your latest book. Keep writing! Enjoy Fall, the prettiet time of year.
(Patricia (Pat) Pascale 10:14am September 26, 2013)
When it's cool outside, I like to snuggle under a blanket, drink hot chocolate or hot tea, and read a really good book.
(Cathy Phillips 10:29am September 26, 2013)
I absolutely love a homemade pumpkin pie with lots of whipped cream. Living in
a tropical climate, I really miss the change of the seasons and the fall leaves, as
our seasons are basically rain, hot, and less hot.
I think this book sounds like a fun read!
(Debbie Burdeen 10:38am September 26, 2013)
I love fall dinners--baked squash and ham sounds just great about now.
(Sue Farrell 2:09pm September 26, 2013)
It's hot apple cider with cinnamon, hot cocoa with marshmallow, soup, and pumpkin and apple pie.
(Kai Wong 10:57pm September 26, 2013)
Hi Christine, sweet greeting from me Ina in Indonesia.
Books, football (Barcelona is my fav), music, cellphone, Math, hot chocolate, cappucino, brownies,and apple. Just cant live with them.
(Rina Darmayanti 3:14am September 27, 2013)
I love all the Halloween books that come out.
(Mary Preston 6:36am September 27, 2013)
Halloween costumes that make me look sexy!
(May Pau 10:10am September 27, 2013)
Thanks for the amusing post! Here we say autumn, not fall, though the leaves still fall. I couldn't do without an extra layer of clothes and a good book.
(Clare O'Beara 10:14am September 27, 2013)
A warm sweater!
(Cherie Durbin 10:44am September 28, 2013)
Registered users may leave comments.
Log in or register now!