Story Garden | Happy Holidays!

December 23, 2012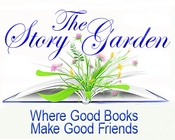 Mary Strand says: We're wrapping up a fun-filled year of the Story Garden on Fresh Fiction, and many of us right now are also wrapping gifts to put under the Christmas tree. Or, to be a bit more realistic, we're THINKING about buying gifts that we'll somehow wrap and get under the tree by, oh, say, 2 a.m. on Christmas Day. But in the midst of all that thinking and buying and wrapping for others, we decided to put a little thought into what WE would like -- as writers and readers -- under the Christmas tree this year. I got my own Christmas gift a couple months early, when I sold my first book, COOPER'S FOLLY, to Bell Bridge Books in October. Oh, happy day! If I'm allowed to be greedy and ask for more, I'd ask for books (and I still like them in real paper, not on a screen) filled with adventure and wicked humor and brainy characters and romance. And I'd ask for a trip this summer to Italy. And, for those who know me, it goes without saying that I'd ask for Hugh Jackman. What the heck: he doesn't even need to be wrapped. Ho ho ho!
Brenda Hiatt says: It's been fun sharing our thoughts and plans with you all this past year! Under my own tree, I'd love to find a voucher for unlimited travel, since that's one of my very favorite things, whether for research or not. Shoot, while I'm at it, I'll ask for a voucher for unlimited e-books, too, since I do all my reading on my Kindle these days. Oh, and either a clone of myself or several extra hours in every day, so I'll have plenty of time for work AND play!
Lynn Kerstan says: Under my Christmas tree, the tree being scarcely visible under ornaments gathered from around the world, I want to find Two Million Frequent Flyer Miles and Chris Hemsworth. Oh, and world peace.
Judith Arnold says: Under my tree, I want good books, good chocolate, and good will to all!
Kathleen Eagle says: What do I want to find under my tree Christmas morning? Well, I've been holding off on getting an e-reader, waiting for just the right one. I want a truly multi-purpose tablet thingie. I don't care about games, and I'm not interested in watching TV or movies on a tiny screen. I want to read in sunlight or pitch dark, write, listen to music, take pictures, maybe get driving directions and call people. Is there such a device yet? Everyone else in my house has multiple devices with multiple adapters that I find and stash in a drawer, where they must be plugging into each other and spawning more of their kind. So for me, one electronic device to meet all my needs, please. If it doesn't exist yet, I'll wait. Meanwhile, I'm looking forward to the imminent release (maybe in time for Christmas!) of THIS TIME FOREVER from Bell Bridge Books and ONE LESS LONELY COWBOY, a February release from Harlequin Special Edition. Visit me at http://www.kathleeneagle.com. Happy Holidays to all!
Jo Beverley says: My favourite Christmas tipple is port. I'm currently enjoying a gift of Taylor Fladgate's 10 year old Old Tawny Port. May you enjoy something as tasty! And if you're looking for a set of delightful Christmas Regency romances, try MISCHIEF AND MISTLETOE. website All joy of the season, Jo Beverley
And now a few more ideas for gifts you can put under your own tree, from the authors of the Story Garden:
Sandra Hill has a new Christmas anthology coming out any day now, SANTA VIKING.
Alicia Rasley and Lynn Kerstan have novellas in A REGENCY HOLIDAY) featuring FOUR favorite Regency authors, THREE never-before-in-print Christmas novellas, ONE beloved classic now back in print ... and a partridge in a pear tree.
Maggie Shayne is offering THE BAD ASS BRIDES COLLECTION by Maggie Shayne, a boxed e-book starter set that includes three great stories at a special holiday price! This tempting package contains FORGOTTEN VOWS, DR. DUFFY'S CLOSE ENCOUNTER, and THE BRIDE WORE A FORTY-FOUR (the image has a red ribbon). Kindle: Kindle, Nook: BN.com
Lynn Kerstan has just released book 3 of her elegant trio of Regency historicals, THE SILVER LION, available in print and e-book. The perfect aristocrat meets a mysterious woman with a dark secret... Amazon
Brenda Hiatt's Regency-set historical romance THE RUNAWAY HEIRESS captures the charm of Christmas in a delightful marriage of (in)convenience story.
Comments
13 comments posted.
Re: Story Garden | Happy Holidays!

Under my Christmas tree I would like to find books, lots and lots of books.
(Robin McKay 3:56pm December 23, 2012)
I'd like to find the DSLR camera I've been dreaming about for the last 5 years. I had 95% of the money saved for it, then came braces - bye, bye DSLR money. Oh well, we all sacrifice for our families. I will never regret spending that money, but I'll mourn for the loss of the camera. LOL
(Donna Holmberg 5:42pm December 23, 2012)
I would never turn down books.
(Wilma Frana 5:42pm December 23, 2012)
Giftcards for books!
(Mary C 7:14pm December 23, 2012)
I would like to find a Kindle Fire HD or a Nook HD with my favorite books and authors downloaded.
(Kai Wong 8:32pm December 23, 2012)
Books are always a popular present in this household. I've some good historical mysteries for my husband ... shhh....
(Clare O'Beara 10:22am December 24, 2012)
Books, books, and more books would be great or gift cards for
Amazon to buy books for my Kindle.
(Mary Christian 4:05pm December 24, 2012)
I visited a bookstore today and love books. Plus gift cards are quite handy and Starbucks was open until 7PM tonight.
(Alyson Widen 8:53pm December 24, 2012)
I always ask for books.
(Rita Wray 9:37pm December 24, 2012)
I'd love a Kindle and books,books,books.
(Gayle Pace 3:11pm December 25, 2012)
i would love to find lots of books under my tree this year along with some jewelry
(Danielle McDonald 6:23pm December 25, 2012)
Books are a family tradition. All the children and grandchildren know that
Grandpa has to have a GOOD book. The competition is fierce as they try to
outdo each other to find the RIGHT book. Our youngest daughter seem to know
what is best. She inevitably chooses the winner. (What the others have yet to
realize is that all choices are deeply appreciated.
(Sandra Spilecki 10:53am December 26, 2012)
Like Mary Strand, I love real books. But unfortunately they take up so
much room. I've had my Kindle for years and I love it. You can read alot of
free books and discover new authors. It's also great because you can
borrow from your library on Kindle (I used to live there! LOL)
(Susan Falkler 11:54am December 27, 2012)
Registered users may leave comments.
Log in or register now!