With the holidays upon us in full force, it's even more important to take some time for ourselves to sit back and mellow out with a book. One that helped me relax was THE PMS MURDER by Laura Levine (Kensington hardcover, 6/06), which continues the Jaine Austen series. This lively little murder mystery was a quick and fun read with quirky characters who tickled my funny bone -- a nice diversion from my hectic schedule.
From the number of advance reading copies (ARCs) that have been arriving recently, 2007 looks to be another great year for reading.
James Patterson is going to have a banner 2007 with six releases on the schedule: STEP ON A CRACK (in collaboration with Michael Ledwidge, February), THE 6TH NANNY (with Maxine Paetro, May), MAXIMUM RIDE (May), THE QUICKIE (with Michael Ledwidge, July), YOU'VE BEEN WARNED (with Howard Roughan, September) and DOUBLE CROSS (November). All will be released by Little, Brown & Co., a division of Hachette Book Group USA.
ROGUE'S SALUTE (MIRA), the third book in Jennifer Blake's Master at Arms series, is set to go on sale December 26, 2006. Jennifer says that six books are projected for this series set in 1840s New Orleans against the backdrop of Louisiana French Creole aristocratic society. Each story features a sword master, a dashing rogue so feared for his skill on the dueling field, he can ask for anything, except introductions to young ladies of good breeding.
Susan Mallery will have two additions to her Buchanan series in 2007 for HQN. January's title is SIZZLING, and TEMPTING is scheduled for July. Then in March, watch for her next Marcelli book, THE MARCELLI PRINCESS, a Pocket Star release. Susan will also have several category romances for the Silhouette Desire and Silhouette Special Edition lines. Wow, she is one busy writer!
Lisa Gardner taps into our most intense fears in her new suspense thriller HIDE (Bantam hardcover) set for release January 30, 2007. The plot pits two detectives against a killer who seems to have returned from the dead. When six mummified corpses are discovered in an underground chamber on the grounds of an abandoned Massachusetts mental hospital, Bobby Dodge's worst case comes back to haunt him as he fears the killer he thought dead and buried has returned.
Karen Hawkins is now writing for Pocket Books and has a new series, dubbed the MacLean Curse, coming in February 2007. Actually, the first book, HOW TO ABDUCT A HIGHLAND LORD, goes on sale January 30, 2007. Karen tells me these are Regency-era stories set in the wilds of Scotland about the ancient family of MacLeans who were cursed by a White Witch because of their natural arrogance and hot temper. Now, whenever one of them loses his or her temper, thunder crashes, lightning cracks and huge storms gather. It seems they're able to start a storm, but are unable to stop it. In order to break the curse, they must learn to curb their tempers and perform an exceptionally good deed. The first story is about the only sister, Fiona. The second book, titled FROM SCOTLAND WITH LOVE, comes out August 2007 and is about Fiona's brother, Gregor. Karen says she's already written that one and is hard at work on book three, scheduled for February 2008.
On January 30, 2007, Allison Brennan will start her second thrilling suspense trilogy for Ballantine with the release of SPEAK NO EVIL, with subsequent titles to follow in monthly installments -- SEE NO EVIL (February 27, 2007) and FEAR NO EVIL (March 27, 2007).
Also on sale January 30, 2007, is UNSCREWED (Dell), the third installment in Lois Greiman's delightfully entertaining mystery series featuring cocktail waitress-turned-psychologist Chrissy McMullen and hunky police lieutenant Rivera, who finds himself accused of murder this time around.
Earlier this year, I recommended a book by paranormal romance author Keri Arthur, called FULL MOON RISING (Spectra hardcover), featuring half-werewolf, half-vampire Riley Jensen. I'm pleased to inform you that Riley's adventures will continue in a new mass market paperback series being published by Dell starting in February with the release of KISSING SIN. This sequential back-to-back trilogy will continue with TEMPTING EVIL in March and DANGEROUS GAMES in April.
February 6, 2007, Sherrilyn Kenyon will start a new series with THE DREAM-HUNTER (St. Martin's paperback). As promotion for this series explains: In the ethereal world of dreams, there are champions who fight to protect the dreamer and there are demons who prey on them... Arik is such a predator, condemned by the gods to live eternity without emotions, only feeling when he's in the dreams of others. Arik also holds ancient secrets about the mythical isle of Atlantis, which involves him directly with Dr. Megeara Kafieri, who's continuing her late father's expedition to find the fabled place.
Nora Roberts and Jeff Guin
Originally uploaded by freshfiction.
On February 20, 2007, Nora Roberts (writing as J.D. Robb) will have another entry in her futuristic series featuring Lt. Eve Dallas and Roarke with INNOCENT IN DEATH (Putnam hardcover). This time, Eve hunts for the killer of a seemingly ordinary history teacher -- and uncovers some extraordinary surprises. However, Eve is so upset by a situation with her husband that she finds it hard to focus on her case. An old flame of Roarke's has arrived in town and he seems blind to her manipulations. Eve, of course, is not, and she does not like one bit the occasional lunches and business meetings they have together, even though Roarke claims they are quite innocent. Could Roarke and Eve's marriage be in danger of falling apart?
Stephanie Laurens' 14th novel in her bestselling Cynster series, THE TASTE OF INNOCENCE (Morrow hardcover), goes on sale February 27, 2007. Set amid the glittering ton of early 19th century England, it tells the story of Charlie Morwellan, eighth earl of Meredith, who decides it's finally time to settle down with a suitable, docile countess. But he swears he'll never allow love to control him. Unfortunately, he sets his sights on quiet Sarah Conningham, a childhood acquaintance, who will settle for nothing less than a genuine love match.
In March 2007, Linda Winstead Jones starts a new series with PRINCE OF MAGIC (Berkley Sensation). This epic romantic fantasy trilogy continues the adventures of the Fyne Witches introduced in her Sisters of the Sun trilogy (THE SUN WITCH, THE MOON WITCH, and THE STAR WITCH). The new trilogy, called Children of the Sun, will also include PRINCE OF FIRE (4/07) and PRINCE OF SWORDS (5/07), back-to-back releases from Berkley Sensation.
March 6, 2007, is the on-sale date of SUGAR DADDY (St. Martin's hardcover) by Lisa Kleypas, as this bestselling author makes her hardcover debut and moves from historical romance into contemporary women's fiction. It tells the story of Liberty Jones' rise from existing in a trailer park to living the high life in a Texas mansion, and all the hardships she endures along the way.
The next Tami Hoag thriller is set to go on sale March 27, 2007, and is titled THE ALIBI MAN (Bantam hardcover). When I contacted Tami for more info about the novel, she told me that the new book is a sequel to DARK HORSE, featuring ex-trust fund baby, ex-detective and horse trainer Elena Estes. Elena finds a friend murdered and dumped in a canal. As she investigates, she finds that her friend led a double life -- especially with a group of wealthy bad boys who give each other alibis for a multitude of sins...including murder. One of those bad boys is a man from Elena's past -- a man she knows has escaped justice at least once in his life and who turned her life in a direction that ultimately made her the screwed-up person she is today. It's set against the glamorous backdrop of Palm Beach and the world of high-stakes international polo with lots of twists and turns that include a Russian mob connection and a mentally disturbed woman.
Also set for a March 27, 2007, sale date is SIMPLY MAGIC (Delacorte hardcover) by Mary Balogh. This is the third book of the Simply quartet and tells the story of Susanna Osbourne and Peter Edgeworth, Viscount Whitleaf (Lauren's cousin in A SUMMER TO REMEMBER). SIMPLY PERFECT (Delacorte hardcover) will be the final novel in August 2007, telling Claudia Martin and Joseph Fawcitt, Marquess of Attingsborough's story (he appeared as a minor character in ONE NIGHT FOR LOVE and several other books after that). Mary says that some time later in 2008 or early 2009, she will start new five-part series of books about the Huxtable family of three sisters, their brother and their male cousin.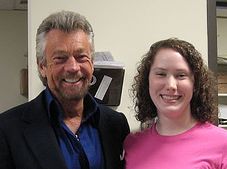 Warner Books announced in a press release October 31, 2006, that it will publish a new series of hardcover adventure novels to be co-authored by bestselling novelists Janet Evanovich and Stephen J. Cannell. If you missed reading about this deal when it first appeared November 8 in Fresh Fiction's News and Announcements, just go to Adventure Novels by Janet Evanovich and Stephen J. Cannell. You'll find the Warner press release in its entirety, as well as a link to the interview that Fresh Fiction's Gwen Reyes did with Cannell recently while he was visiting Dallas. They discuss his latest novel, WHITE SISTER, his career in Hollywood and the disability that's inspired him to make a difference.
And just to whet your appetite for a few things to look forward to farther into the future, here are some recent sales made by a few of our favorite authors. Ballantine signed Tess Gerritsen for two new books -- one is a historical thriller linking a present-day murder with a horrifying series of murders in the 19th century, while the other novel will continue her Boston series featuring Jane Rizzoli and Maura Isles. Susan Elizabeth Phillips has signed to do two more novels for William Morrow. And Roc has signed sci-fi author Jim Butcher for CAPTAIN'S FURY and two more titles, books four through six of his Codex Alera series featuring Tavi, the only one of his race to lack the magical power of the Furies.
Hope all of you have a very happy holiday season, and see you in 2007...
Tanzey
No comments posted.