Kat Martin | Why I Write

November 15, 2010
Some stories just won't get out of your head until you write them down. That's what happened to me with THE CHRISTMAS CLOCK. Earlier in my career, I had written a spicy civil war Christmas romance set around Sherman's occupation of Savannah on Christmas Eve. It was great fun to write.
This was different, much more difficult, a story concept that began with an old woman stricken with Alzheimer's and her grandson, soon to be orphaned unless she can find him a home.
I felt compelled to write this book. My husband's mother, beloved to us both, died of this terrible disease. Which is where the first inkling for THE CHRISTMAS CLOCK began.
It was an interesting concept, but every time I tried to write the book, it seemed to sputter and die. Something was missing and it didn't take long to realize that something was romance, the once-in-a-lifetime, forever kind of love that can bring a story together.
And so Syl Winters and Joe Dixon came to life, two lost souls whose once- unshakable love had been destroyed. With Syl and Joe, I had finally found the key to telling Lottie and little Teddy's tale. Still, being a different sort of book for me, it took more than two years to write and it's not a long novel.
But as I said, it's a story I needed to tell. A story that wouldn't leave me in peace until I got it down on paper. It's a heartwarming, emotional tale, the kind of Christmas miracle we all hope for in our lives.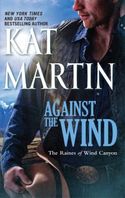 After Christmas is over, I hope you'll look for my new Raines Brothers trilogy, starting with AGAINST THE WIND, out January 1st. You can find an excerpt on my webpage
Till then, have a happy Holiday Season.
All best wishes,
Kat
Comments
62 comments posted.
I love Christmas stories and try to get 2-3 new ones each yr and this has got to be one of the best from what I read. I would love to win your The Christmas Clock. Thanks for the opportunity to enter.
(Brenda Hill 12:50pm November 15, 2010)
Hi Kat, I own the Christmas Clock book and want to tell your readers that it is very touching and well worth the read :) To me it seems different than your normal style of writing perhaps because of the real ties.
(Darci Paice 1:21am November 15, 2010)
Sounds like a book I need to read. My
dear mother-in-law also suffered
from this terrible disease and it broke
our hearts. She was robbed of time
with her grandchildren and great
grandchildren. We lost the gift of her
presence. Her two sisters also died
from it. Every time my husband has a
"senior moment", which do come more
frequently, he gets worried. I am glad
you were able to finally find the
elements to pull the story together.
Have a wonderful Holiday Season.
(Patricia Barraclough 2:13am November 15, 2010)
Your "Christmas Clock" is so very special.
Blessings,
Marjorie
(Marjorie Carmony 6:53am November 15, 2010)
My hubby's sister has had Alzheimers for three years now and does not even know her own husband or children. A Christmas miracle wish for any family who has been touched by this disease would be finding a cure.

Your book sounds wonderful. Have a happy holiday!
(Karen Gervasi 7:27am November 15, 2010)
I love Christmas stories and this sounds like such a good book. A definite read!
(Jo Legat 8:09am November 15, 2010)
I am always amazed at how long it can take for a book to be finished but, obviously it was worth it. I can't wait to read your new series.
Thankyou for writing.
(Barbara Hanson 8:28am November 15, 2010)
I always enjoy reading Christmas stories who doesn't? It's all about tradition and family and love!
(Diane Sadler 8:48am November 15, 2010)
This books is a story that came deep from within your heart. I love Christmas stores, but this one sounds very special. I am anxious to read it.
(Rosemary Krejsa 9:06am November 15, 2010)
I have read about this book and
I am glad to have a chance to
win it. I would like to wish
you the best on the book and all
that follows. Happy Holidays.
(Cynthia Plaza-Harney 10:19am November 15, 2010)
I love heartwarming stories for Christmas. Especially emotional ones, those that show that miracles can still happen in our lives and those that give us hope for the future.

Valerie
in Germany
(Valerie Bongards 10:33am November 15, 2010)
I am romantic at heart and your writing sounds like something I realy could get into
(Betty Jo Hill 12:27pm November 15, 2010)
I am a sucker for emotional books... love Christmas stories...
(Colleen Conklin 12:44pm November 15, 2010)
Wow! I am so impressed with all your wonderful comments. I live in Montana and we are just getting our first few snowflakes, which always puts me in the holiday mood. Sounds as if many of us are touched by the terrible disease of Alzheimers. A cure would be the best miracle of all.
(Kat Martin 2:49pm November 15, 2010)
Sounds like a great book. One my mom and I would both like.
Hope I win the xmas clock.
(Mary Branham 2:57pm November 15, 2010)
I had a really hard time writing this book, but when I was finished, I felt as if I had written something special.
(Kat Martin 3:32pm November 15, 2010)
Congrats on the new release, Kat. I'm a huge fan of your romantic suspense books, but "The Christmas Clock" is the perfect read for this time of year.
(Jane Cheung 3:39pm November 15, 2010)
The Christmas Clock sounds like a wonderful read. Thanks for sharing today.
(G S Moch 4:37pm November 15, 2010)
I actively seek out Christmas books at this time of year.
(Mary Preston 5:01pm November 15, 2010)
I am a fan of your books and love anything Christmas - So looking forward to reading The Christmas Clock
(Laura Miller 5:02pm November 15, 2010)
My Father had Alzheimers for
years before he passed away. A
Christmas miracle would have
been a blessing indeed.
(Betty Miles 5:08pm November 15, 2010)
the nice thing about this book is that the publisher priced it at $5.99 which is even less at Walmart. So it makes an expensive little fun gift.
(Kat Martin 5:21pm November 15, 2010)
Jane-- Glad you have enjoyed my romantic suspense books. I have 6 AGAINST books coming, which I think are some of my very best. hope you will watch for them.
(Kat Martin 5:22pm November 15, 2010)
Kat, I love your books and I'm sure that "The Christmas Clock" will be no exception.

I have two wonderful friends whose Mother's both have Alzheimers. My heart goes out to every family whose parent is dealing with this debilitating disease.
(Robin McKay 5:40pm November 15, 2010)
"The Christmas Clock" would be a great read. After reading books, I take them to the office for others to read. Everyone would love this!
(Mary Smith 5:41pm November 15, 2010)
You book looks good...
Thank you for a chance to win...
(Kelly Mueller 5:50pm November 15, 2010)
I haven't read The Christmas Clock but it sounds wonderful. Oddly enough, I just started reading your Necklace Trilogy today and I'm loving The Bride's Necklace.
(Sue Klepinger 5:50pm November 15, 2010)
Christmas Clock is definitely a family read.
Sue-- glad you are enjoying the Necklace Trilogy!
(Kat Martin 6:13pm November 15, 2010)
Oh, I know already I'm gonna cry! Can't wait to read it!
(Kelli Jo Calvert 6:13pm November 15, 2010)
I always love hearing how a story comes about and what triggers the story. Thanks for sharing yours.
(Maude Allen 6:45pm November 15, 2010)
I love reading Christmas stories and I always start reading them about this time of year, just finished one! This sounds really good!
(Gail Hurt 6:58pm November 15, 2010)
Would love to read your book The Christmas Clock.
Thanks,
Linda Leonard
(Linda Leonard 7:01pm November 15, 2010)
I ENJOY YOUR BOOKS. I'VE WATCHED LOVED ONES SLIP INTO THIS INSIDIOUS DISEASE. I HAVE HAD EARLY PARKINSON'S DISEASE FOR ALMOST 2 DECADES AND AM IN MY 50'S. I'M TERRIFIED OF GETTING ALZHEIMER'S, TOO. I CONTINUALLY DO ALL THAT I CAN TO FIGHT THE DISEASE AND I THINK I'LL WIN. THANKS FOR MANY ENJOYABLE HOURS OF READING.
(Eileen Blackmore 7:09pm November 15, 2010)
Kat, I love your books, I have yet to read a Christmas book yet but yours will be my first.
(Vickie Hightower 7:11pm November 15, 2010)
Beautiful book cover! Your books are wonderful and I appreciate every quiet moment I get to enjoy them!
(Laura Lanemann 7:48pm November 15, 2010)
I love a heartwarming Christmas tale. This one sounds great!
(Cherie Japp 8:19pm November 15, 2010)
I can tell by all the great comments that we have a wonderful, holiday-minded group. I can tell you the book will leave you feeling good, I promise!
(Kat Martin 8:50pm November 15, 2010)
i bought the christmas clock and your story has stayed with me...........loved it so much.My daughter is going to be borrowing it when she visits on thanksgiving. thank you for a lovely book.
(Natalie Kozaczka 8:57pm November 15, 2010)
I would love a book to get me in a x-mas mood
(Catherine Myers 9:49pm November 15, 2010)
I am so looking foward to getting this book. It is on my 'buy for myself' list.
(Tracy Brown 10:27pm November 15, 2010)
I really have to make it a point to read the Christmas Clock somehow this year!! My Mother passed away from Alzheimer's disease 8 years ago, and it seems like yesterday. Not a day goes by that I don't think about her, and I miss her very much. It's a cruel disease that takes away not only your mind, but your dignity. I spent the last years with not my Mom as an adult, but with my Mom as a child. I do have some good memories of her, even suffering through the disease, but wish I could have spent some "good" senior years with her. She was taken from me too soon. I'm also looking forward to your new series. Best of luck with it. It sounds very good, too!!
(Peggy Roberson 10:31pm November 15, 2010)
I love Xmas books! Count me in!!
(Brenda Rupp 10:51pm November 15, 2010)
This sounds like a Christmas story that is a little different and has some weight to it. I think I must put it on my list to read this year.
(Sue Farrell 11:24pm November 15, 2010)
i like the sound of the xmas book i love them a lot and then the booka re form the heart and best wish for yours and family
(Desiree Reilly 11:33pm November 15, 2010)
Please count me in the contest, thank you!!
(Charlotte Parscal 1:12am November 16, 2010)
It's sounds like such a beautiful, emotional story. I'd love to be added to the contest.
(Carol Buchman 1:44am November 16, 2010)
Christmas to me is always about hope and miracles. That probably why I love to read Christmas stories around this time of the year. During the rest of the year, I usually re-read any Christmas stories to keep hope alive.
(Kai Wong 2:47am November 16, 2010)
Sounds like a great book.
(Pam Howell 7:37am November 16, 2010)
I love reading Christmas stories, your book sounds wonderful.Thank you for giving me a chance to win it
(Linda Hall 9:03am November 16, 2010)
Kat -

You know how much I love all your books and I can't believe I never picked up The Christmas Clock. The story sounds fantastic and it's definately on my list to pick up to read over Thanksgiving week-end!
(Jeanne Miro 11:55am November 16, 2010)
Lots of new comments! REading them makes me want to write another Christmas book. Everyone seems to love the holidays and the Christmas stories put us in the holiday spirit.
(Kat Martin 12:32pm November 16, 2010)
Peggy-- wanted to say I understand well how it feels to lose your mother. Mine has been gone only a couple of years and I miss her every day. We got some great years together. Wish you could have had more with your mom.
(Kat Martin 12:33pm November 16, 2010)
I love a book that puts you into the Holiday spirit. sometimes i get that baa humbug who needs Christmas moment after trying to figure out what to get who for Christmas, spending money you really cant afford to spend, planning out a menu for Christmas dinner, putting up with crowed's & sending out presants to family across the states. it can put a person in a bad mood. but i'll just pop me some popcorn make me hot chocolate & snuggle up with a good christmas story. it put's me right back in the mood for Christmas. I'm reading one right now called Call Me Mrs. Miracle by Debbie Macomber I'm only on the first chapter but i'm loving it. The Christmas Clock is a wonderful heart grabbing story I just wished it was longer. I just cant seem to get enough of kat's writing.
(April Kirby 5:30pm November 16, 2010)
April-- you're a doll! so glad you are enjoying my books! new ones out Jan, Feb, March, the Raines brothers. Against the Wind is first. kat
(Kat Martin 7:02pm November 16, 2010)
Thanks for hosting this contest. I can't think of a better price to win than a good book.
(Holly Caulfield 8:38pm November 16, 2010)
Christmas stories put me in the spirit. Can't wait to read this one. Thanks for t he awesome giveaway!
(Lisa Garrett 9:13pm November 16, 2010)
I loved reading how you took an idea and turned it into a meaningful book. I would like to become a romance novelist myself, and am always looking for ways to jump start my career. Thanks for the inspiration!
(Yvonne Starlin 9:59pm November 16, 2010)
I saw the Christmas Clock today, when I picked up the The Devil's Necklace. I'll buy the Christmas Clock next, since I can relate to a loved one dying from Alzheimer's. It truly is the "long good-bye". thank you for your books. I am a real fan.
(Debra Mowatt 10:07pm November 16, 2010)
Hi, Ya'll! glad I stopped back by. Lots of new, wonderful comments. You have such a terrific group on this site. For Yvonnne...it helps to get a story in mind that you'd like to write...kind of helps move you forward. Debra-- hope you like The Devil's Necklace, its one of my favorites.
(Kat Martin 5:57pm November 17, 2010)
Oh, and everyone-- Have a wonderful Thanksgiving. love ya, kat
(Kat Martin 5:58pm November 17, 2010)
Christmas Clock sounds delightful. I can't wait to get my hands on it.
(Alyson Widen 6:39pm November 19, 2010)
I wanted to say that I just found some of your books last month (in tbr pile now). Tis one looks good for holidays :) Thanks!
(Victoria Colyer-Kerr 9:02am November 20, 2010)
Registered users may leave comments.
Log in or register now!