Tracy Weber | Five Killer Destinations on Your Orcas Island Retreat

February 16, 2015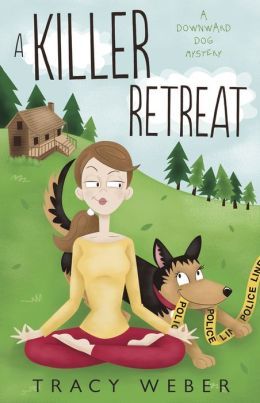 AVAILABLE
Downward Dog Mystery #2

February 2015
On Sale: January 30, 2015
Featuring: Kate Davidson
338 pages
ISBN: 0738742090
EAN: 9780738742090
Kindle: B00QVLB9MA
Paperback / e-Book
Add to Wish List

Also by Tracy Weber:
Pre-meditated Murder, January 2018
A Fatal Twist, January 2017
Karma's a Killer, January 2016
A Killer Retreat, February 2015

The books in my Downward Dog Mystery series are all set in Pacific Northwest locations that I know and love. My second, A KILLER RETREAT, takes place on Orcas Island, a small wooded treasure off the Washington coast. The island is only accessible by ferry, so once you get there, you are truly an ocean away from it all.
Of course, no writing project would feel complete without research trips, and I took more than a few. If you're ever near the Washington coast, be sure to visit my five favorite spots on Orcas. You'll be glad you did.
Tracy's Top Five Orcas Island Destinations
1. Doe Bay Resort and Retreat. This relaxing retreat center sits on 38 acres and was one of several meditation centers that inspired my vision for the Elysian Springs Resort, which is at the heart of A KILLER RETREAT. Visitors can choose from houses, cabins, tent sites and yurts. My German shepherd, Tasha, says that if you take your dog—and who wouldn't?—you should stay in Eden, the cabin right outside the garden. Tasha likes wandering along Doe Bay's trail system, resting on the beach, and staring at the deer that graze in the fields surrounding the cabin.
2. Eastsound. No vacation would be complete without wandering the streets of a quaint little town in which I can drink a margarita, browse through a local book store, and buy some can't-live-without trinket. Eastsound fits all of these needs perfectly! The pie shop I reference in A KILLER RETREAT has unfortunately closed, but be sure to check out Kathryn Taylor designer chocolates!
3. Olga. This tiny little town sits in halfway between Doe Bay and Eastsound. Its primary attractions are the Orcas Island Artworks Cooperative Gallery and Café Olga. The food is great, and I never manage to get out of the gallery without buying a memento or two. Both businesses are temporarily located in Eastsound due to a fire, but they will be back in their original location in spring of 2015.
4. Mountain Lake Trail. Wandering along this trail is Tasha-dog's favorite part of every Orcas Island vacation. The three-and-a-half-mile loop hugs the lake's coastline and is home to a variety of Northwest vegetation and wildlife. As day hikes go, it's relatively easy. Even my husband can manage to make it all the way around, so grandma and your toddler will probably be fine.
5. Pawkis. This may not be an official tourist destination, but no trip with Fido is complete without a visit to the local pet food store. This fun Eastsound business offers healthy pet food, treats, toys, and beach essentials including doggie lifejackets. For dogs with sensitive stomachs, they offer single ingredient treats like Tasha-dog's favorite, dehydrated lamb lung. (Gross!)
The above are only a small sampling of what Orcas island has to offer. Much of it can't be easily described; the rest is a forested playground of beaches, open green fields, and cliff-side ocean views. Believe me—and my yoga teacher/sleuth Kate—once you arrive, you might never want to leave.
Giveaway
Readers, leave a comment below to win either an autographed copy of MURDER STRIKES A POSE (the first in the series) or a $15 Amazon gift card. Winner's choice!
About A KILLER RETREAT
When Kate Davidson gets an offer to teach yoga classes to wedding guests at the Elysian Springs resort, she jumps at the opportunity, even though it means being forced to endure the wedding ceremony of the center's two caretakers.
Avoiding the M-word turns out to be the least of Kate's problems when a wedding guest is found floating face-down in the resort's hot tub, shortly after a loud, public (and somewhat embarrassing) fight with Kate. The police pick Kate as their number-one suspect, so she's forced to team up with boyfriend Michael, best friend Rene, and German shepherd sidekick Bella to find the real killer. But they'll have to solve the murder before the police arrest Kate, or her next gig may last a lifetime--behind bars.
About Tracy Weber
My writing is an expression of the things I love best: yoga, dogs, and murder mysteries.
I'm a certified yoga teacher and the founder of Whole Life Yoga, an award-winning yoga studio in Seattle, WA. I enjoy sharing my passion for yoga and animals in any form possible.
My husband and I live with our challenging yet amazing German shepherd Tasha and our bonito flake-loving cat Maggie. When I'm not writing, I spend my time teaching yoga, walking Tasha, and sipping Blackthorn cider at my favorite local ale house.
Comments
30 comments posted.
Re: Tracy Weber | Five Killer Destinations on Your Orcas Island Retreat

Thank you so much for hosting me here today on Fresh Fiction! I'm delighted to be able to share some of my killer destinations with readers!
(Tracy Weber 3:07pm February 16, 2015)
HI Tracy, I loved seeing your favorite vacation spot. Now
as I read the story I'll see if I recognize these
locations.
(Sheri Levy 3:43pm February 16, 2015)
The setting for the book certainly sounds appealing!
(G. Bisbjerg 6:04pm February 16, 2015)
Thanks for sharing with us today... it was great to learn about you and your books.
(Colleen Conklin 6:16pm February 16, 2015)
The place you chose to tell us about does sound heavenly,
and I would love to visit, if I ever got the chance. The
place I chose to live at is a close second, because I live
very close to a large lake, where I can walk near the
shoreline, if I need to get away, yet live in the country,
where the scenery is beautiful, and it's peaceful all the
time. I'm looking forward to reading your latest book, to
find out more about how the other side of the Country lives,
and more about the Country in general. Thank you for
letting us in about a little corner of your life. It was
very enjoyable!!
(Peggy Roberson 6:45pm February 16, 2015)
Orcas island is on my bucket list. And it has been for some time. I volunteered with a woman from that area and she said how wonderful it was. She has since moved back there. And I would love to see it some day.
(Lisa Hutson 7:19pm February 16, 2015)
Sounds like a great book, I added it to my must read list
(Teresa Noel 7:39pm February 16, 2015)
Thank you, everyone! I'm so sorry it took so long for me to reply. I had trouble seeing the comments. Thanks to those of you planning to read my book. Orcas, is truly magical. Peggy, your home sounds amazing as well. Lisa, don't wait to see Orcas. You'll love it!
(Tracy Weber 12:16pm February 17, 2015)
Thanks for sharing your destinations. They sound wonderful.
Really cute book cover. Sounds like a great book.
(Sue Brandes 8:14am February 17, 2015)
Sounds like a book Ièd really like to visit.
(Deb Philippon 10:16am February 17, 2015)
Sounds like a great book. I can't wait to read it!
(Nyala Edwards 10:36am February 17, 2015)
Doe Bay looks like my kind of place precisely...something along the lines of Sanibel Island, although, I know they are on different coasts. Please enter me to win the Amazon card..either prize would be welcomed.
(Susan Coster 4:13pm February 17, 2015)
Thanks for allowing me to enter this contest, GOOD LUCK
everyone!
(Renae Kelly 7:45pm February 17, 2015)
Your book sounds unique. Can't wait to give it a try.
(Pam Howell 7:45am February 18, 2015)
I visited Anacortes several years ago to go on a whale watching cruise but didn't get to any of the San Juan Islands. This will be another trip. The scenery in the area is gorgeous. Thanks for your tips.
(Linda Harrison 10:29am February 18, 2015)
You lucky lady! You did your research in a beautiful area.
(Anna Speed 11:35am February 18, 2015)
I like your locations-- as Dorothy L. Sayers introduced me to the world of 1930s
English advertising agencies, so you introduce me to interesting sites in the
Pacific Northwest.
(Mary Ann Dimand 1:15pm February 18, 2015)
I love reading stories set in places I recognize. Or
places, I've never been and probably will never be able
to visit.
(Irene Menge 1:32pm February 18, 2015)
My grandparents had a place in Orcas right on the sound. Oh wow
it was so beautiful fishing off the dock, eating clams right on
the beach, playing in the barn, vegetable fresh out of the
garden such wonderful memories.
(Denise Austin 4:39pm February 18, 2015)
Loved you could take your dog. I love to visit out of the way
places.
(Leona Olson 4:39pm February 18, 2015)
I really enjoy cozy mysteries. Thanks for this opportunity.
(Nancy Luebke 5:50pm February 18, 2015)
Sure hope Kate, her friends and Bella find the murderer. I love the 'who did it' books. Hope to be reading this very soon.
(Joan Thrasher 7:54pm February 18, 2015)
Orcas Island sounds like a wonderful place for a holiday, for
Tasha too.
(Jen Barnard 8:02pm February 18, 2015)
Orca Island sounds amazing! (Especially since it has a
great pet store too!) Though, I think I'd prefer to wait to
visit until high summer!
(Glenda Martillotti 8:54pm February 18, 2015)
Book sounds great, I hope to read .
(Deb Pelletier 9:44pm February 18, 2015)
Tracey, have never read any of your books, but looking forward to doing so.
Love mysteries!!!
(Julienne Brandt 11:57am February 19, 2015)
Thank you for the contest!
(S Km 1:36pm February 19, 2015)
book sounds good.
(Angela Smith 3:06am February 23, 2015)
Looks like a Funny book
(Linda Moffitt 11:56pm March 1, 2015)
I did back around Feb 10 but I don't see my post, who won?
(Sharon Sommer 4:10pm March 8, 2015)
Registered users may leave comments.
Log in or register now!