Jade Lee | WRITING JUST TO WRITE. Wait...what?

May 5, 2014
AVAILABLE
Bridal Favors #4

February 2014
On Sale: February 4, 2014
Featuring: Wendy Drew; Radley Lyncott
416 pages
ISBN: 1402283784
EAN: 9781402283789
Kindle: B00FG9GUQ8
Paperback / e-Book
Add to Wish List

Also by Jade Lee:
Almost a Scot, November 2022
Lady Scot, April 2022
Add to review list
Lord Scot, November 2021
Lyon Hearted, October 2021

A couple weeks ago, I finished my contracted book. It's a great book, coming out next year, titled (for the moment) The Duke's Cunning Plan by Jade Lee. It was a ton of fun to do, but before I dive into the next one, I decided to do something weird. I'm now writing a book just for me. I'm making it as fun and quirky as I want. No thought of contracts or market or even genre. Whatever comes out, that's what I'm writing. Now you have to understand, I've been a professional writer for two decades. The idea of creating something with no eye toward selling it? Something just for me? Well, that's...like going to your job on your vacation. Except writing isn't just a job for me, and somewhere along the road, the magic got buried under the technique and business of writing. But there is good and bad with this process.
The great thing about writing just for fun is...
A. No deadline. If I don't feel like writing today, I can sleep in and read Pride and Prejudice. (Actually, I'm listening to it in audio which is making it much more fun)
B. We've entered conference season. With Barbara Vey's luncheon just over and the Romantic Times convention just over a week away, I'm so scattered I can't think coherently, much less write. It's probably good that no one reads what I'm producing right now.
C. I am forced-I say forced-to watch all of Firefly again so that I can make all the Capt. Tightpants references I want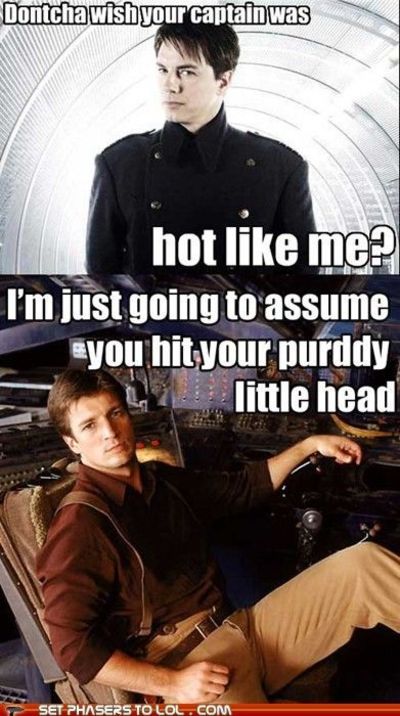 D. I giggle when I write. Yes, I actually do. Now there are lots of times when I giggle as I create my marketable books, but this time I'm actively looking for the giggle. If there isn't one, I'll go watch another episode of Castle just to make sure I've got my Nathan Fillian speech patterns down.
E. I have lusty alien frog-people in this book. And contrary to what Elizabeth Hoyt says (if you've read our twitter discussions), these green-skinned water people do not lay eggs. If I want mammalian frog-people, I can have them. In fact, they quite enjoy sex. As do the dolphin people. So there!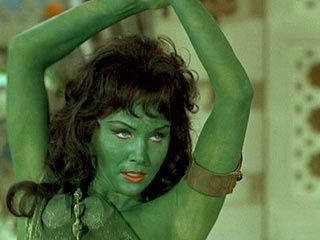 Answer: all of the above! But of course, the most important one is C. Because...hello, Captain Tightpants!
The horrible thing about writing just for fun is...
A. It's still work. Yeah, it turns out that a book just for me still needs to make internal sense, have a good love story, and use proper grammar. Who knew I was such a stickler for that stuff?
B. There's only so much Jane Austin I can listen to before I have to write something a bit more modern, that flows faster, and has...er...sex. Like lusty frog sex. (My deep apologies to the Austin fanatics)
C. I need deadlines. This no goal stuff is really hard for me. Without someone else saying, By this date or your dead, I'll just go create an evil Jason Ackles who makes me do whatever he wants. *grin*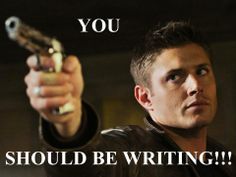 D. Despite all my posturing, the horny frog people are secondary, funny add-ins. My hero is not a frog person. Don't tell Elizabeth Hoyt. He is (in my head) Capt. Tightpants. (Yes, this is just another excuse to put up another Firefly picture. Here's the doctor who is possibly prettier than Nathan. *cringing at the thought*)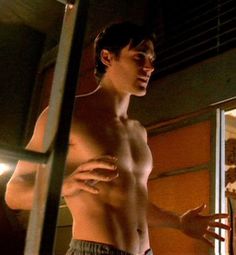 E. I have no ready answer when people ask what I'm working on now. I usually say: my next lively romp historical. Or another hot contemporary (as Kathy Lyons) for Entangled. Now I say: um, well it's this through-the-closet-door to another reality which may or may not be a delusion that has frog people who are not the hero, but a ripped Capt. Tightpants who is really too pretty to die. They either stare at me and say, what??? Or they're authors who say, cool. Just for you then, huh?
Answer: All of the above, of course. But most important is E because I'm going to conferences this summer and need a better answer.
If you get anywhere close to the right answer and you comment below, you'll get a goody bag from Jade Lee, can't wait to see what you'll get!
Comments
37 comments posted.
Re: Jade Lee | WRITING JUST TO WRITE. Wait...what?

Jade...I truly look forward to reading this "just for me" book of yours. I have several of your books already and love each of them. Have fun with this next book.
(Bonnie Capuano 9:20am May 5, 2014)
Perhaps you might be writing a bit of time-traveling book this
time where your characters go from Historical times, into
space, to meet your Capt. Tightpants. Perhaps they'll even
have sex!! oh my!! Any way you look at it, since you wrote
the book, I'm sure it will be one worth reading!!
(Peggy Roberson 9:49am May 5, 2014)
All Of The Above ALWAYS works - LOL - always the adventure, Jade!
(Felicia Ciaudelli 9:58am May 5, 2014)
"um, well it's this through-the-closet-door to another
reality which may or may not be a delusion that has frog
people who are not the hero, but a ripped Capt. Tightpants
who is really too pretty to die."

*raises hand* Uhm, can I pretty please beta read that? ;)
lol Sounds too pretty not to find a niche publisher willing
to please the niche readers like myself.

Definitely sounds like an "all of the above" type of
situation though.
(Rhianna Walker 11:42am May 5, 2014)
You gals make me smile all over!!! :)
(Jade Lee 11:56am May 5, 2014)
Green Frog-people... now Mr Tightpant's, him I can understand.
A book just for yourself that would be interesting to read.
Anecdotes from a Writers Mind. We'll just have to wait until
it is done... Keep us posted on the book
(Tina Ullrich 12:52pm May 5, 2014)
Your posts always make me smile!
(Colleen Conklin 1:04pm May 5, 2014)
this is where it should be all of the above but if I were a writer and someone asked me what I was working on I would tell them well you wouldn't believe me if I told you but I am working on more than 1 book and right now I'm thinking of life and how it works into my writing.You're so funny Jade as some of the things you talked about were so honest and I love that. Conferences would be the best for me as I could talk to others that do the same as me and then have a glass of wine or two and three later with the same ones most of them are so nice .
(Peggy Clayton 1:26pm May 5, 2014)
Happy Birthday!

I would have to say All of the above! I love your adventures
and sure hope you share this latest story with us.
(Sharla Long 2:34pm May 5, 2014)
I agree with everyone else.... All of The Above!!! I think
it's great that you are going to just 'free write' (write
whatever comes to mind). It's a good way to rejuvenate. I
am always amazed at authors like you, who have written books
for decades, and yet can still put out an outstanding read
time after time.
(QuenKne M 3:29pm May 5, 2014)
Who cares if Mr Tightpants is n it? Lol
(Michelle Schafer 4:25pm May 5, 2014)
Sorry, Captain Tightpants. Headache is doing me in today:(
(Michelle Schafer 4:26pm May 5, 2014)
I WOULD HAVE TO SAY ALL OF THE ABOVE!! I LOVE
ADVENTURES. I LOVE YOUR BOOKS THEY ARE
MARVELOUS!! KEEP WRITING THOSE FANTASTIC
STORIES!!!!!
(Shelly Caggiano 5:06pm May 5, 2014)
Well now I know why your books are good. You love all the same things I do. Your
inspirations are my daydreams so of course you write what I like. And with all your
snark and humor it makes life fun and that's what we want, isn't it? Happy writing
vacation and I look forward to your next installment :-)
(Lenna Hendershott 8:59pm May 5, 2014)
This is what I love about your writing - the unexpected, the
fun, the sex. AND All of the above!!!! I love that you are
writing just for yourself - don't you think we'll love it
too? I know I want to read it just hearing about the
oversexed frog people and Captain Tightpants! Keep on!
(Gerri Lauzon 9:42pm May 5, 2014)
Well. It sounds interesting. You could tell people it's top secret, hush hush,
if I tell you the frog people may kill you. :D
(Penny Mettert 10:35pm May 5, 2014)
I love your books because you always surprise me. I can never wait to see what you are going to do next.
(Cindy Olp 12:04pm May 6, 2014)
This post sure made me chuckle. Great pics in it.
(Laura Gullickson 12:34pm May 6, 2014)
I love that you giggle when you write a book, I love a book
that make me laugh out loud when I read it, then I have to
read the funny part to someone else so they can laugh at it
too.
(Jen Barnard 2:53am May 6, 2014)
Capt'n Tightpants and trusty sidekick Lusty Frog - who could go wrong with
this duo.....
(Chris Coulson 3:43am May 6, 2014)
If you can't have fun with writing, why bother? The answer was
obviously 'all of the above' plus extra man candy! Thanks for
the early morning laugh! :-)
(Glenda Martillotti 8:37am May 6, 2014)
I think anything with Nathan Fillion would be the correct answer, no matter the question! ;)
(Sue Galuska 9:16am May 6, 2014)
i would love Jason Ackles make me do anything he wants lol i
love man candy also i love your post very funny
(Denise Smith 9:41am May 6, 2014)
Your books are intriguing and unique. All of the above and
Patrick Stewart.
(Sharon Berger 10:30am May 6, 2014)
Writing just for fun has its good points and bad points. Writing for fun
and for yourself is great because you can truly be yourself, laugh, have
fun with it and explore new angles. On the other hand, not having a
deadline would be extremely hard to deal with after always having one
for so long. I feel that this blog post holds all the answers. It was
obviously fun to write and it gives your fans a deadline for entry.
(Rachel Collings 10:36am May 6, 2014)
I would love to write just for fun, wish I could!
(Richard Proctor 11:22am May 6, 2014)
I can't write something if I HAVE to! But when I write for
fun, I have to be in my special zone. It does help that I
love to write, so either way it does make things a little
easier!
(Maria Proctor 11:40am May 6, 2014)
all of the above
(Denise Holcomb 1:13pm May 6, 2014)
I would guess that this project might have a point--like a new
genre, perhaps?
(Janet Martin 2:09pm May 6, 2014)
Happy Belated Birthday!
Thanks for the giveaway
(Alisa Jenkins 3:14pm May 6, 2014)
Totally has to be All of the Above....
(Elaine Seymour 3:16pm May 6, 2014)
All of the above and I love the dress on the cover!
(Denise Austin 5:12pm May 6, 2014)
Are you going to release a new genre soon. Not sur about frog people.
(Carol Woodruff 7:27pm May 6, 2014)
The horrible thing about writing . The opening line. "call me
Ishmael." :-)
(Deb Pelletier 7:51pm May 6, 2014)
Am looking forward to reading this , just added it to my TBR
list.
(Sandy Haber 8:03pm May 6, 2014)
since I read 'just for fun' I imagine I would enjoy reading a
book that was written 'just for fun'!
(Diane Sallans 10:07pm May 6, 2014)
I just received notice to confirm my win for the Jade Lee Goody Bag.This is Awesome! I know I will enjoy and can hardly wait to get it.Thanks for the giveaway
(Joan Thrasher 11:08pm June 1, 2014)
Registered users may leave comments.
Log in or register now!