Virna DePaul | What's Sex Gotta Do With It?

October 9, 2011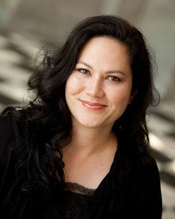 My brother is extremely proud of the fact that I'm a published author.  Yet, whenever I see him, he inevitably asks me the same question: "So, when are you going to write a real book?"  Nowadays, I just smile my beleaguered-little-sister-smile and move on, but the first couple of times, I took the bait.  "What's a real book?" I asked him.  "You know, he answered.  "Like John Grisham."
Huh.  John Grisham.  Now, I've never personally read John Grisham, but I know he's extremely successful.  He's also a former attorney who writes legal thrillers, right?  In other words, commercial fiction that's thrilling.  I, too, am a former attorney who writes thrilling commercial fiction.  So what's the huge difference?
Two words.  Romance and sex.  My debut paranormal romantic suspense series, the Para-Ops series, is about the FBI's first special ops team comprised of humans and Otherborn, creatures that include a vampire, werebeast, wraith and mage.  In CHOSEN BY BLOOD, the first book, the team parachutes into North Korea via spy plane to find a stolen antidote.  In CHOSEN BY FATE, the second book, the team travels to Los Angeles to investigate sexual assaults within the feline community.  There's lots of intrigue, twists and turns, and action in the plots.  There's so much about the books that I think my brother would really enjoy but...  But he can't get over the fact that the book is, at its core, a romance and that the hero and heroine have sex. 
Wait a second.  Guys like sex, right?  Granted, it's sex with emotion but it's still sex.  So why doesn't my brother--a guy--consider my book, which happens to have romance and sex in it, a real book?
Forget that I'm his little sister for the moment, because I really don't think that's it.  I asked a couple of my male friends for their opinion and they consistently said the same thing.  When guys read (now, this is what they told me), they don't like things to be "mixed up."  They want to know what to expect.  If they're reading a thriller, then they want a thriller.  If they are watching a comedy, they want comedy.  If they want sex, they read, watch, or have sex.  They don't want to complicate things by having to switch gears, multi-task or separate their peas from their carrots.
I confess, I'm still scratching my head.  Now, the point of this blog isn't to rant at my brother (he's proud of me and I kinda like that, even if he is misguided about literature :-)) or criticize what males read.  I'm sure there are guys who enjoy romance novels even if they don't enjoy mine.  Plus, John Grisham has fans for a reason. 
But give me everything I like, whatever it is I like'ÄĒadventure, comedy, thrills, horror--and add love and sex and hope and redemption to the mix?¬†
Now that's a real book. 
About the Author Virna DePaul is a former criminal prosecutor and now National Bestselling Author for Berkley (paranormal romantic suspense), HQN (single title romantic suspense) and HRS (category romantic suspense). Her release CHOSEN BY FATE (Para-Ops Novel 2) was released on October 4, 2011. Visit her at virnadepaul.com
Comment today to win a $10 Amazon Gift Card
Comments
50 comments posted.
Re: Virna DePaul | What's Sex Gotta Do With It?

Yes, I'm like you-- I like my books to break genre if genre's relevant. Life does, after all....
(Mary Ann Dimand 7:28am October 9, 2011)
I like merging genres. It makes for something new and different, rather than the same old same old. And I am offended for you that your brother wonders when you will write a real book.
(Pam Howell 8:53am October 9, 2011)
I like that it's more life-like and "mixed up" to use the guys
words. *smile* I'm not so sure they can keep things from
mixing up in their real lives, so why try in a book? Besides
the never knowing what to expect is part of life, part of
suspense. Geez, who realized men were still such boys? lol
(Melanie Adkins 10:49am October 9, 2011)
I agree..I like books that don't fit into just one
genre..making for a more exciting read!
Thanks for the interview..very interesting.
(Leanna Morris 11:36am October 9, 2011)
Yes, tell your brother that you have definitely written a real book!
(Timothy Younger 11:38am October 9, 2011)
I don't mind mixing genres as long as the story is engaging and the plot runs smoothly. In fact, the more unique the premise the better as I read so much after a while, they are start to sound the same. Thanks for the great post and giveaway!
(Erin Fender 11:48am October 9, 2011)
Hand your brother one of your books and ask him to read it.
(Cathy Phillips 11:49am October 9, 2011)
You might mention to your brother that I read hundreds of books a year in all different genres, yet I find it difficult to get through a Grisham novel, especially those that deal with courtrooms and the legal justice system. While I admit Grisham is an excellent writer, most of his lawyer books are dry to me.
(LuAnn Morgan 12:14pm October 9, 2011)
that is so great that you can get the one to intertwined and then they can be good or bad and then i love the cover and then would like to read the book
(Desiree Reilly 12:23pm October 9, 2011)
I love the mix of genres! I have no shame in admitting
that's what draws me to your work, you aren't a cookie
cutter cutout typically writer. When you read your books you
know and can tell how much love and time you've put into
each of them. John Grisham, I'm sure he's a great guy, but
his writing is so impersonal it does nothing for me. I love
that almost anytime of day, I can hit facebook or twitter
and you take time to actually address your readers.If they
have a question or just want to tell you how much they enjoy
your books you are there and appreciate it all. Besides
variety is the spice, and you certainly have that by the basket full! :p
(Faith Bates 12:34pm October 9, 2011)
To me you are the type of writer I like. I have tried reading Grisham, and to me his books are very dry. I can't seem to get into to them at all. I really like mysteries and thrillers, too. I guess it is a matter of taste.
(Debbie Penny 1:01pm October 9, 2011)
I am so with you on that sentiment. I hate it when people look
down on romance writers and readers, just because we like a
little (or a lot) of sex and love, it doesn't make us dumb!
Besides it's much nicer to have a happy ending :D
(Ilona Fenton 1:04pm October 9, 2011)
I like my books to have some of everything adventure, comedy, thrills, horror love and sex and hope and redemption thats my ideal read.
(Wanda Flanagan 1:22pm October 9, 2011)
It's a real book! I like to consider myself a real reader who read multiple genres including romance. I like a mix of everything: adventure, danger, emotion, heartbreak...everyting! Everyone, each character has their own story to tell which means no story is the same and that's the best thing about books -meeting new people and learning new things.
(Na S 1:37pm October 9, 2011)
I like books that stick to one genre and ones that overlap. Romance always makes them sweeten the pace.
(Alyson Widen 1:49pm October 9, 2011)
I enjoy stories that cover more than one of my favorite genres.
(J. Lee Chase 1:53pm October 9, 2011)
I love them all!
(Barbara Hanson 2:19pm October 9, 2011)
Romance, sex, laughter! Bring them on!!!
Blessings,
Marjorie
(Marjorie Carmony 2:22pm October 9, 2011)
Men are from Mars & women are from Venus -- we're different.. I like overlap -- but I've enjoyed Grisham legals stuff and medical oriented novels.. I find the characters less dimensional than those where you find out something more about their hidden motivations.. Would it be sexist to say that girls like HEA's more than guys do?
(Cate Sparks 2:45pm October 9, 2011)
If it has romance in it... then that is a bonus for me! I enjoy different genres, but I always want to see a connection between characters...
(Colleen Conklin 3:12pm October 9, 2011)
I think it's pretty much all about labels because we are reading and watching things that we don't really think of as romance, science-fiction, etc. It's when the categories come into play confusion begins for some.
(Leni Kaye 3:22pm October 9, 2011)
Love all types of books. Reading is my hobby of choice.
(Grace Irelan 3:31pm October 9, 2011)
Men are just wired differently. I very much like books that aren't such cookie cutter, follow the formula everyone else does genre. A whole new mix of things is quite refreshing.
(Heidi Durham 3:45pm October 9, 2011)
I think men are visual..like its too hard for them to get "stimulated" by a
book that contains romance, adventure, and sex - but a movie, they will
watch. Don't be too hard on your brother, he doesn't know better, he's
wired differently. Great job on your book.
(Carla Carlson 3:50pm October 9, 2011)
Tell your brother that romance novels outsell other genres. Evidently a lot of us consider them "real" books.
(Cheryl Castings 4:09pm October 9, 2011)
I'm very interested in reading your book and see how you can combine romance, mystery, and sex with vampires all in one novel.
(Marilyn Legault 4:11pm October 9, 2011)
John Grisham - who's he? Never read one of his books. Not
something I'm interested in. Now, give me a book that
overlaps genres, has me twisty, turny, with some heat. Yep,
that I'm reading!
(Cynthia Netherton 4:22pm October 9, 2011)
I like mixing genres--variety is nice and throwing in the romance and sex always adds the spice and intrigue, often with a little mystery and humor. Guess men a shallow when it comes to what they read; women like variety, and that's why they can multi-task so much better than a man! Your brother is somewhat clueless, since most women are not crazy for his favorite or highly-recognized author, John Grisham. It's best to stick with what your gut tells you is best in your writing, especially since women are usually right and do more reading than men! Good luck with your new books!
(Linda Luinstra 4:31pm October 9, 2011)
I think it's fun to read all sorts of genres--so why not combine them too.
(Sue Farrell 4:50pm October 9, 2011)
I actually enjoy a book much more when there are elements from a few
different genres in them. Books without at least a touch of romance tend
to seem too flat to me. Congratulations on the release of your new book,
Virna!
(Debbie Burdeen 5:47pm October 9, 2011)
Men aren't much known for their multi-tasking lol. Women do it all the time. That's how I like my reading too. I love the fact that there are a lot of mixed genres out there and when there is romance too - that is an added bonus.
(Jeanne Sheats 6:10pm October 9, 2011)
The main reason that men can't handle sex in a book is because they're simple-minded. I don't mean it as an insult. It's just the way they're brain is wired. When they're reading a book, they have to keep their brain focused on one topic at a time or they get confused or lose interest very fast. They seem to forget about the James Bond series that does have the sexy scenes in it, however. lol I haven't heard of any book with your type of theme in it, nor do I believe I will in the future. You peaked my interest in reading them, and if I enjoy it as much as I think I will, I'll be sure to pass it along to my Husband to read. Perhaps if you tell your Brother your books aren't "Chick Lit," he'll give them a try.
(Peggy Roberson 6:57pm October 9, 2011)
LET'S CONSIDER THE SOURCE OF THE CRITICISM AND LEAVE IT AT THAT!
(Silvana Moscato 7:10pm October 9, 2011)
SOUNDS LIKE A GREAT BOOK AND I CAN'T WAIT TO READ!!!
(Jennifer Beck 8:01pm October 9, 2011)
I think all books are a mix of genres when it comes right down to it. Without this mix they would be a bit one dimensional.
(Mary Preston 8:29pm October 9, 2011)
I like alittle bit of this and alittle bit of that, when reading.
(Deb Pelletier 8:52pm October 9, 2011)
Continents, countries, all jurisdictional units, humans, occupations, religions, emotions are variant simultaneously. Thus, following life, art also needs be varietal. Therefore, a successful novel requires only appreciative readers/listeners without gender or genre consideration. That brother is proud of the author is sufficient.
(Carla Schuller 8:53pm October 9, 2011)
I'm with you...would love to have genres I like blended together.
(G. Bisbjerg 9:20pm October 9, 2011)
I have read your books, your brother is being annoying. He must not
know whata real book should be.
(Lisa Kendall 9:46pm October 9, 2011)
Ah, brothers! Tell your brother that he is looking at this all wrong. My brother has dreamed of being a published author. In recent years he has sort of decided it isn't going to happen. Because writing is WORK! A couple of months ago I introduced him to an author friend of mine. She is an actual published author. She writes "dirty" books! She was surprised by how cool he was. He basically told her that she is a published author and that is more than most writers can ever say! Plus, I bet your brother doesn't have fans that wait impatiently for his next book to come out so Pfffttt! BTW, I loved Chosen by Blood and I can hardly wait to read Chosen by Fate!
(Jennifer Beyer 10:53pm October 9, 2011)
I'm not a huge Grisham fan. I prefer books with a bit of history in them.
(Molly Wilsbacher 1:04am October 10, 2011)
I, too, like books with a bit of this, a bit of that. It's
more fun that way.

I've never read a Grisham and don't plan to. Now, if he
were to write a sci-fi or nonfic, maybe I would (I don't
trust him to write a romance).
(S Tieh 1:21am October 10, 2011)
There are not only guys who don't get romances, there are some women, too. Some of the first books I read were those my father got back in the 50s and 60s from the Doubleday Book Club. He liked history and historical novels, and the latter usually had a side of romance on the menu, though few had specific sex scenes. I don't think anybody ever made a fuss about his reading those and he never minded my reading them. Actually, historical novels are still my favorites and I think I inherited his love of both history and reading. I'm always glad if I can learn something beyond just the romantic story. Jayne Ann Krentz always had either the hero or heroine in an interesting job, from selling tin soldiers to painting in a certain style. And I learned quite a bit from those even if it wasn't history. Of course, she also has her brands of historical worlds as well as potential worlds to come as Amanda Quick and Jayne Castle.
(Sigrun Schulz 2:37am October 10, 2011)
I basically love contemps or rom suspense or a mystery - love twists.
(Pat Lieberman 7:02am October 10, 2011)
Thanks to everyone who commented! I loved reading them! Good luck to all!
(Virna De Paul 11:04am October 10, 2011)
Congrats on writing Real Books! Love your column.
(G S Moch 11:08am October 10, 2011)
O.K. I agree with you... John Grisham is a great author.. But would be so much better if there were more romance and sex in his books.
(Elizabeth Rodriguez 11:09am October 10, 2011)
I'm not a Grisham fan. He doesn't write sci-fi or paranormal fiction. Now, I wonder what he could do with a romance? I am perfectly happy with my romances.
(Angela Bartlett 6:55pm October 10, 2011)
I'm not surprised by your brother's attitude since it mirrors my husband's; romance is not a book it's a joke; Ha! what he is missing.
(Diane Sadler 7:35pm October 10, 2011)
All books are "Real" books. There is something for everyone to read.
(Grace Irelan 1:33pm October 11, 2011)
Registered users may leave comments.
Log in or register now!