Lori Brighton | The Good, The Bad, and the Ugly

June 29, 2009
AVAILABLE
Unleash the passion...

November 2009
On Sale: November 1, 2009
Featuring: Ella; Leo Roberts
320 pages
ISBN: 1420108654
EAN: 9781420108651
Paperback
Add to Wish List

Also by Lori Brighton:
To Seduce An Earl, November 2012
Wild Desire, March 2011
The Mind Readers, December 2010
The Ghost Hunter, October 2010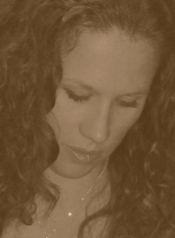 Writing about the publishing process sounded like a good idea until I realized I could write, well, a book. The process and the emotions I've experienced so far have been more than overwhelming and so to make it somewhat easier, I decided to write a simple timeline of my journey into the publishing world. So sit back, grab a bag of popcorn, and enjoy The Good, The Bad, and The Ugly of getting published. 
Summer of 2008— I get word from the Golden Acorn writing contest that my most recent manuscript, To Tame His Heart, has come in first place in the historical category and has been requested by Hilary Sares at Kensington. Although I've finaled before, this is the first time I've gotten first place and a request! Could this be my big break?
September— Months have gone by and no word from Kensington. I'm just about to give up when I get a call. Its Hilary Sares, she wants to buy my book! Attempt not to hyperventilate and immediately start emailing agents. Go with Helen Breitwieser from Cornerstone Literary because she seems the most excited about my book and my future career. Helen changes my book title from To Tame His Heart to To Tame His Wild Heart.
First set of edits—Hilary mentions that she wants the prologue gone and some minor characters removed. Do this in one day, then wait….and wait…and wait…
Hear from Helen who has recently talked to an editor at Avon publishing. Apparently there is another book coming out with Avon that is very similar to mine! Horror! I thought my plot was unique. Guess it's true, there are no unique plots. 
October— My editor Hilary changes book title from To Tame His Wild Heart to Wild Heart. I prefer my original title, but at this point too excited about selling to care.
December— Hilary writes a back cover blurb. I hadn't realized that editors write the blurbs, nor that she was working on it and am surprised but thrilled. Finally something tangible! She sends one I really like, then decides it's not sensual enough and sends another. Secretly, I like the first one better, but am too afraid to tell her.
January 26th – Finally get my advance in mail. With the advance, I commission my new favorite artist Heather at Audrey Eclectic to paint a picture of my heroine. She does a fabulous job! I also launch a website and blog. Decide to start interviewing authors on blog while waiting for my book to be released. First interview is my dear friend and cp [critique partner], Harris Channing.
January 30—Get an email from Hilary stating that she's leaving Kensington. I panic. Kensington loop goes nuts as we wonder what will happen to those of us who have Hilary as an editor. Have I come so far only to see my dream vanish? Find out that night that I'm still being published and my new editor is Megan Records. Relieved and yet sad to see Hilary go. 
February—Megan asks if I have a cover quote, preferably one from a NY Times best seller. Quote? What quote? For what?!!! First I hear of needing a cover quote. Frantic, I email a few NY Times best sellers and politely beg for a quote to put on the cover of my book. They politely decline. 
March—Success! Megan somehow manages to get quote from Hannah Howell: "A first-class debut. Lori Brighton is a bright new voice to watch closely."
I think I love Hannah Howell.
Fellow Kensington author Kimberly Killion emails to tell me my book is up on Amazon….bad news…it's under my real name! Horror! My secret identity will be revealed to the public! Frantic, I email Megan. She contacts Amazon with name change. Crisis diverted. Secret identity remains a secret…world is safe, at least for another day.
March 12th—Get email from editor Megan. My cover is done! Takes me 10 minutes to open attachment as I'm too nervous to open it immediately. I open attachment. It's beautiful, but…realize hero and heroine have wrong hair color! Horrified, I email Megan. She tells me it's too late to change their coloring, but I can change the coloring in the book. Decision time. Does the cover need to match character's description? For me, yes. 
Sad and a bit depressed, I decide to go back through the book and change my character's hair color. After talking to other authors, I realize it's quite common to have little mistakes on your cover. I feel slightly better and start looking into promo ideas. Contact blogs where I can interview. Some respond, some don't. I also look into advertizing. An advertisement in Romantic Times and RWR cost how much?!!!!!!!! There goes my advance. Is it worth? I still haven't decided.
April— Blog is going well and have had amazing guest authors. Decide to email JAK/Amanda Quick to see if she'll interview on my blog. Totally expecting a no. She says yes. OMG! I suddenly feel the pressure of interviewing world famous author!
April 16— Editor Megan emails to tell me cover flats are on their way! Apparently we get 50-75 cover flats to give out in contests and with arcs. Cover flats arrive. They're smaller than what I was expecting but its thrilling to finally hold them in my hands. I'm not quite use to my pen name and seeing it on the cover makes the book feel alien, like it's not really mine. Assume this feeling will pass when I get the actual book.
April 18—Editor Megan emails to say copy edits are coming! FedEx arrives with large package. It's a print out of my book with red marks on the pages. I feel like a pupil being reprimanded by a teacher. Apparently, I haven't a clue where a comma goes, nor do I know the difference between past and passed. Other than that, edits aren't too bad, mostly grammatical. I approve edits and send back the entire manuscript.
April— If JAK would agree to interview on my blog, who else will? Email favorite author, Julie Garwood. She says yes! Getting published and have email conversation with Julie Garwood? Life can't get any better.
June – Get an email from production editor that my final edits are coming. They arrive by FedEx. I'm to read through the book and make sure there are no mistakes. Last call for mistakes, closing time. I find only a few errors. But worry, is my book good enough? Worst part is at this point, there isn't anything I can do about it.
I send edits back. Now, I wait….
June 24th— Receive my first review from Mistress Bella Reviews… "Lori Brighton has a long career ahead of her if she keeps writing the way she is. Come November be sure to check out the release of this book. I promise you it's worth the wait!"
June 25th – Realize there are about 4 months until book comes out!
The ups and downs of getting published. Of course, there's so much more to it than that, so many emotions, that I couldn't possibly describe them all. After what I've already gone through, I can't even began to imagine what it will feel like to hold my book in hand! But most thrilling of all is the people I've gotten to know and the friends I've made.
Thanks for stopping by! Leave a comment. Two people will win a $10 gift card to Barnes and Noble and signed cover flat of Wild Heart.
Comments
37 comments posted.
Re: Lori Brighton | The Good, The Bad, and the Ugly

The cover is an eyecatcher....
Congratulations!
I'm sure it will be a thrill to finally get your book in your hands.
(Ruby Davis 1:34am June 29, 2009)
How exciting for you as you wait for your book to come out and I enjoyed reading about your publishing adventure.
(Maureen Emmons 5:56am June 29, 2009)
Lori, you are blessed with such a positive and comical attitude! I hope the next four months fly by for you!
(Amy Burge 9:29am June 29, 2009)
Cover looks gorgeous - can't wait to read it.
(Sarah Keery 9:51am June 29, 2009)
Lori
The cover is beautiful and I'm sure your story will be great too. But I never knew how much preparation there was th get published.
Good luck!
(Diane Sadler 9:59am June 29, 2009)
Excellent perspective on the first year in publishing. Your rendition, while funny, is so true than it makes me dizzy thinking about it. I've never bungy jumped, but I imagine getting published is similar. You are getting pulled into the sky...hang on...because on release day, you get to free fall. LOL
(Kimberly Killion 10:01am June 29, 2009)
Wow! This must have been a really long year for you. Glad to hear it's just about at the end. Congrats.
(LuAnn Morgan 10:03am June 29, 2009)
Lori, I had a great time reading about your adventure :) Glad to hear there's only four more months... I just pre-ordered *bg*
(Ali Flores 11:11am June 29, 2009)
What a tender cover! I'm not sure if she's melting into him, he's holding her back or claiming her heart. Thanks for showing the timeline for pub, the waiting that goes on along with the decisions, edits and more. Switching editors must have been quite a nail-biter.
(Alyson Widen 11:14am June 29, 2009)
Congrats on your success, keep it up!
(Teresa Warner 11:18am June 29, 2009)
As I was reading your blog I thought, "You know, you could have a baby in less time." But I also realized that when you book is published it is basically done. However, with a baby... :>)
Congratulations on your baby - I mean book!
(Karin Tillotson 11:31am June 29, 2009)
Wow, talk about a roller coaster ride of emotions. All I can say is don't worry about the hair color, I have found that most covers don't resemble the description of characters in the books. Good luck with your book - it will be coming out in time for my birthday.
(Judy Anderson 11:43am June 29, 2009)
Thanks so much for coming by! You guys are great!
I did luck out with my cover. Even though it was the wrong hair color, it's still beautiful. Authors don't really have a say in their covers so you never know what you'll get.
(Lori Brighton 12:16pm June 29, 2009)
It was so interesting to read this up-and-down account of your publishing adventure. How exciting, yet frustrating, for you! It will all be worth it when you hold your "baby" in your hands and see it on the shelves.
(Cheryl Castings 1:16pm June 29, 2009)
Had fun reading this. I'm looking forward to your book when it comes out. Wishing you great success!
(Edie Ramer 1:55pm June 29, 2009)
As a non-writer the publishing process is truly fascinating. Your book sounds like a great fall read.
(Cathy MacDonald 2:45pm June 29, 2009)
Congratulations on your book, hope I get a chance to read it.
(Vikki Parman 3:51pm June 29, 2009)
Can't wait to read your book.
(Robin McKay 4:27pm June 29, 2009)
Congrats on getting your book published. I would have died many times over with what you went through! You are very brave to perservere through that tumult!
(Sharla Long 6:38pm June 29, 2009)
Did you have any input on the blurb? I once read one that was wrong about a character's name and about the character. Have you finished your next book?
(Lorna Thomas 6:56pm June 29, 2009)
Congrats on your debut book and getting published! I know authors have to go through a lot but if has to be haven to have that first book in your hands. Just like a new baby.
(Gail Hurt 7:06pm June 29, 2009)
What a roller coaster ride to get your book,'Wild Heart', published. I enjoyed your account and I know I will enjoy the book! Congratulations!
(Rosemary Krejsa 7:13pm June 29, 2009)
Thanks again for stopping by everyone!

Lorna,
No, I didn't have any say on the blurb, or the cover, or the quote or the title. lol. If I really hated something, I probably would have spoken up. But usually by the time we see the final work, its too late. Which happened with my cover. By the time I saw it and realized the hair was the wrong color, it was too late to change the cover.
I'm currently working on the second book, which will involve a secondary character from the first. I'm about 50 pages from being done and very much looking forward to finishing!
(Lori Brighton 7:40pm June 29, 2009)
I just wanted to thank you all for stopping by! I so appreciate it!
If you don't win the gift card this time, make sure to check out my blog, I'm always having contests!
(Lori Brighton 10:02pm June 29, 2009)
Great cover! Look forward to reading this one!!
(Martha Lawson 11:06pm June 29, 2009)
Congratulations! A great success story!
(Sue Ahn 11:24pm June 29, 2009)
Interesting blog! You sure had a lot of emotional ups and downs. Thanks for sharing.
(Harris Channing 11:33pm June 29, 2009)
Hi Lori. Thank you for sharing your story with us. I love the cover to your book.
(Crystal Broyles 9:46am June 30, 2009)
Thanks everyone, for stopping by! I'll be contacting the winners sometime this week!
(Lori Brighton 11:13am June 30, 2009)
Thanks for sharing this post with us, Lori! :)
(Colleen Conklin 1:50pm June 30, 2009)
Hi Lori

Wild Hearts sounds so good,I love these kind of romances. Great blog today, thanks for being here,
Penney
(Penney Wilfort 12:45pm July 1, 2009)
I really like the cover, it is a moment of turning perhaps. Cool.
Congrats on your sucess and I enjoyed the blog. Thanks for sharing with us!
(Chris Jones 5:09am July 1, 2009)
Love the cover!
(Bridget Hopper 10:31pm July 1, 2009)
What trials & tribulations to get published! Congrats on your new book - the cover is beautiful.
(Cheryl Snyder 3:51pm July 3, 2009)
Congrads on being published! That must be a wonderful feeling.
(Patsy Hagen 12:38pm July 4, 2009)
Those of us who do not write have no
idea what goes on in the process to get a
book published. Thanks for the insight.
(Patricia Barraclough 10:11pm July 4, 2009)
There are very few readers who can strike a chord and stir up all of the many emotions in readers, you are one of those such readers. I throughly am tuned in and locked on to your every page, so thank you for being another of those writers whom I look forward to reading and Thank You for sharing your God given talent with the world!
(Ronald Riedel 11:11pm December 14, 2009)
Registered users may leave comments.
Log in or register now!