Into the Night
The Latest in Paranormal Romance and Urban Fantasy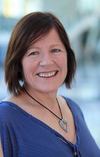 "oh no, it's over!" Have you ever had mixed feelings about a series you have read and enjoyed coming to an end? You might be relieved that the heroine gets her happily-ever-after or be thinking "No Ė there is so much more they can do!" That is exactly where I stand on the ending of Keri Arthur's Read More...
Breath of Fire by Read More...
Here in Toronto, the sun is finally out, and it looks like itís here to stay. Many people have thrown on the shorts and sunglasses, and color splashes every article of clothing and makeup. I think itís safe to say that summer is officially here. But even if it isnít quite as warm where you live, that doesnít mean you canít get ready for the hottest summer releases! June is Read More...
With the celebration of Fatherís Day this month, I wanted to take a moment here to talk about the presence of men in books. In Urban Fantasy and Paranormal Romance especially, male leads are very important to the storyline. A good hero can either make or break a book. In my reading experience, if I donít like a hero in a Romance book, thatís it. That pretty much ends all chances that Read More...
If we rewind about five or six years ago, I discovered Paranormal Romance for the very first time. The genre was about to reach its peak with the presence of vampires and werewolves on the big and small screen. Since then, however, there have been plenty more books written and released. Some follow the same tried and true trends of Paranormal Romance but others, like the ones I will recommend this week, are books that Read More...
The month of May is rife with Young Adult releases but the ones I have chosen are a little bit more special because they have that have a paranormal twist to them! If you're like me, you are looking forward to these releases. Personally, I'm a lover of both YA and PNR so whenever I find a series that combines the two, they tend to get pushed up on my TBR pile. Authors Read More...
Are you a fan of short stories or novellas? Frankly I have a love/hate relationship with them. I love them because they are a great way to discover new authors and to try out a series before investing. This is especially important for series that are long-standing (i.e. have over ten books in the series already). Short stories are also fun if you're anxiously awaiting the newest installment to your favorite Read More...
Finally we are headed into spring with the month of April but other than looking forward to the warmer weather, there's also plenty more in the book world to get excited about. April has so many releases that I've been anxiously awaiting so for this week's recommendations, I wanted to share what I plan on reading and hopefully you'll find them interesting enough to add them to your own to-be Read More...
Not too long ago, the genre blew up with paranormal stories. Readers were gobbling up these stories like they were desserts, devouring them in mere hours. As a Paranormal Romance fan myself, I was one of these rabid readers and in that time, I've found some of my all-time favorite series and authors. At the top of the pack were vampire stories. Suddenly the threatening fangs and pale skin were seen as a Read More...
This March get ready to be bombarded left and right with hot new releases that are sure to keep you spellbound for the rest of the month! All of the books I'll be talking about today will probably be familiar to you as they are written some bestselling authors. Their series have been chart toppers numerous times and been loved by many readers. But instead of talking more about each series and its characters Read More...
Scroll down and take a quick look at the covers of this weekís recommendations. What do you see? The first thing you may have noticed is that all the covers feature a strong woman. Thatís no coincidence because in the Urban Fantasy genre, itís the lead heroine that runs the show. We as the reader see the world through their eyes, making it crucial that we feel a connection to the heroine Read More...
With the quick approach of Valentineís Day, I wanted to celebrate this holiday by sharing my all-time favorite scenes in Romance. After years of reading Romance, I had so many good scenes to choose from but I will admit that it wasnít hard to pick out my top two favorites. These are scenes that constantly stand out in my mind. I remember reading them for the first time and feeling my heart Read More...
1 - 12 of 36 ( First | more Into the Night )