Gabrielle Kimm | Meet Francesca the Courtesan

May 17, 2012
The Courtesan's Lover
Gabrielle Kimm
AVAILABLE

May 2012
On Sale: May 1, 2012
Featuring: Francesca
528 pages
ISBN: 1402265883
EAN: 9781402265884
Kindle: B007INOL5C
Trade Size / e-Book
$14.99
Add to Wish List

Also by Gabrielle Kimm:
The Courtesan's Lover, May 2012
His Last Duchess, October 2011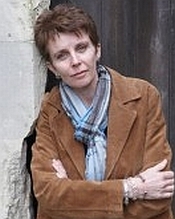 Thank you so much for inviting me onto your blog!  It's always a privilege to be asked to contribute to these wonderful readers' blogs - so much of getting known in a new country is all about word-of-mouth recommendations, I reckon, and sites like this one are just wonderful.  A bit like being at an international coffee-morning.  Sometimes hosts ask me specific questions, and at other times - like now - I'm just told to deliver the prose.  So I thought I'd tell you a bit about Francesca, my courtesan, and how she developed from her first entrance in HIS LAST DUCHESS, to taking centre stage in THE COURTESAN'S LOVER.  She makes a rather undignified entrance into that first novel, as it happens:
"Francesca Felizzi was on her hands and knees, her head and shoulders ducked under the bed and her bare backside facing towards where Alfonso sat on the big elmwood chair under the window.  It was no doubt a deliberate move, he thought, enjoying the sight, for she was certainly taking her time in finding her lost belonging."
I knew from the moment I met Francesca that she was going to be fun to write.  She is mistress to the duke of Ferrara in HIS LAST DUCHESS and is the mother of his illegitimate twin daughters - and it's the latter, I think, which provides her most compelling motivation.  She's a devoted mother, and makes many of the decisions she makes based upon how things will impact on her children.  She stays with her difficult, demanding, increasingly violent and ultimately irrational lover for as long as she does, specifically because she believes his patronage to be the only thing that will keep her daughters off the streets as they grow up.
She runs away from the duke at the end of that book, however, fearful for her safety, and sets off for Naples, determined to find a new life for her and her girls.  And this is where I picked up with her, as I began to plot out my new book - THE COURTESAN'S LOVER.  I knew that she was intending to become a courtesan - though as the book opens, she is not quite there yet.  The cortigiane oneste - the honest courtesans - were the ones to aspire to emulate.  They were wildly rich, influential in aristocratic circles and often quite notorious.  And money like that, Francesca knows, will provide security for her children.
She's doing quite well, in the opening chapters of the book - she has a number of prestigious patrons, two houses, several servants, and a wardrobe full of gorgeous dresses.  She's enjoying the admiration she receives, and quite successfully convincing herself that she is in control of her life.  She says:  I am to each of them what they most desire. That, after all, is the lot of the courtesan, is it not?  But what they none of them realise - not one of them - is that I make damned sure right from the first moment, that I decide exactly what it is that they want.  I create the desire in each one of them, and then fulfil it.  It's my choice.  Not theirs. 
She's wrong of course - and she is also wilfully ignoring one fact.  Despite the many admiring patrons, and satisfied lovers she has had in her bed over the years, she has never actually been loved.  Not even by her father.  (He - a violent alcoholic whose appalling behavior led to the death of Francesca's mother nearly fifteen years before the events of the book - is, I suppose, ultimately responsible for her having taken to the streets in the first place, so in a funny way, I have him to thank for giving me my central character!)
As it happens, though, Francesca is loved - by one unexpected character - and she has no idea at all.  But that's a whole new topic ... and you'll have to read the book to find out who it is!
Thank you again for having me - I do hope you enjoy the book.
All best
Gaby x
Comments
34 comments posted.
Re: Gabrielle Kimm | Meet Francesca the Courtesan

This sounds like a fun summer read. It's been a while since I've read a historical romance....oh, and I love the book jacket.
(Yvonne Jefferson 11:18am May 17, 2012)
Sounds intriguing!
(Lisa Elwood 11:19am May 17, 2012)
This is a new story line for me. It sounds very interesting and I am glad that she finds love.
(Kathleen Yohanna 11:30am May 17, 2012)
I must read this book now just to find out who it is that loves her.
(Sue Farrell 11:30am May 17, 2012)
Interesting! Sounds like there could be some suspenseful moments if the Duke decides to chase her down!
(Rebecca Whitehead-Schwarz 11:33am May 17, 2012)
Misterious lover!
(Roxana Perez 11:36am May 17, 2012)
sounds like my new summer read
(Debbi Shaw 11:37am May 17, 2012)
I thin that I would like to read the book and find out more about Francesca.
Blessings,
Marjorie
(Marjorie Carmony 11:48am May 17, 2012)
I like the story line. It makes me look forward to reading the book.
(Pam Howell 11:50am May 17, 2012)
It's been a while since I've read a historical that wasn't located in England/Scotland... I'm loving the cover art, also. thanks for the contest!
(Cate Sparks 11:56am May 17, 2012)
I've read several reviews now and would like to read this book.
(Nan Zahar 12:36pm May 17, 2012)
I would enjoy finding out more about Francesca and the mysterious man.
(Anna Speed 1:13pm May 17, 2012)
Sounds like a great read!
(April Kirkland 1:30pm May 17, 2012)
What a sumptuous cover. The blog reminded me of the last Italian-set book I read, The Birth Of Venus, set in Renaissance Florence amid turbulence and art. I think courtesans were a strong-minded, independent sort of woman, compared to the usual woman of her day who was in a marriage or in a convent. I hope it all ends well for the lady!
(Clare O'Beara 2:04pm May 17, 2012)
This sounds like a book I'd LOVE to read...thanks and good luck
(Bonnie Capuano 2:04pm May 17, 2012)
thanks for the giveaway. I'd love to read this book.
(Mary Hay 2:06pm May 17, 2012)
Sounds like an exciting read. :) Love the cover.
(May Pau 2:23pm May 17, 2012)
Nice cover, it's always interesting to read about these type of women and to figure out how and why they end up being courtesans. It's not always pretty as to the reasons.
Which is why they deserve to find love in the end.
(Earlene Gillespie 3:05pm May 17, 2012)
This sounds like a great book for me to read during nap time!
(Stephanie Briggs 4:34pm May 17, 2012)
Sounds like a great book to read on vacation. Thank you
(Candie Luster 5:06pm May 17, 2012)
Sounds like a really good book! Thanks for the chance to win!!
(Natasha Donohoo 5:23pm May 17, 2012)
Beautiful cover, and I love the storyline!! I'd LOVE to READ this book this summer...sounds wonderful!
(Linda Luinstra 5:55pm May 17, 2012)
this is very new i really like it the stoy sounds so interesting i would LOVE to read ir also
(Denise Smith 6:10pm May 17, 2012)
This sounds like an interesting story. The book cover also looks really good. Hope you have a great day!
(Chelsea Knestrick 6:18pm May 17, 2012)
Oh! I love Francesca already - I so want to read her stories - and thank you for sharing this with us!
(Felicia Ciaudelli 6:51pm May 17, 2012)
Love the cover! I look forward to reading this book!
(Jennifer Langford 7:10pm May 17, 2012)
It's nice to see a different side of a courtesian, (dedicated mother) adds a new light to the story, Can't wait to read it, and Thank You for the contest.
(Joy Gifford 8:59pm May 17, 2012)
I am so glad that you stopped by today!! Your first book is definately on my TBR list, and I would love to read your latest!! The story line struck a nerve, and reminded me of someone I know. I would love to read the book to find out how it ends!! I think the cover is lovely as well! Thank you again for stopping by, and for writing books from this era. I'm sure I'm going to enjoy them!!
(Peggy Roberson 9:01pm May 17, 2012)
I'm new to romance & erotica and I admit that I have not read any courtesan books. Sounds fun!
(Catherine Lee 11:32pm May 17, 2012)
I feel I need to read HIS LAST DUCHESS before I dig into this book. They both sound great with Francesca seeming so human already. I can't wait to find out who loves her. She needs to be loved. Also the cover alone would make me buy this book.
(Kathleen Bianchi 11:54pm May 17, 2012)
A new author for me. Fabulous!!
(Mary Preston 12:16pm May 18, 2012)
sounds like a great read
(Denise Holcomb 9:15pm May 18, 2012)
Sounds like an inviting read with Francesca F.
(Alyson Widen 9:21pm May 18, 2012)
Gabrielle you are a new Author for me and I'm glad I found you here at Fresh Fiction. I am definitely going to be picking up these books to catch up and then enjoy reading The Courtesan's Lover. Happy Memorial Day.
Carol L
Lucky4750 (at) aol (dot) com
(Carol Luciano 5:43am May 27, 2012)
Registered users may leave comments.
Log in or register now!