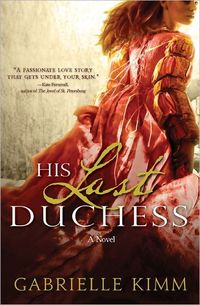 Purchase
A marriage of convenience comes with ties that bind...
Sourcebooks
October 2011
On Sale: October 1, 2011
Featuring: Lucrezia de Medici; Alfonso
416 pages
ISBN: 1402261519
EAN: 9781402261510
Trade Size
Add to Wish List

The chilling story of Lucrezia de Medici, duchess to Alfonso d'Este, His Last Duchess paints a portrait of a lonely young girl and her marriage to an inscrutable duke.
Lucrezia longs for love, Alfonso desperately needs an heir, and in a true story of lust and dark decadence, the dramatic fireworks the marriage kindles threaten to destroy the duke's entire inheritance–and Lucrezia's future.
His Last Duchess gorgeously brings to life the passions and people of sixteenth-century Tuscany and Ferrara.
Comments
47 comments posted.
Re: His Last Duchess

Enjoyed your post. I love the comments and photo of your dog. What a cutie! I look forward to reading His Last Duchess.
(G S Moch 11:47am October 27, 2011)
I feel a kinship to you as you describe your desk--mine if piled full of jumble, too---and I'm an accountant so I shouldn't be using my imagination too much but I find myself staring out my window when I need to solve a complex problem and need to think it through. Reading books like you write is one of my small enjoyments in life.
(Sue Farrell 12:20pm October 27, 2011)
WOW..WHAT A DIFFERENT EXPERIENCE YOUR LIFE IS FROM MINE; AT LEAST IN AMBIANCE! I LIVE IN THE HEART OF MANHATTAN'S THEATRE DISTRICT IN A BROWNSTONE. I , HOWEVER, HAVE MUCH THE SAME STYLE AS YOU FOR MY WRITING..EXCEPT, I HAVE GLORIOUS FELINES!
(Silvana Moscato 12:32pm October 27, 2011)
Thank you for sharing a bit about yourself with us... what a cute dog you have!
(Colleen Conklin 12:37pm October 27, 2011)
I've read a bit about your book on another blog, and it looks great! Thanks for
sharing your photo. I imagine that writing would get pretty solitary sometimes.
Thank you for the chance to win a copy of your book.
(Debbie Burdeen 12:42pm October 27, 2011)
Hi, Gabrielle! I enjoyed reading how you find that writing a book is like a
learning experience. Not knowing what you are going to write but letting it
flow naturally says to me that you have a true talent for writing. I'm sure that
the isolation of writing can be both good and bad. Being on your own while
you write must get lonely at times but I guess that's just the nature of the
beast. As long as you know that what you are doing is creating this wonderful
story to entertain many, many people has to be a big incentive to plug on.

I envy your life in Sussex. I lived in Paris for many years and got to the UK a
few times but never to Sussex. Currently, we lived in southern Florida. My
husband and I are totally hooked on everything BBC. We love all of the
mystery series and watch all of them that we can get our hands on.

Give your sweet dog a hug. What a gorgeous baby. Such an expressive face!

I look forward to reading "His Last Duchess" and wish you all the best and
continued success.
(Connie Fischer 12:56pm October 27, 2011)
Thank you all so much for your lovely comments. x
(Gabrielle Kimm 1:06pm October 27, 2011)
I like the way you approach things without a strict schedule and your dog is adorable.
(Maureen Emmons 1:49pm October 27, 2011)
I like how you described writing as a discovery of invention. I also admire the fact that you spend time teaching -- the world needs more people like you in it.
(Carla Carlson 2:09pm October 27, 2011)
I would love a little bit of your peace and quiet to write. Sounds wonderful. What a lovely dog you have to keep you company.
(Jennifer Kaleta 2:15pm October 27, 2011)
Sounds like you have a good mix in your life (other than that
rooster). Love the pooch!
(Diane Sallans 2:42pm October 27, 2011)
Your Sussex Village souns nice and peaceful. In fact, yesterday I was up in Sussex New Jersey yesterday visiting my mom in law here in the states!!!!!! I am addicted to Historical Romance and would love to read your books!!!!
(Joanne Bozik 2:44pm October 27, 2011)
Your life sounds very peaceful-other than that rooster, of course! I, too, have an untidy desk. It may have piles and stacks of 'stuff' but I know where everything is!
(Jane Limback 3:21pm October 27, 2011)
I wouldn't mind a little solitude. Whenever I pause to think a matter through someone passing through the office inevitably aks "falling asleep?". "No! I'm thinking, ever heard of it?" Lovely dog!
(Lisa Elwood 3:26pm October 27, 2011)
I love the photo of your sweet dog... those terrier eyes! I had Welsh terriers for 16 years.. sweet guys! Looking forward to your book!
(Cate Sparks 3:47pm October 27, 2011)
Gabrielle you sound like a relaxed person and I hope to kick back and enjoy your book. Congrats on the release.
(Christine Arcidiacono 4:00pm October 27, 2011)
We all have a room like your's. As George Carlin use to say it's all good junk. And that's why we can't wait to get home.
(Deb Pelletier 5:19pm October 27, 2011)
Gabrielle I love your sweet little dog. Enjoyed your post about your daily routine and your life. I'm sure the teaching a few days each month can be a bit of a challenge at time with the troubled, difficult kids (then the peace and quiet and relaxation is something to come home to and really appreciate)! It sounds like writing has it's difficult moments at times (hitting a roadblock). That's why daydreaming is a good thing and can get the juices flowing again. I often do this when I can't get to sleep or after waking up in the morning or staring out windows. I have not read any of your books yet but hope to soon.
(Linda Luinstra 6:53pm October 27, 2011)
Congratulations on you new book. How old is your dog--to be so mellow he
must be getting up there. None of my various dogs ever settled down until they
were at least 6. He is just gorgeous. Give him a scritch for me and a big hug (if
allowed). Your books are soon to be added to my TBR pile.
(Sandra Spilecki 7:22pm October 27, 2011)
Congratulations on the book. Your dog is adorable. It must be nice to have his company when you are deep into writing and not getting outside.
(Kim C 7:32pm October 27, 2011)
What a neat companion for your every mood in writing is the dog. It must keep you motivated to exercise between pages.
(Alyson Widen 8:37pm October 27, 2011)
I enjoyed reading about your day! The village sounds lovely
(even with the neighbor's rooster) and your dog is beautiful!
I'm looking forward to reading your book!
(Michele Lawrence 9:07pm October 27, 2011)
I'm so glad that you took the time out of your life to share a bit of your life on today's blog!! I have another dear friend who happens to live in Sussex as well, and I feel as if I know you almost as well. Writing isn't an easy thing to do, but you have a beautiful setting in which to write your thoughts. Teaching is also a noble profession, and my hat goes off to you. I would love to read your book, and think the cover is very well-done. Congratulations!!
(Peggy Roberson 9:11pm October 27, 2011)
A very full day. Your work look wonderful.
(Mary Preston 9:15pm October 27, 2011)
Love the dog... :) My friend works from home and he complains about the same problem... He doesn't get to talk to other people or go out as often and he does feel isolated at times... But overall, he doesn't have to put up with traffic when commuting to work so he's not complaining...
(May Pau 9:33pm October 27, 2011)
Nice post, I don't think I've ever read anything set in Tuscany.
(Lisa Kendall 10:32pm October 27, 2011)
Thanks for sharing your comments. It's always interesting to
read about an authors writing process.
(Phyllis Crabtree 10:41pm October 27, 2011)
Look forward to your books,good luck. Love your dog.
(Linda Hall 10:43pm October 27, 2011)
Book sounds good. I'm usually into Regency and Highlander periods, but I'm willing to give Tuscany a try!
(MaryAnne Banks 11:03pm October 27, 2011)
This book sounds really great and your dog is adorable.
(Jennifer Langford 1:36am October 28, 2011)
I loved your post and especially the photo of your dog, he reminds me of my old toy poodle called Sooty. He used to follow me around and sit by my feet too.
(Barbara Hanson 8:07am October 28, 2011)
Love to win a copy of the 'His Last Duchess' by Gabrielle Kimm.....and really enjoyed Gabrielle's post...such a beautiful dog to that he has................babyruthmac16@yahoo.com
(Lnda McFarland 8:21am October 28, 2011)
Thank you for sharing a bit of your life with us. I like your approach to writing. Your dog is a real cutie. Thanks for showing us the photo too. I wish I could share a day with you. Look forward to reading your book.
(Beverly Beltz 8:59am October 28, 2011)
Thank you for your time and interview. I would love a chance to win this book. Anyone who has a dog as a family member is a favorite of mine...Thank you!!!..lprater@modweldco.com
(Leisa Prater 9:18am October 28, 2011)
Great interview and congrats on the new release. Cute dog. Thanks for the giveaway and the chance to win. Would love to win and read this book.
(Chris Bails 10:38am October 28, 2011)
Hi Gabrielle, thank you for taking the time to give us a glimpse into your life. It gave me a smile for I saw my own day written there including the dog and the dog being a good reason to take a walk. I loved it, a wonderful post.
Happy Writing.
(Amy Valentini 11:32am October 28, 2011)
The description of your desk is also a description of mine. The only thing is I don't have the excuse of writing a book. Regardless, I can usually find what I need. Your book sounds interesting. I hope I win it.
(Anna Speed 12:57pm October 28, 2011)
Thanks for sharing some insights into your life as a writer!
And ... cute dog :-D !!
(Birgit Lehner 1:37pm October 28, 2011)
Hi - to answer your question, Sandra, my dog is a real old man: he is twelve and a half! x
(Gabrielle Kimm 1:51pm October 28, 2011)
Love your post!!! I know what you mean about forcing creativity. I can't do things on a schedule - it becomes work and demanding and the creative part of me rebels. I'm more the do little and think a lot. DH calls me Winnie the Pooh...
(Theresa Dunlap 2:43pm October 28, 2011)
Thanks for a wonderful post! Your "boy" is very darling :) It's nice to hear about your routine, I could never do it so I'm in awe of how dedicated you are!
(Erin Fender 3:09pm October 28, 2011)
Congratulations on your new release. I wanted to say, I love your puppy. He is beautiful.
Thank you for entering me in your contest.
(Gayle Oreluk 3:58pm October 28, 2011)
I would love to read this! Thank you so much for this giveaway! I enjoyed the post also. Adorable dog!

Margaret
singitm@hotmail.com
(Margaret Faria 7:38pm October 28, 2011)
I hate schedules. My idea of a vacation is to get in the motorhome and head in a general direction remembering that we must be sure we head home in time for my husband to get back to work. In between those times we wander and if we see a sign we follow it. Life is so much more interesting when lived as your heart and mind take you.
(Sharon Mitchell 9:45pm October 28, 2011)
I do so enjoy the English countryside and the small villages and cities. Lived twice in London and explored the rest on every occasion. A cuppa is still my fav, but I miss English tea time scones with strawberry jam. How lovely for you to snug into your writing space with a window on the world and an adoring/adorable companion! How could you not be inspired. I have been a teacher and thank you for those others who have benefited from your time at their schools. Love period novels set in England!
(Carla Schuller 12:31pm October 29, 2011)
Gabrielle. I really enjoyed the discription of your room and insights into your day. I felt like I could see your desk and the dog at your feet. Good luck with your new book.
(Kathleen Yohanna 3:20am October 29, 2011)
Thank you all for your comments- how lovely to hear from so many people! x
(Gabrielle Kimm 4:47am October 29, 2011)
Registered users may leave comments.
Log in or register now!