Laura Lee Guhrke | Keeping it "Fresh"

March 4, 2011
Several years ago, someone in the blogosphere referred to me as a "veteran author" of romance fiction. This term caught me by surprise because even after a decade and a half as a published writer, I regarded myself as a newcomer, someone who still felt astonished to be doing this for a living and still a bit awed by her own favorite authors when she chanced to meet them at conferences. But when I began counting books and years, I realized (with some chagrin) that the moniker "veteran author" had become true. I'd been too busy writing to notice.
Genre fiction is a relentless form of creative endeavor in the sense that the next book always looms on the horizon, whether you are ready to write it or not. Output is measured in pages per day, not pages per month. Books are counted, not by how many one can write during the course of a career, but how many one can write in a single year. For those of us with major publishers, genre fiction is also very specialized, with reader expectations and preferences always paramount, impelling the writer to weigh commercial considerations at least as heavily as creative ones. In light of that, the struggle becomes not to find ideas to write, but to find ideas that you haven't written before.
Since this is a blog for Fresh Fiction, it seems appropriate to discuss this topic. How does a writer of genre fiction keep things fresh in an ever-narrowing market? The answer, of course, is The Twist. This is also known as The Slant. And lately, it's been called the High Concept. But it's always the same thing: finding a way to tell an age-old story in a fresh, new, still-commercial way. As a writer of historical romance whose colleagues were creating Regency misses gadding about London in lavish carriages, I decided The Twist was to be found, not in the heroine, but in her form of transportation. I moved into the early 20th century and gave my heroines motorcars.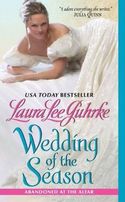 In creating heroines who drive cars, I didn't realize just how liberating it would be, both for them and for me. But as I wrote my two most recent books, WEDDING OF THE SEASON and SCANDAL OF THE YEAR, I found the heroines of these books doing things well beyond motoring around the English countryside, and I found myself trying things I'd never tried before. Beatrix of WEDDING OF THE SEASON decided to jump off a cliff (seriously). Julia of Scandal of the Year sought a divorce from her abusive husband. And I took my skis down a black diamond for the very first time. Though those Edwardian motorcars might have only had a top speed of forty miles an hour, they nonetheless imbibed not only the heroines but also their creator with a zest for adventure and a longing for some derring-do. Driving a car brought to those Edwardian women an exhilarating rush of freedom, and as I sit here, working on a new book, staring out the window at a cold and dreary winter day, I long for that exhilarating rush, too. I wonder how many weeks it'll be before I can open the sun roof on my car and go for a drive?
Comment to win an entire set of Laura's Girl-Bachelor Chronicles.
Comments
61 comments posted.
Re: Laura Lee Guhrke | Keeping it "Fresh"

Personally, I don't think I'd go for the black diamond run, but then again, I don't ski. I'm more than ready to get the car windows open, however!

Both of these books sound very interesting, as do the "Girl-Batchelor" series. I haven't read any of your books yet (just some excerpts), but you've been on my TBB list for a while, waiting for the budget to come around and give me some spending money.

Later,

Lynn
(Lynn Rettig 1:03am March 4, 2011)
I love the idea of moving into the era of motor vehicles. Liberating!!
(Mary Preston 2:48am March 4, 2011)
Congrats on the new release! I have Scandal of the Season up next on the TBR.
(Rosie Nguy 3:11am March 4, 2011)
It really is great reading historicals from an under recognized period that has not
become stale. Your forward thinking is genuinely appreciated!
(Sandra Spilecki 6:46am March 4, 2011)
There are only so many stories and themes one can write or make
movies/tv shows about. It seems everything has been done before. But if
a new "twist" is added, it seems new and innovative.

A good example of this "twist" is the movie THE JONSES. I had never
read or watched anything like this before and that's saying a lot.
(Mona Garg 7:00am March 4, 2011)
Best not open the sunroof here today as more rain es expected.
Blessings,
Marjorie
(Marjorie Carmony 7:09am March 4, 2011)
I long for the days when 40 mph was the fastest a car could
go. I think everything is moving far too fast these days.
(Margay Roberge 7:35am March 4, 2011)
I love when the twist is unexpected, makes it so interesting.
(Barbara Hanson 8:30am March 4, 2011)
Setting your heroines in this time period, so they can drive cars, sounds great. I haven't read much of this era and I'm looking forward to your series.
(G S Moch 8:41am March 4, 2011)
Daring heroines...love that! And a drive with the sunroof open..I can't wait!! Missing that warm weather to just drive my car with the wind in my hair!
(Dawn Staniszeski 8:57am March 4, 2011)
I love that you want to keep things fresh in your books and trying new things : ) Your series sounds wonderful !! you need to come to NC we've been having some nice weather lately well, little chilley this morning but in the 70's lately : )
photoquest@bellsouth(dot)net
(Lori Barnes 9:06am March 4, 2011)
well you did good job on the book the cover are great and i do not care what the book about i read and tell you i like it blog on twitter and face book and your site but i love history type and love the ear:s you chose
(Desiree Reilly 9:21am March 4, 2011)
I love it when the Twist shows up and takes me someplace I hadn't expected! Look forward to reading your books.
(Karen Cherubino 10:06am March 4, 2011)
Brought some sunny days up from Fl for you to enjoy and your Twist will appear as it always does and you'll be up up and away with a new plot that I will be waiting to enjoy.

Patricia R.
Smith Mt Lake, VA
(Patricia (Pat) Pascale 10:14am March 4, 2011)
I loved both Wedding of the Season and Scandal of the Year.
I actually was able to read them back to back, which is great fun for me, as the reader. So, do you have more books planned in this series? (please, please?) I look forward to reading them if you do!
(Marguerite Guinn 10:15am March 4, 2011)
I adore Historical Romance books and all the thought and details that you wonderful writers put into them. This is so different with the heroine driving a car - a huge difference to riding in a carriage.
(Diane Diamond 10:23am March 4, 2011)
It's great that theheroines try new, wicked things. It makes the heros squirm. LOL!
(Cynthia Netherton 10:33am March 4, 2011)
I like Historical Romance books, always interesting to read about the old days.
(Wilma Frana 10:41am March 4, 2011)
I like your idea of moving to the early 20th century. I don't think I've read any romances in that era. The Girl-Batchelor series sounds like fun. I'd love to win it.
(r w 10:55am March 4, 2011)
What an interesting way to keep things fresh. Makes me want to read your books.
(Maude Allen 11:09am March 4, 2011)
I mostly read Historical Romance but I do add a Paranormal in now and then.
(Vickie Hightower 11:10am March 4, 2011)
This is fascinating. I've always wondered how a "veteran author" manages to come up with fresh ideas for books, but I never thought about it changing the authors outlook and lifestyle.
(Anna Speed 11:39am March 4, 2011)
I read a lot of historical romances, but I have yet to read one where the characters are driving cars. This new slant on a story is intriguing! It adds a lot of freedom for the female characters especially.
(Cheryl Castings 11:43am March 4, 2011)
LOOK FORWARD TO READING THEM
(Mary Mckee 12:09pm March 4, 2011)
I think the car twist sounds like fun----and I'm hoping about six weeks 'til I can open my car windows!
(Sue Farrell 12:24pm March 4, 2011)
Hi, everyone! Thanks for coming by, and thanks for the sun some of you are sending my way. I love to ski, but I am very ready for spring! To those of you asking about the next book, yes, there is a third book in the series, Trouble At The Wedding, which will be out in January. If you want to know more, you can always go to my website or my Facebook Author Page. In the meantime, I'm working on a new series, and yes, I'm trying to keep it fresh! Thanks to everyone for your support of these books and the era. Happy reading, everyone.
(Laura Lee Guhrke 12:32pm March 4, 2011)
I like your car idea... and the freedom it gives women. No companions necessary!
(Pamela Stewart 1:32pm March 4, 2011)
i like the snyopsis and will read this one
(Debbi Shaw 1:35pm March 4, 2011)
How nice to get away from the overdone Regencies for a new time and method of transportation.
(Shirley Nienkark 1:39pm March 4, 2011)
Interesting interview into the genre creativity. Thank you for
sharing.
(Leanna Morris 1:44pm March 4, 2011)
The twist is interesting and keeps us captivated. Thank you
(Barbara Ryan 1:56pm March 4, 2011)
Love your books, love contests!!!!!!!!
(Joanne Bozik 3:07pm March 4, 2011)
Hmmmm, I am a lifelong reader of genre fiction. Give me characters that I care about and I want to read t he book. I think that it is more important for the author to have the twist than the other. If you don't care about what you are writing or get bored, it will impact the writing.
(Phyllis Lamken 3:55pm March 4, 2011)
These have been on my TBB list for a while now. This would be
a great opportunity for me to read them. They sound amazing!!!
(Leagh Christensen 3:57pm March 4, 2011)
Your books sound good; I just looked at an excerpt. I like regencies.
(Michelle Fidler 4:07pm March 4, 2011)
Congrats on the new release, Laura. Hard to imagine living without automobiles.
(Jane Cheung 4:10pm March 4, 2011)
Laura, I have never read any of your books. I did win a $25.00 gift certificate for Barnes & Noble, so that is about ready to change. Unfortunately there are more books I want to read than having the money to chose between food and books.

My favorite period in books is historical, but I actually love any well written book with a feisty heroine and strong, sexy hero.

Your books sound great! Looking forward to reading them.
(Cathy Phillips 4:44pm March 4, 2011)
congrats on the new release! I love your books, especially historicals
Thanks
Julie Parrish
(Julie Parrish 4:51pm March 4, 2011)
Congratulations on the new release.
(Kim C 4:53pm March 4, 2011)
I have accidentally gone down a black diamond or two. Glad to be alive today!
Good job on the new title. haha
(Heather Cowley 4:54pm March 4, 2011)
Congratulations on the new release and hope to see plenty more.
(Tiffany Harvey 4:58pm March 4, 2011)
Love your books and I like things a little slower than they are today. I keep talking about the good old days in the 60's and 70's.
Love the contest.
(Mary Branham 5:34pm March 4, 2011)
I love a heroine who surprises people, especially with a "manly" skill!
(Diane Sallans 5:38pm March 4, 2011)
I need books ,so I can stay inside during the cold winter months in N.H. Hope I win.
(Deb Pelletier 6:27pm March 4, 2011)
a good veteran at something gets to be one (particularly in creative fields such as writing) by not thinking of themselves as one but instead continues to feel lucky and as if they're learning. keep it up :)
(d Kenney 7:01pm March 4, 2011)
Because you mentioned the fact that one of your characters actually jumped off a cliff, I'll have to put you on my TBR list!! That was a gutsy move for an author, and I'm sure that the book itself was a good read. I really enjoyed reading your blog, and I'm sure that I'll enjoy your books as well. Congratulations on your latest book!! It will probably do well, considering the duration of your literary career so far. I can't wait to start the series!!
(Peggy Roberson 7:19pm March 4, 2011)
Congras on your new book. Love reading all you material..always full of surprises!!!!
(Lois Imel 8:21pm March 4, 2011)
I am loving this new series. I can't wait to see what other "daring" things the heroines do. I love your books and this series is so good.
(Danielle Gorman 8:30pm March 4, 2011)
Would love to win!
(Annie Lewis 10:28pm March 4, 2011)
well i love the book and the cover and then i would like to do the blog on it alot
(Desiree Reilly 10:31pm March 4, 2011)
I would love to win this book!
(Brenda Rupp 10:59pm March 4, 2011)
I haven't read any of your books yet but they look really good and I would really like to.
(Jessica Sutton 11:07pm March 4, 2011)
Yes driving does give a person the ability to "move forward" and think of things from a different perspective. I often think about how small my horizons would be if I had to walk or ride a horse where I wanted to go.
(Lindsey Ekland 11:12pm March 4, 2011)
That your characters inspire you to try new activities is great.
(Ginger Hinson 11:36pm March 4, 2011)
Wow, so many of you have come by! Thanks so much. To reiterate what some of you are saying, I think it's important for heroines to be far more than just placeholders for the heroes. Obviously many of you think so, too!

Hi, Danielle! We are getting around the blogosphere, aren't we?

Peggy, yes, I had a heroine jump off a cliff. Needless to say, there was a reason and she was fine afterward.

Lindsay, interesting that you would pick up on the cars being a metaphor for moving forward. I actually didn't think of that, but you're right! I was subconsciously brilliant, I guess. LOL.

Heather, I know what you mean. That black diamond was scary. I never would have done it without my boyfriend. But that's what love is supposed to do, isn't it? Make us try new things and strive beyond what we think we can do, knowing we have someone at our back? I try to do that in every book, too, show how each person is better because of the love of the other.

Thanks again for dropping by, everyone. Good luck in the contest. But even if you don't win today, you can always enter the contests on my website. I give away book prizes there, too, so drop by and enter. You can also visit me on my Facebook Author page anytime. 'Night, everybody.
(Laura Lee Guhrke 11:53pm March 4, 2011)
I love stuff with the unexpected. I look forward to continued reading of your books.
(Cate Sparks 5:52am March 5, 2011)
I have been reading your books for some time now, and have noticed that your characters often seem to be "pushing the envelope" when they try to go beyond the mold of their current time and the expectations of their social class. That effort to be more than the usual keeps me coming back for your books. Your latest are on my Find This Book list!
(Dolores Feagin 10:48am March 5, 2011)
Great idea on the motorcar part, and in those days 40 was very fast I'm sure! Thanks for this push onto some "daring" escapades.
(Debra Simning-Chapman 2:50pm March 5, 2011)
Wow, could we soon see something like the iron horse? I have been on a motorcycle or two in my younger years and back in the '90's wanted nothing more than a scooter so I could save some gas money going to work. The only reason I didn't do it then was the speed of a scooter. At 40 mph it would have taken way too long. They aren't even legal on our interstates, so it wasn't going to happen then. Now I havne't the health for it. I'd like to see the change in one of your books for the scooter though. Back in the early days of the scooters they made them for women to sit a bit side saddle and not mess with those knee length skirts.

Thinking about the role of cars in my reading history, the only books I've ever read where the cars were first starting to be important were in Janet Dailey's Calder series. One of our leading men died from a heart attack brought about by cranking the motor. Other than that I can't recall a time where cars were important in the history of the book or series.

Keep doing some of those modernish romances. They can lead to something great. Great is something I've never read before.
(Christina Harrison 6:43pm March 5, 2011)
Great guest post!! And congrats on the new release!
(Birgit Lehner 4:40am March 6, 2011)
Hey Laura,
My creative writing professor says to tell him something new. It can be a retelling of an old tale, but with something else brought to the table like another person, setting or time.
(Alyson Widen 4:03pm March 6, 2011)
Registered users may leave comments.
Log in or register now!