T.I. Lowe | Valentine's Day Recipe Roundup: BEACH HAVEN + Giveaway!
Not Opal's Crab Biscuits

February 14, 2020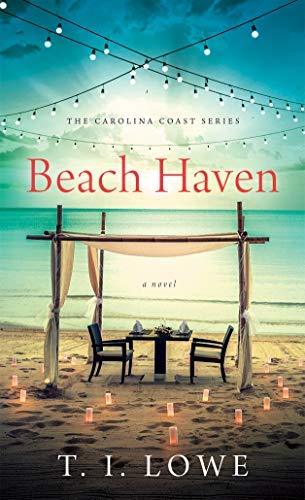 AVAILABLE
Carolina Coast #1

April 2020
On Sale: April 7, 2020
Featuring: Opal Gilbert; Lincoln Cole
ISBN: 1496440404
EAN: 978149644040
Kindle: B07T44CZLZ
Mass Market Paperback / e-Book
Add to Wish List

Also by T.I. Lowe:
Sea Glass Castle, August 2020
Driftwood Dreams, June 2020
Beach Haven, April 2020
Lulu's Caf, June 2019

Thank you SO much for following along with our Valentine's Day Recipe Roundup all week! Our final post features a delightful new romance coming out this April by T.I. Lowe.
***
Recipe for a Happily Ever After:
Take one independent heroine and add one handsome alpha hero. Mix in conflict, a dash of an obstacle, and a good measure of attraction. Stir until you have one fine mess, then pour in a healthy serving of clarity to resolve any angst. Add the anticipated kiss, a sprinkling of tender caresses, two rapid heartbeats, and combine into an awe-inspiring conclusion.
I'd like to introduce you to a couple who fits this recipe to a T: Lincoln Cole and Opal Gilbert. I asked them to describe each other to me, and they sure didn't hold back. Here's what they had to say:
Opal: "Lincoln Cole is lousy at first impressions. A brooding giant, he reminded me of a puffer fish—prickly yet somehow cute. Sure, there were glimpses of more in the depths of those ridiculously attractive brown eyes, but that stinker wouldn't let me near enough to get a good look. Eventually, I discovered underneath the thick layer of orneriness was a big ole teddy bear nursing some deep wounds. Wounds I'd give anything to help him overcome."
Lincoln: "I'm still baffled by wanting to be in that little pixie's world, but danged if her free-spirited personality didn't suck me right into her crazy orbit. Shucks, that beautiful woman is my haven, but it's still fun to give Opal a hard time about her eccentric lifestyle. Ain't nowhere else I'd rather be."
Just let me tell you, I am so glad those two finally figured things out. It wasn't easy, but they removed their facades—Lincoln's grouchy giant and Opal's ditzy fairy—to show each other the vulnerability within. And what a dynamic team they've made ever since!
Now, to be honest with you, Opal is exceptional at a lot of things. Cooking is not one of them. Poor Lincoln found this out the hard way.
Here's a small glance at one of my favorite moments in Beach Haven, where Opal cooks for Lincoln for the first time:
Lincoln picked up the flaky bread and took a big bite and began chewing. He was raised on scratch-made biscuits formed from lard and buttermilk. The golden bundle of deception he held was nothing like those delicious dreams. No. Whatever that thing pinched between his thumb and forefinger was, heavenly it was not. With each chew the fishy travesty seemed to grow in his mouth.
Opal was looking on expectantly. Lincoln had no idea what she was hoping for, but he knew for certain that he was about to let the woman down.
He took his napkin and tucked it around his mouth and spit the awful-tasting biscuit into it, using a clean section to wipe his tongue. "I think they went bad somehow." He gagged. "What'd you put in them?"
Opal took a tentative bite. "I took the idea of salmon cakes and stuffed it inside a biscuit." She inspected the inside of the pastry while chewing. "They taste fine to me."
Lincoln downed a long swig of his lemonade. "Why'd it crunch?"
"Oh, I like to use the cans of salmon with the fish bones. It's added calcium and texture."
Lincoln rubbed his gut. "Opal, those things on that plate are an abomination against biscuits. As of right now, you're off KP duty indefinitely."
"KP?"
"Kitchen Patrol," he clarified. "No more cooking for you. Stick to creating your unique furniture and making your wishes. That's what the world needs from you. Not fishy biscuits."
Opal sat back, stunned by his admission. "Umm . . . thank you?"
Lincoln tipped his head in one quick nod. "You're welcome." He stood and helped her out of her chair. "I'm starving. Let me take you out to supper."
Have no fear about the recipe below. I promise Opal had nothing to do with it! For some Valentine's Day fun, you can shape the biscuits into hearts and dust with paprika!
Not Opal's Crab Biscuits
Ingredients:
2 cups Bisquick
¼ cup (½ stick) unsalted butter
2/3 cup milk
¼ cup shredded cheese
16 ounces lump crabmeat
Topping:
¼ cup (½ stick) unsalted butter, melted
½ teaspoon garlic salt
¼ teaspoon Old Bay seasoning
½ teaspoon parsley
Preheat oven to 450°. Combine Bisquick and butter, using a knife or pastry cutter. Mix in milk and cheese, then fold in crabmeat. Drop by heaping spoonfuls onto a baking sheet. Bake 10–12 minutes until golden brown. Meanwhile, mix topping ingredients. Spoon mixture over freshly baked biscuits and enjoy!
Makes 12.
Rémoulade Sauce Ingredients:
½ cup mayonnaise
¼ cup sour cream
1 tablespoon Dijon mustard
¼ cup spicy relish or a relish of your choice
1 teaspoon garlic puree
2 tablespoons chopped chives
Salt and pepper to taste
--
COMMENT TO WIN: Where would you go on a romantic vacation? Leave a comment with your answer and you'll be entered to win a copy of BEACH HAVEN. US and Canada only - GOOD LUCK!
--
Please check out all of the amazing posts from our Valentine's Day Recipe Roundup authors this week! Great food, fun books, and giveaways galore. Thanks for following along, and HAPPY VALENTINE'S DAY to all of you from Fresh Fiction!
--
Carolina Coast #1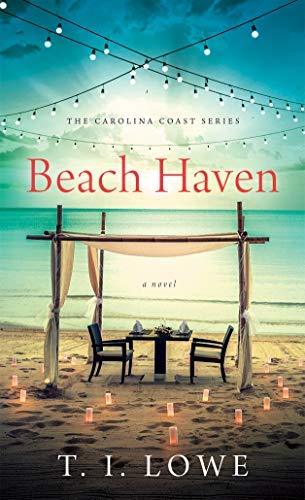 Free-spirited Opal Gilbert seems to have everything she needs to keep living a happy life in Sunset Cove as she refurbishes vintage furniture to sell at her funky ocean-side boutique, Bless This Mess. Until Lincoln Cole, a new-to-town ex-Marine nursing deep wounds and harboring hurts he can't seem to shake, wanders into her shop. Opal knows a person in need when she sees one and offers Lincoln a job in her workshop. But the brooding former soldier has no interest in Opal's offer. Thanks but no thanks.
But then a hurricane strikes, damaging Bless This Mess. Feeling guilty for how he treated Opal, Lincoln decides to help her repair the store. And soon it becomes clear Opal wants to restore not only her business, but also help Lincoln find restoration. As much as Lincoln tries to keep her at arm's length, Opal's well-meaning meddling begins to heal his wounds . . . and capture his heart almost before he realizes it.
Romance Contemporary | Inspirational Romance [Tyndale House Publishers, On Sale: April 7, 2020, Mass Market Paperback / e-Book, ISBN: 978149644040 / ]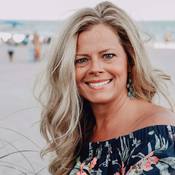 T. I. Lowe is a native of coastal South Carolina. She attended Coastal Carolina University and the University of Tennessee at Chattanooga, where she majored in psychology but excelled in creative writing. Go figure. Writing was always a dream, and she finally took a leap of faith in 2014 and independently published her first novel, Lulu's Café, which quickly became a bestseller. Now the author of ten published novels with hundreds of thousands of copies sold, she knows she's just getting started and has many more stories to tell. A wife and mother who's active in her church community, she resides near Myrtle Beach, South Carolina, with her family.
Comments
31 comments posted.
Re: T.I. Lowe | Valentine's Day Recipe Roundup: BEACH HAVEN + Giveaway!

Virginia
(Melanie Rosen 12:57pm February 14)
Cape Cod again would be my idea of a romantic vacation.
It's relaxing watching the sunset over the dunes.
(Alyson Widen 12:59pm February 14)
This sounds like such a delightful read. I love the ditzy fairy
reference. I can relate.
For a romantic vacation, I would like to spend a couple
months traveling around Ireland, Scotland, and England. We
can work on tracing our ancestors, explore the history and
beautiful countryside. We could relax and take out time to
just be and enjoy. I am trying to figure out how to do that
next year. We too a 2 1/2 month trip in our RV from TN to
Alaska and back. It was wonderful and we actually relaxed
and had a great time.
I just might try these biscuits. We love crab and cheese, so
these should be good.
(Patricia Barraclough 2:00am February 14)
Belize, Baby!
(Martin Bodnar 8:30am February 14)
Looks like a great book. I would love to go someplace
peaceful and quiet in the mountains.
(Nancy Reynolds 9:59am February 14)
Hawaii
(Amy Crockett 12:50pm February 14)
A cabin Smokey Mountains. Love the mountains!
(Jamie Gillespie 2:21pm February 14)
Sounds like a perfect Valentine's day read!
(Tiffany Parker 2:27pm February 14)
I'd love to visit Seychelles. Sounds like paradise to me!
(Nancy Krueger 3:00pm February 14)
Beach
(Blanche Nixon 3:37pm February 14)
a cruise to anywhere
(Vickie Couturier 7:33pm February 14)
To me, a romantic vacation needs a beach!
(Lisa Sabatini 7:38pm February 14)
If I was to take a romantic vacation it would be to a cabin in the woods and second would be the beach.
(Cynthia St. Germain 7:41pm February 14)
What a great introduction to you! I'd love to hit any of the
beaches along Hyway 10!, along the Pacific Coast Hyway from
WA., OR, and CA.
Love the introduction to you and your writing!
(Kathleen Bylsma 7:53pm February 14)
Any little getaway with my husband is always filled with
memories and romance. It could be down the road, a day trip,
or plane flight away. Coast... Mountains...in between
(Heather Bridges 8:00pm February 14)
I would like to go back to Scotland and check out more castles and maybe
do some island hopping there.
(Perrianne Askew 8:52pm February 14)
I'd like to go to a private island.
(Caryl Kane 9:09pm February 14)
We would love to go on a cruise again! Anywhere with the beautiful blue
water!!!! Can't wait to ready Beach Haven!!!!
(Shiloh Ferguson 11:23pm February 14)
happy valentine day 2020
(Raj Sharma 3:59am February 15)
Sounds great. Thanks for sharing the recipe. I'd love to go
to the Almalfi Coast in Italy.
(Carol Luciano 4:16am February 15)
The isle of Capri-I love that place!
(Joy Isley 1:06pm February 15)
Bora Bora and sleep over the water (but be dry)
(Sara Reyes 3:39pm February 15)
It would be Vancouver. My husband and I have vacationed there before.
It is just a beautiful place to visit and so romantic.
(Judy Westmoreland 7:11pm February 15)
An Alaskan cruise is on my bucket list!
(Tracy Urschler 7:33pm February 15)
I have a lot of places on The List :).
Would love to go to any of the islands in the Outer Banks.
(Jacqueline Graves 9:12pm February 15)
I want to visit Scotland and stay in a castle.
(Tina Rucci 11:02am February 16)
Bahamas
(Lori Byrd 7:44pm February 16)
I want to tour the Alpine regions of Austria.
(Anna Speed 1:02pm February 17)
Would love to go to Scotland.
(Tamara Thomas 6:51pm February 17)
Rome.
(Anna Budziak 7:40am February 18)
This giveaway might be over already, but I wanted to say that that cover is so pretty and those crab biscuits look so yummy! Plus, I'd like to either go to France, Italy, Greece, Scotland, or New Zealand.
(Emmaline F. 12:12pm February 27)
Registered users may leave comments.
Log in or register now!