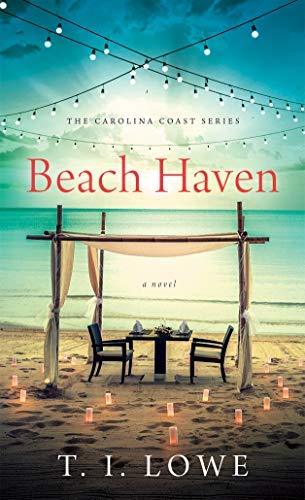 Purchase
Carolina Coast #1
Tyndale House Publishers
April 2020
On Sale: April 7, 2020
Featuring: Opal Gilbert; Lincoln Cole
ISBN: 1496440404
EAN: 978149644040
Kindle: B07T44CZLZ
Mass Market Paperback / e-Book
Add to Wish List

Romance Contemporary | Inspirational Romance
Free-spirited Opal Gilbert seems to have everything she needs to keep living a happy life in Sunset Cove as she refurbishes vintage furniture to sell at her funky ocean-side boutique, Bless This Mess. Until Lincoln Cole, a new-to-town ex-Marine nursing deep wounds and harboring hurts he can't seem to shake, wanders into her shop. Opal knows a person in need when she sees one and offers Lincoln a job in her workshop. But the brooding former soldier has no interest in Opal's offer. Thanks but no thanks.

But then a hurricane strikes, damaging Bless This Mess. Feeling guilty for how he treated Opal, Lincoln decides to help her repair the store. And soon it becomes clear Opal wants to restore not only her business, but also help Lincoln find restoration. As much as Lincoln tries to keep her at arm's length, Opal's well-meaning meddling begins to heal his wounds . . . and capture his heart almost before he realizes it.
Comments
32 comments posted.
Re: Beach Haven

Virginia
(Melanie Rosen 12:57pm February 14)
Cape Cod again would be my idea of a romantic vacation.
It's relaxing watching the sunset over the dunes.
(Alyson Widen 12:59pm February 14)
This sounds like such a delightful read. I love the ditzy fairy
reference. I can relate.
For a romantic vacation, I would like to spend a couple
months traveling around Ireland, Scotland, and England. We
can work on tracing our ancestors, explore the history and
beautiful countryside. We could relax and take out time to
just be and enjoy. I am trying to figure out how to do that
next year. We too a 2 1/2 month trip in our RV from TN to
Alaska and back. It was wonderful and we actually relaxed
and had a great time.
I just might try these biscuits. We love crab and cheese, so
these should be good.
(Patricia Barraclough 2:00am February 14)
Belize, Baby!
(Martin Bodnar 8:30am February 14)
Looks like a great book. I would love to go someplace
peaceful and quiet in the mountains.
(Nancy Reynolds 9:59am February 14)
This sounds like a fantastic read! I would like to go back to Scotland and
see some castles and maybe check out some islands there, too.
(Perrianne Askew 11:20am February 14)
Hawaii
(Amy Crockett 12:50pm February 14)
A cabin Smokey Mountains. Love the mountains!
(Jamie Gillespie 2:21pm February 14)
Sounds like a perfect Valentine's day read!
(Tiffany Parker 2:27pm February 14)
I'd love to visit Seychelles. Sounds like paradise to me!
(Nancy Krueger 3:00pm February 14)
Beach
(Blanche Nixon 3:37pm February 14)
a cruise to anywhere
(Vickie Couturier 7:33pm February 14)
To me, a romantic vacation needs a beach!
(Lisa Sabatini 7:38pm February 14)
If I was to take a romantic vacation it would be to a cabin in the woods and second would be the beach.
(Cynthia St. Germain 7:41pm February 14)
What a great introduction to you! I'd love to hit any of the
beaches along Hyway 10!, along the Pacific Coast Hyway from
WA., OR, and CA.
Love the introduction to you and your writing!
(Kathleen Bylsma 7:53pm February 14)
Any little getaway with my husband is always filled with
memories and romance. It could be down the road, a day trip,
or plane flight away. Coast... Mountains...in between
(Heather Bridges 8:00pm February 14)
I would like to go back to Scotland and check out more castles and maybe
do some island hopping there.
(Perrianne Askew 8:52pm February 14)
I'd like to go to a private island.
(Caryl Kane 9:09pm February 14)
We would love to go on a cruise again! Anywhere with the beautiful blue
water!!!! Can't wait to ready Beach Haven!!!!
(Shiloh Ferguson 11:23pm February 14)
happy valentine day 2020
(Raj Sharma 3:59am February 15)
Sounds great. Thanks for sharing the recipe. I'd love to go
to the Almalfi Coast in Italy.
(Carol Luciano 4:16am February 15)
The isle of Capri-I love that place!
(Joy Isley 1:06pm February 15)
Bora Bora and sleep over the water (but be dry)
(Sara Reyes 3:39pm February 15)
It would be Vancouver. My husband and I have vacationed there before.
It is just a beautiful place to visit and so romantic.
(Judy Westmoreland 7:11pm February 15)
An Alaskan cruise is on my bucket list!
(Tracy Urschler 7:33pm February 15)
I have a lot of places on The List :).
Would love to go to any of the islands in the Outer Banks.
(Jacqueline Graves 9:12pm February 15)
I want to visit Scotland and stay in a castle.
(Tina Rucci 11:02am February 16)
Bahamas
(Lori Byrd 7:44pm February 16)
I want to tour the Alpine regions of Austria.
(Anna Speed 1:02pm February 17)
Would love to go to Scotland.
(Tamara Thomas 6:51pm February 17)
Rome.
(Anna Budziak 7:40am February 18)
This giveaway might be over already, but I wanted to say that that cover is so pretty and those crab biscuits look so yummy! Plus, I'd like to either go to France, Italy, Greece, Scotland, or New Zealand.
(Emmaline F. 12:12pm February 27)
Registered users may leave comments.
Log in or register now!