May McGoldrick | Valentine's Day Recipe Roundup: HIGHLAND SWORD + Giveaway!
Treacle Scones

February 12, 2020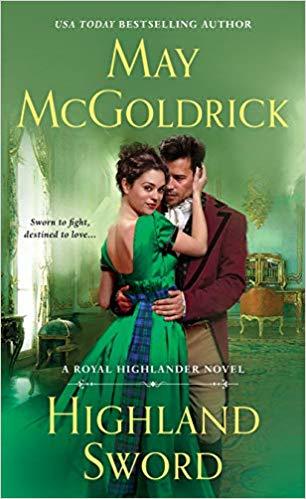 AVAILABLE
Royal Highlander #3

April 2020
On Sale: March 31, 2020
Featuring: Morrigan Drummond; Aidan Grant
320 pages
ISBN: 1250314992
EAN: 9781250314994
Kindle: B07SCV5RF4
Mass Market Paperback / e-Book
Add to Wish List

Also by May McGoldrick:
Highland Sword, April 2020
Highland Jewel, October 2019
Highland Crown, May 2019
Christmas In Kilts, October 2017

We're pleased to present another delicious recipe on our Valentine's Day Recipe Roundup from the historical romance writing team, May McGoldrick!
***
In Highland Sword, Aidan Grant and Morrigan Drummond are both proud and principled. He is a barrister. She is a trained fighter in search of revenge. They each know their own mind and are certain about what they want. And they end up spending a lot of time together, be it fighting in Inverness alleyways or the training yard at Dalmigavie Castle or duel each other in a battle of wits. But it is during the night of the Samhain celebration that their romance blooms.
Many of our readers already know that May McGoldrick is actually two people – Nikoo and Jim McGoldrick. We write together, live together, love endlessly, and enjoy cooking together. In our household, Nikoo loves the everyday and holiday cooking, and Jim is great at baking.
In this Highland competition, players are banned from using their hands. This game challenges participants to take bites out of treacle scones dangling from string. How can you lose?!
Ingredients:
1 3/4 cups all-purpose flour
4 teaspoons baking powder
1/4 cup white sugar
1/8 teaspoon salt
5 tablespoons unsalted butter
1/2 cup dried currants or raisins (optional)
1/2 cup milk
1/4 cup sour cream
1 egg
1 tsp ground ginger
1 tsp all spice
1 tbsp treacle (molasses)
Directions:
Preheat the oven to 400 degrees F (200 degrees C).
Sift the flour, baking powder, salt and spices into a large bowl.
Gently heat the butter with the sugar and treacle and stir till sugar has dissolved completely
Let this cool a little before adding the egg and milk and sour cream (save a little to glaze the scones before baking) then stir gently in the dry mix until well blended. Add the raisins and currants, if desired.
With floured hands, pat scone dough into balls 2 to 3 inches across. Let the scones barely touch each other. Brush the tops of the scones with the egg and milk leftover. Let them rest for about 10 minutes.
Bake for 10 to 15 minutes in the preheated oven, until the tops are golden brown. Hang them from the strings, and have fun chasing the deliciousness at any time of year.
--
COMMENT TO WIN: Are you better at baking or cooking? Tell us which you prefer in a comment and you'll be entered to win a copy of HIGHLAND SWORD! US and Canada only, good luck!
--
Have you been following our roundup all week? Come back tomorrow for more wonderful authors, great food, and awesome books!
--
Royal Highlander #3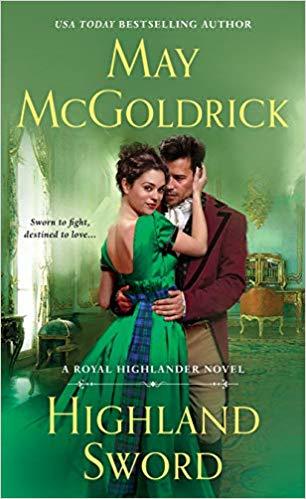 Scottish pride, persuasion, and passion--this is Highland romance at its breathtaking best.
From USA Today bestselling author May McGoldrick comes Highland Sword, the third book in the Royal Highlander series.
A VOW FOR VENGEANCE
Fleeing to the Highlands after her father's murder, fiery Morrigan Drummond has a score to settle with Sir Rupert Burney, the English spymaster responsible for his death. Trained to fight alongside the other rebels determined to break Britain's hold on Scotland, she swears to avenge her father's death--until a chance encounter with a barrister as proud and principled as she is presents her with a hard choice. . . and a bittersweet temptation.
A PLEA FOR PASSION
Aidan Grant has never encountered another woman like dangerous beauty Morrigan--and he has the bruises to prove it. Yet she could be the key to defending two innocent men, as well as striking a death blow to the reprehensible Burney. Convincing Morrigan to help him will take time, but Aidan is willing to wait if it means victory over corrupt government forces and freedom for his people. . . and Morrigan's hand in marriage. Can two warriors committed to a cause stand down long enough to open their hearts to a love fierce enough to last. . . forever?
Romance Historical [St. Martin's Paperbacks, On Sale: March 31, 2020, Mass Market Paperback / e-Book, ISBN: 9781250314994 / eISBN: 9781250314994]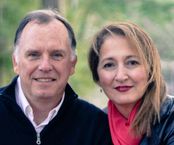 USA Today Bestselling Authors Nikoo and Jim wrote their first May McGoldrick romance using historical figures that Jim researched while earning a PhD in sixteenth-century Scottish and English literature. Nikoo, a mechanical engineer, is a born storyteller. She is all about characters and feeling. Jim is about action and sense of place. Together, they have crafted over forty fast-paced, conflict-filled historical and contemporary novels and two works of nonfiction under the pseudonyms May McGoldrick and Jan Coffey. Their stories have touched the hearts and minds of millions of readers all over the world. Their work has been translated into over a dozen languages, and counting. Because of their success, they have been frequent guests on local and national radio and television. They travel regularly, speaking at writers' conferences, libraries, classrooms, and book group gatherings. These popular and prolific authors write historical romance, suspense, mystery, and young adult novels. They are four-time Rita Finalists and the winners of numerous awards for their writing, including the Romantic Times Magazine Reviewers' Choice Award, the Daphne DeMaurier Award, three NJRW Golden Leaf Awards, two Holt Medallions, and the Connecticut Press Club Award for Best Fiction. Their work is included in the Popular Culture Library collection of the National Museum of Scotland.
Comments
24 comments posted.
Re: May McGoldrick | Valentine's Day Recipe Roundup: HIGHLAND SWORD + Giveaway!

I'm a much better cook! (and eater...)
(Martin Bodnar 8:34am February 12)
I like to bake. Cooking I'm so so not the most creative.
(Laurie Gommermann 9:55am February 12)
cooking ,,im not good at baking
(Vickie Couturier 10:14am February 12)
I am better at cooking then baking. I just don't have the
baking touch. I do love scones though. My grandma made some
wonderful ones but i let her keep the clotted cream.
(Jeannie Platt 10:25am February 12)
I would rather bake...my husband is the cook in the family.
(Gwenn Ostman 4:27pm February 12)
Cooking and eating
(Tracy Urschler 8:49pm February 12)
I'm better at cooking. The older I get the less I like
baking.
(Melanie Rosen 12:30pm February 13)
I used to bee pretty good at both. The past few years, we
have been so busy we seem to be eating on the run, with no
schedule, or time to cook. Too many nights we just give up
and grab a bowl of cereal. We relish the times we can fix a
nice meal. I love scones, but have not had any with
molasses, which I love. I am hoping I get a chance to make
these tomorrow so we can have them Valentine Day
morning.
(Patricia Barraclough 12:57pm February 13)
I'm good at both and love when someone else cooks for me.
(Alyson Widen 12:12pm February 14)
I love baking
(Margo Beredjiklian 2:16pm February 14)
I am better at cooking; my daughter is better at baking,
which works out perfectly!
(Jamie Gillespie 2:16pm February 14)
I'm better at baking, but I also love to cook
(Nancy Krueger 2:50pm February 14)
Better at baking.
(Blanche Nixon 3:21pm February 14)
Baking since it often requires measuring ingredients beforehand.
(Susan Jang 8:06pm February 14)
I'm better at cooking.
(Janie McGaugh 9:01pm February 14)
Definitely cooking although I wish I were a good baker I'm
going to try my hand at making the scones.
(Carol Luciano 4:12am February 15)
Baking is what I love to do best in the kitchen.
(Joy Isley 1:00pm February 15)
Now that I'm living alone, I do less of both, but I guess I'm better at cooking.
(Anna Speed 1:09pm February 15)
Hmmm...I don't know. I love doing both. I've always enjoyed
baking, but since I've not had a decent kitchen, I've found
myself doing less baking due to my desire to bake lots of
different types of items and to spread my kitchen goodies
around the area. With no room, I keep my things stored.
(Michelle Willms 3:58pm February 15)
I'm better at cooking but I like to bake.
(Judy Westmoreland 7:05pm February 15)
I like to bake - it's very precise
(Diane Sallans 8:25pm February 15)
Better at baking!
(Teresa Warner 9:29pm February 15)
Baking but I cook great too.
(Lori Byrd 7:42pm February 16)
I like to bake the best.
(Tamara Thomas 6:56pm February 17)
Registered users may leave comments.
Log in or register now!