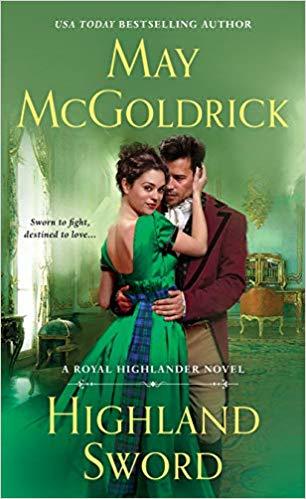 Purchase
Royal Highlander #3
St. Martin's Paperbacks
April 2020
On Sale: March 31, 2020
Featuring: Morrigan Drummond; Aidan Grant
320 pages
ISBN: 1250314992
EAN: 9781250314994
Kindle: B07SCV5RF4
Mass Market Paperback / e-Book
Add to Wish List

Scottish pride, persuasion, and passion--this is Highland romance at its breathtaking best.

From USA Today bestselling author May McGoldrick comes Highland Sword, the third book in the Royal Highlander series.

A VOW FOR VENGEANCE
Fleeing to the Highlands after her father's murder, fiery Morrigan Drummond has a score to settle with Sir Rupert Burney, the English spymaster responsible for his death. Trained to fight alongside the other rebels determined to break Britain's hold on Scotland, she swears to avenge her father's death--until a chance encounter with a barrister as proud and principled as she is presents her with a hard choice. . . and a bittersweet temptation.
A PLEA FOR PASSION
Aidan Grant has never encountered another woman like dangerous beauty Morrigan--and he has the bruises to prove it. Yet she could be the key to defending two innocent men, as well as striking a death blow to the reprehensible Burney. Convincing Morrigan to help him will take time, but Aidan is willing to wait if it means victory over corrupt government forces and freedom for his people. . . and Morrigan's hand in marriage. Can two warriors committed to a cause stand down long enough to open their hearts to a love fierce enough to last. . . forever?
Royal Highlander
Comments
24 comments posted.
Re: Highland Sword

I'm a much better cook! (and eater...)
(Martin Bodnar 8:34am February 12)
I like to bake. Cooking I'm so so not the most creative.
(Laurie Gommermann 9:55am February 12)
cooking ,,im not good at baking
(Vickie Couturier 10:14am February 12)
I am better at cooking then baking. I just don't have the
baking touch. I do love scones though. My grandma made some
wonderful ones but i let her keep the clotted cream.
(Jeannie Platt 10:25am February 12)
I would rather bake...my husband is the cook in the family.
(Gwenn Ostman 4:27pm February 12)
Cooking and eating
(Tracy Urschler 8:49pm February 12)
I'm better at cooking. The older I get the less I like
baking.
(Melanie Rosen 12:30pm February 13)
I used to bee pretty good at both. The past few years, we
have been so busy we seem to be eating on the run, with no
schedule, or time to cook. Too many nights we just give up
and grab a bowl of cereal. We relish the times we can fix a
nice meal. I love scones, but have not had any with
molasses, which I love. I am hoping I get a chance to make
these tomorrow so we can have them Valentine Day
morning.
(Patricia Barraclough 12:57pm February 13)
I'm good at both and love when someone else cooks for me.
(Alyson Widen 12:12pm February 14)
I love baking
(Margo Beredjiklian 2:16pm February 14)
I am better at cooking; my daughter is better at baking,
which works out perfectly!
(Jamie Gillespie 2:16pm February 14)
I'm better at baking, but I also love to cook
(Nancy Krueger 2:50pm February 14)
Better at baking.
(Blanche Nixon 3:21pm February 14)
Baking since it often requires measuring ingredients beforehand.
(Susan Jang 8:06pm February 14)
I'm better at cooking.
(Janie McGaugh 9:01pm February 14)
Definitely cooking although I wish I were a good baker I'm
going to try my hand at making the scones.
(Carol Luciano 4:12am February 15)
Baking is what I love to do best in the kitchen.
(Joy Isley 1:00pm February 15)
Now that I'm living alone, I do less of both, but I guess I'm better at cooking.
(Anna Speed 1:09pm February 15)
Hmmm...I don't know. I love doing both. I've always enjoyed
baking, but since I've not had a decent kitchen, I've found
myself doing less baking due to my desire to bake lots of
different types of items and to spread my kitchen goodies
around the area. With no room, I keep my things stored.
(Michelle Willms 3:58pm February 15)
I'm better at cooking but I like to bake.
(Judy Westmoreland 7:05pm February 15)
I like to bake - it's very precise
(Diane Sallans 8:25pm February 15)
Better at baking!
(Teresa Warner 9:29pm February 15)
Baking but I cook great too.
(Lori Byrd 7:42pm February 16)
I like to bake the best.
(Tamara Thomas 6:56pm February 17)
Registered users may leave comments.
Log in or register now!