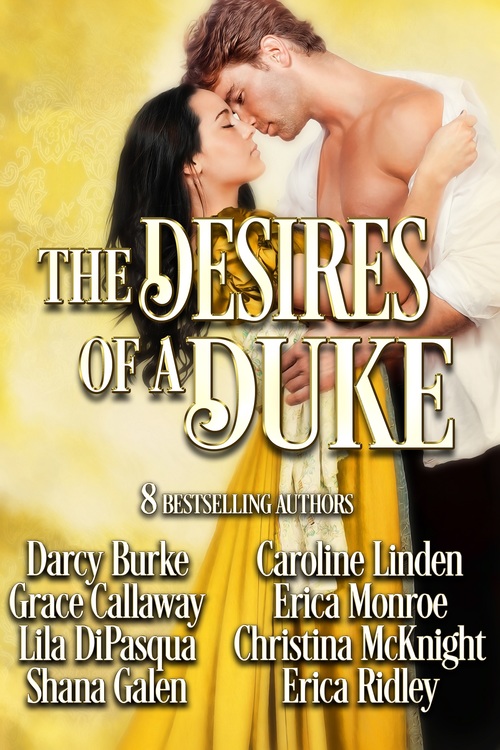 The Desires of A Duke
Shana Galen, Caroline Linden, Erica Ridley, Lila DiPasqua, Grace Callaway, Darcy Burke, Erica Monroe, Christina McKnight
AVAILABLE
Historical Romance Collection

December 2017
On Sale: December 12, 2017
1516 pages
ISBN: B075X3Y512
EAN: 2940158824326
Kindle: B075X3Y512
e-Book
Add to Wish List

Also by Shana Galen:
Unmask Me If You Can, November 2018
Mrs. Brodie's Academy For Exceptional Young Ladies, September 2018
An Affair with a Spare, July 2018
No Earls Allowed, March 2018

Also by Caroline Linden:
An Earl Like You, September 2018
My Once and Future Duke, March 2018
The Desires of A Duke, December 2017
A Rake's Guide to Seduction, September 2017

Also by Erica Ridley:
The Desires of A Duke, December 2017
Scandal's Daughters, October 2017
Vexed, October 2016
The Duke's Accidental Wife, March 2016

Also by Lila DiPasqua:
The Desires of A Duke, December 2017
Historical Hellions, April 2017
Tempted by His Touch, August 2014
A Midnight Dance, August 2011

Also by Grace Callaway:
The Desires of A Duke, December 2017
Her Husband's Harlot, January 2012

Also by Darcy Burke:
The Desires of A Duke, December 2017
You're Still the One, April 2016
When We Kiss, January 2016
When Love Happens, June 2015

Also by Erica Monroe:
The Desires of A Duke, December 2017
Historical Hellions, April 2017
I Spy a Duke, October 2015
Beauty and the Rake, April 2015

Also by Christina McKnight:
The Madame Catches Her Duke, January 2018
The Desires of A Duke, December 2017
Kissed at Christmas, October 2017
For the Love of a Widow, September 2017

Want to learn a little something about the writers of THE DESIRES OF DUKE Historical Romance Collection? Here are their own favorite fictional dukes.
Erica Monroe:
Favorite Duke: Roderick Gideon Tremayne, Duke of Wentworth
Title of book: FOREVER AND A DAY
Author: Delilah Marvelle
Why he's my favorite duke: Roderick and Georgia's love is truly a story of love defying society's conventions, and they have to fight hard for their happily ever after. Roderick's devotion to Georgia made me love him even more.
Favorite Duke: Simon Pearson, Duke of Leighton
Title of Book: ELEVEN SCANDALS TO START TO WIN A DUKE'S HEART
Author: Sarah MacLean
Why he's my favorite duke: This book is probably the reason I have a thing for the rule-following, restrained hero who refuses to admit that passion could ever change his life. I absolutely adored the chemistry between "opposites attract" Simon and Juliana, and this was one of the first books I read where I really got caught up in the story and found myself breathlessly reading the next page. I loved Simon's dedication to his family, and his struggle between following his logic, or his heart.
Shana Galen:
Favorite Duke: The Duke of Avendale
Title of book: THE DUKE AND THE LADY IN RED
Author: Lorraine Heath
Why he's my favorite duke: Avendale is a tortured hero who plays the debauched rogue, but when he meets the heroine and her little band of misfits, he's changed from a selfish to a selfless man. When he falls in love with the heroine, his actions are gut wrenchingly romantic.
Lila DiPasqua:
Favorite Duke: Raphael, Duke of Hartholm
Title of Book: THE OTHER DUKE
Author: Jess Michaels
Why he's my favorite duke: Inheriting the title of his despicable cousin was bad enough. But being forced to step in and marry the man's fiancée was even worse. Or so he thought. His gentleness, his patience, and care with an emotionally wounded heroine made me adore him. I love an attentive hero and lover.
Caroline Linden:
Favorite Duke: James, Duke of Durham
Title of Book: IT'S HARD OUT HERE FOR A DUKE
Author: Maya Rodale
Why he's my favorite duke: He's American, he's a horse breeder and trainer, he has no idea if he's up to the job of being a duke or if he can stand it after the ease and informality of his life-to-date. He falls for the dowager duchess's companion Meredith, and despite all the reasons he should not marry a girl of murky but definitely not high birth, he can't resist her. For her part, Meredith grows bolder and bolder as she seeks out the truth about herself, and decides she will risk everything to be with James. I seriously ❤️ that book.
Erica Ridley:
Favorite Duke: Jered Marcus Benton, the Duke of Bradford
Title of Book: REBELLIOUS DESIRE
Author: Julie Garwood
Why he's my favorite duke: He was the first Regency duke I encountered. Although it's been years since I read this romance, Julie Garwood was my gateway to full-on Regency addiction, and my first autobuy author whose books I read and re-read until the spines practically fell apart.
Grace Callaway:
Favorite Duke: Ewan Hoffstead, Duke of Donburrow
Title of Book: THE SILENT DUKE
Author: Jess Michaels
Why he's my favorite duke: As the mother of a son with disabilities, I was moved by Ewan's strength and courage as he overcame extreme odds related to being born mute at a time when disabilities were not well understood or accepted. I also adore a good friends to lovers story, and the romance in The Silent Duke was both sweet and steamy :)
Darcy Burke:
Favorite Duke: Jordan Townsende, Duke of Hawthorne
Title of Book: SOMETHING WONDERFUL
Author: Judith McNaught
Why he's my favorite duke: Jordan is the consummate dark, alpha hero, completely swoonworthy with a killer backstory to boot. His heroine, Alexandra, is the complete opposite and they have the best meet cute.
Christina McKnight:
Favorite Duke: Rein Montgomery, Duke of Wroxley
Title of Book: SCANDAL
Author: Pamela Britton
Why he's my favorite duke: Rein Montgomery is a man born and raised a duke, but to inherit his uncle's fortune he must live the life of a commoner for one month. What makes him one of my all-time favorite dukes is what he does when his time in St. Giles is up—he takes the woman he loves with him. He is certainly a rogue, but a rascal he is not!
Favorite Duke: Michael Durant, Duke of Nevitt
Title of Book: IN BED WITH THE DUKE
Author: Christina Dodd
Why he's my favorite duke: Michael Durant is, by all accounts, a cynical and ruthless man. He makes his way in life doing things most upstanding gentlemen would never consider…but his reasons are pure, despite is rough exterior. Thankfully, there is one woman who understands his dark ways, and love him still. Michael is as swoonworthy as heroes come.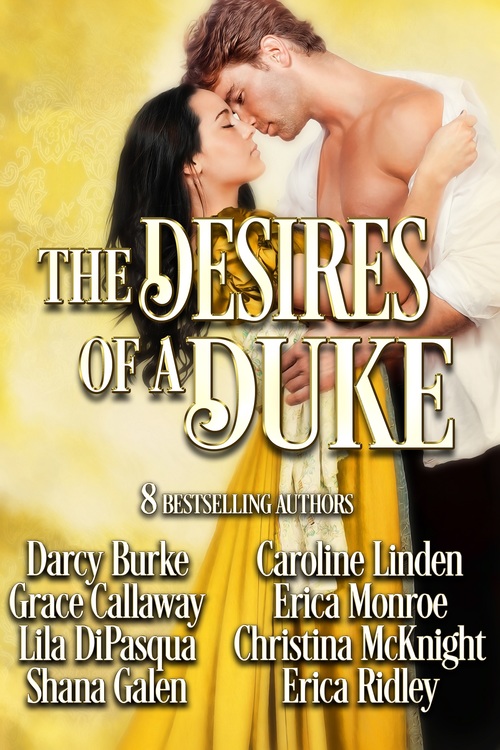 Limited Release
Enjoy eight historical romances from bestselling authors, featuring dashing, roguish dukes who are willing to risk it all to get the lady their heart desires. When these powerful, bold men take a chance on love, nothing can stop them.
THE FORBIDDEN DUKE by Darcy Burke
The Forbidden Duke helps ruined Eleanor find a second chance for happiness. What will she say when she learns of the role he played in her downfall?
THE DUKE WHO KNEW TOO MUCH by Grace Callaway
A spinster and rake join forces to catch a murderer. Wills clash and passion flares; will they risk all for love— before it's too late?
THE DUKE'S MATCH GIRL by Lila DiPasqua
The only woman Leo, Duke of Mont-Marly, has ever yearned for is the adorably unconventional beauty who got away. Suzanne creates and selling matchsticks, elixirs for the ill…and is still so damned alluring. Leo is determined to give her a Christmas beyond her wildest imagination...
WAITING FOR A DUKE LIKE YOU by Shana Galen
Pursued by assassins, Princess Vivienne of Glynaven escapes to England. The Duke of Wyndover aids her, but is he the man she's been waiting for?
WHEN I MET MY DUCHESS by Caroline Linden
The Duke of Wessex realizes he's about to marry the wrong woman when he meets his bride's sister…and the wedding may become a scandal.
I SPY A DUKE by Erica Monroe
A governess entering into a marriage of convenience with a duke gets more than she bargained for, as he's also a spy for the crown.
THE MISFORTUNE OF LADY LUCIANNA by Christina McKnight
The Duke of Montrose has only one choice: find a wealthy heiress to wed. When his quest brings him to Lady Lucianna, he can't deny that he wants her for more than just her dowry.
THE DUKE'S ACCIDENTAL WIFE by Erica Ridley
The unflappable Duke of Ravenwood meets his match in this rollicking romance read.
Romance Historical | Romance Anthology [La Loma Elite Publishing, On Sale: December 12, 2017, e-Book, eISBN: 9781945089282]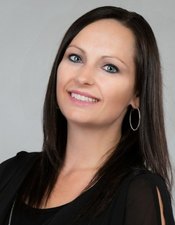 Christina McKnight is a book lover turned writer. From a young age, her mother encouraged her to tell her own stories. She's been writing ever since. Currently, she focuses on Historical Romance.
Christina enjoys a quiet life in Northern California with her family, her wine, and lots of coffee. Oh, and her books…don't forget her books! Most days she can be found writing, reading, or traveling the great state of California.
Tell us your favorite historical duke and you'll get a bonus entry into Christina's contest to win a $50 Amazon gift card! Easy, right?
12 comments posted.
My favorite duke is Wulfric Bedwyn, Duke of Bewcastle, from Mary Balogh's Slightly Dangerous. Imperious and seemingly humorless, his downfall was sweet and extra special. No duke can wield a quizzing glass as arrogantly as Bewcastle. And he has eight of them! :-D
(Maida Malby 12:03pm December 13)
Hmm, a fav Duke... not sure, I have read so many great stories... a specific fav is not coming to mind...
(Colleen Conklin 12:15pm December 13)