Becky Pena | A week on my own with a successful Kindle in my hands
Becky Pena
July 25, 2010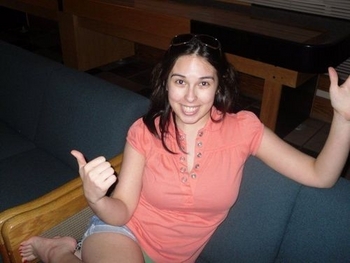 Becky, Fresh Fiction Intern
Itís that time of year again. Stress levels are getting higher, interviews are being scheduled, road trip preparations are hectic, and yes, the intern has a whole lot more work to do. Haha, not that Iím complaining, just surprised about all the work that goes into preparing and attending an RWA (Romance Writers of America) conference for an online company like FreshFiction.com. But, you know what this means? While the staff is off having fun at Disney I get to sleep in, work from home, and dance in my living room in between breaks. Itís going to be a blast.
I am writing todayís blog because Sandi is busy on that big road trip I mentioned above. I believe everyone left early this morning around 6am. Crazy; but then again, the early bird gets the worm. Iím just glad I get to sleep in.
Working from home actually isnít so bad. So far, I just have to make sure Iím not too distracted. Motivation definitely dwindles when the TV happens to be in the same room as me. Itís a good challenge, one that will help my future ventures at owning my own company.
Yesterday was my first official ďwork from homeĒ day. How many times did I get distracted you ask? More than you can count. During my third ďnewspaper breakĒ I came across an interesting article in the New York Times. Did anyone happen to read the Amazon.com article yesterday? Apparently Amazon has ďsold 143 Kindle books for every 100 hardcover booksĒ including those hardcover books that donít have a kindle edition. As a kindle lover this really didnít surprise me; but, ever since I got this job, I work with printed books on a daily basis. I really hope printed books donít go extinct. I know Iím being dramatic but my imagination runs wild when I try to imagine thirty years into my future. What do you think; will print books ever be in vogue again?
Anyways, the stats Amazon recorded are amazing! I donít know why so many publishers were surprised or against this new wave. E-books are easier for us. Readers deserve an easier process to read and buy books, something better than the normal process of driving to the nearby store to get one. We Americans donít really like to wait. I know I donít. If only things like pregnancy could be this quick.
I myself own a Kindle 2. Her name is Maggie and she happens to be my baby. She was born in March and I quickly snatched her up. She was actually the first big spend I have ever made in my life. I felt so special and quite the adult. I now look back and laugh. If I had waited another few months I would never have had to pay the price I did; but, it was worth it! I so totally advertised for Amazon. I was an unofficial spokesperson on campus at UNT and I have never looked back. Shocker.
Now, the nook, the iPad, and the Sony reader are giving the Kindle a run for its money. Iíve used them all and just love this new virtual world, technology rocks. Are you a fan of the e-reader? If so, which one do you prefer?
In closing, I wish the Fresh Fiction staff a safe and wonderful journey to the land of Florida. I bet theyíre reading this and wishing I would get back to work. LOL you should all have a wonderful Sunday and take a look at those e-readers I mentioned. One day everyone will own one.
Becky!
--
Rebecca Pena
Intern
FreshFiction... for today's reader Twitter: @BeckyTalks
Comments
39 comments posted.
Re: Becky Pena | A week on my own with a successful Kindle in my hands

I always look forward to the comments after the RWA conference.
Blessings,
Marjorie
(Marjorie Carmony 6:55am July 25, 2010)
I actually prefer to hold an actual book in my hands and turn the pages. As for an e-reader, I'm sure they're very nice, but when you're on a fixed income like I am, the only way you'll ever get one is if you get one as a present, or you win one!! I'm sure they're nice, but you can't beat curling up with a nice book in your lap.
(Peggy Roberson 8:46am July 25, 2010)
I have some ebooks on my laptop to read on trips. However, I usually end up reading an actual book that I can put down and pick up again later. The laptop has to be shut down and then rebooted every time I want to continue the story.
(Karin Tillotson 9:25am July 25, 2010)
Becky I want to say you did a great job with your blog and I thing the crew will be proud. smile As for e-books I do not have one, want one, but as some of these ladies comment, stay-at-home mom have a budget. Hope to have one some day but will read a book from time to time, It is just a good feel have a book on hand, turn the pages and to read a great book. Have a great week!
(Cynthia Plaza-Harney 9:53am July 25, 2010)
I really can't imagine reading an e-book. If I can't get something from the library, I don't read it. I can't imagine paying all that money for any e-reader. And it seems to me that a lot of the people who DO will read whatever they can download for free. I just don't see that working for me.
(Barbara Wright 9:56am July 25, 2010)
Barbara, you actually made a really good point. But, libraries these days are trying stay with the times. I'm pretty sure that your library or the one next to it is already checking out e-books to its customers. Most go straight onto a computer at home instead of onto a device, but a lot of people still seem to like the improvement.

Then again, the downfall to that idea is staring at a back lit screen for hours on end. It's more of a preference thing.

Thanks Cynthia!
(Becky Pena 10:24am July 25, 2010)
I have a couple of ebooks on my computer, but I don't like to have to sit at the computer and read for a long time, shut it down, and then reload and find the place I quit reading. I would much rather lay my hands on a book and put a bookmarker on the page where I stop reading. Do ereaders have a way to mark your page? I don't know because I haven't had the extra money to look into them and none of my friends have one. If the Kindle or ereaders like it can mark your place, that would be nice.
(Cathy Phillips 11:03am July 25, 2010)
I enjoyed your column. Have fun working from home.
(G S Moch 11:21am July 25, 2010)
Becky, yes we are on our way.
Sandi is reading her Nook and I have
my iPad. I also have my regular
books to read which I actually enjoy
more but the convenience of having
800+ books on one device is
awesome. And Sara said why aren't
you working.
(Pat Richardson 11:35am July 25, 2010)
There will always be people who prefers books to an ereader. I want an ereader myself but I will always want some of the books by my favorite authors to save.
(Julie Swaney 11:50am July 25, 2010)
I guess I'm still living in the dark ages. I prefer to have the hard/paperback in my hand. I have several ebooks on my computer but have not made the leap to an ereader.
(DAndrea Galbreath 11:52am July 25, 2010)
I've been reading on my computer for around 10 years. I'm one of the people who was phyically unable to read print books, so digital gave me the ability to read again after almost 20 years of not being able to. I think that is where alot of the sales increase is from as well. Although I was able to get my vision somewhat "fixed" I still read ebooks, but I find the reader that are out have too small of a screen &/or too high of a price.[ The ipad is only a dream for me at this point.] I think when that changes as well as going to one format, like music did sales will increase even more. People will always buy print books, but I see a time when they are bought more as treasures and not everyday items.
(Jo Ann Jansing 12:33pm July 25, 2010)
Not having to carry so many books with me is one of the reasons I want an Ereader. I'd still buy print, but on the go it would be the reader.
(Leni Kaye 12:44pm July 25, 2010)
My son just bought me a Kindle and I love it. Not sure why he bought it but I am thrilled. I am still reading a lot of paper books but I like that you can increase the print size on the Kindle. It does have some advantage that print book don't have. I have only read one book on the Kindle but I can see where the future is going.
(Gail Hurt 12:50pm July 25, 2010)
I have an e-reader, but I have not set it up yet... still prefer a good old fashioned book in hand...
(Colleen Conklin 1:41pm July 25, 2010)
I've not tried an e-reader yet. It must be extremely lightweight compared to lugging books, but I'd miss a place to put my bookmarks and just the solid feel of books.
(Alyson Widen 2:23pm July 25, 2010)
I own an e- reader and I love love it but at times I like to sit with a book in my hands just to feel the paper,
I think the e-reader will bring paper book sales down bit there will always be people like me that love both and collect paper books just cuz we love them.
(Vickie Hightower 2:42pm July 25, 2010)
I don't have an e-reader. I read ebooks on my computer. Now that the prices have fallen I am hoping to buy an e-reader soon. Don't know which one I want yet.
(Jane Cheung 3:05pm July 25, 2010)
Hello Becky, Please enter me in your fantastic contest and please let me know when I am a winner too!
GOD Bless Everyone, CECILIA
(Cecilia Dunbar Hernandez 3:07pm July 25, 2010)
I've tried reading on my laptop and on my
Palm and it's just too hard to see with the
varying lights (inside vs. outside with sun
light). I'm just not ready to convert over
yet...
(Molly Wilsbacher 3:22pm July 25, 2010)
I love the concept of the e-readers just not the price. It's one of my "Wish Lists" for Christmas.
(Fallon Hadley 3:46pm July 25, 2010)
I agree, e-readers do have lots of advantages but sometimes a good book in my hands is much better. I guess I like having options.

Prices are getting better. If you wait another year, I'm pretty sure they will all be more reasonable for the everyday person.
(Becky Pena 3:58pm July 25, 2010)
I've only tried the Kindle and have had it since it first came out. I love it and have a ton of books on it but I love reading the news on it as much as anything. I subscribe to newspapers and love reading them. I would like to try the Nook by B & N because it has the color and all. One day. But the iPad? Way out of my league.
(Vicki Hancock 4:13pm July 25, 2010)
I still love the feel of a book.I think the Kindle is great for travel but at home I rather have a book in my hands.
(Catherine Myers 5:17pm July 25, 2010)
I actually prefer to hold a book while I read BUT because of the convience and protability many books I am looking very closely at purchasing an e-reader of some sort. Now I have to research them.
(Beth Kaake 5:51pm July 25, 2010)
I do not own an e-reader and I join you in hoping that real books don't become extinct. I love turning the pages and holding a book in my hand. I love visiting bookstores.
(Gladys Paradowski 5:58pm July 25, 2010)
I have an e-reader but I still read hard copies as well. They both have their place.
(Mary Preston 6:21pm July 25, 2010)
I am waiting for the right moment to buy an ipad. I love them!
(Lisa Garrett 7:34pm July 25, 2010)
There are changes everyday,so I try to keep up with the lates new inventions. My husband still doesn't know how to work the VCR or computer.May try an e-reader someday.
(Deb Pelletier 7:53pm July 25, 2010)
I am so a fan, just haven't got the money to get one yet; I've been looking at Kindle, Sony Aluratek and Kobo, a really hard decision to make . And since I'm not a tekkie I'm asking friends their experiences with their ereaders.
(Diane Sadler 8:04pm July 25, 2010)
I don't have an e-reader but think I would always prefer the feel of a print book! I can share a print book also with my family and friends. In the end the books end up at a library in Iowa where they donate my books after reading them. I couldn't do that with an e-reader.
(Brenda Rupp 9:44pm July 25, 2010)
Books! for real, I can feel it; books. I prefer to wait until the "bugs" are all worked out electronically. Besides, with arthritic hands, I have come to enjoy audio books.
(Susan Driskill 10:10pm July 25, 2010)
Ah, the audio book, something I still have not tried. I don't think that form of media will ever go extinct :)I've got plenty of time to try it out!
(Becky Pena 10:35pm July 25, 2010)
Have yet to give in to the
ebook
reader but have read several
on my computer. I know that
eventually I'll probably get
one but I enjoy the feel and
smell of the printed word.
(Lisa Richards 10:56pm July 25, 2010)
Hi Becky,
I don't own an e-reader but I think it's definitely the future. I have a lot of books throughout the house which take up a lot of room but if everything was on this little device it would definitely free up a lot of room.
(Maureen Emmons 6:15am July 26, 2010)
I don't own an eReader; I read ebooks on my laptop. HOWEVER, my laptop is broken and I can't access any of my ebooks. Moral of the story: Don't forget to backup periodically.
(S Tieh 3:06pm July 26, 2010)
Afraid I am old school and like paper books. However, saying that, I packed one box and one totebag with books for this week's trip. I did bring books for other people too, but most are for me. I have a variety for me. Now, if I had an ereader, it would be one slim thing I could slip in my purse. Maybe one day.
(Patricia Barraclough 7:10pm July 26, 2010)
I LOVE my ereaders...I have a Kobo and a Sony and they are both wonderful!
(Darci Paice 6:53pm July 28, 2010)
Maybe some day, otherwise my kids
are going to spend months giving
away thousands of paperbacks
after I pass.
(Lisa Richards 7:40pm July 31, 2010)
Registered users may leave comments.
Log in or register now!