Margaret Mallory | Sighing Over Knights

July 23, 2010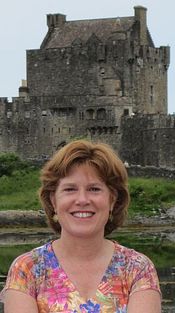 What do readers like best about my medieval series, ALL THE KING'S MEN? Without a doubt, it's the heroes! The joy of writing in the medieval period is that it lends itself so well to stories about honorable alpha men who have a heady air of danger about them.
My heroes are warriors, fearless knights who live by an internal code of honor. I like to make it interesting by throwing these honorable men into situations in which duty and loyalty collide. Will my hero betray his father or his king? Will he break his oath or his beloved's heart?
I'm fair; I force my heroines into equally difficult dilemmas.
Speaking of heroines, I give my knights worthy heroines..who cause them no end of trouble. These are women who...if they feel they must...are willing to wield a sword, spy for a prince, or follow an enemy into a secret passageway.
In KNIGHT OF PASSION, the last book in this trilogy, I give Sir James (Jamie) Rayburn a heroine who refuses to let him do the right thing by her. When Linnet gave him her virginity, my honorable knight assumed marriage would immediately follow. Linnet is a young woman set on the path to vengeance, not marriage. When the two meet again five years later--on London Bridge, in the midst of a riot--Jamie is a much wiser and harder man. Though he is no less attracted to Linnet, this time he is guarding his heart.
A few readers have written to tell me they "LOVED" Jamie so much that they wanted to "strangle," "throttle," or even "murder" poor Linnet at several points. Ladies, please! I'm flattered my hero evokes such strong emotion, but Jamie can take care of himself--and Linnet has good reasons for what she does. Besides, I'd have no story if Linnet fell on her knees at the start, crying, "Whatever you want, however you want it, you gorgeous man!"
Fortunately, readers seem to forgive Linnet by the end for trying this handsome knight's patience. I do love to hear from readers.
I hope your summer is filled with Knights of Desire, Pleasure & Passion! ;)

KNIGHT OF DESIRE is a Best First Book finalist in the 2010 Readers' Crown and Golden Quill; KNIGHT OF PLEASURE is a best historical finalist in the 2010 RITA, Booksellers Best Award, and The Maggie. Margaret's latest release, KNIGHT OF PASSION, received "4 Stars, Top Pick!" from RT Book Reviews.
Comments
47 comments posted.
Re: Margaret Mallory | Sighing Over Knights

This book sounds so good! I love it when a hero has to make a decision between heroics and love.
(Joanne Reynolds 6:24am July 23, 2010)
Hi Margaret, I have All the Kings Men, Knight of Passion and Knight of Desire and need your new book really, really, bad. lol Love your books and can't wait to read. I enjoy getting mad at the hero or heroine when they start sparing. Thats what makes the book more exciting and you have to keep reading to make sure everything works out.
(Brenda Hill 10:05am July 23, 2010)
I am not entering the giveaway as I already have Knight of Passion. Sorry I forgot to put on comment above.
(Brenda Hill 10:07am July 23, 2010)
I haven't read many historicals lately, I'll be sure to look in the bookstore for your titles.
(Diane Sadler 10:42am July 23, 2010)
I have loved all your books and can't wait to read this one.
(Barbara Hanson 10:44am July 23, 2010)
I'm definitely going to have to read this book, I love impossibly strong and stubborn heroines.
(Chantel Williams 11:01am July 23, 2010)
Your series sounds great. I am definitely okay with a heroine who knows her own mind.
(G S Moch 11:24am July 23, 2010)
Oh those strong medival men,what's not to like. Can't wait to read your new book.
(Elizabeth Parzino 12:50pm July 23, 2010)
hey margaret keep up th e good work!
(Debbi Shaw 1:35pm July 23, 2010)
Sounds wonderful... I love when a heroine has some spunk... give the hero something to think about!
(Colleen Conklin 1:50pm July 23, 2010)
Thanks so much to those of you who said you love my books & to those who said they want to try them out! I'm glad to hear you like don't mind the heroine driving the hero a bit mad. ;)

Margaret
(Margaret Mallory 2:03pm July 23, 2010)
Oh my, now I have to apologize for the mistakes I made in that previous comment! I'm working on a small screen, propped up in bed with ice on my ankle, with my own hero talking to me while I'm trying to type. Sorry!

Margaret
(Margaret Mallory 2:08pm July 23, 2010)
Your books sound great. I love, strong, honorable men, and women with a mind of their own. It sounds like you put them together and came up with a compelling story. Thanks!
(Robin McKay 2:14pm July 23, 2010)
Oh, sounds like a wonderful story!
(Cathie Veres 2:29pm July 23, 2010)
I love your books. I really like strong willed heroines.
(Cheryl Lynne 2:30pm July 23, 2010)
I like my heroes strong, handsome and able.
(Alyson Widen 2:44pm July 23, 2010)
I have never read one of your books, this looks Good!
(April Funderburgh 3:00pm July 23, 2010)
Hope your ankle feels a lot better very soon.
(S Tieh 3:03pm July 23, 2010)
I don't think I could write a heroine who wasn't strong. And if I'm going to spend months writing a book with a man I made up, he may as well be good-looking. Very good-looking. ;)

Margaret
(Margaret Mallory 3:04pm July 23, 2010)
Congratulations on the new release. I haven't read a medieval book in several years. Everything seems to be regency based right now. There's something to be said about a hero who lives by a code of honor. It sounds like an interesting read.
(Kim C 3:18pm July 23, 2010)
Congrats on your release! I haven't read a good medieval in a while so I think I would really enjoy this one.
(Gail Hurt 3:44pm July 23, 2010)
Hi Margaret! Congrats on your release. I love to read about knights and anything to do with the medieval period.
(Julie Robinson 4:04pm July 23, 2010)
I want you to know that if you see a loose question mark after "I do love to hear from readers," I didn't put it there! I really do love to hear from readers.

Margaret
(Margaret Mallory 4:08pm July 23, 2010)
Love the cover.Someone once said to me" Do you want a metal or a chest to pin it on." I want that man on the cover.
(Deb Pelletier 4:24pm July 23, 2010)
Thanks, Sara, for removing that question mark. :)
(Margaret Mallory 4:25pm July 23, 2010)
Deb, that man is something, isn't he? WAIT til you see the guy on the cover of my next series. Oh my. I'm very lucky with these covers--my publisher's art dept does a great job for me.
(Margaret Mallory 4:28pm July 23, 2010)
Should be a winner.
(Patricia Mellert 4:36pm July 23, 2010)
I Love your books amd the way you twist and turn a story. Thank you for keeping the books coming
(Vickie Hightower 5:29pm July 23, 2010)
I enjoy an alpha hero and a heroine that gives as good as she gets. I can't wait to read your All The King's Men series.
(Barbara Elness 6:12pm July 23, 2010)
What an intriguing storyline!! I haven't read your books, but I would love to get my hands on one!! I'll have to start with the first one of your trilogy. If I'm lucky enough to win this one, by the time I receive it, I should be done reading the others!!
(Peggy Roberson 7:06pm July 23, 2010)
I really do have a weakness for a strong honorable hero.
(G. Bisbjerg 7:57pm July 23, 2010)
I would love to win your book. Thanks for the opportunity.
(Brenda Rupp 9:16pm July 23, 2010)
I have my fingers crossed for this one. It looks amazing. I will read the others in the series first.
(Mary Preston 9:24pm July 23, 2010)
How can I resist the knight? Knights and medieval times are one of my favorite stories.
(Kai Wong 9:29pm July 23, 2010)
The book sounds awesome!!
(Sarah Roman 9:41pm July 23, 2010)
Thanks for all the congrats on my new release. :)
(Margaret Mallory 9:58pm July 23, 2010)
The phrase "my knight in shining armour" did not become universally familiar without reason. We all love knights both in history books and love stories. Refering to one's personal hero as a knight is a distinct compliment.
(Gladys Paradowski 10:08pm July 23, 2010)
This book looks like a great read for the summer!!!
(Sue Nodes 10:23pm July 23, 2010)
Tight pants, knee high boots, a sword... what's not to love about the knight on the cover! The book looks and sounds beautiful. I will have to check out the rest in this trilogy.
(Yadira Alonzo 11:26pm July 23, 2010)
sounds like a great book to read
(Sagrario Vigil 11:28pm July 23, 2010)
I love medieval, knights and strong heroines..do they need to be read in order?
(Ivy Truitt 11:50pm July 23, 2010)
I have your first two books in this
series. I've just been waiting for this
one before I start. Once I start reading
a series, I have no patience to wait for
the next book. So, most of the time,
I'll wait for them all to be out before
reading them. It keeps the continuing
characters and the story arc fresh in
my mind.
Congratulations on the awards your
books have already garnered and best
of luck with the ones you have been
nominated for. Best of all, are the
readers response to your books. I
have heard nothing but wonderful
things about them. It has made it
hard waiting for book 3.
I believe your next series will involve
Highlanders. I hope so. My very first
romances were Julie Garwood's
medieval and Highlander books.
Those settings are my favorites.
Readers shouldn't stress about your
heroines. They should know you
would only give the hero the best he
deserves : )
(Patricia Barraclough 12:48pm July 24, 2010)
margaret really did a good job on this one
(Debbi Shaw 1:33pm July 24, 2010)
Congrats on your new release. I have enjoyed many of your books!!!

Valerie
in Germany
(Valerie Bongards 3:32pm July 24, 2010)
I like heroines that have their own mind--continue with more Linnets.
(Sue Farrell 12:59pm July 25, 2010)
I also tend to collect all the
books in a series before diving
in and this one sits on my TBR
shelf calling to me each time I
pass.
(Lisa Richards 10:58pm July 25, 2010)
Fiesty women rock!
(Jane Maritz 12:13pm July 26, 2010)
Registered users may leave comments.
Log in or register now!