Judi Fennell | So Punny

February 2, 2010
Catch Of A Lifetime
Judi Fennell
AVAILABLE
Mer #3

February 2010
On Sale: February 1, 2010
Featuring: Angel Tritone; Logan Hardington
384 pages
ISBN: 1402224281
EAN: 9781402224287
Mass Market Paperback
Add to Wish List

Also by Judi Fennell:
Beefcake & Retakes, April 2015
What A Woman, March 2015
What A Woman Gets, November 2014
What A Woman Needs, June 2014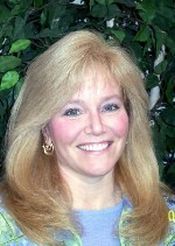 Thanks so much for having me back to talk about my latest release, CATCH OF A LIFETIME, the story of Mer princess Angel Tritone (younger sister to Rod and Reel from the other two stories), and Logan Hardington, a Human who wants nothing more than Normal in his life. A Mer(maid) is as far from Normal as you can get.
I had a lot of fun with this series, both with the stories themselves--the characters' journeys--and the storytelling. See, I was a language major in college (my degree is in Spanish). As such, I had to take a second foreign language (French), and had taken that and some German in high school, in addition to the required English courses. I loved all of them because I love language.
I hadn't realized how much I did though, until I started writing IN OVER HER HEAD, the first book in my Mer series. Oh, the story started off pretty straightforward, nothing to indicate it would veer down the pun-filled slope it did. When the Mer man, Reel, showed up I still had no clue.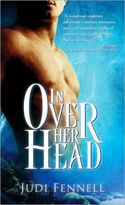 Then Reel's sidekick showed up, a suckerless remora fish named Chumley, who goes by the nickname Chum. Okay, that made me giggle. Then I figured out his last name: Masticar, which, in Spanish, means "to chew." More laughter ensued.
And then the heroine met Reel, and she, thinking she was suffering from the bends since she was breathing under the sea and we all know that's not possible, asked Reel if he had a friend Rod. Reel's answer? "He's my brother. He's in charge of the South Atlantic."
And that was when the whole "punny" thing was born. I sat back and looked at my screen. He had a brother? Named Rod? Who's in charge of the South Atlantic? Who knew?
I sure didn't, but once that came out of Reel's mouth, and Chum started yacking, I knew I had to go with the flow. (See?) It's amazing how many sea-themed sayings we have in our daily lives. I began hearing all of them when I entered that first book in an online contest where people could make comments. And, yes, "you're punny" came up quite a bit.
So when I wrote the next two stories, I let my imagination and love of language fly.
Which leads me to CATCH OF A LIFETIME. The story takes place off the east coast of central Florida, and a hammerhead shark shows up from his home base off the coast of New Jersey. His name? A.C. after Atlantic City. He's kind of thug-like, mafioso-type and the moniker just seemed to fit.
What I hadn't realized was that when I put it together with his last name, this is what I got:
A.C. Hammer.
And, yes, he does say "you can't touch this" in the story. How could he not?
Then there's the seagull named Taylor. If you've read WILD BLUE UNDER you'll have met the head of the Air Security Agency, the seagull, Livingston. I couldn't not name a seagull Livingston when he showed up in that story, but I didn't want him showing up again in Catch of a Lifetime. It's a big sky; there are lots of seagulls. He didn't have to be the one in this story.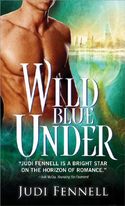 So I had to come up with another name for this seagull. Livingston was already taken and Jonathan is just too obvious, so I chose Taylor. Anyone want to guess why?
I'll be back to answer at the end of the day.
If you want to check out excerpts and deleted scenes from my Mer series, as well as register for the chance to win the third (and last) romantic beach getaway weekend-this one in West Palm Beach, FL at the Hibiscus House B&B --please check out my website
CATCH OF A LIFETIME" BY JUDI FENNELL-IN STORES FEBRUARY 2010!
Mermaid Angel Tritone escapes a shark by jumping into single dad Logan Hardington's fishing boat. All his young son Michael wants for his birthday is a mermaid, and if his dad will only play his cards right, now he'll have one...
Angel wants to give Michael his most beloved birthday gift (a real live mermaid) while also getting to know his father and getting him to help her in her mission to stop humans from destroying the oceans. Logan has never met a woman who cared as much about the same things he does, and she's never met a man who understood her deepest commitment to humanity and nature. When an enemy of conservation shows up and tries to kill Angel, Logan has to choose between continuing the life he's known, or following the woman he loves to the bottom of the ocean...
The third novel in Judi Fennell's mermaid series, a fresh, exciting, and different entry in romance fiction!
About the Author
Judi Fennell is an award-winning author. Her romance novels have been finalists in Gather.com's First Chapters and First Chapters Romance contests, as well as the third American Title contest. She spends family vacations at the Jersey Shore, the setting for some of her paranormal romance series. She lives in suburban Philadelphia, PA. For More information, and a chance to win a romantic ocean getaway, visit www.judifennell.com.
Leave a comment today for a chance to win a copy of CATCH OF A LIFETIME - Two Winners!!!
Comments
34 comments posted.
Mermaids and "punny" coments -PRICELESS-
(Audra Holtwick 3:07am February 2, 2010)
This is such a fun and unique series!
(Sue Ahn 5:33am February 2, 2010)
This sounds like so much fun to read! Thank you.
(Joanne Reynolds 6:21am February 2, 2010)
I would love to win. This sounds like a great book.
(Angela Bailey 7:30am February 2, 2010)
What a great entertaining series!!! I would love to win...
(Danelle Drake 9:34am February 2, 2010)
Sounds like a great read.
(Sherry Russell 9:35am February 2, 2010)
You are clearly having too much fun with your work--What a joy!
(G S Moch 10:24am February 2, 2010)
Yep, these stories are a lot of fun to write! I'm so glad people are enjoying them and thanks so much for stopping by!

And don't forget - the drawing for the last romantic beach getaway weekend is 2/28 so register today!
(Judi Fennell 11:24am February 2, 2010)
Oh this series sounds great! :D I am unfamiliar with your books, but after reading this post... I want to read them!
(Colleen Conklin 1:13pm February 2, 2010)
Wanted to put a shout out to Fresh Fiction - just had a reader email me this morning that she found out about my series via this site and went out and bought all three, read them in a week and loves the series.

Thank you so much for getting the word out and inviting me to be part of it!
(Judi Fennell 1:21pm February 2, 2010)
Hi Judi, the series sounds so fresh. It has been a long time since I read any books with mer people as the heroes and heroines of the story.
this sound like something I would love to read. I really enjoy light hearted romance to escape into.
(Gigi Hicks 2:40pm February 2, 2010)
You made me smile with "your punny." Thanks for spicing things up around here.
(Alyson Widen 3:55pm February 2, 2010)
I just finished reading Wild Blue Under and loved it. Would love to read Angel's story. Thanks for the chance to win a copy.
(Cherie Japp 4:03pm February 2, 2010)
Thanks for the good laugh! I can't wait to read Catch of a Lifetime.
(Joelle Beebe 4:53pm February 2, 2010)
Since I was lucky enough to win the first two books in this series (PLEASE say it'll be more than a trilogy!!), I won't hold out too much to win "Catch of a Lifetime", much as I'd like and appreciate it! The first two were great! I spent the entire weekend when reading them not just smiling, but downright laughing out loud. A lot!! They were so finny!!! (Sorry, couldn't resist!)

Anyway, having had worked with a choral conductor at university who absolutely loved bad puns, I simply totally enjoyed myself with "In Over Her Head" and "Wild Blue Under".

Many thanks for them both!

Later,

Lynn
(Lynn Rettig 5:22pm February 2, 2010)
I love a clever, witty pun, almost as much as mermaids & mermen. Keep writing!
(Mary Preston 5:25pm February 2, 2010)
I dearly LOVE puns! I find myself saving them from the newspaper jokes and pasting them in my scrapbook. And I am in awe at your majoring in languages. I took Spanish in junior high and French in college, but I feel like I remember so little of either. I keep telling myself that I will brush up on both, but time keeps going by, and I haven't done so.
(Gladys Paradowski 5:37pm February 2, 2010)
I love the sound of your books. Very creative and fun.
(Mitzi Hinkey 5:41pm February 2, 2010)
Catch of a Lifetime looks really great! Thanks for a chance to win!
(Freda Mans-Labianca 5:50pm February 2, 2010)
Congratulations, Judi, on all
your success! So happy to see
all your dreams come true.
Margay
(Margay Roberge 5:53pm February 2, 2010)
Judi, I've read your two previous and laughed through both of them. I can't wait to read Angel's story to see what kind of trouble she stirs up.
(Maude Allen 6:47pm February 2, 2010)
Enjoyed the puns. Every Saturday I keep in touch with family and friends by sending them a groaner!
(Karin Tillotson 7:26pm February 2, 2010)
Great Post!! Count me in to win!
(Lisa Glidewell 7:58pm February 2, 2010)
Congratulations on your success. This sounds like a fun series. I certain like puns. I'll have to try to find the books.
(Sigrun Schulz 8:37pm February 2, 2010)
That sound funny.Can't Wait to check them out.sounds great.
sasluvbooks(at)yahoo(dot)com
(Stacey Smith 9:49pm February 2, 2010)
great post count me in. Love this series.
(Pam Kinsey 10:42pm February 2, 2010)
Thanks so much everyone! I'm so
glad those of you who've read the
stories have enjoyed them. They
were a blast to write. And,yes, I am
hoping to write Mariana's and Pearl's
stories after the first 3 genie books.

Regarding the question about why
the seagull in Catch is named Taylor:
his brother is Livingston. Put them
together and you get Livingston
Taylor - a good musician Another
nod. I like nods as much as I like
puns.
(Judi Fennell 11:16pm February 2, 2010)
I love a great laugh and your book sounds like it will provide that in abundance.
(G. Bisbjerg 11:18pm February 2, 2010)
Thanks for adding three more
books to my wishlist. I just love
to find new authors and this
sounds like a hoot of a series!
(Lisa Richards 11:36pm February 2, 2010)
I love books that make me laugh out loud and your series sounds like it will be the type I love.
(Patsy Hagen 11:52pm February 2, 2010)
I've never read your series but it does sound funny.
(Diane Sadler 3:22pm February 3, 2010)
Looking forward in reading the second book of the series.
(Kai Wong 9:11pm February 3, 2010)
I love the way she writes. Can't wait to get ahold of this new book!
(Lisa Glidewell 10:47pm February 3, 2010)
It's so nice to see so many people stopping by. Lisa Glidewell - thank you so much for saying that. I'm glad I could give you a few hours of reading entertainment. You, too, Kai. I hope the rest of you enjoy the stories too!
(Judi Fennell 11:08pm February 3, 2010)
Registered users may leave comments.
Log in or register now!