Sandi Shilhanek | Is It Really About The Point Of View?

August 30, 2009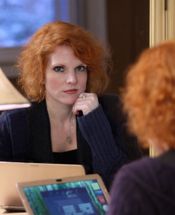 This weekend I am reading Red Hot Lies by Laura Caldwell. Red Hot Lies is just slightly out of my normal reading, as I tend to stick to romance and romantic suspense, and I would classify this novel as a mystery.
When I sat down to begin Red Hot Lies I thought that Laura Caldwell might be a new to me author, and even was going to tell my yahoo groups about my new discovery, but then I realized I had read her previously, and very much enjoyed her. I can remember reading The Year of Living Famously and insomnia being a bit of an issue, and me not minding because I had a great book to keep me company in those sleepless hours.
Red Hot Lies is another book that I'm really enjoying, so much so that I was a good fifty pages into it before I fully realized that the book I was reading was written in first person. I'm sure you're wondering why I mention this...it's because I have a few friends both in my real life, and in my online life that don't like first person books.
I can't say that I have a preference for point of view in my books, but it's my experience that many people feel strongly about this. Why? When someone raves about a book, but then makes the final comment it's in first person, why would that turn someone off? I'm almost positive this is an age old question, and one that has perplexed many people.
I really have an urgent need to know if you will or won't read a book in first person. If you don't why not; are you willing to try one? If you do what is your favorite book written in first person, so we can perhaps convert the non first person reader.
Until next week happy page turning.
Sandi Shilhanek

DFW Tea Readers
Readers 'n 'ritas... celebrating literary obsessions
Our prize this weekend is a signed set of Candace Havens's Caruther sisters novels: THE DEMON KING AND I and DRAGONS PREFER BLONDES. And the SECOND prize is signed copies of Michele Bardsley's latest OVER MY DEAD BODY and Dakota Cassidy's newest book -- KISS AND HELL. And if you haven't had a chance to stop by Dakota's blog to check out her vblogs, hurry, you don't want to miss the fun! It's truly a naked authors (so to speak!) Just leave your comment below and you'll be entered to win!
Comments
43 comments posted.
Re: Sandi Shilhanek | Is It Really About The Point Of View?

I think that first-person books are great, but then I think most books are great. What a great cover to the book!! Thanks for the chance!
(Joanne Reynolds 7:58am August 29, 2009)
I don't have a preference either way. If they are in first-person, second-person, etc. does not matter to me so long as the book itself is well written. I can read just about anything so long as it holds my interest and is somewhat fast moving.

Thanks for the chance to win!
(Amy M. 9:05am August 29, 2009)
I like both types of books as long as it is a good, well written story. If a book draws me into the story it can be written from any point of view. Favorite first-person...Right now the only book I can think of is The Accidental Demon Slayer by Angie Fox. It is a fun paranormal read from a debut author.
(Ruby Davis 1:00am August 30, 2009)
Actually, I prefer first
person books. When watching a
film, I tend to identify with
one character in particular.
In books, I will identify with
the first person character,
and that will immediately
keep/get me into the book.
Male/Female, Good/Bad is never
the issue though.
(Bartholomew Henry 9:48am August 30, 2009)
I, personally, don't have a preference, but my husband seems to for this reason: the word "I" being repeated over and over. It's something of an irritant, and no, it doesn't matter what type of book it is.

I think it also has something to do with the fact that logical people have a problem with shedding their own "skin" if you will and letting themselves believe they are someone else. They find it easier to believe they are "watching" the story, but not actually in it.

It could also be something as simple as they don't like being in the spotlight and a first person book would do that.

But these are just guesses.
(Carrie Hinkel-Gill 11:19am August 30, 2009)
I usually prefer third person books, because I like to know both the hero and the heroines point of view. However, I will read first person books if the blurb hooks me in. My very favorite first person books are by Kristan Higgins - I love all of them, but Just One of the Guys is my very favorite.

I just have to say, I love your blog posts, Sandi. You have fantastic topics. I don't usually read blogs, but yours catch me every time.
(Jamie Kersten 11:28am August 30, 2009)
I always perfer a good story regardless of the genre or which pov is used. If I identify or empathize with the characters than I am usually hooked. I always enjoy when I come across that rare book/story that I simply cannot put down until I have read that last page!
(Margie Hall 11:31am August 30, 2009)
I don't have a preference. As long as the story is good I will read anything.
(Julie Harper 11:36am August 30, 2009)
I agree with you Sandy, that usually I don't like first person, only because the books I have read they have not been done right but I really enjoyed this book.
(Cheryl Koch 11:37am August 30, 2009)
I really don't care one way or the other, as long as it is a good book.
(Lynn McCrea 11:42am August 30, 2009)
1st time here.... very nice!!! Diane V
(Diane VanNuland 11:48am August 30, 2009)
Today's comments seem to be that as long as the book is good and well written no one minds which point of view the
story is told from. I'm glad to see that so many people are willing to read no matter what. I however can't help but
wonder where all the people with strong opinions are.

A special shout out to Jamie...I've had a really rough week personally, and your comment really brought a smile to my
face. Thank you!
(Sandi Shilhanek 11:50am August 30, 2009)
Thanks for the contests!

[email protected]
(Katherine Reese 12:32pm August 30, 2009)
I enjoy third person better, but if it is a well written story I'll read it.
(Joyce Mandle 12:32pm August 30, 2009)
It's probably my imagination, but I think first person reads faster than the other.

Having said that, I think the first person voice has to be careful not to sound too precocious or too smart. I've set books aside where the narrator is just too "too" for me.

But, heck. I'll read/try/inhale most anything!!!
(Cindy Ferrell 12:57pm August 30, 2009)
I love a great story told by a fantastic storyteller....so if the book is well written, enjoyable and keeps me very much entertained, I really, really don't care what point of view is used to get me there. Some of my favorite and/or most entertaining authors tells me a story in first person, i.e. Diana Gabaldon in the Outlander series, Harper Lee in writing "To Kill A Mockingbird", Janet Evanovich in the Plum series, Lawrence Hill in "Somebody Knows My Name", etc. Again, tell me a story...make it an awesome read....and it will not matter the point of view used.
(Delores Franklin 1:49pm August 30, 2009)
Sandi I love your column you come up with some of the best topics and I have used a few in my own book club to drum up conversation. Now on to the question.

It does not matter to me one way or the other as long as the story is good. In the end it's all about the story not the writing style. I have read books written in the first person that were absolutely fabulous. As a matter of fact now that I think about it the book I just started is written in the first person and so far the book is entertaining. If I had not read your column I would not have even noticed.

Author have told me it is harder to write in the first person so maybe the sign of a good writer is one that can write in the first person and the reader only focues on the story.
(Desiree Dalton 2:17pm August 30, 2009)
I don't really mind one way or another if it is written in
the first person. Right now I am reading one told from the dog's point of view...lol
(Joy Hoormann 2:19pm August 30, 2009)
No preference love all books.
(Jeanette Bowman 2:37pm August 30, 2009)
I like being on the outside of the story looking in. It gives me a perspective not always seen by the main characters and I'm able to choose who I hook on to in the story. And its not always the hero or heroine!
(DeeAnn Szymanski 2:38pm August 30, 2009)
I wonder why readers don't like first-person books. Any type of book can be well or poorly written, though there are certain limits in a first-person account.
(Sigrun Schulz 3:13pm August 30, 2009)
Hi Sandi,

If the book/story draws me in, keeps moving along I don't care what pov it is! At the moment I can't think of any books that were 1st person pov. When I am reading I don't think about that.

On Sunday I always look forward to seeing what your subject is that day. You are doing a great job. Thanks.
(Donna McClure 4:01pm August 30, 2009)
As long as the book is enjoyable and keeping my attention, I don't care if the book is written in first person or not.
(Michelle Sauer 4:04pm August 30, 2009)
I but think all books are First person only works for me if it is a character I can identify with, but in most cases I can if the book is well written.
(Caroline Kolb 4:12pm August 30, 2009)
I like first person when we are in the presence of the main character and we are in his/her head and even a switch to the first person of the villain or other main character when each change in POV is a change in scene.

As to reading the book above the fray, I become so involved with the main character that while my head is in the book I am that person. Just the way I read.

Ray
(Ray Getzinger 5:02pm August 30, 2009)
I can read a first-person book if it's written well, just as I can read a book written in multiple persons if it is written well. I think it's harder to write a good first person book without making it sound self-centered or such. And a book that's all thought and no action is very hard to read as well.
(Trudy Miner 5:20pm August 30, 2009)
I've never been a fan of first person in the past but I did like the first book of Cheyenne McCray's Lexi Steel series, The First Sin. It was wonderful. I'm going to get the second book which just came out.
(Debbie Beverley 6:02pm August 30, 2009)
Before being a part of online reading groups, it never entered my mind to care which POV a book was written from. I won't skip a book because it's in 1st person, as a matter of fact, most of my faves are that pov, HOWEVER, there seem to be more pitfalls for the author and the storytelling has to be just that much sharper.

What I mean is, in that POV you really have to care about the main character to love the book, many times a book will be ruined for me because it's harder to keep the character from sounding vain and self absorbed and I agree with an earlier comment about the whole "I" thing over and over, also in a book such as romance where there may be 2 characters equally important, you feel the book incomplete because you don't get to hear the thoughts of the 2nd character.

First person books top my favorites list and that makes me give props to an author who can carry it off. Jim Butcher is awesome, The Spellman series is another I adore, and the list goes on.
(Janet Beckley 6:38pm August 30, 2009)
My preference is also my preference.
(Vikki Parman 6:42pm August 30, 2009)
Thank you for all the comments. I don't know if I'm feeling more into this story because of the 1st person point of view, or because it's set in Chicago
and even though I haven't lived in there what seems like forever, it is where I was born and raised. It's almost like going home again without having to
suffer the stresses of traveling!

When I log in and see all the comments I'm always grateful to all who have taken a few minutes of their day to respond, because it's a huge huge HUGE
ego boost to see that I have come up with something that people feel compelled to comment on. Thank you one and all!
(Sandi Shilhanek 6:48pm August 30, 2009)
Sandi--as always you have come up with another great topic. I always try to check your blog on here no matter how busy my Sunday is. It doesn't matter too me about pov but I do like to read 1st person occasionally. I read a lot of gothics when I was younger and they are mostly 1st person so I am comfortable with the pov. Some mystery series are 1st person such as Patricia Cornwell so you would be limiting yourself if you never read anything in 1st person. My favorite though is the Outlander series.
Mary
(Mary Perry 7:13pm August 30, 2009)
Either or is good enough for me so long as the story is good. I love to read.
(Diane Sadler 7:55pm August 30, 2009)
In all honesty, I don't pay any attention
to whether or not a book is written in
first person. If a book is good it is
good.
I just did some checking and I think
Daphne du Maurier's REBECCA is
written in first person. It is one of my
favorite books. It may be a little dated
but still good.
I just realized the book I am reading
now is in first person. It is WOULD-BE
WITCH by Kimberly Frost. It is a fun
read and I'm enjoying it.
(Patricia Barraclough 8:59pm August 30, 2009)
Most of the time, I prefer to NOT read a book written in first person. Lately, however, I've read several that were written in first person that were excellent!
(Martha Lawson 9:49pm August 30, 2009)
I know many people seem to be very particular about point of view and reading in 1st person or not. It really is not something that makes that much difference to me. If it is written well w/ an abosbing story and well-depicted characters I am involved.
(Pam Nolan 11:07pm August 30, 2009)
I like both ways. First person seems to be more of a reportage and more personal like the reader knows pretty fast what's going on in the head of the main character in each paragraph.
(Alyson Widen 11:24pm August 30, 2009)
I prefer third person because I can place myself in the story better, and I like know how each of the main characters think. But with that being said, I will read a 1st person story if the writing is good.
(Sara Edmonds 12:17pm August 31, 2009)
I don't really have a preference. It's a change in pace and enhances my reading experience when I read different authors that uses persons.
(Jean Merriott 2:23am August 31, 2009)
Doesn't matter to me as long as the story/plot is good!
(JoAnn White 9:23am August 31, 2009)
I enjoy the 3rd person better. I like the books
Penney
(Penney Wilfort 10:47am August 31, 2009)
Wow! What a lot of great comments! And, as always, a great topic to comment on. . .

In all the, um. . . decades (whispered). . . that I've been reading, I have no idea how many books I read from first person pov. Then, about 2 years ago, I read one that was so horrible I swore never to read a first person pov ever again. Until then I hadn't actually realized there was a difference.

However, when you order your books online -- like I do -- you don't always know until you already have the book in your hot little hands. I read one just a couple of months ago that was so well done I was half way through before I noticed.

Not helping much, am I? I hope this new week is better than last week for you, Sandi.
(Donna Breitkreuz 5:26pm August 31, 2009)
To me, I rarely notice if the book is in first person or not, I like to become the character regardless. To tell the truth I could not name one book in first person unless I was reading it now and actually checked.
(Theresa Buckholtz 7:22pm August 31, 2009)
I read both. Doesn't matter to me as
long as it catches my attention
quickly.
Marilyn
(Marilyn Warner 9:55pm August 31, 2009)
Registered users may leave comments.
Log in or register now!