The Hot New Best-Seller — Category Romance?

February 26, 2013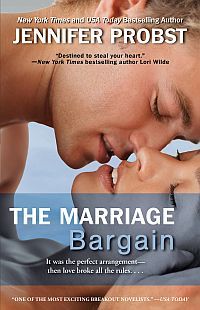 It was the perfect arrangement until love broke all the rules
Marriage #1

February 2012
On Sale: February 13, 2012
Featuring: Alexa Maria McKenzie; Nicholas Ryan
304 pages
ISBN: 1620612798
EAN: 9781620612798
Kindle: B00790TI0W
Mass Market Paperback / e-Book
$7.99
Add to Wish List

Also by Jennifer Probst:
Searching for Someday, December 2013
The Marriage Merger, August 2013
All The Way, March 2013
The Marriage Mistake, November 2012

Let's talk truth.
Category romance has always received a bum rap. Touted as formulaic, with cardboard themes and tropes galore, many hard core romance readers have also admitted they love the big single title but would never deign to pick up a category romance novel.
This was never my problem. I adored category romance and ploughed through them like a pre-menstrual woman in a Godiva factory. Still, I did find myself frustrated many times as my favorite tropes were either not used in a fresh way, or the story fell flat. Certain limitations seemed to restrict the freedom of the author's voice, and I always craved just a bit...more.
When I first penned THE MARRIAGE BARGAIN, I wrote for myself. I wrote about my all time fave trope — marriages of convenience — but I decided to write it my own way. My hero kissed another woman. I peppered it with lots of snappy humor and tons of dialogue. I originally wrote a secondary subplot of an older romance, which got deleted later in the editing process, but I didn't hold back. I wrote the kind of story I wanted to see in the genre I adored.
And it got rejected pretty much everywhere.
Entangled took a shot. They saw something in the story that went beyond the regular category romance, and stretched some limits. With a hot new cover that was fresh, and a reasonable digital price to bring in new readers, the book launched February 2012.
And became a bestseller.
My other books in the series — THE MARRIAGE TRAP and THE MARRIAGE MISTAKE — sold to Simon and Schuster. Each one was a bit larger,  more sketched out, but still keeping with the trope and characters I had learned to love like family. Many readers emailed me in shock that they adored the series and asked me this question. "Did I just read a category romance?"
Maybe. Maybe not.
But this story isn't about me. It's about breathing life into a genre that before was frowned upon. After BARGAIN, I started seeing more category type romance novels hit the top 100 list in droves with many familiar tropes readers used to snicker about. Alpha males and billionaires. Best friend's older brother. Wrong beds. Boss/secretary. Secret babies.
But things seemed different now. The tropes might be the same, but they were handled in fresh new ways by authors and readers dying for all the elements in a bestseller. The explosion was a beauty to watch as new readers to the romance genre — many brought by the success of the FIFTY SHADES OF GREY—gobbled up these category like books and loved them.
And bought more.
It's a new time on the horizon. Category is not what it was years ago. The issues are hard, the women are strong and feisty, and the sex is hot. Or not. From Brazen types with sex driving the story, to Indulgence with a humorous, fun touch, to Bliss with a sweeter type tone — there's something for everyone but it is no longer standard category.
Welcome to the new age. Welcome to the new category.  Welcome to an age where maybe we don't even have to tag books category, single title, chick lit, or women's fiction? Maybe we don't have to scream self pubbed, indie, small press or Big Six?
Maybe, just maybe, a great romance story is just that and we have learned our lesson once again about labels.
I love writing category. I love writing erotica. I love writing single title, and short stories, and children's books.
Because it's always about the story.
Isn't it?
About the Author
Jennifer Probst wrote her first book at twelve years old. She bound it in a folder, read it to her classmates, and hasn't stopped writing since. She took a short hiatus to get married, get pregnant, buy a house, get pregnant again, pursue a master's in English Literature, and rescue two shelter dogs. Now she is writing again.
She makes her home in Upstate New York with the whole crew. Her sons keep her active, stressed, joyous, and sad her house will never be truly clean.
Comments
12 comments posted.
Re: The Hot New Best-Seller — Category Romance?

It is always about the story, wherever it takes you.
(Kathy Sullivan 5:03pm February 26)
I love to read and find that I will devour "category" romance. They are fun, a great read, something that you can look forward to picking up.
(Carla Carlson 10:11am February 27)
Yes it's always about the story! And sometimes the story takes you in directions you didn't expect. Good luck!
(Clare O'Beara 8:35am February 28)
I think crossing genres is fine, but I'm not so sure if the bookstores know where to put them since they are in more than one category.
(Alyson Widen 9:48pm February 28)
I love to read. I read to be taken away from the trials or monotony of every day life. If that means reading a "category" romance then give me one!
(Annetta Sweetko 7:29pm March 5)
Love to read it is my way of going all over the world and never leave my
home and add a little romance in my life
(Ava Curtis 10:25pm March 5)
It's always about the story. I read category and mainstream romances. If a story is well written I don't care how it's packaged.
(Marcelyn Shuler 6:44pm March 6)
I have been reading category romance since 1980, especially
romantic suspense. I, too, read for the story and the
characters, and to escape into a world very different from
my own. Nora Roberts, Elizabeth Lowell, Linda Howard, Sandra
Brown, Jayne Ann Krentz, and many more of my favorite
authors, all started writing category romance. Long live
category!
(Jeanne Gaskill 6:49pm March 6)
I read category romances, although not as many as I used to. I read so fast that I can go through one a night. I only buy authors now that I really love in category romance. I prefer bigger books cause it takes longer to read!! Your books sound really great. Putting them on the wishlist.
(Martha Lawson 9:23pm March 6)
I read one in this series - loved it. Have another and am getting the 3rd.
(Pat Lieberman 7:35am March 7)
[b]tiffany silver[/b] [b][url=http://www.tiffanyonsales.com/jewelry-c-822.html]tiffanys[/url][/b] [b][url=http://www.tiffanyonsales.com/jewelry-c-822.html]tiffany jewellry[/url][/b] [b][url=http://www.tiffanyonsales.com/jewelry-c-822.html]tiffany co jewelry[/url][/b] [b][url=http://www.tiffanyonsales.cotiffany silver tiffanys tiffany jewellry tiffany co jewelry tiffany online .This request is normally done for the form referred to as the Consumer's Inspection Recognize and Seller's Reaction. Although it isn't a verified box choice, I likewise incorporate for great buyer customers, an level of investment the seller may easily pay towards the buyer in place of making whatever repairs in any way.This has the benefit of the buyer being allowed to oversee the entire repairs, rather compared to risking that your seller make lots of the requested plus accepted maintenance with at the least quality. In any event, hiring a specialist Home Inspector can be imperative to having the home that you thought which you were buying.
(Dukang1010 Aifsengh 7:23pm March 19)
[b][url=http://www.omegaonlinesale.com]omegawatches[/url][/b] [b][url=http://www.omegaonlinesale.com/omega-gents-collection-c-8.html]omega[/url][/omegawatches omega watches for men watches for sale mens watches
(Dukang1010 Aifsengh 3:39pm April 7)
Registered users may leave comments.
Log in or register now!