Mingmei Yip | Changing Topics

September 20, 2010
A few readers, after having read my two novels, asked me a similar question, "Is it difficult to write about a prostitute then a nun?"
My answer was no. Because prostitute or nun, they are women and human beings.
I love to write about women, especially heroines who are on the verge of drastic transformation -- their courage, struggles, and triumphs.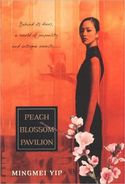 In my debut novel Peach Blossom Pavilion, story of the last Chinese courtesan, or geisha, Precious Orchid is tricked into a prostitution house after her father is executed for a crime he had not committed and her mother banished to a Buddhist nunnery,
Precious Orchid finds herself abandoned in Peach Blossom Pavilion, an elite house of prostitution.
At first, life at Peach Blossom Pavilion feels like a dream to the thirteen year-old. Precious Orchid enjoys her poetry, music and calligraphy lessons and feels herself thriving. But all too soon she discovers that this is merely a prelude to her role of pleasing customers, including China's most powerful men.
The novel relates her survival and ultimate triumph: how she escaped from the prostitution house, reunited with her long lost mother, avenged her father, finally finding true love and starting a new life in America.
The Chinese courtesan was a glamorous figure in pre-communist China. Precursors to the more familiar Japanese geisha, mingji, were high-class prostitutes prized for their skills in music, calligraphy, painting, poetry – and the arts of the bed chamber. Peach Blossom Pavilion, a novel seeking to revive the splendors and miseries of a way of life that has passed into history, is about the last surviving Chinese courtesan.
As the Chinese say that water, the softest element, is the most powerful. My heroines use their flexible, water-like yin nature to overcome whatever perils they face. The ability of women to rise above their oppressive circumstances is celebrated in Peach Blossom Pavilion.
My new novel Petals from the Sky is a love story about a young, aspiring Buddhist nun set in Hong Kong, Manhattan and Paris. It follows the success of my debut novel Peach Blossom Pavilion. Petals from the Sky has a quite different protagonist. Meng Ning faces the heartrending dilemma of having to choose between the spiritual life she's been cultivating for years and the sensuality she suddenly discovers. This poignant love story is inspired by my own life growing up with Buddhist nuns and my one-time aspiration to become one.
Watching her parents' relationship disintegrate, even though it was based on love, Meng Ning decides to live the serene life of a nun to avoid the messiness of dealing with men. When the young Meng Ning declares that she wants to be a Buddhist nun, her mother is aghast. To her, a nun's life means only deprivation – "no freedom, no love, no meat." But to Meng Ning, it means the chance to control her own destiny, and living an artistic life far from her parents unhappy union.
Meng Ning spends years studying in Paris, disdaining men, and preparing to enter the nunnery. But when she joins a retreat to test her karma to be a nun, her sensuality is aroused for the first time when a fire breaks out and she is carried to safety by an American doctor. The unexpected intimacy with an exotic, handsome stranger forces Meng Ning to decide between a life of non- attachment and one of passion.
Meng Ning's life becomes even more complicated when her nun mentor attempts to lure her back to the temple just after Meng Ning meets the doctor's sinister former fiancée and is nearly seduced by his gorgeous best friend.
Growing up with Buddhist nuns, I was attracted not only to these remarkable women's charitable work and their dealings with the rich and powerful, but also to exotic Buddhist ideas like enlightenment, non-attachment, karma, and nirvana. So in my youth, before falling in love with a man, I fell in love with a philosophy.
My hope is that after reading the book, readers will be awakened to the realization that true love, like any other worthy pursuit in life, needs constant, tireless cultivation.
My new novel is Song of the Silk Road, a romantic adventure set abroad on the famous Silk Road. It is a love story between an older woman and a younger man -- with the lure of a three million reward. Song of the Silk Road will come out in March, 2011 by Kensington Books.
For more information about my books, music, and art wotk, please visit:www.mingmeiyip.com
Comments
33 comments posted.
Re: Mingmei Yip | Changing Topics

This sounds interesting. I'd love to get my hands on a copy.
(Rosie Nguy 8:03pm September 18, 2010)
Your new book sounds like a must read.
(Ginger Hinson 1:05am September 20, 2010)
This story sounds so fascinating and has prompted me to put your other novel on my TBR list also.
(Joanne Reynolds 8:12am September 20, 2010)
I like the short blurb on your next book, Song of the Silk Road.
(Diane Sadler 9:56am September 20, 2010)
This sounds like an amazing read and not like anything I have read before.
(Kirsten Kimball 11:20am September 20, 2010)
Sounds like a fascinating read. I would certainly love to win and try out your books.

Maybe I'll have to put you on my auto-buy list.

Valerie
in Germany
(Valerie Bongards 12:27pm September 20, 2010)
honor me with your book!
(Debbi Shaw 12:34pm September 20, 2010)
I would love to get a copy of your new book.
I've read several of Lisa See's and enjoyed them very much.Thanks so much.
(Cynde Mitchell 1:00pm September 20, 2010)
Second comment-are any of your books hardcover?Our library can order books for us but they have to be hardcover.Thanks again
(Cynde Mitchell 1:02pm September 20, 2010)
Exploring a culture different from my own is always a treat. We have so much to learn from each other. Your books put me in a place my mind can explore.
(Elizabeth Parzino 1:03pm September 20, 2010)
What a great article. I've read Petals and loved it. It will make a great holiday gift, along with Peach Blossom Pavillion!
(Susan Kason 1:59pm September 20, 2010)
This sounds so interesting. I find stories set in Asia riveting and strong women characters are the absolute best. Throw in a few sparkling cities like Manhattan and Paris and I would be in heaven reading this one. I find reading about Buddhism and other world religions fascinating.
(Karen Gervasi 2:28pm September 20, 2010)
Your book sounds fascinating... thanks for sharing!
(Colleen Conklin 2:30pm September 20, 2010)
Reading about different cultures is always fun and enlightening. Please enter me in your contest.
(Sue Farrell 2:48pm September 20, 2010)
It sounds like you have enough twists in the book to keep the pages turning. I love any books about that culture, and can't get enough about it!! I'm sure it was slightly painful for you to write, as well, and I'm glad that you wrote it. This book will go to the front of my books to read list!! I also can't wait to read the next one in the series. Please keep them coming!!
(Peggy Roberson 2:57pm September 20, 2010)
Both books sound lovely and the premise of the third, well...
(Kelli Jo Calvert 3:30pm September 20, 2010)
On my list when next at Amazon.
Blessings,
Marjorie
(Marjorie Carmony 3:30pm September 20, 2010)
Fascinating and unique novel. Wishing you much success and happiness.
(Sharon Berger 3:55pm September 20, 2010)
Sounds wonderful to read.. would like to.
(Danielle Pontow 4:09pm September 20, 2010)
what a lovely book
(Vikki Parman 4:31pm September 20, 2010)
Sounds really good. I want to read this one.
(Cheryl Lynne 4:57pm September 20, 2010)
I love your work; Petals from the Sky was a wonderful novel. I love the was the dual worlds of the Chinese culture are highlighted. I felt immersed in the world you created in your book. I can't wait for a glimpse at your new novel.
(Brandi Evans 5:02pm September 20, 2010)
This sounds amazing. I can't wait to read more.
(Mary Preston 5:53pm September 20, 2010)
Your stories approach women and their ultimate destiny with a different prospective and cultural difference. I am anxious to read them.
(Rosemary Krejsa 7:53pm September 20, 2010)
The book sounds wonderful, perfect for fall reading!
(Peggy Cole 9:58pm September 20, 2010)
I have read very few novels with a Chinese or nun heroine, and absolutely none with a Buddhist nun heroine. This sounds like a fascinating and emotional premise
(Maya Missani 10:06pm September 20, 2010)
It is interesting how cultural perspective affects the way a life choice is seen. A certain life style may be accepted and admired in one culture, but considered inappropriate in others. Your books sound most interesting.
(Patricia Barraclough 11:33pm September 20, 2010)
I haven't read too many fictional books regarding the Silk Road except in non-fictional. It's good to have an entertaining story in that background.
(Kai Wong 12:24pm September 21, 2010)
The book sounds great. Instead of enlightenment, Meng Ning can achieve enlightenment about love.
(S Tieh 12:58pm September 21, 2010)
I love historical fiction and
this is an area that I'm totally unfamiliar with so WOOHOO! new
books to add to my list. Sounds
absolutely fascinating!
(Lisa Richards 11:57am September 21, 2010)
I've been eying this book for a while now and would be honored to win this book in your contest.

Thanks for putting it out there.
(Karen Appleby 2:36pm September 21, 2010)
Your book sounds great. Congratulations on your first book.
(Pam Howell 4:19pm September 21, 2010)
Please enter me in your great contest from freshfiction.com and please let me know when I am a winner too. God Bless Everyone. Cecilia
(Cecilia Dunbar Hernandez 8:16pm September 21, 2010)
Registered users may leave comments.
Log in or register now!