Terry Spear | Making Your Story FRESH!

August 20, 2009
AVAILABLE
His love has the power to transform... or destroy...
Heart of the Wolf #3

September 2009
On Sale: September 1, 2009
Featuring: Hunter Greymore; Tessa Anderson
448 pages
ISBN: 1402219040
EAN: 9781402219047
Kindle: B00348UNCA
Paperback / e-Book
Add to Wish List

Also by Terry Spear:
All's Fair in Love and Wolf, May 2018
Flight of the White Wolf, March 2018
Heart of the Wolf, January 2018
Dreaming of a White Wolf Christmas, October 2017

First off, I wanted to congratulate Fresh Fiction on celebrating their anniversary and thank everyone for having me guest blog as part of this momentous occasion!
I was thinking about the title Fresh Fiction, and you know, all fiction is basically the same set of stories. But writers make it different based on their voice. And their voice is derived from their world views, morals, backgrounds, work and life experiences.
Take a for instance: Three women in a local RWA chapter took off running with an idea--same idea...man/woman left at altar...to face a wedding-less day. That was it. Same old story. But two of those women turned their stories into books that ended up selling to the same publisher!
In the one case, the author wrote a serious suspense and thatís how her story evolved. In the other case, the author wrote humorous and light-hearted and her story was a reflection of this.
So fiction is fresh the way authors conceive the same old plot. They turn that theme or idea or both into something special and different and entertaining.
When I conceived the idea of a werewolf story, I had only thought to make it sexy and the world as realistic as possible. Before this, the stories I had read that had influenced me were about werewolves who were monsters, or in Jack Londonís books, wolves from a wolvesí point of view and humans from a humanís point of view. And so from this, I developed my sometimes human and sometimes wolf characters, who were only "monsters" if they were the villains.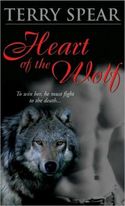 But then the new dilemma came up. I began to sell a series. And again, I was faced with what can make it fresh? Not the same story as my first werewolf story, Heart of the Wolf? So in each book, I present a new glimpse into this werewolf world. Not the same old characters in a different setting, or the same setting with the same characters, but something really different. At least I hope so because thatís what I like to do when Iím creating a new story. Make it fresh and fun and entertaining.
So I raise my glass of cyber champagne to Fresh Fiction, because thatís what we all want to write and read--something new and different, not the same old thing, something I think I did in my September release, To Tempt the Wolf.
For the readers out there: If you had a chance to create a story that was totally different than youíd ever written, what would it be? Leave a comment--Iíll be checking in all day!
To To Tempt the Wolf, In stores September 1, 2009 In this third in the series, wildlife photographer Tessa Anderson must prove her brother innocent of murder charges. But when she discovers a gorgeous naked man barely alive on her beach, she's got a new world of troubles to deal with, not least of which is how he affects her with just a look, a touch, or a whispered word.
Hunter Greymore is a lupus garou, a grey werewolf. Hoping to keep a low profile at Tessa's cabin on the coast, he's drawn into her lifeóand into her bed. His animal instincts war with his human half, but in the end, the only thing he can do about this fascinating, adorable woman is to leave her forever óunless she becomes one of them.
About the Author
A retired lieutenant colonel in the U.S. Army Reserves, award-winning author Terry Spear has an MBA from Monmouth College. An eclectic writer, she dabbles in the paranormal as well as writing historical and true life stories for both teen and adult audiences. Spear lives in Crawford, Texas. Her 2008 Sourcebooks Casablanca release, Heart of the Wolf was named a Best Book of the Year by Publishers Weekly. Destiny of the Wolf and To Tempt the Wolf are in stores now, and more are on the way: The Legend of the White Wolf (February 2010) and Seduction of the Wolf (August 2010). For more information please visit terryspear.com or follow Terry at twitter.com/TerrySpear
Comments
37 comments posted.
Re: Terry Spear | Making Your Story FRESH!

Congrats on your upcoming release.
I agree that the story has to always be a fresh take in some way. It's terrible to pick up a new book & have that I've read this feeling. Thankfully that very rarely happens. I love paranormals, and the vast possibilities is one of the reasons why. You can have 10 books come out at the same time about the same species & they will all be very different.. wonderfull.
This sounds like a great series. Thank you for giving everybody a chance to win your books.. fingers crossed:)
(Jo Ann Jansing 11:43pm August 18, 2009)
Thanks so much, Jo! I really agree!
(Terry Spear 7:27am August 19, 2009)
I read the first two books in this series and fell in love with them. I went to your web site after I read them and saw that you had more books in the series coming out and I put them on my to by list. It seems like I had to wait forever. In case you've not figured it out I'm an impatient person I hate waiting for books I want to read.
(Sherry Strode 12:47pm August 20, 2009)
I'm a reader not a writer but if I was a writer I would try some thing diffrent a half werewolf half vanpire trying to find there place .
sasluvbooks@yahoo.com
(Stacey Smith 4:16am August 20, 2009)
Thanks so much, Sherry!!! Are you on my mailing list? I send a free read each week so that fans have something to keep them going until the next book is out! :) The sign up is on my website. Thanks again!!!

Thanks, Stacey. I've been asked if I'm going to include other kinds of paranormal types in my stories, but since I try to keep them as realistic as possible, werewolves are the only unusual characters in the series.

I would love to write a couple with a Scottish laird though. Any interest? :)

That's what I love about writing! Fan feedback! That's why Carol, the psychic, is getting her own story, Book 6, and Leidolf in Seduced by the Wolf. :) Several have asked to see Jake and Tom in their own books also.

Thanks for dropping by, ladies! Good luck on the contest!
(Terry Spear 7:13am August 20, 2009)
Love your cover art. To tempt the wolf looks like it would be an interesting story. Thanks for the contest.
(Gloria Vigil 8:27am August 20, 2009)
I am fascinated with Scotland and I'm always interested in anything with a Scottish theme. So write those books!
(Sandy Miresse 8:32am August 20, 2009)
Thanks, Gloria! Sourcebooks cover artists do a phenomenal job! :)

LOL, Sandy!!! I really want to!!! I have Highlander roots and love anything Scottish, too. :)
(Terry Spear 8:45am August 20, 2009)
Vampires have become romantic heroes I think it is time for an evil vamp. Horror stories aren't really my cup of tea. Love Stephen King but he scares the hell out of me. But it may be the right time for a really bad boy vampire.

I love werewolves too. Especially Carys Weldon's Wanton Werewolves, and Steven E. Wedel's werewolves.

Can't wait to read 'To Tempt the Wolf'.
(Vickey Malone Kennedy 9:19am August 20, 2009)
*waves hi to fellow Casababe author!

I write light-hearted contemporary paranormals, but I have a RS started that's always tickling the back of my brain. We'll see if it ever goes anywhere.
(Judi Fennell 9:49am August 20, 2009)
What would I like to write that's fresh? Well, everything I write is fresh and I mean that both ways. LOL.

But...I've thought I'd like writing something for teens, yet without the sex and romance, I get bored! Oh,dear.
I guess I'll be writing for adults until I can get past that.

Ash
(Ashlyn Chase 9:53am August 20, 2009)
Congratulations on the upcoming new release!
(Freda Mans-Labianca 10:11am August 20, 2009)
Would love the opportunity to read all of these books. I agree that you can have the same plot, but with different authors, getting a whole different scenario.
(Joanne Reynolds 11:38am August 20, 2009)
Ms. Spear;

I am a voracious reader always looking for new and exciting books. congratulations on your new release. I look forward to reading it.

Doni Miller
(Doni Miller 11:46am August 20, 2009)
Sounds like a great series. Thanks for the blog and contest.
(G S Moch 12:39pm August 20, 2009)
I would just be happy to be able to write a novel! I have these dreams of marrying a real cowboy and while he's out on the range, I've got an outdoor writing table set up and I write these lovely books out under the big, blue sky - then I remember that I can't write!
(Kelli Jo Calvert 12:56pm August 20, 2009)
I love the way you keep the ideas fresh and intriguing. I've often wondered how hard that must be with a series.
(Sheila Deeth 1:28pm August 20, 2009)
I think paranormal books totally rock! I read a whole lot of vampire and werewolf books especially and I just love the way authors put their own take on everything in this genre. Vamps and weres can be good, evil or somewhere in between. Your series looks cool and I'm very much looking forward to reading it.
(Stacy Helpman 1:34pm August 20, 2009)
I have to admit I haven't read any of your books. I do like the paranormal and I will be picking up one of your books. I'm guilty of getting in a rut with reading the same things all the time. Now that I am home full time I have more time to try new things. Good luck with your book. I look forward to reading your stories.
(Linda Henderson 1:42pm August 20, 2009)
Always need to be FRESH to catch the readers. Love werewolves and anything paranormal.Always looking for a new authors for when I in a rut or waiting for the next book to be released for a series. Going to buy these for I hit one of those ruts. Good luck with your books.
(Jeanette Bowman 2:59pm August 20, 2009)
lol if i could write, i wouldnt be a addict to books
(Tami Bates 3:11pm August 20, 2009)
I love the art work on your covers...it is a great attention grabber. I love books of any genre, but it must keep me on the edge of your seat so I guess I would have to write a book that really caught the readers attention.
(Robin McKay 3:43pm August 20, 2009)
*OMG* The covers of your books are SOOOO HOT! I just finished reading the "Wolf Series" synopsis', and I want to read them ALL! I can't believe I've not seen them before! Enjoy the excitement of your new release! You deserve it!
(Stefanie Finn 4:12pm August 20, 2009)
I love the vampire/werewolf books, but how about something new along the shapeshifter lines? I haven't read your books yet but they are on my list to read.
(Vikki Parman 4:20pm August 20, 2009)
I love werewolves!! These books look great.
(Marlene Breakfield 5:14pm August 20, 2009)
This is a series that I will definately be looking for in my local bookstore.
(Paula Abel 5:43pm August 20, 2009)
Congrats on the new release. I hadn't known yet about Seduction of the Wolf... putting that on my radar! :)
(Michelle K 7:04pm August 20, 2009)
Congratulations on the new release! Th book sounds great!!
(Amy M. 7:14pm August 20, 2009)
If I could think of something terribly original I might be tempted to hash something out myself. I applaud all writers. I would not know where to begin. It has to be more fun being a reader.
(Mary Preston 7:26pm August 20, 2009)
I have read your shifter series and love it. I have suggested to many a friend; I am looking forward to your next one. Congratulations on your success with your books.
(Diane Sadler 8:03pm August 20, 2009)
Thanks, ladies!!! As a writer, I also love to read. In between books, I have a stack to sink my teeth into. :) Or if I'm stuck on a scene, I'll read someone else's book to break the writer's block! I wouldn't give up reading for anything! Or writing either!

Yes, Seduction of the Wolf is coming April 1, so it should be up soon, Michelle! The cover just came out! I'm really excited about it because it's Leidolf's story if you've been following the series! And Carol, the psychic will be in Book 6, name to be determined coming Fall 2010. :) I'm so glad you're enjoying the series, Diane! :) I love writing them!

Thanks to everyone for commenting and good luck! :)
(Terry Spear 8:49pm August 20, 2009)
Love anythng with a Scottish theme. Am looking forward to reading the latest
(Teresa Ward 9:11pm August 20, 2009)
Who knew that there were so many ways to tell the same basic plot. Congratulations on your new release.
(Rosemary Krejsa 9:11pm August 20, 2009)
Good luck with your new book.
What would I write? I like the beauty
and the beast format. I think I'd write
the story the reverse of what we
usually get. The woman would be the
beast and the man the beauty. I'd like
to see how it would play out.
(Patricia Barraclough 11:15pm August 20, 2009)
Thanks to the last commenters last night. I read a children's book where the dragon was the kind creature and the princess was a holy terror. :) Have a super Friday, everyone!
(Terry Spear 9:23am August 21, 2009)
I just finished Destiny Of The Wolf and I loved it. I ordered Heart of the Wolf from Amazon and cannot wait to read it. Werewolfs are my favorite paranormal books to read. Your are an excellant writer and I cannot wait to read To Tempt The Wolf.
(Lisa Handelman 1:51pm August 21, 2009)
I haven't read any books such as yours until the one that I won recently which has vampires and such in it. It's hard to wrap my head around those types of subjects, your book sounds better than the one I'm reading, I won't mention the author. I guess I would have to write a book about dancers, as I've been involved in the dance world (partner dancing, ballroom, swing, latin, etc) for 15 years. I've heard every kind of thing and I often think of writing a book based on real characters but perhaps changing the story lines enough so as not to make anyone angry. I'm sure many model the charactes in their books from real people! At least those are the ones that give you an idea to a fresh book! Thanks for the giveaway!
(Brenda Rupp 1:30pm August 25, 2009)
Registered users may leave comments.
Log in or register now!