After eighteen years in a dying town where nothing ever happened, I struck out on my own and ended up living in five different states Read More...
Lucky Charms? No. I'm not talking about the cereal, although they are magically delicious. Sugary oats and colorful marshmallows... Num! Sorry, I Read More...
I don't trust Happy Heroes. They have nowhere to go but down - and guess who is along for the ride? You. Nope, no Heroes Read More...
Spotlight
Debra Webb
---

Italian Easter Pie Memories and Recipe
Every year at Easter time, my beloved aunt would make her Italian Easter Pie. Aunt Mary came to the USA Read More...

Sharon's Cozy Corner March 2014
March has coming roaring in like a lion so far with all the winter-weather still plaguing the country, but Read More...

Join Gwen Reyes in a Talk with Jennifer McQuiston
Jennifer McQuiston wraps up her popular historical series ( Read More...

Entangled Steals & Deals This Week
Entangled Publishing's Steals & Deals for March 24th only 99¢ Deals end 4/7/14 Read More...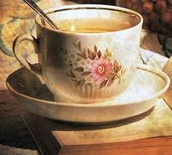 Meet Avery Flynn, Lucy Burdette and Annie Knox
I'm changing it up, y'all!  There are some awesome cozy mysteries out there this month (as there are Read More...