I'm so glad to be back at Fresh Fiction celebrating the release of my fourteenth book, Read More...
Hello Fresh Fiction readers! I'm so happy to be here to chat with you and celebrate the release of my latest Secret Wishes novel Read More...
Imagine my utter surprise when my husband came home from work one day and told me we were going to Switzerland. Switzerland! Read More...
Spotlight
Debra Webb
---

My grand daughter told me today that spring was here because of all the beautiful flowers in the garden. I Read More...

Sharon's Cozy Corner March 2014
March has coming roaring in like a lion so far with all the winter-weather still plaguing the country, but Read More...

Join Gwen Reyes in a Talk with Jennifer McQuiston
Jennifer McQuiston wraps up her popular historical series ( Read More...

Entangled Steals & Deals This Week
Entangled Publishing's Steals & Deals for March 24th only 99¢ Deals end 4/7/14 Read More...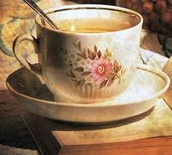 Meet Avery Flynn, Lucy Burdette and Annie Knox
I'm changing it up, y'all!  There are some awesome cozy mysteries out there this month (as there are Read More...