Fresh Fiction Blog
Readers and Authors Talk...

So many fun things to do… Reading, cooking, home renovation, writing, gardening and dancing…I have a few hobbies. And, these only top the list of my interests. I'm not saying I have time to indulge in these things every day, I have a 6 year-old at home, after all. But, when I have spare minutes in my day [insert laughter here] I like to grab a book or try a fun new Read More...

The middle of July in Arizona means it's been steadily creeping over a hundred degrees for the last two months. What better time to dive into a book that's set in the snowy winter wilderness of far northwestern Canada? While a lot of you live in areas of the country where you've got to shovel snow and de-ice your windshield, I assure you, after twenty-plus years of living in Arizona Read More...

When I began to think about the title for the third book of my medieval serial novel, Time Enough to Love, I had a rather difficult time coming up with one that continued in line with the first two novellas, BETROTHAL and BETRAYAL. Those titles came immediately to mind because the words exactly Read More...

1. Read-Along. Join us as we discuss and debate selected heroes from past Susan Elizabeth Phillips' novels, as we gear up for a final discussion of Susan's new novel HEROES ARE MY WEAKNESS. Comment on the discussions on FreshFiction.com/SEP at any time between July 28th and August 29th, and be entered for Read More...

Book bloggers! You could win a cabin on the Susan Elizabeth Phillips' Princess Cruise Fanfest, October 17-19, 2014, by participating in the Susan Elizabeth Phillips Blog-Along, and the Susan Elizabeth Phillips Read-Along hosted by FreshFiction.com, this summer! The summer is heating up and what's the perfect way to stay cool? Sitting down Read More...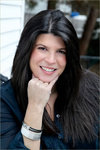 Thanks so much to Fresh Fiction for hosting me on the tour for RUNNING WILD: Havoc Book 1. This is the start of a brand new series, with different heroes for each book and HEAs at the end of each book. Sean Rush and Ryker stole my heart a long time ago, and I'm excited for you guys to meet Read More...

I'll start at the beginning. Before you can get a reader on the edge of their seats, the reader must get to know, like, and sympathize with your character. Let's face it a nameless, faceless woman running from a killer sort of bores us. It reaches high up there in the "so what?" category. Therefore step one in writing suspense is to get the reader involved and invested in the character. What if Read More...
It was announced this morning during the NBC portion of the Television Critics Association summer press tour in Beverly Hills, California that the network has finally found the perfect Captain Hook for their second foray into live musical performance. Christopher Walken ("Jersey Boys") will play Captain Hook for NBC's "Peter Pan," a live musical event that was announced earlier this year hot on Read More...

The "Topic of Choice" option for a guest post during a blog tour can be a tough one for a writer. Discovering the seed of an idea seldom occurs instantaneously, and sometimes you have to fiddle around a bit before you find it. Since I'm obviously here to promote my latest release, REBEL (book ten of The Cat Star Chronicles Read More...

What does the future hold for mankind? With the fear of a world-wide pandemic, World-War III, and the effects of climate change, it's no wonder why Doomsday Preppers is a popular show on the National Geographic Channel. MIRROR X takes the reader into a world 1,003 years from now. The main character, Cassie, died during our century Read More...

Picking a favorite scene is almost as daunting as picking a favorite character but If I must then I must. Maya and Shane's story is one of the most emotional that I've written and I sure hope that translates to the reader. More than one reader who'd read TALL, DARK, AND VAMPIRE (Dead in the City #1) was scratching their Read More...

Why do I write about shape-shifting dragons? I love all the possibilities involved with supernatural/paranormal worlds. In GOING DOWN IN FLAMES, Bryn learns she's a shape- shifting dragon when flames shoot out of her mouth for the first time. She's immediately thrust into a new world she doesn't understand. Since I'm creating the world, I gave her a couple Read More...
13 - 24 of 2684 ( prev | more Breaking News )