Fresh Fiction Blog
Readers and Authors Talk...
What's a recently retired army sergeant to do when he returns home to find himself shunned by the town? In my new Contemporary Romance, FOREVER IN MY HEART, the hero returns home after serving in the army to a town that holds him accountable for the sins of his late brothers. Leading the pack is the girl he left behind who has matured into a sexy and independent woman who Read More...

Snow was falling outside the window, my two young boys were sleeping upstairs, and these images came to me like a recurring dream; a mother sitting poolside, her daughter playing beside her, and the feeling of freedom whisking through the air like a breeze—freedom from a marriage unraveled. Those are the images and the sensations that first sent me running to my computer. There was a story in my head vying for release. That Read More...

About THOUGHTFUL In THOUGHTLESS, Kiera told her story. Now it's time to hear from the sexy rock star who captivated us all . . . The only place Kellan Kyle has ever felt at home is onstage. Gripping his guitar in a darkened bar, he can forget his painful past. These days Read More...

There's one thing about VK Sykes that consistently surprises people: we're a husband and wife writing team. While Vanessa writes bestselling historical romance as Vanessa Kelly, Randy's attention is focused on the contemporary romances and occasional romantic suspense that come out under the VK Sykes pen name. He also manages most of the book-related finances and paperwork, while Vanessa handles the promo end of things. So far Read More...

What if everyone in the world is born with invisible scales over their eyes? What if these scales cause us to live in a shadow of the real world without ever seeing what's truly there? What if the real world is far more magical, fantastical and dangerous than we could possibly imagine? And what if for some the scales have fallen off? This is the world of the Read More...

Babies don't have rules, of course. That's why they make such great subjects for online videos. As long as you keep the hand tools and the vodka out of their reach, it's a lot of fun to watch a bouncing bundle of pure id. Bigger challenges come when they get a little older, and it becomes time to start teaching our children the very abstract concepts of right and wrong. Those were Read More...

I love strong heroines. I love reading them, and I really love writing them. They don't have to be physically tough (although all three heroines in my Lawmen series for Harlequin Intrigue work for the FBI, so they've been through the Academy, including grueling physical training!). Being strong doesn't mean they aren't vulnerable, either (a heroine who's too perfect isn't very relatable). To me, a strong heroine is someone Read More...

One of my favorite magazines is Outside, mostly because its pages are full of places I'd like to escape to some day. The magazine is all about the outdoors—adventure travel, best places to live, lifestyle, and one of their annual issues features dream jobs. As I was reading about these awesome outside occupations, one of them jumped out at me as extra cool: that of historic preservationist. Half a minute later Read More...

In my new release, THE PENTHOUSE PRINCE, the heroine ends up in a faked engagement with a billionaire—a trope I've personally read and loved before. But Jeanie is a single mother, a woman very good at telling the difference between make believe and reality because she spends her days with a small child. So what could a rich man like Camden Read More...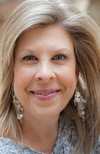 Have you ever read a book and been so drawn in by the setting, you thought, "I want to go there?" Often, towns or places are fictional, especially in books with contemporary settings. They may be inspired by real places, but by using a fictitious name, the author has the freedom to inject elements that can come from many different places. Occasionally, though, an author will use someplace real for their setting. Like I did Read More...

Perhaps you've heard some buzz lately about the release of a certain movie, based on a certain best-selling novel that's being packaged and sold as a "romance." In fact, it's even being released on Valentine's Day. I think you know the phenomenon to which I refer. Fifty Shades of…yeah, well, you probably know the rest. I've been asked a number of times lately for my take Read More...

Having written more than sixty books, including AGAINST THE SKY, my latest Romantic Suspense release, I'm always looking for new story ideas. Which is why, when the opportunity arose to travel for a month to Alaska, staying in the back of a tiny pickup camper--I said yes! With a contract for three new novels, I needed ideas. A trip Read More...
13 - 24 of 3161 ( prev | more Fresh Fiction Blog )