Fresh Fiction Blog
Get to Know Your Favorite Authors

The surest way to lift an author's spirit (can't resist) is to receive an e-mail from a Hollywood producer inquiring if the rights are available to the Bailey Ruth Raeburn series. Yes, indeed they are. And Bailey Ruth's new adventure, GHOST TIMES TWO, is a love story and a mystery that would make a GREAT movie. As is often the case Read More...

Are you looking for your next bearded book boyfriend? Mountain men make great heroes. They're strong and rugged and oh so sexy! The flannel, the Timberline boots, and those beards! Yes! Have you ever wondered how to snag one of these muscled mountain men for yourself? Well, look no further—here's Jennie Marts' Top Ten Ways to Hook A Sexy Lumberjack Mountain Man: Wear flannel button-ups as Read More...

Paris is always the perfect idea. The French capital has long led the way in fashion, culture and art-but during the late nineteenth century, Paris was something else. The city of love resonated with everything modern and luxuriant and uproarious and risqué-Paris was, quite simply the epicentre of the Belle Époque. In FROM A PARIS BALCONY, we meet the Parisian courtesan Marthe de Read More...

By the time you read this, my sophomore novel, Can't Help Falling, will have just been released. Coming just under six months from the release of my debut novel, Close To You, has made for a busy year! Before I was published I remember hearing a few times that your second novel Read More...

To celebrate this week's release of the third book in my paranormal romance series, REVENGE OF THE WRONGED, I'm excited to share with Fresh Fiction readers a very popular paleo recipe from the first book in the series, SLIP OF FATE. I received Read More...

Food plays an important role in the Magical Cats Mysteries. Kathleen Paulson can often be found making treats for her friends as well as for her two cats, Owen and Hercules. The boys' favorite treat has to be Kathleen's homemade sardine crackers, also known as Stinky Crackers. If you decide to try these for your own cat, please remember there's a Read More...

I woke to the familiar shadows of gray and black blanketing our room, but for some inexplicable reason I felt afraid. Almost like I'd just had a nightmare. I faced the edge of the bed, my husband spooning me, his arm around my waist, his head behind mine on the pillow. There was something off about his breathing. It wasn't the calm, slow breathing of someone asleep. No. It was Read More...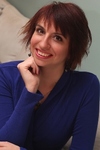 Organization makes life easier. Four words I've been told again and again as a writer. Four words I simply can't live by. I'm always jealous of the people I meet who are able to write lists and structure their days in a way that allows them to move seamlessly from task to task. When I first started joining writing groups, many of the people I met fit this picture. They created detailed Read More...

Luke's leg brushed against hers, triggering an immediate response from her overactive hormones. Just being near him turned her on. He held himself differently now than at the club. Tension coiled in his muscles like he was prepared for an imminent attack. "You seem very familiar with military terminology," Astrid said, keeping her tone casual. He shrugged. "I served for a while." She'd bet it was for more Read More...

Cozy mysteries are almost always set in a small town. Many of our heroines return to the town where they grew up, or where they spent summers, or where they thought they might like to live someday. Often they're fleeing from a shattered relationship, a job loss, or some other traumatic event. Or they're coming back to save a family business that's in trouble, or to help out an ailing or aging Read More...

About Heather Blake Heather Blake (aka Heather Webber) is the author of more than twenty novels and has been twice nominated for an Agatha Award. She's a total homebody who loves to be close to her family, read, watch reality TV (especially cooking competition shows), drink too much coffee, crochet, bake (mostly cookies), and occasionally leave the house to Read More...

Joyce and Jim Lavene Joyce and Jim Lavene wrote award-winning, bestselling mystery fiction as themselves, J.J. Cook, and Ellie Grant. They had written and published more than 70 novels for Harlequin, Berkley, Amazon, and Gallery Books along with hundreds of non-fiction articles for national and regional publications. Joyce passed away Read More...
13 - 24 of 4521 ( prev | more Fresh Fiction Blog )