Fresh Fiction Blog
Get to Know Your Favorite Authors

When I started writing about the Golden Age of Piracy for my new Captain's of the Scarlet Night series, I knew my female characters needed to be as tough as they came. These couldn't be the regency wallflowers or the fainting 'rescue me' heroines. These needed to be captains of their own fate (pardon the pun). Woman who faced Read More...

Writers get asked all the time where we get our ideas. But in my particular case I get asked, how did I come up with the idea for the Vintage Kitchen Mysteries, in particular? I started cooking early. When I was very young my mother was a full time homemaker. I well remember the set of Pyrex Primary Colors bowls on Read More...

The essence of a cozy mystery, as I see it, is real life, with some components stretched and exaggerated for effect. Cozy writers take the things we love – families, friends, hobbies, crafts, even places – and write them with a loving hand to be slightly larger than life. And then, we thrust murder and sometimes mayhem into the mix. When it comes to real life, is there anything we love more than Christmas? The food, the Read More...

Long before I was a writer, I was a reader (I'm sure this comes as a shock to you all). But I was a reader on a serious budget. Though I have always been a library hound, I also love, LOVE paperbacks. Using my meager funds, I'd stand in the book aisle in the grocery store or drugstore (remember them?) and decide what I was going to buy that week. Though I read Read More...

About CONTROLLED BURN Rick Gullotti lives the good life. He fights fires, dates beautiful women— though none long enough so they cast wistful glances at jewelry stores—and has great friends. And thanks to helping out the elderly couple who own his building, his rent is low. But when concerns about their health lead him to contact their only son, his life Read More...

I love doing my blog. I have invited some of my fellow historic SMP writers for interviews. The response to my invite was encouraging. I also invite my Connecticut Chapter of Romance Writer's (CTRWA) of America writers. Without my CTRWA group, I wouldn't even be here. They are amazing. Two of our writers were nominated for the Rita Award this year. We have quite a chapter in Connecticut. Hi, Writers Read More...

Confession time: Although my RedZone series (REVIVE and RESIST) is science fiction, I don't really consider myself a science fiction writer. My true writing loves are fantasy, paranormal, and oodles of romantic angst. When it comes Read More...

After each of my books are edited, polished, and ready for publishing, I pull quotes and small teasers from them so my street team can share them via social media. These are always fun because some of the quotes are taken out of context and some are sexy. Below are my top 5 favorites from DRAGON'S WEB. 1. "I'm Read More...

Adding a twist to a story's setting gives it a psychological zip. Holidays are no exception. As your characters enter the season of Thanksgiving and Christmas, place them in scenes where they are caught off guard—where they believe their mental, emotional, and physical world is safe until they are hit with conflict from unexpected places. What about a holiday is unpleasant for your character? What does the character appreciate about the holiday that Read More...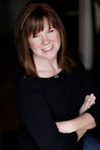 Happy autumn! I want to pose a question to you! I am often asked why like to write in a series. And I'll tell you, but then I'm going to turn the tables and ask your opinion. I'll first admit I am the ultimate pantser, a wing-it, a go with the flow writer. I'll get a tiny kernel of an idea (usually from a country song lyric!) and I run Read More...

Do scary movies or books send your heart pounding? Do the sounds of your house settling wake you at night and keep you awake clutching your bedcovers? Do you scream when you watch a video on Facebook where a girl rides a bicycle around and a scary face jumps into the screen? Generally scary movies don't scare me. I do however thoroughly enjoy a twisted ending, like that in Read More...

My recent release, CHANCE OF A LIFETIME, is a romantic comedy centering around a bucket list written by the heroine when she was fifteen. I can't even imagine what kind of things would have been on my teenage bucket list, but I imagine it would be absolutely horrifying. The heroine, Gen, wants to do the following (remember the list was written a Read More...
13 - 24 of 3898 ( prev | more Fresh Fiction Blog )