Fresh Fiction Blog
Readers and Authors Talk...

OFF KILTER is the first book in the Highlands Mystery Series. It was great fun to write. I especially loved my research in the Highlands. All that local color – men in kilts, that wonderful lilting Scottish accent, the quick wit and infectious sense of humor displayed by the Scots. Did I mention men in kilts? And the setting was spectacular! Munros Read More...

People think I'm crazy because I write three cozy mystery series. Yes, one book per year for each series (for as long as my publisher lets me!). And there are other books I've published through a small independent publisher. Can you guess that I like to write? The first question most people ask is, "How do you keep them all straight?" The simplest answer is that they all are based in real places Read More...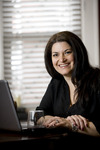 The first time I glimpsed Los Angeles from a plane window, I wasn't impressed. The view through a taxi window on my way to Studio City wasn't much better. The palm trees were too tall and thin. The roads were too tight and travelled. The people looked tired and troubled. Where was the gold and glitter I'd spent the last twenty-five years dreaming of? This should've been my first clue Read More...

Romance novels are all about strong women, but in my latest novel, HE'S SO FINE, Olivia goes above and beyond trying to save our hero, Cole, from drowning. She jumps off the dock before realizing a) he doesn't really need any help and b) she can't really swim. In honor of her somewhat misguided heroics and Read More...

I LOVE Christmas and decorating, and for werewolves it's the same. The only difference might be that they LOVE decorating with live plants as it reminds them of their trips to the woods. Evergreen garlands. Mistletoe. Poinsettias. But even better, the Highland wolves in A Highland Wolf Christmas are starting a brand new tradition! A living tree! Shelly is the botanist in the family, and this is her dream. Not only will the pack Read More...

Fresh Fiction is pleased to present this special excerpt from USA Today bestselling author Christi Caldwell's latest historical romance, FOR LOVE OF THE DUKE! Excerpt He settled his large hand over hers. Katherine jumped. "I suggest unless you merely want to trade death Read More...

When I landed my first historical contract, most of the historical romance books with which I was familiar would be classified as belonging to one of the genre juggernauts, which are of course Regency and Highlander. I knew other time periods had to be out there, but the last time one crossed my path was way back in high school when colonial American fiction was part of the curriculum. Which. Is. Just. Sad. I say Read More...

My aunt owns a cabin in the Sierra Nevada woods. Every summer my family goes up for few days. We bring our hiking boots, bikes, bathing suits and floatation devices. Sometimes we float on the river for hours, yelling for the kids to come rescue us when our river rafts go too far down stream--why paddle when you have children for that? There's a place called the Frosty that we go to get Read More...

While the weather around the country may be cooling, its heating up inside the Electric Tunnel with Asher Peterson and his faithful employee/part-time lover, Nataleigh Dallas. Inside the deep navy and purple velvet walls of Sin City's hottest adult-entertainment spot, the bouncers, strippers, and one former-FBI agent thrown in for good measure are burning with passion, money and deceit––all set against the sparkling lights and glitz of the Las Read More...
On Saturday, our dear friend and New York Times bestselling author Jodi Thomas joined us for tea at Read More...

Sometimes life has a way of throwing up so many roadblocks at once that certain aspects of life can seem utterly hopeless. I know. This happened to me with my writing career. I almost gave up the pursuit because I gave up the hope that one day I'd be sitting on my front porch writing this blog about my name being on the cover of a new book that's about to hit store Read More...

I have always had a predilection for female amateur detectives, ever since I first discovered Nancy Drew over forty years ago with The Secret of Shadow Ranch. That was the first mystery I read, and when I graduated to adult mysteries, I discovered Agatha Christie and her spinster sleuth, Miss Jane Marple. I was hooked. As much as I have enjoyed Dame Agatha's Hercule Poirot, Miss Marple is still my favorite. Perhaps Read More...
13 - 24 of 2867 ( prev | more Breaking News )