Fresh Fiction Blog
Readers and Authors Talk...

Have you ever been on a blind date? Or better yet, have you ever signed up on one of those online dating sites? It's nerve-wracking wondering who is going to show up to meet you. What if he's a complete nasally voiced nerd? Or scary? Or drop-dead gorgeous? Would you feel like you've hit the jackpot? Or would you think, this guy is way out of my element, beyond my Read More...

My name is Blaire and I'm a bookaholic. I will read anything. Romance, science fiction, magazines. Anything. Everything. As a child, the only time I didn't have a book in my hand was at meal time. I had a mother who believed in three squares and meaningful conversation so I was prohibited from bringing my book to the table. With no story to escape into, I resorted to reading food labels. If you Read More...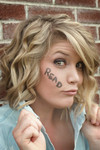 Check out this video blog from Meghan Quinn, author of the Love and Sports series, for her list of Top 5 Football Hotties! About the upcoming release, THREE AND OUT Piper was dead to him. The minute she Read More...

I'm never sure how I feel about the changing of the seasons. Where I grew up, in the tropics, we had the rainy seasons (traditionally March and October), hurricane season (July to October) and then a very brief cooler period around the end of December. That was it. Now, living in Canada, I find myself alternately looking forward to the next season and rueing the passage of the one before. Well, except for winter Read More...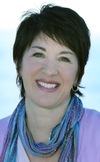 The title alone should tell you that Book #2 in the Italian Kitchen Mysteries, THE WEDDING SOUP MURDER, features a wedding. And that um, other thing that tends to be front and center in cozy mysteries. (Oh, but there's also soup—did I mention the soup?) However, I did have the good taste to wait until after the reception to kill off Read More...
Forty-five Jeaniene Frost fans perched among the shabby-chic décor of the Read More...
The hottest topic in book-world today is the annual Banned Books Week, which takes place September 21 through 27 this year. During this week, our nation's community of book lovers unites to celebrate our freedom to read. According to the American Library Association, the motivation behind this annual event is the following: Typically Read More...

You're sitting in a coffee shop, trying to write, when a man walks in alone. He orders a simple cup of Joe and takes a seat at a bistro table, his back to the wall, and pulls out an impossibly thin computer. He's absorbed in his work, only occasionally taking his eyes off the screen long enough to sweep the coffee shop, looking for . . . what? So much for getting any work done, right Read More...

1. It's been more than a decade since you've published your last novel. What was it like to get back in the game with TREASURE COAST? I have to say it's been exhilarating, maybe because it was so unexpected. A year ago at about this time I went to my mailbox and discovered a package containing an autographed copy of Read More...

"What was wrong with that man? Why didn't he do something?" The women around the table raised their hands and slapped the table with disgust as they complained about the man named Vaughn Harlan. Who could blame them? He was, after all, an enabler of the behavior which resulted in the unexpected, violent start to my novel, HOW SWEET THE SOUND. I laughed as Read More...

Frank Delaney, author of the faithful sequel to the Robert Louis Stevenson 1893 classic, TREASURE ISLAND, outlines some do's and don'ts for landlubbers. 1. Get your Ship Together. Make sure that you know the difference between a barque, a barquentine and a brigantine; a sloop, a schooner and a ship of the line. The world has few Read More...

In chatting with friends and beta readers about The Walsh Series, I hear one question with tremendous frequency: why architects? I'll see that question, and raise it another: why not? We all know architects are smart—they're the ones actually using all that algebra, geometry, and trigonometry the rest of us ignored in high school—and there's nothing sexier than a big, ahem, brain. We also know they're creative Read More...
13 - 24 of 2806 ( prev | more Breaking News )