Samantha Chase | Top Five Family Series

July 5, 2016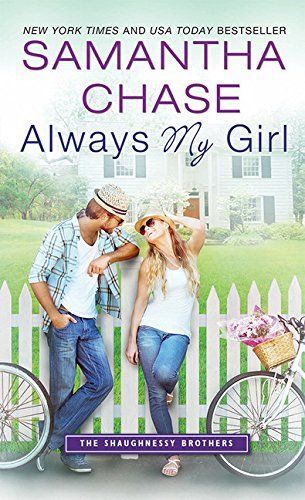 AVAILABLE
Shaughnessy Brothers #3

July 2016
On Sale: July 1, 2016
Featuring: Quinn Shaughnessy; Anna
352 pages
ISBN: 1492616281
EAN: 9781492616283
Kindle: B01AO207B0
Paperback / e-Book
Add to Wish List

Also by Samantha Chase:
Until There Was Us, May 2018
In the Eye of the Storm / Catering to the CEO, April 2018
One More Promise, February 2018
Holiday Spice, October 2017

Hey, Everyone! I'm Samantha Chase and we are celebrating the release of ALWAYS MY GIRL – which is book three in my Shaughnessy Brothers series. I have to say, I have LOVED writing a family series and between my Shaughnessy clan and my Montgomerys, I'm sure you can tell!
I am an avid reader of contemporary romances and have always loved when the series involves a family – not just the siblings, but the entire family. I think the dynamics just give you so much to work with and explore! So today, we're looking at my top five picks for family series/sagas/wonderfulness in contemporary romance that inspired me!
Giveaway
What's your favorite family series? Tell us below! One reader will get a copy of LOVE WALKS IN, Hugh Shaughnessy's story.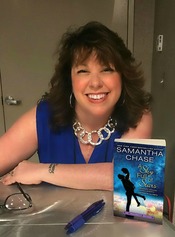 New York Times and USA Today Bestseller/contemporary romance writer Samantha Chase released her debut novel, Jordan's Return, in November 2011. Although she waited until she was in her 40's to publish for the first time, writing has been a lifelong passion. Her motivation to take that step was her students: teaching creative writing to elementary age students all the way up through high school and encouraging those students to follow their writing dreams gave Samantha the confidence to take that step as well.
When she's not working on a new story, she spends her time reading contemporary romances, playing way too many games of Scrabble or Solitaire on Facebook and spending time with her husband of 25 years and their two sons in North Carolina.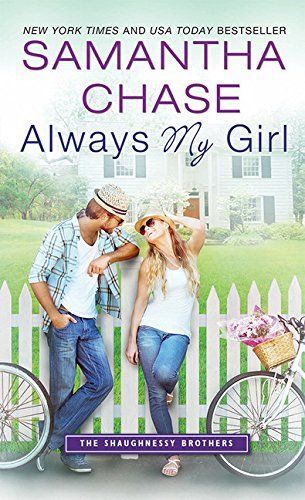 Book #3 in New York Times and USA Today bestselling author Samantha Chase's dazzling new series. The Shaughnessy Brother you've been waiting for!
Sometimes the love that's closest to you is the hardest to see.
Quinn Shaughnessy's two older brothers have found their true loves ... but Quinn's not about to join that parade. Nope, as he tells his best friend Anna, there's a lot more to life than getting tied down to one person. He's positive tomboy Anna will be on his side - except she's inexplicably developing other interests - even dating!
Suddenly Quinn is seeing Anna in a very different light.
Quinn has been Anna's buddy since they were both five years old. She can tell him anything - except the one big secret she's been hiding for years - that she's fallen in love with him. Now Anna is determined to make a life for herself that doesn't include pining for Quinn.
Falling in love with your best friend? Easy. Telling them how you really feel? Impossible.
Romance Contemporary [Sourcebooks, On Sale: July 1, 2016, Paperback / e-Book, ISBN: 9781492616283 / eISBN: 9781492616290]

When the friendship becomes so much more!

Comments
20 comments posted.
Re: Samantha Chase | Top Five Family Series

I don't read series books, so I can't tell you my favorite family series book. I would love to win the book you are giving away though.
(Carol Woodruff 7:40pm July 5, 2016)
Some of the families I enjoy reading about are the Thompsons from Vivian Arend and the VonBrandts from Krystal Shannan.
(Colleen Conklin 8:58pm July 5, 2016)
Mine wasn't about a family but a group of friends who run a
wedding business--the Brides Quartet by Nora Roberts
(Kelly Holt 3:52am July 6, 2016)
The Quinns. Thank you!
(Beth Tilley 2:44pm July 6, 2016)
Hi Samantha,
Congrats on the release of book (3). Personally, I loved the Gallaghers of
Ardmore Trilogy by Nora Roberts and in paranormal the Argeneau family
by Lynsay Sands.
(Susan S. 3:28pm July 6, 2016)
Looking forward to reading this! My favorite family series is
Nancy Martin's Blackbird Sisters. I'm shattered the publisher
says no more. I, too, love the Fool's Gold series.
(Kathleen Bylsma 8:08pm July 6, 2016)
The MacKades
(Melissa Basnight 11:56pm July 6, 2016)
I haven't read anything by you but I am definitely excited
to. Thanks Samantha !
(Annatasia Meehleder 10:26pm July 7, 2016)
The Nora Roberts books on the McKades.
(Jackie Wisherd 1:40am July 8, 2016)
I do like to read series.

In addition to the ones you listed I would add:

Jillian Hart's McKaslin family
Jillian Hunter Boscastle family,
Julia Quinn's Bridgerton family,
Linda Lael Miller's McKettrick family
Joanna Lindsay's Mallory family
Karen Hawkins' MacLean and Hurst families
Kate Hoffmann's Quinn family
(Laurie Gommermann 8:05am July 8, 2016)
Nora Roberts , The Gallaghers . I would love to read or win your book "Love Walks In " . Thanks for this chance to win .
(Joan Thrasher 10:51am July 8, 2016)
The Cynster Family series by Stephanie Laurens
(Joy Isley 1:11pm July 8, 2016)
This is a new Author for me, I am looking forward to reading this, thanks for the review.
Penney
(Penney Wilfort 2:16pm July 8, 2016)
I've got too many to list just one! BUT, I loved ALWAYS MY
GIRL and want to read the rest of the series! Thanks for
the chance!
(Linda Townsend 7:17pm July 8, 2016)
Marie Ferrarella's Cavanaugh Family. Everyone of the family members are cops. I've never got tired of reading about each family members. Each story is different.
(Kai Wong 1:36am July 9, 2016)
The McCauley Family by Marie Harte.
(Sharlene Wegner 12:37pm July 10, 2016)
My reading tastes are so erratic, that I can't really say that I've
read a family series yet, outside of a tome format. I'm hoping that
yours are going to be my first!! With your bubbly attitude, I'm sure
that I will enjoy reading your books!!
(Peggy Roberson 7:14am July 10, 2016)
Nora Roberts and the MacKades!!
(Bonnie Capuano 8:35am July 10, 2016)
I would love to read the book
(Kathy Church 10:23am July 10, 2016)
Right now I've been reading a lot of the Snow Valley series but
that not one family or author. I'm not able to get a lot of full
series so I don't have a fav.
(Nancy Luebke 4:43pm July 10, 2016)
Registered users may leave comments.
Log in or register now!