Hi Readers!
Itís summer on Marthaís Vineyard, and that means two things: Iím celebrating the release of my latest novel, A DREAM FOR LOVE, and President Obama and the First Family have once again planned their vacation on Island. Guess which one Iím most excited about?
When the President* arrives, the summer craziness doubles, or maybe triples. Thereís more traffic, news trucks, cameramen, and reporters nearly everywhere you look, and road blocks whenever the President is on the move or eating at a restaurant or shopping in a store or playing golf or . . . you get the picture.
During a previous presidential visit, I was out walking in my neighborhood with a girlfriend and her two-month old daughter. We ambled along, chatting and enjoying the afternoon while Lily slept in the stroller. We rounded a corner, near a local golf course, and come face to face with multiple secret service men, who politely asked us to turn around and go home. Yup, the president was playing golf and our walk was over.
For those of us who live on Island, and all of you who plan to visit while the president is here, there are plenty of fun activities that, with a little luck, will not be derailed by a twenty-car motorcade or closed due to a White House visitor. Hereís my top ten:
10. Buy a day- or week-pass to one of the Islandís gyms to ogle the dashingly handsome and incredibly fit secret service men. Work out is optional.
9. If the sparks at the gym arenít enough for you, head to the Oak Bluffs Fireworks on August 21. The grounds at Ocean Park are so crowded youíll never notice if the president and First Family are in attendance. Pack a picnic, get there early to spread out your beach blanket and chairs, and then enjoy the display of lights. Last year was the best yet, and Iím hoping this year will be even better.
8. If watching a cavalcade of black SUVs and shinny blue and silver motorcycles doesnít make your head spin, then go get dizzy on the Tilt-A-Whirl or the Scrambler at the Marthaís Vineyard Agriculture Fair. The Ag Fair opens on August 20th and runs through Sunday, the 23rd. You can enjoy rides, carnival games, far too many sweets and munchies (which one hopes you consume after the stomach-churning rides), and then you can test your strength. Yes, Ladies, you can enter the Skillet Throwing Contest. Perhaps the secret service will be overwhelmed by your unmatched throwing skills and hire you on the spot. Or, a Red Sox pitching scout could sign you up. Lord knows the Sox need a lot of help this year!
7. You are on Marthaís Vineyard, so the best form of recreation is to head to one of our beautiful beaches. If the secret service arenít running around in swim trunks, thereís bound to be some gorgeous scenery: the cliffs of Aquinnah at Moshup Beach or the long stretches of white sand at South Beach, or the bluffs and boulders of Great Rock Bight are all spectacular. You were on the same page right? Landscape scenery? When your eyes tire of the natural beauty, and you donít want to snooze, open up a great book. I can make a few suggestions: A Dream for Love, my latest and the first book in the new Possible Dreams trilogy, or Shenandoah Nights, the first book in my Winds of Change series, or a murder mystery by fellow Islander Cynthia Riggs, will fill those beach afternoons nicely.
6. Food is always an option, right? Is there any one of us who doesnít enjoy a good meal or a cool refreshment on a hot afternoon? Marthaís Vineyard has great restaurants and fabulous ice cream and sweet shops. If Iím dining out, Chescaís Restaurant in Edgartown always tops my list. When the children in my household want ice cream we head to Ben & Billís Chocolate Emporium on Circuit Avenue in Oak Bluffs (I love their gelato!). Ben & Billís is also a great place to spot a movie star or two, and the First Daughters have been known to stop in (without the Prez, so the store remains open to the public . . . On the plus side, the secret service are there. Just saying!) My favorite cool treat is a lemon-ginger frozen yogurt at Tisberry in Vineyard Haven. Oh, and thereís Murdickís Fudge Ė Heaven on earth. Donít take my word for it, taste and enjoy for yourself.
5. If you really want to avoid all things presidential, jump in your car, drive to Edgartown, and board the three-car On Time ferry to Chappaquiddick. The president has never ventured over to Chappy, at least not to my knowledge. The beaches on Chappy are amazing, though most require a four-wheel drive vehicle. You can visit the lovely Mytoi Gardens, walk across the Dike Bridge (made famous, or infamous, by Senator Kennedy), go kayaking, or call Vineyard Surfcaster Ė Janet Messineo Ė for a fishing trip youíll talk about for years to come.
4. Shopping! Did I leave off shopping? Not on your life! When on vacation, one must shop Ė right? All the towns have wonderful stores from boutique clothing stores to knick-knack shops to the Black Dog franchise shops. If youíre looking for something special, I recommend the wide array of craftsmen, artists, specialty foods, or clothing designers at the Chilmark Flea Market on Wednesdays and Saturdays. Thereís also the Featherstone Flea & Fine Arts Market on Tuesdays in Oak Bluffs, and the Farmerís Market on Tuesdays and Saturdays at the Old Grange Hall in West Tisbury.
3. Jaws! Yup, thatís right. The shark-eating movie filmed on Marthaís Vineyard in the mid-70ís is still a phenomenon here on Island. Throughout the summer, Jaws plays at one of the four Island movie theatres at least once a week. Avoid the politic sharks and scream your way through a classic movie.
2. If you truly want peace and quiet, put on your hiking shoes and walk one of our dozens of beautiful hiking trails . There are guidebooks available at local bookstores, Bunch of Grapes in Vineyard Haven and Edgartown Books in Edgartown. You can spend an entire week walking our trails and not finish them all. And, youíd probably avoid all the commotion of the presidential visit.
1. Or, you can pack your bags and go on vacation to Washington, D.C.
* Written with all due respect for our nationís president and his wonderful family. And, of course, his fine secret service men.
GIVEAWAY
What about you: Would you stalk the presidentís travels in hopes of a sighting? Or would you avoid the barricades and detours? If youíre in the avoidance category, as I am, which of the ten options would you enjoy most? Please leave a comment below. One winner will have a choice between a paperback or digital version of A DREAM FOR LOVE and SHENANDOAH NIGHTS, and Iím throwing in a gift card and Vineyard swag!
Lisa Belcastro lives with her family on Marthaís Vineyard. She loves time with her family and friends, running, gardening, outdoor activities, cooking, chocolate, reading, traveling, a healthy dose of adventure, and her cat, Ben, who keeps her company while she creates fictional lives for the numerous characters living inside her head. Lisa runs as an ambassador for TEAM 413 (www.team413.org), and has completed a marathon (26.2 miles) in all fifty states.
Lisaís stories are set on the Vineyard amidst the magnificence of the ocean, the beauty of sandy beaches, rolling hills, and ancient cliffs, as well as the people and events that make the Island so very unique. When sheís not at her desk, Lisa is living in paradise, volunteering at her daughterís school, serving in her church community, planting and weeding her numerous gardens, training to run the Walt Disney World Dopey Challenge in January 2016, walking the beach looking for sea glass, or enjoying a great meal while she pens the cuisine column for Vineyard Style Magazine.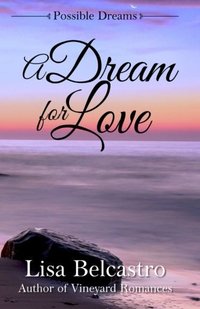 DARE TO DREAM
A single mother with a secret past. A Hollywood star who's life is anything but hidden. Will the past deprive them of a future? Or will they dare to dream a dream for love?
Sold!"
When the gavel hit the wooden block at the Possible Dreams Auction, Laurel Simmons sat in stunned silence. Her sister had lost her mind, purchasing a week's vacation stay for two at actor Ryan Crandall's beach house on Martha's Vineyard. And then Tammy announced that she was giving the "dream" to Laurel as an early birthday present.
A month later, Laurel and her four-year-old daughter Gracie arrive at the luxurious house on Squibnocket Beach ready to swim, play, picnic and enjoy the peace and solitude together.
Laurel's dream vacation quickly turns into a nightmare when Hollywood bad boy Ryan Crandall shows up to escape his latest tabloid headlines. Ryan wants the woman and her child gone. Laurel wants him gone. Fate will bring them together for reasons neither one of them expected, but fate will also drive them apart.
Laurel has a past she needs to keep hidden. Her life and Gracie's depend on it. Ryan has a past, and present, that's been food for public consumption for over a decade. Will the past deprive them of a future? Or will they dare to dream a dream for love?
9 comments posted.
No crowds . I would like the hiking trails, but Murdick's fudge sounds nice too.
(Deb Pelletier 9:10pm July 30, 2015)
You gave such great ideas, and Martha's Vineyard sounds like such a wonderful place to visit, but at that particular time of year, I would RUN like the plague to go somewhere where I could relax, and spend leisurely time, at my pace, with no crowds!! I live in a resort area, and know what it's like to have hoards of people around to the point that you can't even do simple things because you can't get down the street!! The last hurrah of Summer is going to be coming up in a couple of weeks. Although this venture is a lot of fun, it's also dangerous for drivers, as well as pedestrians, and can be a bit nerve-wracking!! It's a huge garage sale that goes on for about 100 miles through our State, and it's on a main highway. Tons of people show up for it, and they just pull out into 55mph traffic. Pedestrians walk across the street without looking. They park on the shoulder of the road. Traffic is clogged up for miles!! So we have our own taste of Martha's Vineyard, so to speak, without the Secret Service!! lol We also live by one of the Great Lakes, which offers beautiful scenery, as well as tons of things to do. Enjoy the rest of your Summer, as I will be sure to enjoy the rest of mine. I have your latest book on my TBR list.
(Peggy Roberson 10:48am August 1, 2015)
LOOOOVED revisiting the island via your post. Laughed out loud when you hit on
those Secret Service guys one last time. :D I'd definitely choose #2 and #6 oh,
and #5, especially at sunset and sunrise.
(Sandra Orchard 3:30pm August 7, 2015)