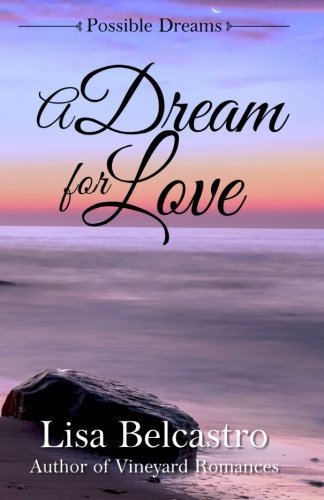 Purchase
Possible Dreams #1
Self Published
August 2015
On Sale: July 27, 2015
Featuring: Laurel Simmons
374 pages
ISBN: 0986299340
EAN: 2940150941816
Kindle: B0124UXB2W
Hardcover / e-Book
Add to Wish List

DARE TO DREAM
A single mother with a secret past. A Hollywood star who's life is anything but hidden. Will the past deprive them of a future? Or will they dare to dream a dream for love?
Sold!"
When the gavel hit the wooden block at the Possible Dreams Auction, Laurel Simmons sat in stunned silence. Her sister had lost her mind, purchasing a week's vacation stay for two at actor Ryan Crandall's beach house on Martha's Vineyard. And then Tammy announced that she was giving the "dream" to Laurel as an early birthday present.
A month later, Laurel and her four-year-old daughter Gracie arrive at the luxurious house on Squibnocket Beach ready to swim, play, picnic and enjoy the peace and solitude together.
Laurel's dream vacation quickly turns into a nightmare when Hollywood bad boy Ryan Crandall shows up to escape his latest tabloid headlines. Ryan wants the woman and her child gone. Laurel wants him gone. Fate will bring them together for reasons neither one of them expected, but fate will also drive them apart.
Laurel has a past she needs to keep hidden. Her life and Gracie's depend on it. Ryan has a past, and present, that's been food for public consumption for over a decade. Will the past deprive them of a future? Or will they dare to dream a dream for love?
Comments
14 comments posted.
Re: A Dream for Love

Oh, I would avoid the crowds like the plague! Out of the
options you have given, I would have to pick #4 shopping.
The normal shopping I do not care for, but flea markets,
those I love!!
(LaCinda Jameson 8:37pm July 30, 2015)
No crowds . I would like the hiking trails, but Murdick's fudge sounds nice too.
(Deb Pelletier 9:10pm July 30, 2015)
I would love to see the president but I am not into people. So
I would avoid the crowds. I would book a trip anywhere but
there the quieter the better.
(Denise Austin 10:23pm July 30, 2015)
I am in the avoidance category and would want to hike and eat.
(G. Bisbjerg 1:53pm July 31, 2015)
You gave such great ideas, and Martha's Vineyard sounds like such a wonderful place to visit, but at that particular time of year, I would RUN like the plague to go somewhere where I could relax, and spend leisurely time, at my pace, with no crowds!! I live in a resort area, and know what it's like to have hoards of people around to the point that you can't even do simple things because you can't get down the street!! The last hurrah of Summer is going to be coming up in a couple of weeks. Although this venture is a lot of fun, it's also dangerous for drivers, as well as pedestrians, and can be a bit nerve-wracking!! It's a huge garage sale that goes on for about 100 miles through our State, and it's on a main highway. Tons of people show up for it, and they just pull out into 55mph traffic. Pedestrians walk across the street without looking. They park on the shoulder of the road. Traffic is clogged up for miles!! So we have our own taste of Martha's Vineyard, so to speak, without the Secret Service!! lol We also live by one of the Great Lakes, which offers beautiful scenery, as well as tons of things to do. Enjoy the rest of your Summer, as I will be sure to enjoy the rest of mine. I have your latest book on my TBR list.
(Peggy Roberson 10:48am August 1, 2015)
Hi LaCinda,
If you like Flea Markets, you'd love our numerous markets. From the Chilmark Flea, to Featherstone, to the Artisans, to the Farmer's Market. There is so much to do, and so little time.
Thanks for visiting the blog site. Happy summer, Lisa
(Lisa Belcastro 8:43pm August 6, 2015)
Hi Deb,
The hiking trails are fabulous. Great Rock Bight is my favorite of late. And Murdick's Fudge is fabulous. They added a smores flavor this summer -- OMGosh - a slice of Heaven!
Thanks for stopping by the blog! Lisa
(Lisa Belcastro 8:44pm August 6, 2015)
Hi Denise,
I have a few Island friends who are in total agreement with you. They are leaving tomorrow or Saturday before the circus begins. Though, many of the secret service are already here . . . and practicing their shooting at the local sand pit. Thinks lots of noise. Enjoy your summer, Lisa
(Lisa Belcastro 8:46pm August 6, 2015)
Hi G.,
You can't go wrong hiking and eating. :-) Lisa
(Lisa Belcastro 8:47pm August 6, 2015)
Hi Peggy,
Your 100-mile flea market sounds like a nightmare to me! Crossing highways? Yikes!! I think you've got our traffic jams beat!! Stay safe, and have fun, Lisa
(Lisa Belcastro 8:49pm August 6, 2015)
I would go with option number six. Especially Murdock's Fudge. You never
know, I might see the president there. I know he does like fudge but if I
don't see him that's OK too because I like fudge LOL
(Laurie Bergh 9:20am August 7, 2015)
Murdick's rather not Murdock's oops, typo
(Laurie Bergh 9:21am August 7, 2015)
I would spend my time on the ferry enjoying the beauty, then stop over to
watch the classic, Jaws. After a fun day it's time to eat a delicious meal,
then off to relax with a book or two. What ? The President was here? Oops
. I guess I was to busy enjoying all the things the Viineyard has to offer.
(Deana Dick 2:15pm August 7, 2015)
LOOOOVED revisiting the island via your post. Laughed out loud when you hit on
those Secret Service guys one last time. :D I'd definitely choose #2 and #6 oh,
and #5, especially at sunset and sunrise.
(Sandra Orchard 3:30pm August 7, 2015)
Registered users may leave comments.
Log in or register now!