Terry Spear | Settle Down with SEAL WOLF HUNTING

July 2, 2015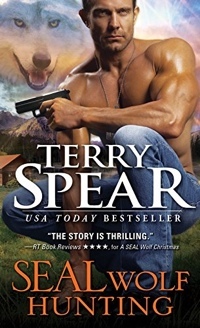 AVAILABLE
Heart of the Wolf #16 / SEAL Wolf #3

July 2015
On Sale: July 1, 2015
Featuring: Paul; Lori
384 pages
ISBN: 1402293828
EAN: 9781402293825
Kindle: B00SS3PHLS
Paperback / e-Book
Add to Wish List

Also by Terry Spear:
All's Fair in Love and Wolf, May 2018
Flight of the White Wolf, March 2018
Heart of the Wolf, January 2018
Dreaming of a White Wolf Christmas, October 2017

Dear Reader,
One of the overarching concerns that Lori Greypaw has in SEAL WOLF HUNTING is getting her SEAL wolf to settle down. She's a martial arts instructor and she could very well take over the pack that was decimated by a rabid wolf pack years ago, but she feels everyone has been just fine without a leader. If Paul Cunningham would stop running around to save the world, she'd be all for hooking up with him as his partner and take over the pack.
Paul is rethinking his whirlwind tours saving everyone else when it looks like his own pack needs him. But more than anything, he wants something more with Lori, and always has. He's been busy watching his SEAL team partners' back for years, but most of them have settled down with she-wolves of their own now and are sticking closer to home. But can he give up the thrill of the risky ventures—not that they're just daredevil missions—but where someone truly needs his help?
So what changes for them? Remember the old rabid pack that decimated their numbers? Three of them who survived the onslaught are back, and causing serious trouble. Not only that, but the SEAL wolves are all settling down so it's just him and Allan on missions together now. And the longevity they've all enjoyed for so long? Their time is now closer to human years, though they still have a slower aging process. Still, they don't want to wait as long to decide on their one and only mate.
Paul is also suffering from Post-Traumatic Stress Disorder from his last mission. PTSD isn't just a product of being in a war—anyone who has gone through a terrible traumatic experience can suffer from PTSD. Everyone is different. What one can experience and come out of without any mental trauma, another would fall to pieces over. It's an individual thing. Everyone handles stress in a different way.
After being a prisoner-of-war in Germany for 16 months when my dad was sixteen, he suffered from PTSD. It manifests itself in different ways. Maybe a car backfiring could make someone who'd been in a firefight fear the enemy was firing on him again. With my dad, he bought food in Army size bulk containers. After starving for those 16 months, he always had a stockpile of food. He was never overweight, but he just had to have the food on hand. If they ran out of anything, he'd be upset. It was irrational thinking and yet it's understandable for someone who has been through that horror.
But with a SEAL wolf, as in Paul's case, it's hard to tell if he's being paranoid, or just wary as a wolf or as a SEAL might be. Lori worries he has PTSD. Paul thinks he's dealing with everything just fine. We'll let you decide!
GIVEAWAY
Tell me, readers, are you settled-down type or do you love the thrill of a risky venture? Leave a comment below and be entered to win a hard copy of SEAL WOLF HUNTING.
USA Today bestselling author Terry Spear has written over fifty paranormal and medieval Highland historical romances. In 2008 HEART OF THE WOLF was named a Publishers Weekly Best Book of the Year. A retired officer of the U.S. Army Reserves, Terry also creates award-winning teddy bears that have found homes all over the world and is raising two Havanese puppies. She lives in Crawford, Texas.
Website | Goodreads | Facebook | Twitter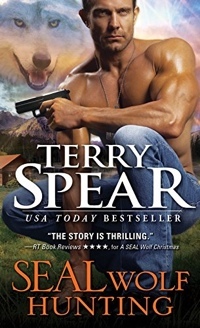 Paul Cunningham has eluded many traps in his long career as a Navy SEAL, but there's no way out of this one. On a rare visit home, he gets "volunteered" for a local charity bachelor auction, and the community is counting on him. Then he discovers that the sexy she-wolf with the winning ticket is Lori Greypaw—the one woman he could never resist. And she has plans for Paul that go way beyond a simple date. For the first time in his bachelor life, this alpha wolf SEAL is going to have to prove his worth…
Comments
34 comments posted.
Re: Terry Spear | Settle Down with SEAL WOLF HUNTING

Is a glass of wine and a good book a risky venture?
Otherwise, I guess I am the settled-down type.
(Nancy Krueger 1:43am July 2, 2015)
risky venture?
(Marissa Yip-Young 5:53am July 2, 2015)
I'd have to say I'm a settled-down type who gets her risky ventures vicariously through the books she reads. Bring on those great risky venture books.
(Nancy Reynolds 10:57am July 2, 2015)
I only get risky ventures in the books I read.
(Wilma Frana 11:45am July 2, 2015)
I get my adventure vicariously through reading
(Donna Antonio 12:09pm July 2, 2015)
I am not the adventurous type except for my reading and rollercoasters!
(Colleen Conklin 12:44pm July 2, 2015)
my brother and i love wolfs.
(Emily Stemp 2:16pm July 2, 2015)
I love reading about risky adventures
(Sharon Good 3:56pm July 2, 2015)
I'm a settled-down type, but love vicariously experiencing risky adventures! Congrats on the release and thanks for the giveaway!
(E Felder 6:35pm July 2, 2015)
I am the cautious, settled down type. I prefer to live my
adventures vicariously through reading, listening, and watching
others adventures. After moving constantly in my early years,
my husband and I have lived in the same house for the past 35
years.
(Marcia Berbeza 8:50pm July 2, 2015)
I love reading about all the fabulous adventures but not living them in real life...so I'm a
settled down type mostly. I've found myself in the midst of a few adventures in life and that's
enough for me thank you...Hurricane Emily, Forest Fire with Red Cross evacuation... Thanks for
the giveaway and best wishes with the release and FB Party. I'll be there
(Lenna Hendershott 9:00pm July 2, 2015)
I'm settled down type. I get my adventures in the books I read . Thanks for this giveaway .
(Joan Thrasher 11:20am July 3, 2015)
In my younger days I was all about the thrills but now I
just get my thrills in books :)
(Crystal Cox 2:45pm July 3, 2015)
loves Wolfs
(Emily Stemp 3:27pm July 3, 2015)
I'm in between the two of them. I get bored being settled
down and need a little adventure and then I'm ready to be
boring again lol
(Darlene Carroll 4:49pm July 3, 2015)
I'm more the settled-down type.
(Janie McGaugh 5:29pm July 3, 2015)
I am the settled down type but do love a good thrill XD
(Hylla Jackson 8:24pm July 3, 2015)
i am the settled down type
(Ann Unger 9:10pm July 3, 2015)
I save my risky ventures for the books I read. Most
definitely settled.
(Mary Preston 5:36am July 4, 2015)
I am the settled-down type. A great book gives me an escape.
(Sharon Berger 11:57am July 4, 2015)
I am definitely the settled down type. I am completely
comfortable getting my thrills through the books I read and
the movies or shows that I watch lol. :-)
(April Kirkland 1:08pm July 4, 2015)
I am more settled down type. This sounds like a great book.
(Larena Hubble 1:16pm July 4, 2015)
I'm the settled down type. Only in my reading do I enjoy the risk.
(Nancy Luebke 2:46pm July 4, 2015)
I have 5 sons. That is more than enough risk taking for me lol. I am
absolutely the settled down type, I prefer my adventures (other than
the daily adventures with the kids) to be in books or on Netflix :)
(Andrea Amy 3:05pm July 4, 2015)
I have 2 sons, 3 grandsons and my Dad was in the army in WWII, Korea & Viet Nam. He spent over 30 yrs in. My eldest son is strickly an Alpha Male. I love reading about shape shifters (werewolves, bears, etc.)and when you added in Seals - I was hooked. Will be glad to leave reviews for the book. I do reviews on books that I truly like and will never leave a bad review. Won't leave it if it can't be at least a 4.
(Pat Moore 4:34pm July 4, 2015)
Opps, I forgot to say I love adventure, travel, I have a wonderful husband who makes me feel like a Queen and is very protective. My sons are too. Now that I'm retired I do most of my risks by books. However, I still will do things to keep my grandchildren from thinking I'm a Chicken.
(Pat Moore 4:36pm July 4, 2015)
love your books and I always put myself into the book as if I was actually playing one of the people in it,this makes it more interesting and exciting.
(Rosemary MacPhaden 7:40pm July 4, 2015)
hope you had a great weekend
(Emily Stemp 7:42pm July 4, 2015)
I am a settled down type. It is enough of an adventure to deal with the adventures in books. I love to travel thru the books but am a person who enjoys the noise of the water hitting the beach or watching a sunrise or sunset
(Melinda Marks 9:03pm July 4, 2015)
I'm fairly adventurous though not like I was when I was
younger. These days I'm more the settled down type.
(Trish Wakeman 9:54pm July 4, 2015)
well i was a wild child growing up.i am happy now reading a great book and going to work. i get my adventure through books so i thank all my writers i love. thank you
(Jennifer Beck 10:46am July 5, 2015)
I'm definitely a settled down type.
(Cheryl Haut 12:51pm July 5, 2015)
I'm the settled down type. The most excitement I get is when I'm allowed to
use the riding lawn mower. I get out of that by taking the corners too fast.
(Laura Gullickson 1:58pm July 5, 2015)
Love wolfs.
(Emily Stemp 7:48pm July 5, 2015)
Registered users may leave comments.
Log in or register now!