Jennifer Beckstrand | Trials in Motherhood

June 27, 2014
Huckleberry Summer
Jennifer Beckstrand
AVAILABLE

June 2014
On Sale: June 3, 2014
Featuring: Lily Eicher; Aden
352 pages
ISBN: 1420133586
EAN: 9781420133585
Kindle: B00GYLVSUU
Paperback / e-Book
Add to Wish List

Also by Jennifer Beckstrand:
Home on Huckleberry Hill, July 2018
A Courtship on Huckleberry Hill, January 2018
The Amish Christmas Candle, October 2017
Return to Huckleberry Hill, June 2017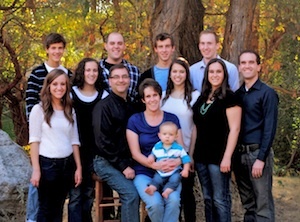 I love being a mom, but I have to admit that motherhood involves many unpleasantries (which according to my spell check, is not a word). My two least favorite things about being a mom are potty training and driver's training.
Potty training was the single biggest test of my patience as a mother. First of all, it's hard to know when your toddler, who can't cross the street by herself, is ready to use the toilet. Some of us just hope we can manage it by the time our kids enter kindergarten. Potty training my boys, I often carried the faint scent of urine with me when I went out in public. But don't get me started on boys and their bathroom habits. What girl would stand on the bathroom counter and try to hit the toilet from three feet up?
I always thought I would rather have a root canal than potty train one of my children. Well, I've potty-trained six children and have yet to experience a root canal.
Even though driver's training is not usually messy or stinky, it carries the added hazard that YOU COULD DIE. I do not do well under these working conditions. I find myself pressing on that imaginary brake on the passenger side of the car and clutching the door handle with a death grip. I usually hold my breath and occasionally close my eyes, which is a really stupid way to teach someone how to drive.
The worst part about driver's training is when the child actually gets his license and he drives around town unsupervised. I lie awake at night wondering if he's using two hands, applying the three-second rule, and remembering my most important piece of advice: "Stop, stop, stop!"
There is a beautiful and touching song from the musical, "Children of Eden" with score by Stephen Schwartz. With an anguishing choice before him, Noah wonders what to do about his wayward son. He realizes that "the hardest part of love is the letting go."
In HUCKLEBERRY SUMMER, Lily Eicher's father has lost someone he loves very much, and he is determined to control his daughter's life so tightly that she will never make a mistake, never do anything she regrets, and never be forced to suffer the consequences of her own bad choices. In the end, Lily realizes that she is living the life her dat has chosen for her, not the one she wants for herself. She finds the courage to break free from his demands and marry the boy she loves. We're left hoping that her father will love her enough to let her choose her own life.
It is natural for us parents to want to protect our children from their own mistakes. We don't want them asking questions we don't know the answers to. We don't like it when they make choices that we know will take them down a painful path. It hurts to know that they could have been spared heartache if they had only listened to us. Still, God, the greatest parent of all, gave His children the freedom to make our own choices, even though many of those choices have disastrous consequences. But He lets us choose anyway, because He loves us enough to let us go. He loves us enough to teach us how to drive and let us take the car out for a spin. At times we are reckless. We drive carelessly and crash, putting dents in the bumpers of our lives. But God loves us enough to let us drive, knowing we'll learn from our mistakes and love Him all the more for letting us choose.
Thirteen years ago I graduated from potty training. It was a glorious day. One year ago my youngest son got his driver's license. And even though I worry every time he walks out the door, I let him take the car and trust him to remember what he's been taught. After all, he had a pretty good driving teacher, if I do say so myself.
Knowing all that, I still can't resist. "Drive safely," I say as he goes.
"I won't," he replies sarcastically.
He's probably too old for a spanking.
Comments
15 comments posted.
Re: Jennifer Beckstrand | Trials in Motherhood

I, unfortunately, was told by my Doctor that I shouldn't get
pregnant, due to my health conditions, so for anyone who had
to go through that 6 times, you should get some type of
medal!! Experts claim that Motherhood is a full-time job,
and a hard one at that!! I believe it, and it sounds as if
you're the type that didn't fall for all of the new ways
that Parents have fallen for raising their kids. It's going
to come back to bite them, and they don't realize it yet!!
Anyway, I just wanted to say that not only do I love the
cover to your latest book, but I try to read any book that
has to do with the Amish or Mennonite people, and I'm sure
that this book will not disappoint me. Congratulations on
your book!!
(Peggy Roberson 11:22am June 27, 2014)
Peggy, I've had the time of my life being a mother--except maybe for that whole
driving thing. :) And the time my 2-year-old pooped in her closet. I hope you
love my book. The dog (patterned after my neighbor's dog) is adorable.
(Jennifer Beckstrand 5:20pm June 27, 2014)
The books about the Amish are some of the best reads!
Marilyn Collins
(Marilyn Collins 7:03pm June 27, 2014)
The book looks good. I normally like mystery/suspense but when I want to just sit back and read to feel happy I enjoy the Amish reads.
(Vennie Martinisi 11:25am June 28, 2014)
Sounds like the type of book I love to read, can't wait to win
it and read it
(Jeri Dickinson 2:09pm June 28, 2014)
i live in pa i really love to win this one thanks so much
(Denise Smith 4:47pm June 28, 2014)
"I won't," he replies sarcastically.
He's probably too old for a spanking.

I say you are NEVER to old for a spanking!
(Debbie Kelly 6:17pm June 28, 2014)
I don't know about the potty training but I do know I made the driving training particularly difficult on my poor parents. I've been looking forward to the next book in this series. Thanks for writing it and offering a giveaway.
(Jamie Fortney 11:31pm June 28, 2014)
Motherhood is the hardest job a woman can have and yet, it is by far, the
best job in the whole wide world. The roads traveled are so interesting, to
say the least! Thank you for your wonderful books!
(Melanie Backus 12:30pm June 29, 2014)
You made me smile while reminding me of the joys and
exasperating times of raising five kids including a set of
twins.
(Alyson Widen 1:38pm June 29, 2014)
Love it.....Amish books just thrill me...such interesting material...and soo relaxing...look forward to reading Jennifer Beckstrand's new book " Huckleberry Summer"...sounds sooo good too...I have read Jennifer Beckstrand's books and they are so good that I have a hard time putting em down until I've finished...you feel such a part of the book...love it
(Lnda McFarland 5:34pm June 29, 2014)
Have recently become an Amish book fan. I'm looking forward to
reading "Huckleberry Summer".
(Mildred Mayo 8:11pm June 29, 2014)
I am the mother of five children. Teething & the chicken
pocks were a breeze compared to toilet training. I was
toilet traing & changing diapers at the same time. Also the
older child picks that momment to want something! I loved
every momment of it & wouldn't trade it for the world! A
Very Tired, but Happy Mother, TERRY
(Therese Abdali 12:53pm June 30, 2014)
Have recently been enticed by the Amish books. I look forward to reading this
book.
(Susan Scheelk 8:13pm June 30, 2014)
I have my first grandchild and many things have
changed. I believe that love and kisses should
NEVER be omitted from a child's Care!
(Connie Saunders 10:02am July 19, 2014)
Registered users may leave comments.
Log in or register now!