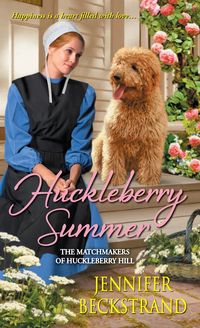 Purchase
Kensington Zebra
June 2014
On Sale: June 3, 2014
Featuring: Lily Eicher; Aden
352 pages
ISBN: 1420133586
EAN: 9781420133585
Kindle: B00GYLVSUU
Paperback / e-Book
Add to Wish List

With one of their grandchildren happily married, Anna and Felty Helmuth are ready for their next matchmaking success. Because there's nothing more rewarding than sparking unexpected love--and putting Huckleberry Hill, Wisconsin, on the map for romance. . .
Cautious to a fault, Lily Eicher strives to live up to her dat's high standards. She's certainly not the kind of proper Amish girl who would make time for someone as impetuous as the Helmuths' grandson, Aden--even if his lively spirit and caring ways are showing her just how wonderful following her heart can be. . .
Recklessly doing the right thing got Aden into big trouble. A fresh start at his grandparents' is just what he needs. And shy, pretty Lily is turning his world upside down and making him want to prove he can do good within the rules. But now both must find enough faith and understanding to risk pursuing their dreams--together. . .
Comments
15 comments posted.
I, unfortunately, was told by my Doctor that I shouldn't get
pregnant, due to my health conditions, so for anyone who had
to go through that 6 times, you should get some type of
medal!! Experts claim that Motherhood is a full-time job,
and a hard one at that!! I believe it, and it sounds as if
you're the type that didn't fall for all of the new ways
that Parents have fallen for raising their kids. It's going
to come back to bite them, and they don't realize it yet!!
Anyway, I just wanted to say that not only do I love the
cover to your latest book, but I try to read any book that
has to do with the Amish or Mennonite people, and I'm sure
that this book will not disappoint me. Congratulations on
your book!!
(Peggy Roberson 11:22am June 27, 2014)
Peggy, I've had the time of my life being a mother--except maybe for that whole
driving thing. :) And the time my 2-year-old pooped in her closet. I hope you
love my book. The dog (patterned after my neighbor's dog) is adorable.
(Jennifer Beckstrand 5:20pm June 27, 2014)
The books about the Amish are some of the best reads!
Marilyn Collins
(Marilyn Collins 7:03pm June 27, 2014)
The book looks good. I normally like mystery/suspense but when I want to just sit back and read to feel happy I enjoy the Amish reads.
(Vennie Martinisi 11:25am June 28, 2014)
Sounds like the type of book I love to read, can't wait to win
it and read it
(Jeri Dickinson 2:09pm June 28, 2014)
i live in pa i really love to win this one thanks so much
(Denise Smith 4:47pm June 28, 2014)
"I won't," he replies sarcastically.
He's probably too old for a spanking.

I say you are NEVER to old for a spanking!
(Debbie Kelly 6:17pm June 28, 2014)
I don't know about the potty training but I do know I made the driving training particularly difficult on my poor parents. I've been looking forward to the next book in this series. Thanks for writing it and offering a giveaway.
(Jamie Fortney 11:31pm June 28, 2014)
Motherhood is the hardest job a woman can have and yet, it is by far, the
best job in the whole wide world. The roads traveled are so interesting, to
say the least! Thank you for your wonderful books!
(Melanie Backus 12:30pm June 29, 2014)
You made me smile while reminding me of the joys and
exasperating times of raising five kids including a set of
twins.
(Alyson Widen 1:38pm June 29, 2014)
Love it.....Amish books just thrill me...such interesting material...and soo relaxing...look forward to reading Jennifer Beckstrand's new book " Huckleberry Summer"...sounds sooo good too...I have read Jennifer Beckstrand's books and they are so good that I have a hard time putting em down until I've finished...you feel such a part of the book...love it
(Lnda McFarland 5:34pm June 29, 2014)
Have recently become an Amish book fan. I'm looking forward to
reading "Huckleberry Summer".
(Mildred Mayo 8:11pm June 29, 2014)
I am the mother of five children. Teething & the chicken
pocks were a breeze compared to toilet training. I was
toilet traing & changing diapers at the same time. Also the
older child picks that momment to want something! I loved
every momment of it & wouldn't trade it for the world! A
Very Tired, but Happy Mother, TERRY
(Therese Abdali 12:53pm June 30, 2014)
Have recently been enticed by the Amish books. I look forward to reading this
book.
(Susan Scheelk 8:13pm June 30, 2014)
I have my first grandchild and many things have
changed. I believe that love and kisses should
NEVER be omitted from a child's Care!
(Connie Saunders 10:02am July 19, 2014)
Registered users may leave comments.
Log in or register now!