Gina Conkle | Give me something the same...but different

October 27, 2013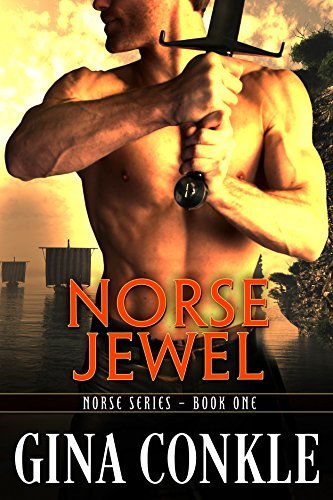 AVAILABLE
A stolen woman of rare qualities
Norse Series #1

June 2013
On Sale: June 17, 2013
Featuring: Hakan; Helena
199 pages
ISBN: 1622662237
EAN: 9781622662234
Kindle: B00D0MMUEO
e-Book
Add to Wish List

Also by Gina Conkle:
Kept by the Viking, May 2018
Meet My Love at Midnight, March 2018
To Steal a Viking Bride, March 2018
The Lord Meets His Lady, December 2017

I imagine readers the world over subconsciously whisper that mantra while hunting for a new book or new author. We like what's comfortable but want our comfort with a twist.
That's how NORSE JEWEL was born. My Viking romance came from the familiar marriage of Hollywood and history.
But a fierce Viking chieftain who wants to lay down his sword and live a peaceful farmer's life?  Now we're talking different.
The inspiration for my "same but different" story came from watching my favorite movie "Gladiator" for the umpteenth time.  At the same time, I was reading one of my nerdy Viking history books. 
Now, remember the scene where General Maximus Decimus Meridius (Russell Crowe character) tells the emperor he wants to go home to his farm? That quiet scene gave root to my "what if" moment for my Viking hero, Hakan.
Of course, any man set on a plan of action needs a woman to frustrate, befuddle, and vex him. 
That's how my heroine, Helena, was born. She stirred up Hakan's pleasant, pastoral world --- a temptation to make him question his code of honor. Then add to the mix the call for justice amidst betrayal, and you have something like Maximus walking into the hornet's nests of Roman intrigue. Hakan definitely needed his sword when that happens to him.
Norse Jewel, however, diverges from "Gladiator" in one key area. Curiously, Director Ridley Scott told a story void of romance. In my humble opinion, we need love and romance (or at least romantic elements) in all our stories. The whole man/woman dynamic is the oldest tale, as old as the Garden of Eden.
Love makes the world go 'round.  And we like to read about love in a variety of genres...which gives you more of the same but different.
What about you? Do you like your reads with a twist? An eCopy of NORSE JEWEL for one commenter.
Gina's a lover of history, books and romance, which makes the perfect recipe for historical romance writer.  Her passion for castles and old places (the older and moldier the better!) means interesting family vacations.  Good thing her husband and two sons share similar passions, except for romance...that's where she gets the eye roll.  When not visiting fascinating places, she can be found in southern California delving into the latest adventures of organic gardening and serving as chief taxi driver.
Connect with Gina on the web: Website   Monthly Newsletter      Facebook      Twitter    Pinterest
A stolen woman of rare qualities...
Seized by marauders and taken to the icy northlands by the wolf-eyed Viking warrior, Helena will do whatever it takes to earn her freedom and return to France.
A mighty Viking Chieftain...
Betrayal has turned Hakan's heart to ice, but the spirited Frankish maid warms him in a way he's never known. The spell she weaves leaves them both breathless, but can he keep his promise to return her home even if it means he'll lose his precious jewel forever?
Read Reviews
Buy today Amazon | iTunes | B&N | Kobo Books
Comments
37 comments posted.
Re: Gina Conkle | Give me something the same...but different

Absolutely! Twists add excitement, and people are capable of change and
surprising you, for better or worse.
(Gloria Shaw 12:52pm October 27, 2013)
I like a twist if it helps with the plot. It makes reading more interesting.
(Sharon Extine 5:53am October 27, 2013)
You've so got it right -the same but different!!
(Chris Coulson 6:00am October 27, 2013)
A twist is always exciting. Predicting
the plot then having a twist totally
different adds a lot to the story. At
the end of a book, I like to say
"wrote, I NEVER saw that coming!"
(Rhonda Brittingham 8:34am October 27, 2013)
There should always be twists and turn in a good book. It's not good reading unless there are some. Predicting the storyline is boring.
(Bonnie Capuano 9:12am October 27, 2013)
The Norse had a tiny amount of arable land and long bitter winters, so they raided other lands to sustain themselves. When they got the chance, of course they settled in better farming lands such as Ireland, England and Normandy. But they often had to do it as invaders, because the locals were there first.
(Clare O'Beara 9:50am October 27, 2013)
I love reads with twists. Especially when it is clear the author was going there the whole time. That makes me want to read the book again to see what I missed the first time.
(Pam Howell 10:35am October 27, 2013)
Wow, Congrats on your new book: NORSE JEWEL. I love the book
cover too! Yes, I love the Gladiator movie and Yes, I love a
book or movie with lots of twists and turns and that keeps
everything we are reading and seeing exciting in our World.
I would love to win and read your new book this Fall. Thank
You very much. Cecilia CECE
(Cecilia Dunbar Hernandez 11:38am October 27, 2013)
You are a new author for me... loving the sound of your book! Twists... enjoy books with a twist!
(Colleen Conklin 1:07pm October 27, 2013)
Sounds like a great book with a great twist.... I do get bored
with books that follow the same old storyline. :-)
(Glenda Martillotti 1:57pm October 27, 2013)
Yes I love twists and being surprised vs a happily ever after, I love books/movies that make me think!
(Darci Paice 2:07pm October 27, 2013)
I am really tired of so many "New Adult Contemporary" books that all have
the same story line. I am getting to where I am trying to buy old classics to
get something different. It really does suck.
(Vicki Hancock 2:09pm October 27, 2013)
I love reading a story that has twists in, makes it much more exciting.
(Jean Patton 3:27pm October 27, 2013)
Stories with a twist make it more exciting. A lot of times I
can figure out what is going to happen at the end and I love
it when a twist changes everything.
(Cindy Thomason 4:29pm October 27, 2013)
Hi,
This is Gina. Such great comments. Any fans of historical
romance out there? Any open to the early 1000s?
Gina
(Gina Conkle 5:34pm October 27, 2013)
Hi, Gina! Your book sounds fantastic. I love historicals of almost any date frame except 1900's-200's. I have always loved stories of Vikings and their captured love interests. I love books with a twist in them.
(Cathy Phillips 8:20pm October 27, 2013)
I love my Highlanders! Thanks for the contest!
(Linda Townsend 8:28pm October 27, 2013)
I can't wait to read this!
(Julie McDonough 8:53pm October 27, 2013)
I love my reads with a twist. I like to be surprise and tried to figure out how did I missed this clue.
(Kai Wong 1:08am October 28, 2013)
A twist is always appreciated. Love a surprise in the stories
I read.
(Mary Preston 8:16am October 28, 2013)
i love twist they are what i seek out in books like a bad or
just hurt (emotionly ) main hero turns around and is the hero
we are all looking forward to seeing ohhhh ya i love twist
(Denise Smith 9:31am October 28, 2013)
this sound like a book that will keep you up until finished
(Ron Frampton 10:29am October 28, 2013)
I really like books with a twist...but they have to make sense
.
(Sandra Boen 10:49am October 28, 2013)
The book sounds fantastic - and the cover is great. Thanks for the chance to win - and best of luck it!
(Nancy Reynolds 11:09am October 28, 2013)
I love a book with a twist..especially if I didn't see it coming. It has to make sense, even in an odd way.
(Kimberley Coover 12:10pm October 28, 2013)
Twists and turns keep me interested and turning the page - and
the more the better! This story sounds terrific, can't wait to
read it.
(Sandra Marlow 12:25pm October 28, 2013)
Twists always make it more interesting to me.
(Kerry Shaw 1:11pm October 28, 2013)
You can't have a good read without twists!
(Beth Elder 4:20pm October 28, 2013)
Love books with a twist! Makes them fun to read as I try to guess where it's
going.
(Michelle Schafer 4:37pm October 28, 2013)
Love books with a twist keeps me quessing
(Patricia Lambert 4:56pm October 28, 2013)
I love a twist. Things that keep me guessing are great. I hate when I can figure the book out in the first 5 chapters.
(Laura Gullickson 8:25pm October 28, 2013)
Sounds like a great books with great twists in it. Have not read one of your books. But thanks for a chance to win. Great cover.
(Linda Hall 9:07pm October 28, 2013)
Will add to my to read list. thanks for the chance to win it.
(Terri Poindexter 10:27pm October 28, 2013)
Been a long time since I read such a book. Sounds good.
(Lisa Hutson 10:33pm October 28, 2013)
Isn't it wonderful how ideas come together!
(Janet Martin 8:52am October 30, 2013)
I love twists & turns in a story.
(Mary Preston 11:48pm October 30, 2013)
A twist is tantalizing and makes me work harder to figure out
where the plot is heading. I like surprises - the good kind.
(Alyson Widen 8:06pm October 31, 2013)
Registered users may leave comments.
Log in or register now!