Linda K. Hubalek | Fresh Starts in Trail of Thread book series

May 13, 2011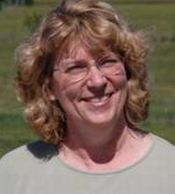 Fresh Fiction. I like this website's name and theme. Everyone likes things fresh--fresh air, fresh fruit...and a fresh start.
I'm author Linda Hubalek and many of my historical fiction books have characters longing for fresh starts for their families. I write about ancestors that moved to Kansas for a reason--to homestead land to start a new life for their families.
For example Deborah and John Pieratt, featured in the first book of the Trail of Thread series) left Kentucky in 1854 when the Territory of Kansas was formed. They were part of the thousands of families that packed wagons and headed east for the promise of a new life. The thought of owning land must have seemed like the perfect fresh start for their six young children.
THIMBLE OF SOIL, the second book in the series, features Margaret Ralston Kennedy. She was a widow who moved with eight of her thirteen children from Ohio to the Territory Kansas in 1855. (Margaret and two of her daughters are standing in front of their house in the photo with this post.) She was dedicated to the cause of the North, and helped with the Underground Railroad in both Ohio and Kansas. She wanted to help make a fresh start for everyone by working to making Kansas a free state for all.
Orphaned Maggie Kennedy, portrayed in STITCH OF COURAGE, the last book in the series, followed her brothers to Kansas looking for a better life as the states fought out the history of the Civil War. She found love with Deborah Pieratt's son and received a fresh start with a husband and children of her own.
This series, written in the form of letters the women have written back home to loved ones, portray the extent that they would go through to provide a fresh start for not only their families, but the state and nation during the troubling times of the Civil War.
Are you ready to start fresh with this new series? Please look at my website and books for new reading material.
Many thanks from the Kansas prairie...where you'll journey to Kansas...
Make a a row of covers in table form
Enter the Giveaway
Books can have fresh starts too. This series is now available as ebooks to be read by a whole new generation of readers.
Enter my ebook give-away by leaving a comment below about your favorite "fresh" thing, and a randomly picked lucky reader will receive a Kindle version of TRAIL OF THREAD.
Comments
30 comments posted.
Re: Linda K. Hubalek | Fresh Starts in Trail of Thread book series

I enjoy fresh homemade bread, still warm from the oven.
(Sheila True 12:23pm May 13, 2011)
I love fresh laundry, clean & warm!
(Darci Paice 1:32am May 13, 2011)
I love history, like Kansas history, and Colorado history, I really enjoy fresh homemade pies, bread and cookies!
(Cynthia Dran 6:27am May 13, 2011)
Historical fiction is my favorite!
Blessings,
Marjorie
(Marjorie Carmony 6:43am May 13, 2011)
I love the fresh smell after a rain (and we have had plennty of rain this year). I also enjoy journaling our trips. Maybe some day someone will read them and they will become an inspiration for an Historical book series :>)
(Karin Tillotson 8:17am May 13, 2011)
I love a fresh start to the school year. As a teacher, I look forward to fresh faces, fresh paper, and fresh pencils. The possibilities are endless.
(Renee Brown 8:41am May 13, 2011)
Clean fresh sheets right off the clothes line. Nothing better then ceawling into bed at night when the sheets have been hanging on the clothes line all day...
(Dawn Staniszeski 9:13am May 13, 2011)
A favorite fresh thing would be a "fresh" novel...when I open
that book to read a new story for the first time! Just love
it!
(Leanna Morris 10:03am May 13, 2011)
Fresh sheets are the best.
(Beth Melito 10:04am May 13, 2011)
I also love a fresh new novel to read, it's my best pasttime.
(Wilma Frana 11:05am May 13, 2011)
I love fresh clothing after a refreshing shower.
(Stephanie Bondlow 11:40am May 13, 2011)
My favorite fresh thing would have to be a skein of yarn, because I know I'll be able to create something wonderful out of it with my knitting needles!! Congratulations on your new book. I know it was a labor of love.
(Peggy Roberson 12:59pm May 13, 2011)
I love American historical fiction. Can't wait to read this/
(Brenda Jann 1:27pm May 13, 2011)
Fresh food straight from the garden!
(Cate Sparks 1:27pm May 13, 2011)
I certainly look forward to reading all three of this series. Historical fiction is my favorite.
Blessings,
Marjorie
(Marjorie Carmony 1:43pm May 13, 2011)
I love walking in the rain especially when you see rainbows when it ends
bringing fresh hope and a brighter day.
(Sandra Spilecki 1:53pm May 13, 2011)
I love the smell of just mowed grass.
(MaryEllen Hanneman 2:08pm May 13, 2011)
I love a nice warm bubble bath and then slipping in between fresh bedding that has hung out to dry.
(Julie Parrish 3:16pm May 13, 2011)
I love fresh sheets just off the line!
(Linda Morgan 4:08pm May 13, 2011)
I love the fresh smell of beautiful flowers in my garden.
(Linda Hall 4:30pm May 13, 2011)
I love the fresh smell of the ocean early in the morning.
(Pamela Stewart 4:50pm May 13, 2011)
I love climbing into fresh sheeets. Your books sound wonderful and something I look forward to reading.
(Kathleen Bianchi 5:20pm May 13, 2011)
Finding a good book is one of my favorite things. The other is going for walks around town and on trails near water in the parks or even by the water at the mall. It's so refreshing. I love reading about the Underground Railroad and all the people who kept it going along with their ways of living and keeping it secret to make it work.
(Alyson Widen 7:03pm May 13, 2011)
I never thought about the series I read as a thread. Some threads cover several generations while others add new strings or characters to weave into the works. Thanks for making me think of it that way.
(Christina Harrison 7:21pm May 13, 2011)
I love books with fresh ideas. This series sound different and really good!
(MaryAnne Banks 9:02pm May 13, 2011)
Looking at the titles, I thought the stories would be reflecting of homemade things but the books have more substance. It is about real people that were coping with the Civil War. They may not be fighting in the war but the war does affect them while they are heading out West.

Great historical read.
(Kai Wong 9:18pm May 13, 2011)
Historical novels, rather than romances, are my favorites. I became more and more interested in history itself as I read my first novels; romances were 20 years in the future. And I think these are more on the historical truth side than romances, even when they contain romance. The Civil War has been one of my favorite historical subjects.
(Sigrun Schulz 10:26pm May 13, 2011)
Thanks everyone for reading my guest blog and taking the time to write a comment.
I loved your answers...lots of fresh ideas!
If you like historical novels please type my name, Linda Hubalek, into Amazon's Kindle store and see all ten books. Trail of Thread is only one of my series, and if you start will one book, you'll want to read them all.
Many thanks from the Kansas prairie!
Pioneer writer Linda Hubalek
(Linda Hubalek 11:36am May 14, 2011)
Unlike some of you who can only dream of Kansas' wide prairies, I'll be there next month. With family in Lawrence, I get to both visit an area rich in history, and bright with today's restaurants and shopping--not to mention walking the paths along the Kansas River.
(Janet Martin 2:02pm May 14, 2011)
I never thought about the series I read as a thread.
(Summer Tan 3:16am May 16, 2011)
Registered users may leave comments.
Log in or register now!