Bella Andre | The one where she becomes a romance writer...

April 30, 2009
My mother and I don't always see eye to eye, but the one thing we always have agreed on are romance novels. We absolutely love them. One of my main memories as a child was going to the library with my mother every Sunday, where she'd exchange her stack of hardcover romances for a new stack of books. As soon as I was old enough to have run through the Judy Blume books, I made my way over to romances. And was hooked. Little did I know that I would be writing them one day. (And that my mother would be reading them. But that's another article, entirely!)
Like many writers, I took the long way around to becoming an erotic romance author. I graduated from Stanford with an Economics degree in 1994, but really, I knew I was never going to become a management consultant. No, I wanted to be a rock star. So I recorded 4 CDs, played 1,000+ shows throughout North America, had a turn at being a star in Brazil, and then said, "Okay, what's next?" Somewhere along the way when my bank account was looking worse for the wear, I worked as a Director of Marketing for a dot com. No, I didn't get rich, but I did decide that come hell or high water I was going to make a living with creative pursuits. So I wrote two books on the music business, sold them, joined a local writer's group and uttered the words, "I could never write fiction. I can't believe that characters just start having a conversation in people's heads. How weird."
So, of course, one day two characters started having a conversation in my head. ;-) At a loss for what else to do, I wrote the dialogue down, day after day, page after page. And then, wouldn't you know it, the hero and heroine started having sex and making me laugh and, sometimes if they were really on a roll, cry.
Enter my college roommate, Jami Alden, who I hadn't seen in six years. She had, in her infinite wisdom, always wanted to be a romance writer. When I admitted that I was penning a masterpiece of my own, we decided that together we could muster up the confidence to attend the San Francisco RWA chapter meeting.
One fateful day in 2003 at the marina in Berkeley the wonderful Kate Douglas stood up at our SFA chapter meeting and mentioned a hot little e-publishing company called Ellora's Cave. That afternoon, when I went home and checked out their website an idea for a book came to me in a flash. I didn't know if I had erotic romance in me, but three chapters later I looked up from my computer and knew that I'd found my calling. I wrote four books for EC, five for Pocket, and my first firefighter romantic suspense is out this week from Bantam Dell. I can honestly say that although I never knew to dream about being a romance writer, being a part of this wonderful business is truly a dream come true.
In WILD HEAT, the first book in Bella Andre's HOTSHOTS: Men of Fire series, Logan Cain is a firefighter addicted to risk. Maya Jackson is the sultry beauty he never saw coming, targeting him as her number-one suspect in a string of deadly wildfires. But when Maya's life is threatened, Logan vows to protect the woman sworn to bring him down. And as desire ignites, nothing-not the killer fire or the killer hot on their trail-can douse the flames....Allison Brennan called it "a breathtaking, terrific, hot, hot, hot romantic suspense." Brenda Novak said, "WILD HEAT has one sexy firefighter - and a love that burns up the pages." And according to Catherine Coulter the book is "a roller coaster ride. Don't miss it."
Visit Bella Andre's website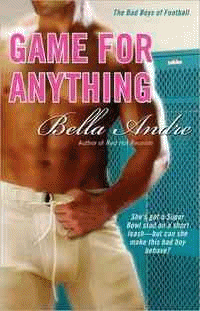 Leave a comment today and you could win a copy of GAME FOR ANYTHING and GAME FOR SEDUCTION!
Comments
49 comments posted.
Re: Bella Andre | The one where she becomes a romance writer...

u ladies have hot books
firemans another one congrats
such hot covers

would love the football books
love sports
who is yoru favorite athelete
thanks
go 49ers
(Kim h 2:48am April 30, 2009)
Hi Bella. Great post. Sounds like you have had an interesting journey. Great covers. I love romances with sports heroes.
(Crystal Broyles 10:49am April 30, 2009)
You have great luck with your covers! I love the cover of Wild Heat and it so fits with the title!
(Lisa Freeman 11:18am April 30, 2009)
I started reading romances before I found Judy Blume (and then couldn't understand why the library wouldn't let me check out Judy Blume with permission).
(Shannon Scott 11:24am April 30, 2009)
Great post. How do you do research for erotica books?
(Breia Brickey 11:28am April 30, 2009)
I might have to start a fire so he can put it out ! Hot cover.
Not a football fan but I would give it a try if I got to see him everyday.
(Paula Freeman 11:43am April 30, 2009)
Romances are an after college thing for me. Yet enticing covers of books, would've had me flipping pages checking for juicy tidbits to see what I was missing.
(Alyson Widen 11:45am April 30, 2009)
Oh my gosh!! Sounds like an amazing book.. Going on my to be read pile incase I don't win I can remember it and read it. :)
(Trisha McCullen 11:55am April 30, 2009)
These books sound great! Coming from a firefighting family, I will definitely pick that one up! And coming from a sports fan family, your "Game" books sound great!!
(Kelli Jo Calvert 11:58am April 30, 2009)
Hi Bella! What a great post. I enjoyed reading your journey to becoming a writer. Your book sound really good. I am going to check out your website.
(Becky Ward 12:01pm April 30, 2009)
Kim - I'm glad you like the cover! ;-) Me too!

Crystal - Thanks for stopping by.

Lisa - I agree. I do have great luck with covers. I am very pleased with all of them!

Shannon - LOL!

Breia - Imagination. ;-)

BG - Thanks so much! I'm glad you've enjoyed my books. And all the best with yours. It sounds great.

Paula - Thanks! I'm with you on starting a fire. Yum.

Alyson - I always think it's so interesting to find out when people starting reading romance. I had a friend who writes regency romance who didn't find the genre until well after college.

Trish - Thanks so much! I hope you love it!

Kelli Jo - Wow, you came from a FF family. Tell us more!

Becky - Thanks for checking out my site. It's fun to share my story. ;-)
(Bella Andre 12:07pm April 30, 2009)
I love the "How I came to be a published author" stories. Now that you are an author, what is your favorite genre to read?

I would love to see you write the blog about your mom reading your stuff.
(V Scott 12:09pm April 30, 2009)
Wow, what great inspiration. I am only 5 classes away from my Associates in Accounting and all I want to do is write. So you give me hope that someday that might happen for me too! Great blog! Can't wait for the one where your mother reads your books. <>
(Tami Winbush 12:34pm April 30, 2009)
Thanks so much for this inspiring post! I can't wait to read the firefighter book!
(Amy Alessio 12:37pm April 30, 2009)
V - LOL on my mom reading my stuff. Honestly, at this point, it would take something truly extraordinary to shock her. ;-) I still love reading romance best of all. I'm also pretty into non-fiction & I love irish/scottish authors - esp. sagas.

Tami & Amy - I'm glad my post inspired you!

;-) Bella
(Bella Andre 12:48pm April 30, 2009)
Thanks so much for telling us your journey to become a writer. Very interesting. I also want to say how much I liked your heroines in Take Me and Taste Me. We need more heroines that break the mold for what's considered beautiful.
(Jody Faltys 12:50pm April 30, 2009)
Thanks for sharing your story with us. It was very interesting. You are a new-to-me author, but I am glad that I am "discovering" you! Your books sound great...sexy firefighters and athletes!;-)
(Cheryl Castings 12:53pm April 30, 2009)
My mother and I both read romance, too. I prefer the lighter, fun stories. She likes the historicals, although I do read those occasionally, too.
(LuAnn Morgan 1:01pm April 30, 2009)
I'm trying to get my mom to read more by suggesting books that I've read. Your covers are great!
(Teresa Warner 1:05pm April 30, 2009)
Love the cover for "Wild Heat". Gotta love them firefighters. They are just too sexy for words. Have a great day. Thanks for sharing your story.
(Roberta Harwell 1:12pm April 30, 2009)
Great story of your own! My mother is gone now but romance wouldn't have been her choice
(Barbs Ferris 1:25pm April 30, 2009)
Great story of your own! My mother is gone now but romance wouldn't have been her choice at least I don't think so but you never know. Great covers and I'm sure stories to match!
(Barbs Ferris 1:26pm April 30, 2009)
Loved reading your story, Bella. Happy for you that you are following your dreams. Sounds like a good book. Loved the cover too.
(Donna Petrilla 1:33pm April 30, 2009)
Wow! You have really had a lot of various experiences...guess that helps with your writing huh? Chalk it all up to research.

feedingthegreycells.blogspot.com
(Natalie Wyant 1:49pm April 30, 2009)
Wow! Sounds like a great read!
Best wishes
(JoAnn White 2:13pm April 30, 2009)
Hi Bella! Interesting background with your rock and roll career!! Glad you found your niche with romance! Wild Heat definitely sounds HOT! Q is it erotic or erotica?? Thanks!
(Martha Eskuchen 2:20pm April 30, 2009)
As long as I can remember my mother read romance novels. She always had a pile next to her side of the bed, the same as I do today.
(Maureen Emmons 2:22pm April 30, 2009)
My grandmother always read romance novels. Had a pile of them beside her bed at all times.
(Joanne Reynolds 3:47pm April 30, 2009)
Jody - I'm thrilled that you loved my fuller figure heroines! I'm actually planning on having a fuller figured heroine again for an upcoming book.

Cheryl - Thanks for discovering me! ;-)

Luann - How fun that you and your mother both read romance too.

Teresa - Good plan & thanks for the compliment on my WILD HEAT cover.

Roberta - Way too sexy....


Barbs & Donna - Thanks for checkin in!

Natalie - Exactly. I always say there's no wasted work or experience. It all feeds into something else.

Jo - Thanks for the comment,

Martha - Thanks for the question. Actually, wild heat is neither erotic or erotica. It's straight contemporary romance with suspense. Glad to clarify!

Maureen - Cool! Just like me too. ;-)

Joanne - Gotta love your grandmother!

;-) Bella
(Bella Andre 3:56pm April 30, 2009)
Hi Bella,
Congrats on the new release. My first story by you was "Candy Store" and I absolutely loved it.
(Jane Cheung 5:24pm April 30, 2009)
My mom used to read romance and got me hooked as a young girl as well. I still read romance and she very seldom reads at all! I am waiting to get my daughter hooked on romance next!
(Sharla Long 6:03pm April 30, 2009)
Hi. As long as you keep writing, we'll keep reading!
(Dianne Arsenault 6:57pm April 30, 2009)
I love the title of your book and can't wait to read it.
(Robin McKay 7:17pm April 30, 2009)
Jane - How fun that you've read Candy Store! I really loved writing that story. Fun!

Sharla - I"m sure it won't be long until your daughter is totally hooked. Especially with the Twilight series being a romance at its core.

Dianne - You're very sweet! ;-)

Robin - Thanks! I hope you love it!
(Bella Andre 7:29pm April 30, 2009)
I would love the opportunity to read your books
(Vikki Parman 8:21pm April 30, 2009)
Wild Heat sounds great!
(Amy Smith 9:22pm April 30, 2009)
Wild Heat looks like a really good read.
(Linda Morgan 10:24pm April 30, 2009)
It just shows to go you that you really never know what is going to happen. I am happy that you were able to try so many different activities.
(Karin Tillotson 10:32pm April 30, 2009)
Hot shots are hard working individuals
that risk their lives every time they go
out. What better people to use a heroes
of romances.
(Patricia Barraclough 11:01pm April 30, 2009)
I simply love your book covers. I can't wait to read Wild Heat.
(Pamela Sinclair 12:42pm May 1, 2009)
Love to read about heroes & when there is a romance to stir the mix..yes!!
(Jean Merriott 2:10am May 1, 2009)
I adore Bella's books; sexy characters and great storylines.
(Pat Lieberman 7:09am May 1, 2009)
See, this is why I love getting auto-updates from Fresh Fiction. I'll definitely be looking for your books.
They look great! I love the story of your path to writing. Rock star?!! How cool is that? Not to mention
great research for future books!
(Mary Hundley 7:36am May 1, 2009)
Wild Heat sounds great! And the cover is
hot, hot, HOT! :)
(M E 1:02pm May 1, 2009)
I haven't seen your books before but will search for them now! Thanks for writing.
(Teresa Decker 3:56pm May 1, 2009)
I am going to have to visit my local Border's store and pick up a copy of Wild Heat. I am glad to see it is part of a series.
(Judy Anderson 4:12pm May 1, 2009)
I so can't wait for WILD HEAT. I read your others and love them!
(Cathie Morton 8:43pm May 1, 2009)
I'm excited about being introduced to your books. Thanks!
(Sandy Miresse 10:25pm May 1, 2009)
Wow! I've been out of the loop! Just wanted to say though I loved your entry! I work in a library now, but some of my earliest memories too are of me and my mom going to the library. My bookbag was always mine and before we went in, my library card was my posession which I dutifully gave back after checking out.

Now I'm an awesome, hot, chic librarian :)

If anyone hasn't tried a Bella Andre book, Please go get one immediately! They are fantastic! Like ice cream..only a bit healthier :)
(Rachael Grime 11:06pm May 3, 2009)
Registered users may leave comments.
Log in or register now!