THIRTY NIGHTS is the story of Elisa Snow and Aiden Hale—two direct opposites with similar tortured pasts. She is an orphan who lost both her parents on the same day and immigrated to the U.S. to start a new life. He is a U.S. Marine with total recall who cannot escape the horrific memories of Iraq. Between them is every reason why they should be together, not the least of which is the mighty U.S. government. But when they allow themselves one night together, they realize that the only way to fight their pasts is to surrender to the present.
A blistering exploration of desire, sacrifice, and redemption, THIRTY NIGHTS is a story about love's power to equalize us in ways laws cannot.
And Aiden Hale has a some strong opinions about it
Ani Keating: (plopped on a beanie bag at an undisclosed location, wearing flannel pajamas.) Hey Aiden, thank you for coming here today.
Aiden Hale: (sitting in a winged armchair, ankle over his knee, wearing torn up jeans instead of the customary charcoal suit, and glaring at Ani with wrathful eyes.) I didn't do it for you. I'm doing it for your readers.
AK: I know, I know—you're mad at me because of what I did in THIRTY NIGHTS. But really, don't you think it's best if people face their worst fears in the end?
AH: (attractive snort) No!
AK: How can you not agree with that?
AH: Very simple. Your theory is making the person I love the most in the world suffer. I have no respect for any principle or author that causes her pain.
AK: I'm assuming you're talking about Elisa.
AH: I'm assuming that's not a serious question.
AK: Ok fine. Calm down, will you? I have a plan about the sequel, all right.
AH: It better end in five words: "She lived happily ever after."
AK: (swallows a lump in her throat) What about your happily ever after?
AH: That's irrelevant. Your questions, Ms. Keating.
AK: (has to swallow again, wanting badly to argue that Aiden deserves a HEA too, but also knowing the argument would be useless). Okay, I'll let that go for now. First question—we're starting easy. How do you feel about having so many female fans?
AH: I do?
AK: Oh c'mon! I got a love letter for you right here if you want to read it.
AH: That's not necessary. I guess I'm shocked.
AK: Of course you are. God forbid someone likes you. This letter also asks about umm… your ultimate sexual fantasy. What is it and where?
AH: I've already lived it, and it is now in my head.
AK: Can you at least give us some details?
AH: (scratches temple, clearly uncomfortable) All right, it involved clocks.
AK: (melting into a puddle of female hormones) Ah
AH: Why are you tearing up?
AK: Because I know it was with Elisa, and I love you both so much.
AH: (mumbling something that sounds a lot like you have a fucked up way of showing it.) Any other questions?
AK: Yeah. If you could go back in time and fix only one mistake, what would it be?
AH: (gazes at the floor for a few heartbeats). I've made too many mistakes to count, so if it has to be only one, then I'd fix her mistake.
AK: Her? You mean Elisa's?
AH: (stiff nod, a slight flinch at Elisa's name).
AK: And what mistake was that?
AH: Falling in love with me.
AK: (in danger of tearing up again) I'll argue this point with you in the sequel. Speaking of which, you've got my readers locked in a war. Some are very upset by what they think you did at the end of Thirty Nights, some say you didn't do it and took the blame. What do you say to that?
AH: Don't start a war.
AK: Speaking of wars, you fought in Iraq and Afghanistan. And it's no secret how much you've suffered as a result. If you could do it all over again, would you have joined the Marine Corps?
AH: My best friends came from the Corps, so yes, I would.
AK: You also have total recall or eidetic memory, which means you can never forget anything. How do you think your life would be different if you didn't have such a powerful memory?
AH: I have no way of knowing. But I imagine the life of those around me would be better without it. Or at least safer.
AK: So is there anything you are proud of? If it is not your military service, your brain, the way you love.
AH: I'm proud of my charity work and the support it gives to the U.S. troops. I'm proud of my library. I'm proud of my company, Hale Holdings. And some… er… private skills as well.
AK: Private skills you say? Such as?
AH: Next question.
AK: Ugh! You're a vault. So Hale Holdings. You're a venture capitalist. Why did you end up in that career?
AH: Because I never want my family and friends to lack for anything after what I made them go through. And because many company takeovers can happen without me physically present. Not to mention that it's one of the few remaining industries that drives the American economy.
AK: So if you weren't a CEO what would you be?
AH: A writer, I suppose. That way I could finish the sequel to your so-called book in a week. And end it the way it should.
AK: (can't help laughing) All right, two final questions. What is your worst vice?
AH: (hard laugh) Just one? Selfishness.
AK: And what is your best virtue?
AH: Elisa Snow.
Giveaway
Now that you've met Aiden Hale you can tell us what you think about him, one commenter will win a copy of THIRTY NIGHTS.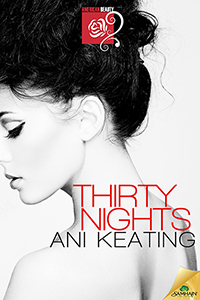 Thirty nights. Two hearts. One fate.
After her parents' tragic deaths, Elisa Snow wanted nothing more than to escape her past. Eighteen and alone, she fled her quaint English village and moved to the United States. A starving science student by day and an artist's muse by night, Elisa has slowly built a new life. She never dreamed she would lose everything again.
She's one week from graduation when her visa is unexpectedly denied. Given thirty days to leave the country, she must face the one thing she cannot survive again—saying goodbye and leaving her home. Yet within minutes of her world shattering, she meets a man with the power to piece it back together.
After finishing his tour of duty in Iraq, Aiden Hale traded battlefields for boardrooms, becoming one of the most successful venture capitalists in the nation. But all his wealth can't buy him reprieve from the horrific memories of war. The only thing that gives him peace is a painting of Elisa.
Drawn together by their invisible wounds, they begin a passionate affair as they race against the clock to defy their pasts—and fight for their future.
Earlier versions of this book were posted on the author's blog under the titles of The Master's Muse and 30 Nights of Snow, using the pen name Ani Surnois, and has since been extensively edited.
Warning: Contains a blistering exploration of desire, sacrifice and redemption…and love's power to equalize us in ways laws cannot.
Ani Keating is an attorney, daughter, sister, and wife, living in the City of Roses, Oregon. When she is not in court or at the office helping clients sort through legal issues (and complaining about the photocopy machine), Ani explores her childhood passion for writing. Her first novel, Thirty Nights, is a sexy and heart-tugging story about love's power to save and guide us even at our darkest moments.
Thirty Nights was originally posted online on fanfiction and on Ani's popular blog. Over the course of eight short months, the story received more than half-million hits, 63,000 visitors, over 1,000 followers, and over 3,000 reviews and messages. It debuted on November 17, 2015. Its sequel, Ninety Days, is currently in the drafting stage.
When she is not writing, Ani spends endless hours at Powell's Bookstore, exploring classics and latest releases. She also likes to stroll through the Portland Rose Garden, drool over shoes on any store window, and dance to everything from Beyoncé to Johnny Cash.
28 comments posted.
I love him! He's not into making a big deal of himself and all about helping others! Thank you!
(Kathleen Bylsma 2:21pm February 27, 2016)
Do we need more like Aiden ? What a great read this will be . Thanks for this giveaway and chance to win this book .
(Joan Thrasher 11:37am February 29, 2016)
He seems very honest and human. He takes his responsibilities seriously and cares for Elisa.
(Sharon Karas 12:13pm February 29, 2016)