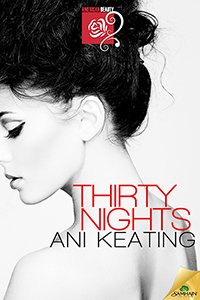 Purchase
American Beauty #1
Samhain
November 2015
On Sale: November 17, 2015
Featuring: Elisa Snow; Aiden Hale
ISBN: 1619232359
EAN: 9781619232358
Kindle: B016NE32DI
Paperback / e-Book
Add to Wish List

Romance Contemporary | Romance Erotica Sensual
Thirty nights. Two hearts. One fate.
After her parents' tragic deaths, Elisa Snow wanted nothing more than to escape her past. Eighteen and alone, she fled her quaint English village and moved to the United States. A starving science student by day and an artist's muse by night, Elisa has slowly built a new life. She never dreamed she would lose everything again.
She's one week from graduation when her visa is unexpectedly denied. Given thirty days to leave the country, she must face the one thing she cannot survive again—saying goodbye and leaving her home. Yet within minutes of her world shattering, she meets a man with the power to piece it back together.
After finishing his tour of duty in Iraq, Aiden Hale traded battlefields for boardrooms, becoming one of the most successful venture capitalists in the nation. But all his wealth can't buy him reprieve from the horrific memories of war. The only thing that gives him peace is a painting of Elisa.
Drawn together by their invisible wounds, they begin a passionate affair as they race against the clock to defy their pasts—and fight for their future.
Earlier versions of this book were posted on the author's blog under the titles of The Master's Muse and 30 Nights of Snow, using the pen name Ani Surnois, and has since been extensively edited.
Warning: Contains a blistering exploration of desire, sacrifice and redemption…and love's power to equalize us in ways laws cannot.
American Beauty
Comments
28 comments posted.
Re: Thirty Nights

Oh I am liking what I see! Thanks for sharing about your book!
(Colleen Conklin 12:13pm February 27, 2016)
Thank you so much for posting this and for reading! xo - Ani
(Ani Keating 1:38pm February 27, 2016)
I love him! He's not into making a big deal of himself and all about helping others! Thank you!
(Kathleen Bylsma 2:21pm February 27, 2016)
Aidan sounds like a tortured soul that can only be saved by
finding his true love that will help him with his past.
(Melissa Basnight 4:08pm February 27, 2016)
A selfless man with integrity and strength of character.
(Sharon Berger 6:14pm February 27, 2016)
I am intrigued by him. He seems like a man with a big heart.
(Lily Shah 8:59pm February 27, 2016)
My wife would like this story!
(Richard Burr 10:46am February 28, 2016)
HE sounds like a very interesting character, not only
thinking about himself.
(Sandy Haber 1:35pm February 28, 2016)
Wow, what a story and what characters - love them all!
(Felicia Ciaudelli 2:22pm February 28, 2016)
This sounds great! I can't wait to see more Aiden, you tease.
(Cynthia Powers 5:34pm February 28, 2016)
His determination to support his family!!!
(Vicki Hancock 6:16pm February 28, 2016)
Intense, assertive, astute, sad and angry are all the
emotions that make Aiden Hale. His love for Elisa is one
that women beg for...like myself, I wish to be Elisa but
there is only one. Aiden's love is action; he truly does
all he can to safeguard them and if something goes wrong
he will go to war for them. I am in awe of his
character, he never gives up he will alway bat for what
he believes in. I can't wait for book two. I loves me
some Elisa and Aiden!
(Roslyn Ramirez 7:36pm February 28, 2016)
One of my favorite bloggers declared 30 Nights as one of
her favorite books from 2015. I wish I could say that I
have already read it, but soon, very soon! I love
romance, but I'm always interested in an authors take on
PTSD since my husband and our family have dealt with it
for nearly 20 years.
(Terrill Rosado 9:44pm February 28, 2016)
I love being brought into the story!
(Darci Paice 12:29pm February 29, 2016)
Wow! Aiden is one intense person. Thanks for the glimpse
into his psyche.
(Sue Farrell 9:37am February 29, 2016)
If only he could forget some of the pain he has seen & gone
through...
(Nancy Ludvik 10:05am February 29, 2016)
Do we need more like Aiden ? What a great read this will be . Thanks for this giveaway and chance to win this book .
(Joan Thrasher 11:37am February 29, 2016)
He seems very honest and human. He takes his responsibilities seriously and cares for Elisa.
(Sharon Karas 12:13pm February 29, 2016)
He sounds like the ultimate tortured hero. Am intrigued.
(G. Bisbjerg 1:39pm February 29, 2016)
All I can say is WOw!
(Mary McCoy 5:12pm February 29, 2016)
Definitely a great guy with real feelings for his love.
(Shirley Cochran 12:11pm March 1, 2016)
I can't wait to read Thirty Nights. I hope I'm lucky enough to win!
(Lynne Mauro 7:57pm March 1, 2016)
He seems very focused. Also immersed in his ambitions while dogged by
his past.
(Laura Gullickson 1:01am March 2, 2016)
Does such a man exist?
(Amy Morgan 3:22pm March 2, 2016)
Thirty Nights sounds like a wonderful book with the current
world situation its nice to see someone turn it into a
happy result.
(Teresa Miller 4:18pm March 2, 2016)
This looks like a great read.
Marilyn
(Marilyn Collins 8:22pm March 2, 2016)
is this guy real wow
(Ann Unger 9:28pm March 2, 2016)
he sounds cool
(Debbi Shaw 10:21pm March 2, 2016)
Registered users may leave comments.
Log in or register now!