Kerrigan Byrne | Dorian Blackwell Dating Profile

September 1, 2015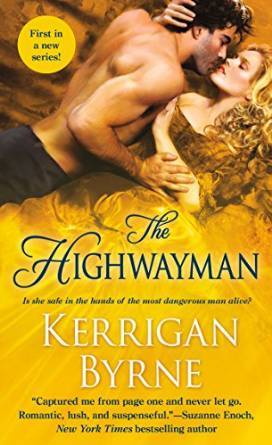 AVAILABLE
Victorian Rebels #1

September 2015
On Sale: September 1, 2015
Featuring: Farah Leigh Mackenzie; Dorian Blackwell
384 pages
ISBN: 1250076056
EAN: 9781250076052
Kindle: B00TDRJ8CC
Paperback / e-Book
Add to Wish List

Also by Kerrigan Byrne:
A Treacherous Trade, October 2021
Tempting Fate, May 2021
Add to review list
The Devil in Her Bed, March 2021
Dancing With Danger, February 2021

Man Seeking Woman. One Woman. There's only ever been her.

Age:
30 – 35

Within 50 miles of:
Ben More Castle, Isle of Mull, Scotland. Or London, I care not.

Hair Color:
Black

Eye Color:
Black. Though the right one has been injured in a knife fight and is an ice blue. I'll wear an eye-patch so as not to scare others... More than usual, anyway.

What is your body type:
Let's just say, strong enough to kill you.

What is your relationship status:
I don't have relationships other than business.

What are your political views?:
Politicians are easily bought, though I do fight for prison reform.

What is your education level?:
The brutal streets of the East End provided me all the education I needed to survive.

What is your occupation?:
Officially? That is no business of yours. Unofficially? King of the London Underworld.

Salary Range:
I have more money than the Queen.

Where did you grow up?:
Newgate Prison, London, England.

How often do you drink?:
As often as I like.

Who are a few of your friends?:
A man like me has enemies and allies. Though, I do have a handful of people who owe me fealty.
~ Christopher Argent is the highest paid assassin in the empire. We protected each other as boys in Newgate prison. I can trust him so long as our interests align.
~ Murdoch, my steward, is another man I protected in prison. He is a loyal Scotsman who committed no crime but love.
~ Walters, No one can remember his name, not even himself. It was beat out of him in Newgate by the guards.

Who are your enemies?:
Anyone who is in my way.

Describe your perfect match:
She has ringlets so astonishingly blonde they appear silvery-white, soft gray eyes and a kind smile. A divot in her chin that she taps when she's postulating. The face of an angel and the body of a temptress. Some may say it's impossible, but only she will do. Like I said, It's only ever been her.
GIVEAWAY
Leave a comment for Dorian Blackwell, the Blackheart of Ben More and be entered to win one of 3 signed copies of THE HIGHWAYMAN and a personalized beaded bookmark of your favorite color.
Kerrigan has done many things to pay the bills, from law enforcement to belly dance instructor. Now she's finally able to have the career she'd decided upon at thirteen when she announced to her very skeptical family that she was going to "grow up to be a romance novelist." Whether she's writing about Celtic Druids, Victorian bad boys, or brash Irish FBI Agents, Kerrigan uses her borderline-obsessive passion for history, her extensive Celtic ancestry, and her love of Shakespeare in almost every story.
She lives at the base of the Rocky Mountains with her handsome husband and three lovely teenage girls, but dreams of settling on the Pacific Coast.
Website | Twitter | Facebook | Pinterest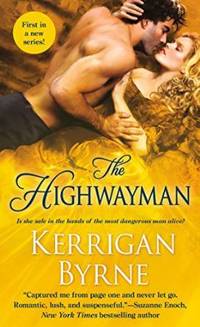 They're rebels, scoundrels, and blackguards-dark, dashing men on the wrong side of the law. But for the women who love them, a hint of danger only makes the heart beat faster, in the stunning debut historical romance THE HIGHWAYMAN by Kerrigan Byrne.
STEALING BEAUTY
Dorian Blackwell, the Blackheart of Ben More, is a ruthless villain. Scarred and hard- hearted, Dorian is one of Victorian London's wealthiest, most influential men who will stop at nothing to wreak vengeance on those who've wronged him...and will fight to the death to seize what he wants. The lovely, still innocent widow Farah Leigh Mackenzie is no exception-and soon Dorian whisks the beautiful lass away to his sanctuary in the wild Highlands...
COURTING DESIRE
But Farah is no one's puppet. She possesses a powerful secret-one that threatens her very life. When being held captive by Dorian proves to be the only way to keep Farah safe from those who would see her dead, Dorian makes Farah a scandalous proposition: marry him for protection in exchange for using her secret to help him exact revenge on his enemies. But what the Blackheart of Ben More never could have imagined is that Farah has terms of her own, igniting a tempestuous desire that consumes them both. Could it be that the woman he captured is the only one who can touch the black heart he'd long thought dead?
Comments
36 comments posted.
Re: Kerrigan Byrne | Dorian Blackwell Dating Profile

This sounds like a wonderful book! I can't wait to read it!
(Teresa Williams 5:40am September 1, 2015)
After reading many a synopsis from this genre, I have to
say that I find your book to be most intriguing, and the
very first one that I actually want to pick up and READ!!
I don't know if it's the actual passion of yours that I'm
picking up on, but there's a definite draw, and I'm
anxiously waiting to read your book!! It's on my TBR list,
and I'll be hunkering down with it this Fall. I enjoyed
your posting, your bio, and the synopsis. Thank you for
coming here today to let us know about your latest book,
and best of luck in the future with your writing!! I have
a feeling you just gained a new fan!!
(Peggy Roberson 6:05am September 1, 2015)
Dorian, do you think you can steal Farah's love?
(Phyllis Lamken 11:48am September 1, 2015)
Oh I enjoyed reading this! Dorian sounds like a very interesting guy...
(Colleen Conklin 1:07pm September 1, 2015)
Highwaymen are a romantic archetype that I enjoy. I love the yellow gown the heroine is wearing.
(Cecilia Rodriguez 1:18pm September 1, 2015)
Guess I'll have to read, to find out the secret. Nice
excerpt.Thanks for the opportunity.
(Nancy Luebke 5:00pm September 1, 2015)
I can't wait to read the highwayman!
(Beverly Ross 5:17pm September 1, 2015)
Can't wait to read this!
(Uhura Mitchell 5:22pm September 1, 2015)
OMG, you guys are a lot of fun! I'm so glad you're
enjoying!
(Kerrigan Byrne 5:29pm September 1, 2015)
This sounds like a great read! Wish me luck!
(Deb Philippon 5:46pm September 1, 2015)
A belly-dancing law enforcer! Oh my! Lithe, with excellent
balance, and armed. I would be worried.... if I were a
criminal.
(Susan Voss 5:49pm September 1, 2015)
I would love to read and win this book.
(Kathy Church 6:16pm September 1, 2015)
Gonna read this for sure!
(Michelle Lilly 9:22pm September 1, 2015)
This sounds like a wonderful read, and the cover's gorgeous,
too!
(Janie McGaugh 9:53pm September 1, 2015)
This sounds so good! Thanks for the opportunity! My favorite
color is red!
(Marcia Berbeza 10:31pm September 1, 2015)
I would like to win this book, sounds good.
(Carrie Edmunds 12:27pm September 2, 2015)
Hmmm...I need a more detailed description of your occupation,
Dorian.
(G. Bisbjerg 12:41pm September 2, 2015)
Okay this found really different and very, very, good.
(Maria Smith 9:02am September 2, 2015)
I love the want add! It is perfect.
(Karin Anderson 11:30am September 2, 2015)
This sounds great.
(Pam Howell 11:36am September 2, 2015)
Sounds Good
(Rachelle Rungo 12:38pm September 2, 2015)
Sounds GREAT.!! Would love to win and add it to my TBR pile.
(Mj Chesick 1:56pm September 2, 2015)
Very interesting premise. Sounds good!
(Sandy Mangarella 6:42pm September 2, 2015)
Well, you certainly are arrogant aren't you? Do you think your background will make it difficult to find a lady?
(Lesia Chambliss 7:26pm September 2, 2015)
So is this the tried and true technique or can I add my own variations? Remember what goes around comes around...
(Flora Presley 9:42pm September 2, 2015)
thanks for the chance to win some cool prizes
(Fred Holmes 10:31pm September 2, 2015)
Injured in a knife fight at is now blue? Ohh, kinky! That and rich. Makes for a great character to read!
(Lisa Hutson 11:01pm September 2, 2015)
Dorian. Looking forward to a sleepless night with "The Highwayman!" You
will be a page turner.
(Kathleen Williams 12:22pm September 3, 2015)
Can't wait to read this -- sounds so exciting.!!
(Linda Chesick 12:38pm September 3, 2015)
Oh my goodness, Kerrigan I absolutely love how you described the protagonist in your book. He sounds hot and handsome, the woman sounds beautiful and lovely, and the book sounds amazing. Historical Romance is my favorite. Best of luck to all who have entered
(Holly Loch 6:49am September 3, 2015)
OH ! This sounds like a very exciting read ,I'm gonna keep my fingers crossed . Thanks for this chance to win .
(Joan Thrasher 9:25am September 3, 2015)
This is the type of book I know I'd enjoy. Thanks for the chance to win a copy!!!!
(Bonnie Capuano 2:59pm September 3, 2015)
Dorian sounds like quite the strong character - I'd love to
read about his match!
(Diane Sallans 7:21pm September 3, 2015)
I like the tone the "dating" profile sets.:)
(Laura Gullickson 9:21pm September 3, 2015)
I have always had a predilection for highwaymen. A handsome
rogue branishing a fine-edged rapier always sets my heart
aflutter. Dorian...I think you might just be my type.
(LaCinda Jameson 9:26pm September 3, 2015)
Looking forward to reading!
(Jenny Ford 12:11pm September 4, 2015)
Registered users may leave comments.
Log in or register now!