Maria Smith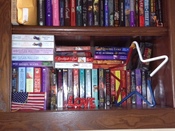 Features & Posts
No posts found.
54 comments posted.

Re: Puppy Christmas (3:53pm November 18, 2019):

I would like a new pair of slippers and a new job since I
was laid off a month ago.

Re: Stalked (8:53am April 12, 2018):

I think its more of a curiosity of the process as a whole. I think I would be totally confused and probably repeat myself about a million times.

Re: Romancing the Ranger (12:04pm March 19, 2016):

A positive atmosphere and some good music in the background
always helps my productivity.

Re: The Lingering Grace (12:02pm March 19, 2016):

I like to leave it at the HEA unless I'm reading a series
that is a continuing series.

Re: How Willa Got Her Groove Back (11:59am March 19, 2016):

Fuller House because I grew up on Full House and then my girls
feel in love with it all we HAD to binge watch it!

Re: The Real Thing (11:52am March 19, 2016):

My husband. He's been there for me for the last 24 and I'll
keep him flee the next 24+.

Re: Eye of the Ninja (11:46pm October 1, 2015):

I love reading and football. Two completely different
things...well unless I'm reading sports romance. Those can be
fun!

Re: Love Somebody Like You (11:42pm October 1, 2015):

About the only time I listen to music is when my daughters are
in the car with me. Otherwise I am listening to audio books
when I'm driving. I enjoy nearly all types of music except
metal...I just like books better.

Re: Shooting Dirty (10:21am September 25, 2015):

I'm a fan of all of the above and I like to mix it up and read a little bit of everything that way I always feel like I am reading something different.

Re: Taming His Rebel Lady (9:02am September 17, 2015):

How about "accidentally" join him in the shower.

Re: A Widow's Salvation (12:37pm September 11, 2015):

I am not a very creative person so no steps to take. But I love reading others creative works. Thanks so much for the chance.

Re: Every Bride Needs a Groom (12:33pm September 11, 2015):

my mornings are filled with getting my girls up and ready for school. Breakfasts, lunches and out the door. Then it's a little me time and browsing the websites now that I am unemployed again.

Re: Reservations for Two (12:31pm September 11, 2015):

Food in fiction always adds a little extra depth and makes me hungry. No wonder I'm always snack hungry while reading.

Re: The Good Neighbor (11:35am September 8, 2015):

I am about the least creative person ever so there isn't really anything to guard. Problem solved.

Re: Royal Flush (11:32am September 8, 2015):

I have yet to go to Vegas. I am hoping to go for RT2016.

Re: Avelynn (11:30am September 8, 2015):

I am just starting to branch out into historical romance so no real favorite yet.

Re: Last Chance Cowboys: The Drifter (11:45am September 4, 2015):

Do not be afraid to be different and do not judge others for being different and force your beliefs onto them. Be thankful you live in a country that allows you that freedom because if we were all the same the world would be a very, very boring place.

Re: From Russia Without Love (9:05am September 2, 2015):

How about Jason Statham?

Re: The Highwayman (9:02am September 2, 2015):

Okay this found really different and very, very, good.

Re: The Highlander's Bride (8:58am September 2, 2015):

I don't care about the theme/trope as long as the connection
is there and believable! I love mixing up my genres and
tropes to feel like I'm always reading something new and
fresh. But if the connection isn't working for me the whole
story falls flat.

Re: From One Night to Wife (8:53am September 2, 2015):

My Father In Law! He's the greatest!

Re: Immortal Matchmakers, Inc. (10:29am August 28, 2015):

I love tolay out on my hammock and watch nature and just
relax!

Re: Little Pretty Things (8:50pm August 26, 2015):

I am about the least coordinated person I know S so no sports
playing go me. I also was pretty shy so I didn't join any
clubs like yearbook. Just stuck to myself.

Re: A Remarkable Kindness (8:45pm August 26, 2015):

I love them all and like mixing it up to keep it fresh and
always feeling like I'm reading something new.

Re: Last Chance Hero (4:02pm August 22, 2015):

When I was little we would take a road trip every year to
Rocky Fork Lake as our vacation. The Best part besides the
days we got to spend on the beach and riding out bikes was
always the soft serve ice cream cones from Dairy Queen on the
way home! So good and such a treat!

Re: Wolf Trouble (3:58pm August 22, 2015):

Oh my what a tough question. My husband and I have been
together for 23 years. We have 2 gorgeous girls but I have yet
yet to read a book that is anything close to us. But that's
what I like about fiction...it's not reality.

Re: Cold as Ice (3:49pm August 22, 2015):

WOW! There are a ton of characters that have win my heart but
the one that jumps to mind above the rest is Roarke from JD
Robb's In Death series. That man can carry me away any day!

Re: Newport (3:46pm August 22, 2015):

Sure as long as I know going in that they are included.

Re: Moments of Truth (3:44pm August 22, 2015):

I use my calendar a lot and also make a list at the beginning
of each work day off things that need to be done. I also make
sure I take breaks so I don't let the stress get to me. And
when I leave work and head home I do just that...leave work at
work and concentrate on home and family!

Re: Falling for the P.I. (11:07pm August 18, 2015):

I love reading romance period. They can or cannot include
kids and I'll still enjoy them. Usually kids can make a book a
really fun if written well because you never know what kids
are going to do or say.

Re: The Great Estate (10:58am August 14, 2015):

I'll be reading and running my girls around!

Re: Penalty Play (10:56am August 14, 2015):

I want a believable story and great connection and chemistry
between the characters.

Re: Darkest Misery (10:54am August 14, 2015):

I think it would be a toss up between the sexy boyfriend and
being so bad*ss!

Re: The Bones Will Speak (10:50am August 14, 2015):

I'm a fan of every kind of romance including thrillers and
mysteries.

Re: The Wiregrass (12:37pm August 11, 2015):

I think your family and the people you surround yourself with
infuence you as much as childhood memories.

Re: Hot Point (12:31pm August 11, 2015):

I'm not a huge movie person but I do really like the Bourne
movies. A couple of years ago when we were iced in my daughter
and I watched them all together!

Re: Merger of the Heart (12:26pm August 11, 2015):

Luckily both of my children will eat almost anything so it
makes dinner pretty easy.

Re: Agent N6: Dylan (10:05am August 6, 2015):

I don't mind faces as long as they match the character in the
book. When they don't it really bothers me.

Re: A Radical Arrangement (10:02am August 6, 2015):

I'm not passionate about any one charity but rather spread out
my time between several local charities like the North Texas
Food Bank, Meals On Wheels and the local Salvation Army.

Re: A Peach of a Pair (9:57am August 6, 2015):

Ice cold sweat tea!

Re: Midnight on the Mississippi (3:25pm August 4, 2015):

I really love where we live in Texas (and my house only has
a few more years till it's paid off) but if we did have to
move for some reason I have no idea where we'd go since I'm
terrible with geography and I've barely traveled.

Re: Fudging the Books (3:22pm August 4, 2015):

Well I rarely travel but my family had a lot of fun in San
Diego a couple of years ago! There was always something to
do and the weather was gorgeous!

Re: Red Blooded (3:19pm August 4, 2015):

I went to a christian school where the principal just happen
to be the pastor and I had a total crush on his son!

Re: Lone Rider (12:24pm July 28, 2015):

I always loved chocolate with peanut butter chips! YUM!

Re: Flirting with Disaster (7:45pm June 10, 2013):

If he isn't loyal and cheats I think that would be a fatal flaw. I could probably deal with anything else (at least in a book) as long as those other horrible things like murder have really good explanations.

Re: Lord Of Darkness (11:32am March 7, 2013):

I think she did a great job picking this time period. It makes the books come alive even more!

Re: Wait Until Dark (12:49pm February 28, 2013):

WOW! You have quite the exciting background! I can't imagine all the places and things you have scene. I bet they come in handy for your writing!

Re: Treacherous Temptations (12:47pm February 9, 2013):

What a great excerpt...I look forward to reading the rest of this book really soon!

Thanks so much!

Re: Heart Of A Texan (10:43am November 30, 2012):

I totally agree! Funny story...when I first moved to Dallas when I was 10 (I'm not going to say how long ago that was) I literally thought that they had no cars and that everyone rode around on horses with big cowboy hats. Boy was I wrong! You have to get pretty far outside of Dallas to get to find any real cowboys and when you do they are so down to earth and some of the hardest working men and women you will ever meet. They are also some of the friendliest and most caring people you will ever meet!

Thanks so much!

Re: Double Time (10:30am November 30, 2012):

I have a very eclectic taste in music. I will listen to just about anything but hardcore rap. I will say that my favorite music is bands rather then just singers. There is something about the corroboration and teamwork that goes in to making the music that makes it better!

I grew up the unmusical child in a very musical family so I got every musical reference in Olivia's books. My mom plays piano and sings, my brother is a drummer and my dad plays both 6 string and 12 string guitar in addition to singing. They all write music and have can hear a song and instantly play it. Me nada!

Thanks so much!

Re: Run The Risk (11:08pm October 12, 2012):

Erik Northman from southern vampire series is notorious for doing dishonorable things!

Re: Boyfriend From Hell (10:53am September 26, 2012):

The title and cover caught my interest immediately! The book
sounds amazing as well!

Thanks so much!

Re: A Home For Nobody's Princess (10:39am September 26, 2012):

I feel like home with my husband and daughters. I know they
love me no matter what I look or feel like and always will and
that means everything to me after not growing up with the best
family situation.

Thanks so much!

Re: Primal Possession (2:00pm August 15, 2012):

I like a variety so that my stories don't get boring. As long as they are whiny!