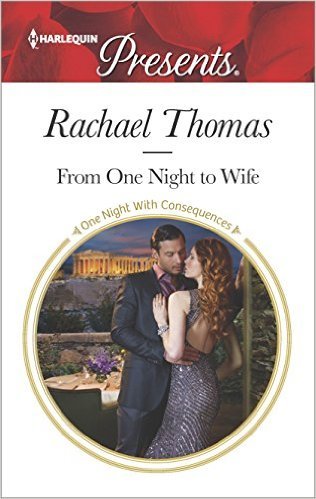 Purchase
One Night With Consequences
Harlequin Presents One Night with Consequences #12
Harlequin Presents
September 2015
On Sale: September 1, 2015
Featuring: Serena James; Nikos Petrakis
ISBN: 037313374X
EAN: 9780373133741
Kindle: B00U6CKX2M
Mass Market Paperback / e-Book
Add to Wish List

A souvenir from her Greek affair!
Three months ago, journalist Serena James had her heart broken by a man she'll never forget, especially not the fury in his eyes the night they parted. Now she's back in Santorini to tell him that their summer fling had unexpected repercussions…
Mogul Nikos Petrakis is on the verge of a deal that will make him even more powerful. He doesn't need any distraction—especially not a sexy redhead whose curves beg to be touched! But now that she's carrying his heir, Nikos is forced to make a decision.
It's time to make Serena his wife!
When one night…leads to pregnancy!
Comments
38 comments posted.
My dad
(Marissa Yip-Young 6:12am September 2, 2015)
My Father In Law! He's the greatest!
(Maria Smith 8:53am September 2, 2015)
I choose to read heroes that come in the form of Romance
novels and other books. All of the people that I've looked
up to as heroes over the years have disappointed me over
the years, so I've decided that it's all a myth instead.
This hasn't made me a bitter person, just a realist. When
I see how the press goes into their hero-worship mode, be
it a sports player or a movie star, I find it a bit over
the top, especially when I see them get in trouble with the
police. It proves they're just like the rest of the
population. They just happened to get a little lucky, and
they're overpaid. Sorry to get on a soapbox, but when you
get older, you see the world through different eyes, as a
rule. I'm looking forward to reading your latest book, so
I can read a good Romance story, and be whisked off to
another world if only for a while. The story line sounds
good, and it will make a great read for this upcoming
Fall!!
(Peggy Roberson 9:26am September 2, 2015)
My grandpa is my hero
(Emily Stemp 10:42am September 2, 2015)
I don't really have one.
(Pam Howell 11:32am September 2, 2015)
Shakeia Rieux, I agree!

Marissa Yip-Young, Maria Smith and Emily Stemp so nice to
see Dad, Father-in-law and Grandpa getting a mention!

Peggy Roberson, I hope my book will transport you to
another world as Fall arrives!

Pam Howell he's out there somewhere!

Thanks everyone for stopping by. X
(Rachael Thomas 12:15pm September 2, 2015)
I'm a bit older, so I don't really tend to look up to
others, having established my own internal compass. One
person who I consider to be a worthy role model (and,
yeah, hero) is Clara Hughes, who overcame being born in
the disposible part of town, overcame her own personal
black dog, and became a truly great athlete. Her impulse
was not to bask in adulation, but to give back to
disadvantaged children in other countries and to those
suffering depression. I really admire that woman.
(Deb Philippon 12:31pm September 2, 2015)
My father is my hero...
(Colleen Conklin 12:46pm September 2, 2015)
The father of my children. They have taken such good care of
me and the arrangements after we lost him; I could not have
done it without them. Our daughter says "Dad, did a good job
raising us". I agree.
(Leona Olson 2:38pm September 2, 2015)
They have all passed away.
(Wilma Frana 2:49pm September 2, 2015)
MY DAD WAS
(Debbi Shaw 10:33pm September 2, 2015)
My son is my hero. He's become a very good and kind man. He's very
driven and takes very good care of his lady & his famil. He has developed a
great moral compass & shows that to his students in the way he treats all
equitably.
(Wl Hutch 11:12pm September 2, 2015)
Deb Philippon I love your comment!

Great to see more Dads from Colleen Conklin, Debbi Shaw,
and L Lam. And a son from WI Hutch.

Leona Olson your comment touched my heart as did yours
Wilma Frana.

Thank you all for commenting! X
(Rachael Thomas 2:26am September 3, 2015)
Do we have to pick one Rachel?

There are many men who are heroes whether they are blood related or not. The men in our lives whether it be our significant other or the RCMP (Royal Canadian Mounted Police) saving the lives of school children (and yes this did happen where I live), to your very own daddy :)

My Grandfather who is in his 90's, who lives a rather simple life by the creek, he still traps (I know not for the faint of heart), has a wood burning stove for heat, and has an Outhouse

My dad because he's my dad and he'll always be my hero

My Uncle Keith who taught me how to drive

My 3 nephews and all of my male relatives they are my Heroes and I love all of them

I also have to consider the following to be heroes as well: St. Pierre Toussaint, St. Martin de Porres, and Servant of God Augustine Tolton, Fr. Emil Kapaun, Fr. Thomas Byles

Thank you very much Rachel and Best of luck to all who have entered
(Holly Loch 7:26am September 3, 2015)
My Dad was my hero when I was his little girl , now that I've been married for many, many years ,of course my husband is my hero now .He is my handyman , he can repair and fix just about anything that is broke or needs a 'fix-up' around the house or the car . Thanks for this giveaway , I would love to read this book .
(Joan Thrasher 9:55am September 3, 2015)
My whole family is my hero!
(Richard Burr 11:33am September 3, 2015)
Holly Loch what a lovely comment. Thanks for sharing!

Joan Thrasher, my husband is my hero too!

Great answer Richard Burr!
(Rachael Thomas 12:07pm September 3, 2015)
My Dad
(Beth Elder 7:47pm September 3, 2015)
My hero is my father;his father died when he was only 8 so
he became responsible for helping his mother support his 6
siblings in a society where half-breeds were scorned. He
raised 5 children in a way that taught us to value education
& be honorable adults. He continued to be that role model
for 13 grandchildren, 2 of whom he raised when my sister
became very ill. He was a strong man, but very kind.
(K'tee Bee 1:34am September 4, 2015)
My hero is a Highlander of old.. I want someone who is
Tall, Strong, Family Values, Laughter, Argumentative, and
LOVING. He has to be someone that you can have a good
heated discussion with but still allow your own point of
view. Someone that will make you laugh, love family, and
most of all cherish the person they are with, ME.
(Tina Ullrich 12:46pm September 4, 2015)
My husband is my hero. After 61 years of marriage, he is still the kindest, most considerate and caring person I know. He always finds the good in people and treats everyone with respect! They just don't make men like that any more!!!
(Clydia DeFreese 1:59pm September 4, 2015)
My mom dad my grandpa
(Emily Stemp 3:55pm September 4, 2015)
My family. My parents had a hard time growing up. My Father
was orphaned at age 7 and a half and lived in an orphanage
until he was a teenager.
My mother lost her father at age 12 and her mother had to
raise 5 children on her own.My mother had to quit school to
go to work and help out financially.
Marilyn
(Marilyn Collins 5:08pm September 4, 2015)
I don't really have one, but my dad is probably closest.
(Jen Barnard 5:42pm September 4, 2015)
I don't really have one!!
(Cindy Hamilton 8:45pm September 4, 2015)
My Dad and my brother's were my heroes, they always were
around when I needed them. I do believe they are still
watching over me.
(Sharon Sommer 12:06pm September 5, 2015)
I have to say my late father.
(Mary Preston 5:13am September 5, 2015)
My grandpa
(Emily Stemp 10:59am September 5, 2015)
Your father sounds amazing K'tee Bee. Thanks for sharing
it!

Fantastic requirements for a hero Tina Ullrich.

Sixty one years of marriage is definitely to be
celebrated Clydia DeFreese. Congrats!

Really love the fact that dads, brothers and grandpas
rate so highly. Thanks Emily Stemp, Jen Barnard, Sharon
Sommer, Mary Preston for sharing.

I think you're onto something there Elaine Fisher!

And Marilyn Collins, thanks for sharing such a touching
story!
(Rachael Thomas 12:11pm September 5, 2015)
My sister who has MS.
(Joanne Balinski 2:37pm September 5, 2015)
my sister- she sets a great example for her kids.
(Joanne Schultz 2:42pm September 5, 2015)
Marcus Latrell, Seal who survived Operation Redwing. Not only for what he did in the military but for all he has handled since from having his dog murdered to dealing with being the lone survivor.
(Melinda Marks 4:10pm September 5, 2015)
Hard to choose but it was between Peter Tork of the Monkees and David McCallum from Man from UNCLE! Married a blue eyed blonde as well!
(Shirley Cochran 5:27pm September 5, 2015)
My dad - he can fix, grow, drive etc. anything!
(Janis Milford 6:36pm September 5, 2015)
I take each character as individuals, not looking to see
likenesses to others.
(Diane Sallans 7:50pm September 5, 2015)
Some of my relatives.
(Laura Gullickson 10:24pm September 5, 2015)
Thanks Joanne Balinski and Joanne Shultz for a sister
nomination.
Wow, that's a powerful story Melinda. Thanks for sharing.
Nice answer Shirley!
Thanks for the Dad vote Janis and one for the relatives
Laura!
Very thought provoking answer Diane!
(Rachael Thomas 5:18am September 12, 2015)
My dad is, was, and always will be my hero
(Melissa Crisp 3:26am September 14, 2015)
Registered users may leave comments.
Log in or register now!