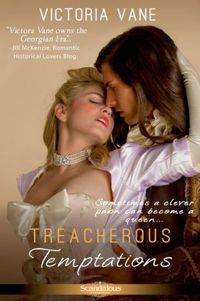 Purchase
Entangled Scandalous
January 2013
On Sale: January 19, 2013
Featuring: Mary Elizabeth Edwardes; Lord Hadley Blanchard
181 pages
ISBN: 1622668677
EAN: 2940016034843
Kindle: B00B3L9A10
e-Book
Add to Wish List

A reluctant heiress resigned to her fate… Mary Elizabeth Edwardes has one of the largest fortune's in England, but has no desire to leave her quiet country existence… and even less to acquire a husband she cannot choose for herself.
A dissolute nobleman bent on retribution… Trapped in a duplicitous existence since scandal destroyed his fortune and family name, Lord Hadley Blanchard has spent the better part of a decade posing as a disaffected exile while spying and seducing in the service of the English Crown.
A dangerous game of seduction, and intrigue… When summoned from abroad by a former lover, Lord Hadley perceives an opportunity for vengeance at last. By employing the full measure of his seductive charm, he woos the ward of the man who destroyed his life, little knowing that winning Mary's fortune will mean risking his own treacherous heart.
Comments
28 comments posted.
What a great excerpt...I look forward to reading the rest of this book really soon!

Thanks so much!
(Maria Smith 12:47pm February 9, 2013)
Congratulations on being able to incorporate your passion - for history - into
your writing. We should all be so lucky to have our passions forming part
of our working lives and jobs.
(Chris Coulson 5:27am February 9, 2013)
Many history students have gone on to write about the period that interested them, in novel form... I've read many great historical mysteries. So why not romance?
(Clare O'Beara 6:01am February 9, 2013)
I do love it when real events or people are incorporated.
(Mary Preston 6:20am February 9, 2013)
Sounds really great and love historical mysteries. Sound great.
(Diane Castiglione 6:33am February 9, 2013)
Steamy history, sounds fabulous!
Blessings,
Marajorie
(Marjorie Carmony 7:02am February 9, 2013)
This books sounds wonderful and one that I'd love to read!!
(Bonnie Capuano 7:46am February 9, 2013)
Hi, Victoria! TREACHEROUS TEMPTATIONS sounds like a must read. Love your books!
(Cathy Phillips 10:08am February 9, 2013)
Congrats on your book. Thanks for the contest.
(Mary Hay 10:40am February 9, 2013)
The book sounds great congrats.
(Pam Howell 12:05pm February 9, 2013)
Love to win
(Ava Curtis 12:41pm February 9, 2013)
Real events are nice little additions to the book... as long as it still focuses on the main characters journey.
(Colleen Conklin 12:58pm February 9, 2013)
I too have a geeky obsession with history. More power to you. This sounds like a great book.
(Kathleen Yohanna 1:23pm February 9, 2013)
I love when history is combined with romance. It makes it come alive.
(Debra Guyette 2:02pm February 9, 2013)
Score 1 for the Geeks. I have been a geek back in Junior High and High School. It's wonderful to have a book about Geeks.
(Kai Wong 2:47pm February 9, 2013)
Injoyed reading your blog. I feel I learn more history from the novels I read than in history books.
(Sheila True 2:48pm February 9, 2013)
EXCELLENT GIVEAWAY LOVE TO WIN LOVE YOUR BOOKS!!!!!!!!!!!!!!!!
(Shelly Caggiano 4:21pm February 9, 2013)
Thanks for the chance to win.
(Sue Galuska 4:28pm February 9, 2013)
I love when a historical novel is true to the time period. Treacherous
Temptations sound like a great book.
(Ann Sheiring 4:28pm February 9, 2013)
I am also a history lover!
(Shirley Younger 6:13pm February 9, 2013)
Your book sounds great. Would love to winn it and read it.
(Carol Woodruff 6:24pm February 9, 2013)
Love historical romance! It was very interesting to hear how you modeled some of your characters on real life historical figures. Congratulations on the new book. Thanks for the giveaway.
(Bonnie H 6:48pm February 9, 2013)
I really enjoyed reading the excerpt. Thank you. This is going on my to-read list. I am always curious to know which parts of the story are closely related to real events and I strive to find out when something really interests me.
Congrats on this wonderful book and please bring us some more. :)
(Patti Paonessa 8:20pm February 9, 2013)
This sounds very interesting. The real person you used for inspiration was one determined woman!
(Elaine Carlini-Davis 8:43pm February 9, 2013)
SOUNDS so good, thanks
(Debbi Shaw 9:06pm February 9, 2013)
It would be impossible to believe that romance has not existed in each historical era, so I love it when a writer/author can manage a seamless incorporation done in such a balanced way that you can truly imagine that the write is writing about a true person's experience. Way to go... I'd love to read this book.
(Donna Holmberg 9:48pm February 9, 2013)
The book sounds wonderful!
(Marcy Shuler 10:15pm February 9, 2013)
Thank you all for your comments!
I'm glad to hear I am not alone
in my geekiness! LOL!
Warmest regards,
Victoria
(Victoria Vane 11:24pm February 10, 2013)
Registered users may leave comments.
Log in or register now!