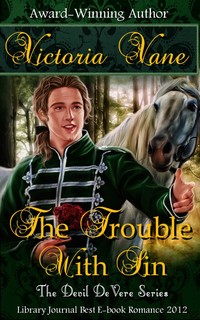 Purchase
This second prequel to the award?winning Devil DeVere series is a comedic romp featuring aspiring poet, Simon "Sin" Singleton.
The Devil DeVere Prequel
Vane Publishing LLC
January 2014
On Sale: January 16, 2014
Featuring: Simon Singleton
66 pages
ISBN:
Kindle: B00BRSJELK
e-Book (reprint)
Add to Wish List

Erotic Historical | Romance Erotica Sensual
The Trouble with Sin … Is the devil within… Sin has lived only for larks, laughter, and ladies of easy virtue, eluding defying, and flouting all manner of authority until his impetuous misdeeds finally catch up with him.
Ned asked, "Are you not still bound for the clergy, Sin?"
Simon heaved a deep sigh. "It is my dear Mama's fondest wish for me to join the church, but I fear my nature is quite incompatible with a theological vocation. I have searched deeply, and cannot seem to summon an inkling of pious sentiment, which makes me an exceedingly poor candidate for the clergy."
"Even so, why would you wish to dirty your hands with something like this?"
"The answer is simple, Ned—I need the money."
"But you receive a more than adequate allowance."
"That he mostly squanders on women of easy virtue," DeVere drawled.
"Admittedly," Simon confessed, unabashed. "But now my father has reduced my quarterly and demands a full account of every ha'penny. I tell you, it is humiliating in the extreme! Unless I wish to live under such a yoke for the next three years— which I positively do not— I must make my own living. If I must travail for my bread, how better than by the fruits of my pen?"
"So you seek to combine your love of poetry and lewd women by writing poetry about lewd women?" Ned replied dryly.
Simon clapped Ned on the back. "Precisely! Don't you see the ironic beauty of it?"
"What do you suppose will happen when your dear, devout mama gets wind of this?" Ned asked.
"I have taken every precaution to ensure my anonymity." Simon retrieved the book from DeVere. "My contribution to this little work is, and shall forever remain, a well­-kept secret."
The wage of Sin… is twenty­-five percent of the net! It seems a fantasy come true when Simon is offered an independent income by combining his two great passions— poetry and lewd women. Unfortunately, maintaining anonymity may be much harder than he thought…
Devil DeVere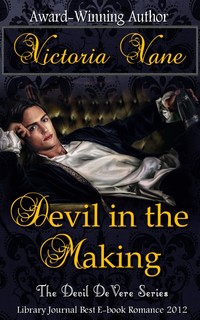 Devil in the Making
#0.0
Kindle | | | |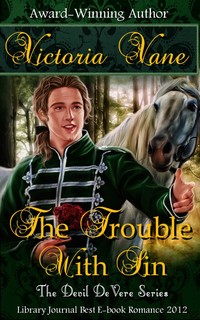 The Trouble with Sin
#0.5
Kindle | | | |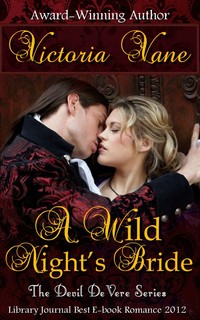 A Wild Night's Bride
#1.0
Kindle | | | |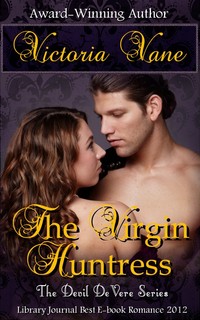 The Virgin Huntress
#2.0
Kindle | | | |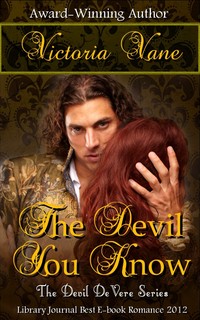 The Devil You Know
#3.0
Kindle | | | |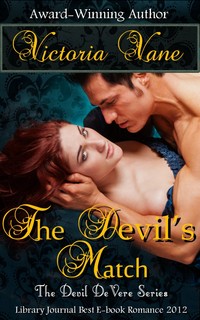 The Devil's Match
#4.0
Kindle | | | |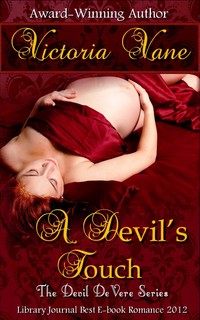 A Devil's Touch
#4.5
Kindle | | | |

Jewel of the East
#5.0
Kindle | BN.com | | |
Comments
No comments posted.

Registered users may leave comments.
Log in or register now!