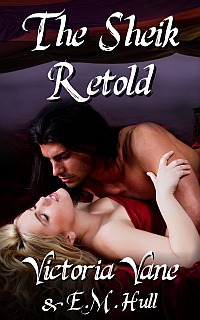 Purchase
Pride and passion vie for supremacy in this steamy retelling of E.M. Hull's romance classic.
Author Self-Published
September 2013
On Sale: September 13, 2013
239 pages
ISBN: 1492169951
EAN: 9781492169956
Kindle: B00EV516XU
Paperback / e-Book
Add to Wish List

Other Editions
e-Book (January 2014)

A haughty young heiress for whom the world is a playground...
A savage son of the Sahara who knows no law but his own...
When pride and passion vie for supremacy...
Blistering desert days are nothing compared to sizzling Sahara nights...

"There will be inquiries." I choked out. "I am not such a nonentity that nothing will be done when I am missed. You will pay for what you have done."

"Pay?" His amused look sent a cold feeling of dread through me. "I have already paid... in gold that matches your hair, my gazelle. Besides," he continued, "the French Government has no jurisdiction over me. There is no authority here above my own."

My trepidation was growing every passing minute. "Why have you done this? Why brought me here?"

"Why?" He repeated with a slow and heated appraisal that made me acutely, almost painfully, conscious of my sex. "Bon Dieu! Are you not woman enough to know?"
Videos
Comments
20 comments posted.
Re: The Sheik Retold

Wow! This sound fantastic! Thanks for the excerpt...it's
going on my TBR list. ;)
(Sandie White 2:03am September 13, 2013)
Thanks for the history behind the original book. Now let's see the updated version.
(Kathleen Yohanna 3:13am September 13, 2013)
This book sounds great and one I would love to read. Thanks!!
(Bonnie Capuano 9:13am September 13, 2013)
This sounds awesome! Thanks for the chance!
(Sue Galuska 9:23am September 13, 2013)
Sounds sexy!!!
(Cherie Durbin 9:29am September 13, 2013)
I guess I don't need to finish my cup of coffee, because the passage I just finished reading sure woke me up!! It was a pleasure (no pun intended) to read some background about The Sheik. Although that was a bit before my time, I heard bits and pieces about it growing up, but never heard the whole story. I know that Rudolph Valentino was quite a heartthrob back in his day, and that his grave was even visited quite frequently after he died. To read your rendition of the book is really going to be a treat, since the passage that you put in your posting was so sensual and really kept my interest. I can't wait to see what you did with the rest of the story!! You zoomed up to the top of my TBR list for my Fall reading!! Congratulations on such an ambitious project!!!
(Peggy Roberson 9:39am September 13, 2013)
this sounds great like to read this one
(Denise Smith 11:20am September 13, 2013)
I think this may be one of those books I read in bed to my hubby. :)
(Patti Paonessa 11:36am September 13, 2013)
I love romances. I've followed you as Emery Lee and didn't
know you were also Victoria Vane! LOL! Thanks for the
giveaway!
(Linda Townsend 3:03pm September 13, 2013)
It sounds steamy and can't wait to read your latest!
(C Culp 4:47pm September 13, 2013)
This sounds like quite an interesting, sensual book and one I need to read this fall. Sounds like a great bedtime story...lol!
(Linda Luinstra 5:22pm September 13, 2013)
great storyline, looks like one that is going to be hard to put down
(Shirley Younger 5:52pm September 13, 2013)
Wow, Congrats on your new book: THE SHEIK RETOLD. This
sounds like a fascinating book that I would love to win and
read this Fall. Thank You very much. Cecilia CECE
PS: The TRUE SPIES one day contest before yours is Not
Working on freshfiction.com Thanks, Cecilia
(Cecilia Dunbar Hernandez 8:46pm September 13, 2013)
Interesting history. I'd like to read this new version.
(Sue Farrell 9:21pm September 13, 2013)
Wow, I loved the excerpt! I enjoyed reading the background of The Shiek,
as well. Congratulations on the book, and thanks for the chance to win!!!
(Linda Brennan 10:38pm September 13, 2013)
This book is hot and sensual. I want to read this book.
(Kai Wong 12:21pm September 14, 2013)
Thank you all for your enthusiastic comments! This really
was a risky endeavor for me to take on a well known classic
but I just knew I could make it so much more appealing to
today's readers. I hope those of you who read it will agree.
:-)
Warmest regards,
Victoria Vane
(Victoria Vane 1:39am September 14, 2013)
Quite a fantasy even today.
(Clare O'Beara 6:58am September 14, 2013)
On my wish list!!
(Mary Preston 10:52pm September 15, 2013)
Would be nice to read it
(Rina Darmayanti 7:24am September 21, 2013)
Registered users may leave comments.
Log in or register now!