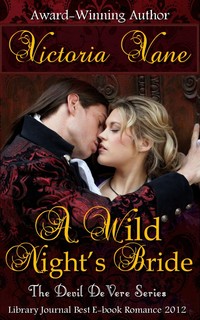 Purchase
Devil DeVere #1
Breathless Press
May 2012
On Sale: April 27, 2012
ISBN: 1771011319
EAN: 9781771011310
Kindle: B007XV3E5W
e-Book
Add to Wish List

She's a lonely lady down on her luck.
Phoebe Scott, alias Kitty Willis, is a struggling Covent Garden actress with a bruised heart and a closely guarded secret.
He's steadfast and eminently respectable.
Sir Edward Chambers, Ned to his intimates, is guilt-ridden over his beloved wife's death and has avowed to live out a rustic and mundane life...of celibacy.
With the devil in charge, there will surely be hell to pay.
Devil-in-disguise Viscount Ludovic DeVere is determined to return his best friend, Ned, to the land of the living. His meddling machinations result in a night of mind-blowing passion after which "Dull Dog Ned" awakes to find himself in the King of England's bed!
A Wild Night's Bride, a sexy, rollicking Georgian romp!
Comments
30 comments posted.
This sounds like a book I'd love to read...thanks for the chance
(Bonnie Capuano 7:25am May 15, 2012)
What a great interview! He is so wicked, I love it!
(Barbara Hanson 8:21am May 15, 2012)
this sounds so good very sexy love the cover of the book
(Denise Smith 8:37am May 15, 2012)
Send him over!
Blessings,
Marjorie
(Marjorie Carmony 9:12am May 15, 2012)
Sounds exciting!
(May Pau 9:50am May 15, 2012)
Love the cover and the book sounds sensual.
(Robin McKay 10:02am May 15, 2012)
Sounds like a book I would love to read. Please keep up the good work of writing. Thanks for the opportunity to enter this contest.
(Ann Thaxton 10:48am May 15, 2012)
HI everyone! I just completed THE DEVIL'S MATCH, the fourth and final book in this series and the cover is absolutely gorgeous - I am very excited to share it with you. As it turns out two of the novellas in this series are dedicated to DeVere (THE DEVIL YOU KNOW and THE DEVIL'S MATCH) because there was just too much story to tell in one book! I hope you will check out the additional excerpts on my web site. Warmest regards, Victoria Vane
(Emery Lee 11:20am May 15, 2012)
I think I will like the best friend more than the main character.
(Pam Howell 11:48am May 15, 2012)
This book sounds great. Hope that I can win it.
(Mary Hay 1:22pm May 15, 2012)
Ooooh I am liking the sound of your book! I have not read anything by you yet... have to keep that in mind!
(Colleen Conklin 3:10pm May 15, 2012)
I love the premise of this story. They seem to be very different from one another. Watching them fall for each other should be fun.
(Stacie Deramo 3:48pm May 15, 2012)
Sounds like a great book.
(Wilma Frana 4:07pm May 15, 2012)
Sounds wonderful, great excerpt.DebP
(Deb Pelletier 4:37pm May 15, 2012)
Funny - I have a son named Emory (old family name of my husband's)...I've tried matchmaking with my friends, unsuccessfully - I didn't try a night of debauchery, just dinner. Now I see my error!
(Beth Fuller 5:18pm May 15, 2012)
The storyline has parts where you'll be nodding yes in agreement with the assessment in the conflict between a devil and the temptress. I like it.
(Alyson Widen 5:37pm May 15, 2012)
This story is intriguing. From the blue eyes, the hand kiss to the finish...a winner!
(Gladys Paradowski 6:55pm May 15, 2012)
Sounds like a very interesting read. I'm intrigued!
Good luck and happy writing!
(Tracie Travis 7:02pm May 15, 2012)
I love Georgian books they're so much wilder than Regency stories!
(Lisa Elwood 7:52pm May 15, 2012)
Sounds good and I love historical books.
(Michelle Fidler 8:07pm May 15, 2012)
I have to say that this is normally a genre I wouldn't read, but you have such a fresh way of writing your story that pulls you in immediately!! This is one book I am definately going to put on my TBR list!! You have me pulled in by your most interesting post today. I love the cover as well!! Congratulations on what is sure to be a hot seller for you in more ways than one!!
(Peggy Roberson 9:52pm May 15, 2012)
This sounds like an interesting book and it has a great cover! I look forward to reading it and hope you have a great day/night.
(Chelsea Knestrick 11:34pm May 15, 2012)
This looks like a great book! Can't wait to pick it up!
(Stephanie Briggs 11:40pm May 15, 2012)
Hi, The concept of living in mourning forever may sound very romantic but I agree with you, it is just depressing and dull. Even if a widowed person does not wish to date, they should be meeting people and engaging in life, or they are wasting their one chance to be alive. As well as telling an interesting (and from the debate above, perhaps over the top) tale, to entertain your readers, you are dispensing some sound social advice. Maybe it will make a difference to someone's life. I would look forward to reading this book.
(Clare O'Beara 6:34am May 16, 2012)
Sounds very good! Thanks for the chance to win!!
(Natasha Donohoo 3:23pm May 16, 2012)
I would love to read A WILD NIGHT'S BRIDE thank you. YUMMY!!!
(Mary Preston 9:17pm May 16, 2012)
Sounds wonderful, I hope I win so I can read A Wild's Night
Bride! Thanks for the contest.
(Ann Thaxton 2:56pm May 17, 2012)
Yummy and sexy all rolled into one great novel! I'm really looking forward to
reading "A Wild Night's Bride!" Thanks for sharing!
(Connie Fischer 8:52pm May 17, 2012)
Yes please, bring on the debauchery and let more tales begin.
(Alyson Widen 9:31pm May 18, 2012)
A WILD NIGHT'S BRIDE IS CURRENTLY ON SALE FOR ONLY $.99!
I promise it's the most fun you will ever have for under a dollar!
(Emery Lee 8:27pm June 27, 2012)
Registered users may leave comments.
Log in or register now!