Victoria Vane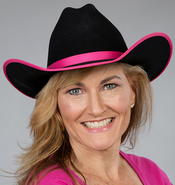 Blogging at Fresh Fiction
Victoria Vane | It Takes TWO TO WRANGLE in Vegas
February 16, 2016
Taking you away to Vegas and Hotel Rodeo with Victoria Vane in TWO TO WRANGLE Read More...
Victoria Vane | Capturing the Urban Cowboy
January 27, 2016
Many readers by now are familiar with my transition from historical romance to contermporary western romance a little over a year ago. In all of Read More...
Victoria Vane | Crying Wolf
June 3, 2015
While in Montana the summer before last researching my first two stories, I met several ranchers who expressed concerns about the booming wolf population and Read More...
Victoria Vane | Capturing the Cowboy Swagger
February 3, 2015
One of the biggest challenges I faced in making the leap from my genteel Georgian set historical romances to the rough and tumble world of Read More...
Victoria Vane | A Different Kind of Cowboy
November 12, 2014
A recent reviewer said it best when she described SLOW HAND as not your "typical Read More...
Victoria Vane | THE SHEIK RETOLD: Not Your Granny's Bodice-Ripper
September 13, 2013
First published in 1919, E.M. Hull's The Sheik, was the most scandalous book of it's time. Labeled as salacious and pornographic, it Read More...
Victoria Vane | How A History Geek Found Her Happily Ever After
February 9, 2013
As a true blue history geek who began my writing career with historical fiction, I faced a huge dilemma when I turned my hand to Read More...
Victoria Vane | THE DEVIL WHO SPAWNED A SERIES
July 29, 2012
I think every writer dreams of creating characters who are larger than life, those so strong and intriguing that they can carry an entire series Read More...
Victoria Vane | A Chat With The Devil Devere
May 15, 2012
He has the bluest eyes I've ever seen, startling even, and a half smile that hovers over his mouth that makes one wonder what Read More...
Pseudonym for Emery Lee.

Victoria Vane is a #1 bestselling award-winning author of smart and sexy romance. Her works range from comedic romps to emotionally compelling erotic romance and have received over twenty awards and nominations including: a 2015 Red Carpet Finalist for Best Contemporary romance (Slow Hand), 2014 RONE Winner for Best Historical Post Medieval Romance (Treacherous Temptations), and Library Journal Best Ebook Romance of 2012 (The Devil DeVere series). Victoria also writes romantic historical fiction as Emery Lee. She currently resides in Palm Coast, Florida with her husband, two sons, a little black dog, and an Arabian horse.
Log In to see more information about Victoria Vane
Log in or register now!
Series
Devil DeVere | Hot Cowboy Nights | Hotel Rodeo
Books:
Saddle Up, June 2016
Hot Cowboy Nights #4
Paperback / e-Book
Beauty and the Bull Rider, March 2016
Hotel Rodeo #3
e-Book
Two to Wrangle, February 2016
Hotel Rodeo #2
e-Book
Hell on Heels, January 2016
Hotel Rodeo #1
e-Book
Once Upon a True Love's Kiss, January 2016
e-Book
Sharp Shootin' Cowboy, June 2015
Hot Cowboy Nights #3
Paperback / e-Book
Rough Rider, February 2015
Hot Cowboy Nights #2
Paperback / e-Book
Slow Hand, November 2014
Hot Cowboy Nights #1
Paperback / e-Book
Jewel of the East, February 2014
The Devil DeVere #5
e-Book (reprint)
The Trouble with Sin, January 2014
The Devil DeVere Prequel
e-Book (reprint)
Devil in the Making, January 2014
The Devil DeVere Prequel
e-Book (reprint)
A Devil's Touch, January 2014
The Devil Devere #4.5
e-Book (reprint)
The Devil's Match, January 2014
The Devil DeVere #4
e-Book (reprint)
The Devil You Know, January 2014
The Devil DeVere #3
e-Book (reprint)
The Virgin Huntress, January 2014
The Devil DeVere #2
e-Book (reprint)
A Wild Night's Bride, January 2014
Devil DeVere #1
e-Book (reprint)
The Sheik Retold, January 2014
e-Book
The Sheik Retold, September 2013
Paperback / e-Book
A Devil Named DeVere, September 2013
The Devil DeVere
e-Book
A Devil's Touch, February 2013
The Devil DeVere #4.5
e-Book
Treacherous Temptations, January 2013
e-Book
Devil In The Making, November 2012
The Devil Devere Prequel #1
e-Book
A Devil's Match, September 2012
The Devil DeVere #4
e-Book
The Devil You Know, August 2012
Devil DeVere #3
e-Book
The Virgin Huntress, July 2012
Devil DeVere #2
e-Book
A Wild Night's Bride, May 2012
Devil DeVere #1
e-Book
A Breach of Promise, January 2012
e-Book

Videos
Click Title to Play
The Sheik Retold