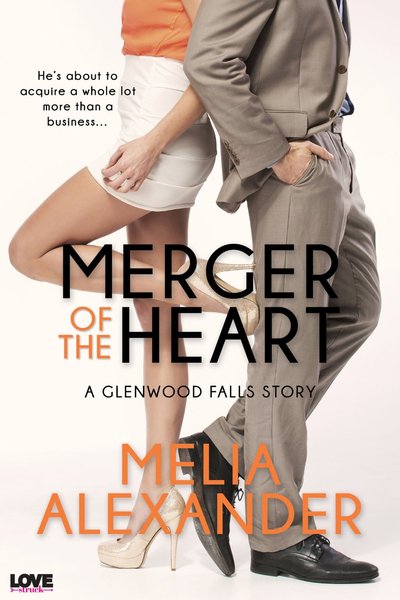 Purchase
Glenwood Falls #1
Entangled Lovestruck
January 2015
On Sale: December 29, 2014
Featuring: Daniel Spencer; Jessica Adams
246 pages
ISBN: 1633750906
EAN: 9781633750906
Kindle: B00QQOPG5S
e-Book
Add to Wish List

He's about to acquire a whole lot more than a business…
When her grandfather dies, Jessica Adams inherits the family construction business. But there are strings attached. Big, deal-breaking strings. For one, Jessica's grandfather was in the process of selling the company to a national firm. And two? The big wig who made the offer for Jessica's business is none other than Daniel Spencer, her ex-lover and the father of her seven-year-old son. Only Daniel doesn't know.
What started as a standard business acquisition has turned Daniel's entire world―and his plans―inside out. But even as he offers her the deal of the lifetime, everything changes when he meets her son. Their son. Now Daniel is laying everything on the line to put together a much different kind of merger...if he can convince Jessica to take the biggest risk of her life.
Glenwood Falls
Comments
59 comments posted.
Absolutely loved the book, and I always enjoying hearing
about the Male Observation Lab! Can't wait for your next
one, Melia.
(Fiola Faelan 12:10pm April 16, 2015)
Yes, I've had the experience of sitting and listening to
"dude-speak," since my Husband is a Manager where we live,
and some of the tenants like to come and visit us at our
apartment, for various reasons. The one thing I've noticed,
without getting into the actual conversations, is that dude-
speak has no feeling in it. It's just all empty words,
basically, and quite boring and funny. I do my best to
ignore it altogether, but sometimes you can't help it. I
enjoyed your posting, love the cover of your book, and know
I'll enjoy reading your book!! Congratulations!!
(Peggy Roberson 11:30am April 16, 2015)
you are a new author for me.
(Lorelei Frank 6:59am July 7, 2015)
Snuggling while watching a movie.
(Marissa Yip-Young 10:13am July 7, 2015)
It was a pleasure to learn about you and your book. Thanks for sharing!
(Colleen Conklin 1:11pm July 7, 2015)
I would love to win one of you books. I truly enjoy finding new authors. Reading is my passion. Thanks. Cindy
(Cindy Davenport 1:21pm July 7, 2015)
i am looking forward to reading this book
(Jeri Dickinson 5:24pm July 7, 2015)
I would love to win one of your books.
Marilyn
(Marilyn Collins 7:33pm July 7, 2015)
Just having peace and quiet is enough. Plus planning a
date takes some work, like putting it on the schedule and
when the kids were young - having a sitter or relative
watch and play with the kids. It's nice to have a grown-up
night every now and then.
(Alyson Widen 8:13pm July 8, 2015)
No need to enter me in the contest -- I've got the book and you'll all love it! As for kid-free moments with DH, I'm all about a hike in the mountains without the constant "how much longer?" refrain echoing off the hills :)
(Meredith Clark 8:19pm July 8, 2015)
My DH and I have a blended family of six children. We rarely have "alone time." However, most nights we fall asleep holding hands.
(Amy Morgan 8:58pm July 8, 2015)
Just sitting on the porch - preferably at a beach house in Ocean City NJ - with a great book - and my music!
(Felicia Ciaudelli 8:10am July 9, 2015)
great contest I hope I win. Cindy
(Cindy Davenport 9:48am July 9, 2015)
My husband and I don't have kids but we do have a roommate.
It is nice having the house all to ourselves when he goes
out of town.
(Carrie Tillman 2:01pm July 9, 2015)
sounds like a laugh out loud story!
(Lorelei Frank 8:13am July 10, 2015)
I like to read, this book sounds great.
(Wilma Frana 11:23am July 10, 2015)
I would love to win one of your books. I collect books. Reading is my passion. Cindy
(Cindy Davenport 12:46pm July 10, 2015)
I am single so my alone time involves me and my kindle alone in
my bed. It is most enjoyable to me!
(Denise Austin 4:51pm July 10, 2015)
Sleeping...
Sounds like a fun book.
(Laura Gullickson 6:29pm July 10, 2015)
My down town is spent reading novels, those with a happy ending.
(Anna Speed 7:04pm July 10, 2015)
Luckily both of my children will eat almost anything so it
makes dinner pretty easy.
(Maria Smith 12:26pm August 11, 2015)
I have 3 boys and my youngest 2 are very picky. Now my oldest will and does eat just about anything. It does make it hard at times figuring out what to make that everyone will eat and not having to do something different for 1 or 2.
(Elizabeth Deyoung 12:40pm August 11, 2015)
I used to be
(Marissa Yip-Young 5:56am August 11, 2015)
My kids are all picky eaters, so we ate lots of beef and
pasta. (Pork was out for daughters, "under water food" my one
daughter wouldn't touch.) They are out of the house, but now
I'm married to a man who has Celiac Disease and is lactose I
tolerant, and allergic to almonds, eggs and onions!
(Kelly Thompson 10:52am August 11, 2015)
I collect recipes that have "components" - taco bar, lettuce wraps, noodle bowls, even chicken parm (one kid eats the chicken with the pasta sauce but no cheese, one kid eats the chicken with cheese but no sauce, dad and I eat the whole thing.) The buffet option is a little more work, but dinner happens with fewer complaints. BTW, I'm open to menu suggestions :)
(Meredith Clark 12:12pm August 11, 2015)
my nephew is a pretty picky eater. If he doesn't like what is being served for dinner, he'll either eat hot dogs or peanut butter and M&M sandwich.
(Joanne Schultz 1:56pm August 11, 2015)
My picky eater is my cat, Heidi. She's in a decline and absolutely loves cooked chicken and salmon but not all her own kitty food. I'm forever opening up kitty cans only to have her turn her nose away.
(Vonnie Alto 6:57pm August 11, 2015)
21 YEAR OLD IS FINALLY GETTING AWAY FROM ORDERING CHICKEN
EVERYWHERE WE GO
(Lorelei Frank 8:24am August 12, 2015)
My nephew eats no vegetables and loves sweets. Since he is not my kid I don't work hard to get him to try things. That is the role of his parents.
(Pam Howell 10:13am August 12, 2015)
sound like a sexy book. hope it read it
(Emily Stemp 10:26am August 12, 2015)
My picky eater is my hubby. He's allergic to garlic,peppers,MSG &
quite sensitive to anything acidic. My only option is to make
everything from scratch (no fast food or prepackaged stuff)Almost
all prepacked food contains garlic & or MSG.
(Christine Schultz 7:10pm August 12, 2015)
Me! My mother would throw up her hands and say "There's always peanut butter." I admit it. I hate vegetables. They taste like dirt. I love meat, bread, potatoes, fruit, and cheese. The 5 basic food groups, LOL!
(Cynthia Powers 1:35am August 13, 2015)
OK - OK, I'll admit I'm still a picky eater. The one food I cannot stand are onions although they do add flavour to fried potatoes and other meals. Sorry, cantaloupe and grape fruit I'm not a fan of you either. Ham, Yech! it reminds me of eating someone's flesh. I'm not too sure if being allergic to food makes one a 'picky eater' What I do to my fussy nieces and nephews is I let them help me prepare a meal. Be creative :)
(Holly Loch 4:21am August 13, 2015)
have grown less picky lately
(Pat Boutin 11:47am August 13, 2015)
Lucky me - no picky eaters in my life. Although my husband insists I am a picky eater. I think he's crazy.
(Nancy Reynolds 11:48am August 13, 2015)
I no longer have a picky eater. But when I did it had to be
out of a can or box. Meat and potatoes had to be served at
least 5 nights a week. I now only eat fresh veggies and fruit.
No meat for me!
(Ann Chapatte 5:24pm August 13, 2015)
Books sound good.
(Charline Bonham 6:33pm August 13, 2015)
I know with my children I worried about them being picky eaters...and how much they ate....As the Dr. said , if they are hungry they will eat...stop worrying.
(Karen Dieffenbaugher 6:54pm August 13, 2015)
My husband will eat mostly anything, but let a cucumber or radish come near
his food, he gags and says that his food is no longer edible. Those items are
poisonous.
(Mary Marquez 8:46pm August 13, 2015)
My nephews are pretty good eaters but my brother was awful. He only liked fast food.
(Linda Levine 8:58pm August 13, 2015)
My husband will eat anything I fix him except brussel sprouts
.
(Sharon Sommer 9:16pm August 13, 2015)
I have a daughter who will not eat hamburger. She also will not eat anything with tomaoteos, including ketchup. Nothing can touch each other on the plate. Her daughter is even worse as she is lactose intolerant plus the same things her mother does not like. Some days I just shake my head and through my hands up in the air.
(Roberta Drury 9:50pm August 13, 2015)
It wasn't that my husband was picky-except for being the eldest of 11 so wouldn't eat chicken at OUR house-but that he was allergic to so many odd foods and also had kidney disease. It was a challenge to prepare meals that were tasty, colorful and satisfied his dietary restrictions. After his transplant, it was much easier to feed him, more a matter avoiding his allergens.
(Kathleen Bylsma 10:53pm August 13, 2015)
My son is a picky eater, but he likes chicken, potatoes,
and mac and cheese!
(Linda Herold 11:56pm August 13, 2015)
used to be when young
(Debbi Shaw 12:16pm August 14, 2015)
Nephews as visiting and is 2. He threw a fit when they gave him fresh
picked strawberries. He had to be shown the bucket to prove that there
were no "big" strawberries. As a city kid he only new commercial, grocery
store strawberries. It was pretty funny.
(Laura Gullickson 1:06am August 14, 2015)
Everyone is picky in my house. But the last two
creatures I expected to be picky were our two cats. The
oldest cat is 5 yrs (Connor). He is allergic to wheat
and we have to be very careful to purchase only wheat
free top shelf dry cat foot or wet foods for him. He
does not like table food (thank goodness)! The newly
arrived second cat (Rune) is on the other part of the
scale. She will eat everything she can put in her mouth
unless it can't be chewed well enough or whatever. She
LOVES table food and also LOVES the top shelf type cat
food -- dry and wet that we keep on hand for both cats.
Now, we have to guard our own meals when at the dinner
table. If we run to grab something from the other room
for a minute, Rune will be on your spot to try out your
plate of food lickety split. (Cindy Castillo Hipolito)
(Cindy Hipolito 1:26am August 14, 2015)
Ha, the picky eater in my life is me. My daughter, when
she was little would eat liver and spinach(ewww). She
also liked things like black olives and split pea and ham
soup (gross). Now that she is older she loves foods from
all other countries, except Germany (which is odd since
she is half German). She will travel miles for Pho,
(after seeing a picture of it, I said NO WAY.) She LOVES
Indian food. (Also said NO WAY after seeing the
pictures.)
As for myself, I will eat 'some' American food. I love
cheese, and pizza and Italian food. I will eat some
Mexican food, if I cook it.(Really not authentic then.)
Hamburger is also another one of my staples. I don't
like steak or lobster, (I've always been a cheap date),
or dishes that have too many ingredients. Creamed
anything literally makes me gag, anything a hunter brings
home is just repugnant. I will eat most types of fish, if
filleted; most common seafood, if it has been taken out
of its shell, exoskeleton, or whatever. If it still has
bones, or if it is served in its home, I figure that I
can just pass on it and live off of my body fat for that
meal.
(LaCinda Jameson 3:38am August 14, 2015)
don't have that problem but probably best one can do is keep offering the foods at different intervals.Taste buds change over time. good luck and thanks for the contest
(Gloria Vigil 5:24am August 14, 2015)
I used to be a picky eater as a child, which was easy to see since I was so thin - seeing me now, you would never know! My son, who is 31, is still picky - again, you would never know - like me, he was very thin as a young child - wish we could have both stayed that way! LOL
(Felicia Ciaudelli 7:13am August 14, 2015)
My daughter is my picky eater. She doesn't eat a lot of meat. She will usually eat any vegetable you put in front of her though. And....she eats chips and salsa daily. We always have salsa in the house, but she doesn't eat the chunks of vegetables just the sauce.
(Michele Thomas 8:48am August 14, 2015)
No thank goodness, don't have that problem
(Jean Patton 10:44am August 14, 2015)
Lucky for me, no picky eaters! We are vegetarians though, so eating out can
be difficult at certain restaurants.
(Lily Shah 11:19am August 14, 2015)
I'm a bit of a picky eater but my niece is extremely picky. She has been staying at my house a lot since she started internet school and has not internet at home. I rarely cook anything she will eat. She doesn't like sauces of any variety. She hates onions and tomatoes. Will only eat meat and corn if her father cooks it on the grill. She stopped eating peaches after she found a worm in one. I offered to cut it open for her and she still won't touch a peach. She's 17 years old. I think she'll starve when she's out on her own.
(Kerry Shaw 11:52am August 14, 2015)
Thankfully, there are no picky eaters in my family.
(Anna Speed 12:37pm August 14, 2015)
I am so lucky but I don't!
(Denise Austin 3:09pm August 14, 2015)
Hi all - Melia is having computer problems and is working to get the issue
resolved, but she may not be able to respond until next week. Hang tight!
(Meredith Clark 11:08am August 15, 2015)
Ohmigosh! I'm here! Thanks to the Fresh Fiction staff for helping me *finally* log on!

Okay, sorry about the long delay, everyone. And thanks so much for leaving a comment! It's interesting to note that there are a lot of us in the same proverbial boat as far as picky eaters go. I keep hoping mine will outgrow their pickiness!

I put your names in a hat and enlisted the help of some of the dudes at The Male Observation Lab (aka, my day job).

Sooooo...the winners (yes, more than one because math's not my strong suit - LOL!) of a digital copy of MERGER OF THE HEART are: Cynthia Powers, Sonal Shah, and Laura Gullickson!

Congratulations, ladies! Please e-mail me at:
meliaalexander@comcast.net to claim your prize!
(Melia Alexander 4:52pm August 18, 2015)
My son is a picky eater although he's not as bad as he used
to be. However, he is grown now so I don't have to worry
about it.
(Vicki Clevinger 12:54pm August 23, 2015)
Registered users may leave comments.
Log in or register now!