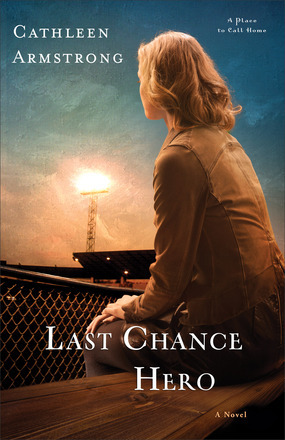 Purchase
A Place to Call Home #4
Revell
September 2015
On Sale: September 15, 2015
Featuring: Jessica McLeod; Andy Ryan
304 pages
ISBN: 0800726472
EAN: 9780800726478
Kindle: B00XNJGN4M
Paperback / e-Book
Add to Wish List

Inspirational Romance | Romance Contemporary
The inhabitants of Last Chance, New Mexico, could not be more pleased. Dr. Jessica McLeod has opened an office right on Main Street. Andy Ryan, the best athlete the little town ever produced, has ended his short career in the NFL and has come home to coach the mighty Pumas of Last Chance High. Unfortunately, Dr. Jess immediately gets off on the wrong foot when she admits that she's never seen a football game, isn't really interested in doing so, and, in fact, doesn't know a first down from a home run. Meanwhile, Coach Ryan is discovering that it's not easy to balance atop the pedestal the town has put him on. When this unlikely pair is drawn together over the future of a young player--whose gifts may lie in the laboratory rather than on the football field--they begin to wonder if they might have a future together as well.
With the flair that has made her Last Chance books a favorite among readers of contemporary fiction, Cathleen Armstrong draws on the passion Americans have for the traditions of small-town high school football.
A Place To Call Home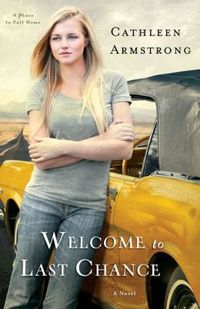 Welcome to Last Chance
#1.0
Amazon.com | BN.com | | |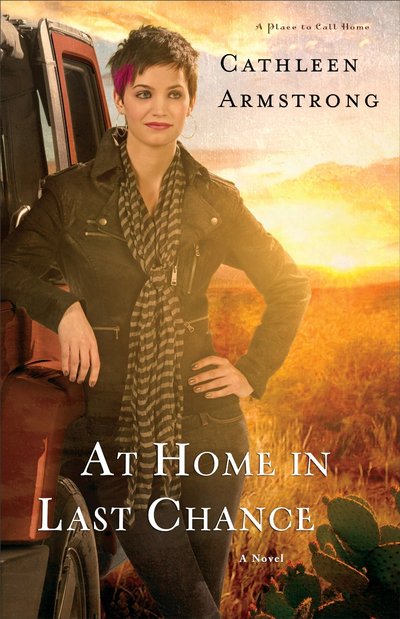 At Home in Last Chance
#3.0
Amazon.com | BN.com | | |
Comments
20 comments posted.
Re: Last Chance Hero

Sailing with family in Florida and my five year old nephew
wanted to pee. shall we say peeing off the side of the
boat in the water~
(Marissa Yip-Young 10:11am August 19, 2015)
What a reminder of the snake farm. When I was a kid, we left
Monahans, Texas and went through Pecos. I remember the dirt
road ended at a T in the road and we took a left and there
was the snake farm and the gift shop on the right side of the
road. We were on our way to Carlsbad Caverns. I will add that
I have been in caverns in many parts of the world and
Carlsbad is the best.
(Leona Olson 10:25am August 19, 2015)
A memorable road trip through the Rockies to Leadville and
then back to Carlsbad Caverns. Love Route 66 and the nostalgia
and special places.
(Sharon Berger 11:01am August 19, 2015)
My Dad and I did a road trip - when I was older - to New Mexico. It was a great chance for the two of us to get to share time together - and share the driving, too. I felt SO grown up. Your books sound wonderful. Thanks for the chance to win.
(Nancy Reynolds 12:11pm August 19, 2015)
Growing up anytime we hit the road it was an adventure.
I was the oldest of five and that was before seat belts.
We just crammed in. We played a lot of road games and
sang and carried along books and read. The lucky person
got the ledge over the back seat to lay on. I have loved
your books. I have read them on my Kindle and would love
to have the printed books for my library.
(Ann Ellison 12:34pm August 19, 2015)
My Daddy is from PA. We lived in OK. Every summer, we went to PA to visit family. Three kids and two dogs in a little Maverick--now, there are some great memories! To this day, I'd rather drive than fly! There are more memories to be made in driving!
(Amy Morgan 9:45am August 20, 2015)
We drove from KY to Minnesota with a lot of stops on the way when I was a kid. It was so much fun.
(Pam Howell 10:28am August 20, 2015)
When I was younger, my Mom, Dad, one Sister and I took a
road trip from Michigan to visit his Army buddy in Maine.
It took a while to get out there, since the speed limits
were still at 55 mph. At one point, I remember taking a
toll road, as well as a ferry to get there. My Sister saw a
sign near Salem, Massachusetts, about the witches, and
begged to stop and see it, so we did. Had it been me, we
would keep going, because my Sister was my Mom's favorite,
and my Mom usually got her way. I really can't recall
anything remarkable about the witches, and have no snapshots
from that part of the trip, but do remember my Dad getting
lost shortly thereafter, and he wasn't a happy camper about
it!! ha I had to use my map-reading abilities to help him
find his way out of the maze of streets he was in, because
he kept going in a circle, and I had told him as much in the
beginning!! I was only about 12 at the time, and who's
going to believe a kid?? He finally did after 10 minutes!!
ha I'm looking forward to reading your book, because you
took me back to happy times that we'll never see again, but
can always recall in our minds and hearts with such
fondness!! Time is marching by too fast for my taste, and
sometimes the technology that goes along with it!!
Congratulations on your book!!
(Peggy Roberson 11:35am August 20, 2015)
This sounds like my kind of book.
(Wilma Frana 11:38am August 20, 2015)
My memory of a road trip was when my foster parents
decided they wanted to go to Reno and take a pick up
truck with the camper pulled behind. Well that was great
but with 15 foster kids and we piled in the back of the
truck with the weather going up to Reno unpredicitable
well needless to say we were drenched on the way up and
they decided to just pull off the hiway to camp. Well
there was a river and they wanted us to go play . For me
is was terrible being wet afraid of snakes and the last
one my foster brother thought it would be funny to put it
down my pants so i was terrified. Needless to say I was
happy to be the family cook and i got to cook and get
away from everything and put together a meal with what we
had.Peanut butter and butter was what it was and on this
trip i got so sick also it was horrible. They did let me
lay in the camper but i am glad never again came along!
(Peggy Clayton 12:24pm August 20, 2015)
Growing up, i remember sitting in the back of our station
wagon while we were traveling. I could lay down if i got
tired, so I always brought a pillow for our really long
trips.
(Nicole Bouchey 11:26am August 21, 2015)
The most memorable trip I took was last year with my sister and two nieces . We drove all night to our first stop . When we arrived at our hotel there were cop cars everywhere and an ambulance in front of our hotel . We drove around till they all left . This was at 5 a.m. and people where out on the streets like it was 10 a.m. We called the hotel and they told us to go ahead and pull into their parking garage . We ask a guard about a place to have breakfast, she recommended a place on the side street . She unlocked a gate and said she would watch until we got into the restaurant . That was scary as well. We went on our tour that morning where the tour bus picked us up in front of our hotel and it was very nice , but when we got back we didn't get out of sight of our hotel . We went to bed at 6 pm that night and all during the night you could hear the Boom, Boom, Booms out on the street and we where up on the 23rd floor . We left that city early that morning and headed on to Alabama . I had always wanted to go to that city but since I have been I don't care about ever going back. When we left and got on with the rest of our trip we had a really good time .
(Joan Thrasher 1:41pm August 21, 2015)
A family trip through the Great Smokie mountains
(Jean Benedict 2:58pm August 21, 2015)
My family used to travel the Route 66 thru New Mexico and Arizona when I
was younger. I remember seeing the Navajo rugs hanging outside a hogan
that were sell to the tourists.
(Jackie Wisherd 11:42pm August 21, 2015)
We lived in Washington state and all my family lived in
California so we did at least 3 road trips there every year. It
was a long drive but so many wonderful memories and we usually
did Disneyland at least twice a year too!
(Denise Austin 12:35pm August 22, 2015)
We moved from California to Maine and we had surfboards on
top of our car, we stopped at this one motel and the owner
thought my dad was some movie star trying to be incognito.
He kept telling her he was not that person and she said she
would keep his secret and our family was treated so nice.
She even had our dogs taken for walks while we were out
looking around town..She got a very big tip. Even wanted
pictures taken with him.
(Sharon Sommer 12:56pm August 22, 2015)
When I was little we would take a road trip every year to
Rocky Fork Lake as our vacation. The Best part besides the
days we got to spend on the beach and riding out bikes was
always the soft serve ice cream cones from Dairy Queen on the
way home! So good and such a treat!
(Maria Smith 4:02pm August 22, 2015)
I remember a road trip from the South of England to a camp site in Southern France. It was a long trip and we had a very wet week but what I remember most is being woken one night to a rustling noise - who was trying to get into the tent? It turned out to be a hedgehog!
(Lesley Walsh 5:19pm August 22, 2015)
we took a four week trip to California, I spent the first
two weeks battling poison ivy.
(Lorelei Frank 9:18pm August 22, 2015)
As a kid we would spend alot of weekend and even a couple
weeks in the Summer going to my cousins house. We live in a
very small rural community and at that time did not have a
McDonald's in our town. But they did in the town my cousins
lived in. So as soon as we would see the "Golden Arches" we
knew we were almost there! Your book sounds very
intriguing, it's been added to my TBR list. Thanks for the
opportunity!
(Jennifer Lessard 1:10am August 26, 2015)
Registered users may leave comments.
Log in or register now!