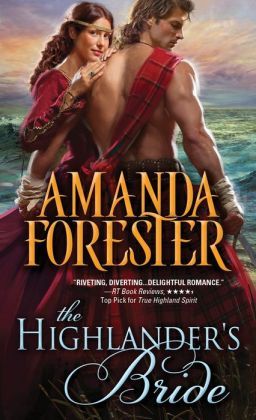 Purchase
Highland Trouble #1
Sourcebooks Casablanca
September 2015
On Sale: September 1, 2015
Featuring: Marie Colette; Gavin Patrick
ISBN: 1492605433
EAN: 9781492605430
Kindle: B00X648S2E
Paperback / e-Book
Add to Wish List

Their attraction is forbidden
All Highland warrior Gavin Patrick wants is to get back to his native Scotland. But before he can leave the battlefield, he's given a final mission-escort Lady Marie Colette to her fiancé. Under no circumstances is he to lay hands on the beautiful, clever-tongued heiress...no matter how desperate the temptation.
Their desire, undeniable
Forced to pose as a married couple to make their escape from France, Gavin and Marie Colette find themselves thrown into peril...and each other's arms. As the danger mounts, so does their forbidden passion. But it isn't until Marie Colette is taken from him that Gavin is forced to decide-is he willing to lose the woman who stole his heart, or will he jeopardize his honor, defy his promise, and steal her in return?
Highland Trouble
Comments
39 comments posted.
I don't care about the theme/trope as long as the connection
is there and believable! I love mixing up my genres and
tropes to feel like I'm always reading something new and
fresh. But if the connection isn't working for me the whole
story falls flat.
(Maria Smith 8:58am September 2, 2015)
The way the love story plays out is always the best, but I
always enjoy learning about other parts of the countries
back then, too!! It's nice to read about parts of
Scotland, and sometimes other countries are in the books
as well, such as your latest book which contains France.
I'm looking forward to reading your latest book, which
sounds like a terrific read to usher in Fall with!! I've
already put it on my TBR list!! Congratulations on what I
know is going to be a bit hit!!
(Peggy Roberson 9:55am September 2, 2015)
I like arranged marriages as well. It is fun to see the journey from being strangers to falling in love.
(Cheryl Castings 10:59am September 2, 2015)
I just like seeing what draws the characters together and make them fall in love.
(Pam Howell 11:33am September 2, 2015)
Interesting question. I like to see a couple that most
importantly loves each other. But before that, respects each
other. There is nothing wrong with physically desiring
another person, but to me, there has to be mutual like and
respect for the other person for there to be true love.
(Edward Washington 12:15pm September 2, 2015)
I love seeing the characters being able to touch my emotions... them overcoming whatever obstacles are in their way and finding their HEA.
(Colleen Conklin 12:37pm September 2, 2015)
Love reading historical romances
(Rachelle Rungo 12:51pm September 2, 2015)
I like seeing the lead up to falling in love, not just
instant sizzle, bed, then bam everything is roses.
(Angela Daffern 1:52pm September 2, 2015)
Love historical books and especially Highland settings.
(Mj Chesick 2:16pm September 2, 2015)
I want the couples to love and respect each other even if
they disagree. I like the male character to love his parents,
be kind and love animals.
(Leona Olson 2:46pm September 2, 2015)
My favorite thing is the journey to the HEA.
(Janie McGaugh 7:58pm September 2, 2015)
Inieresting storyline.
(Marissa Yip-Young 9:45pm September 2, 2015)
ROMEO AND JULIET LIKE PLOT
(Debbi Shaw 10:34pm September 2, 2015)
Wow! I do like forced arranged marriage stories. And this one sounds really good. A little different.
Highlander stories are often arranged marriages. But not like this.
Sounds like a good read.
Good luck with it all!
(Lisa Hutson 11:08pm September 2, 2015)
I like when the female characters is strong or Tom boyish. And
the male character is against it and even tries to change her
but in the end the female character proves to the male that
she's equal to him (but still compromises with him) 😍
(Dana Hopkins 11:43pm September 2, 2015)
My favorite thing is Love that gradually builds up and not Love at first sight
(Holly Loch 6:58am September 3, 2015)
I like it when they are against each other in all things ,then at the end they realize how madly in love they are and can't keep their hands off of the other . ( a lot of excitement there .)
(Joan Thrasher 9:42am September 3, 2015)
I like to see couples learn to respect one another.
(Deb Philippon 12:16pm September 3, 2015)
I like lots of sexual tension.
(Jennifer Langford 2:50pm September 3, 2015)
I love to see a hero rescue his lady love.
(Bonnie Capuano 3:07pm September 3, 2015)
The suspense.
(Deb Pelletier 11:13pm September 3, 2015)
I like a little snarky humor between the lady & the guy she's
resisting so the attraction builds slowly. Then, bam!
(K'tee Bee 1:26am September 4, 2015)
I like it when there is give and take between the characters - and the woman is feisty. But I always love to see the different ways authors can create new and exciting settings, characters, situations. That's why I am an avid reader. I can't get enough. Thanks for the chance to win.
(Nancy Reynolds 9:59am September 4, 2015)
I love a story that has the bantering back and for from
the conflicts the characters are facing. If you can have
a lively discussion and it gets heated but then turns to
laughter that is what makes the story more interesting.
Giving them the conflict and how they use it to their
advantage and try to get their way. Teasing each other or
just disliking showing thru. Having them earn the HEA,
not just giving it to them.
(Tina Ullrich 12:52pm September 4, 2015)
Real characters who have something to say.
(Clydia DeFreese 2:02pm September 4, 2015)
I like to see love build slowly and deeply out of a
friendship and neither see it coming.
(Nyala Edwards 4:12pm September 4, 2015)
I love to see the romance blossom and the couple live happily
ever after!
Marilyn
(Marilyn Collins 5:10pm September 4, 2015)
My favorite thing is when the H/HH don't at first get along
and you get lots of funny and witty banter !
(Crystal Cox 11:41pm September 4, 2015)
I love any type of romance as long as it end HEA.
(Sharon Sommer 12:08pm September 5, 2015)
Has to be the HEA.
(Mary Preston 5:14am September 5, 2015)
Honestly, I simple like to see romance, not lust.
(Judy Gregory 11:21am September 5, 2015)
High interest drama besides what is going on with the two
in the romance. Aslo, if the two in the relationship
break up for a bit, it should be over something that is
NOT just a silly misunderstanding that could have been
easily cleared up. Some humor is also one of my favorite
elements in any book.
(LaCinda Jameson 2:00pm September 5, 2015)
I like it when the women have backbone and don't act like stupid ninnies!
(Joanne Schultz 2:41pm September 5, 2015)
I like a good solid plot and a little intrigue with a feisty
woman character.
(Denise Austin 3:06pm September 5, 2015)
I like adventure or a little mystery in the story but I agree I like to have a heroine with a backbone but who is willing to get help.
(Melinda Marks 4:04pm September 5, 2015)
I like stories where the couple seem like opposites but before it is all over, they find that they are not that different and it works out for them.
(Shirley Cochran 5:25pm September 5, 2015)
I don't like weak "help me" women, but even strong women
sometimes need a hand and don't even know it
(Janis Milford 6:34pm September 5, 2015)
I like to see the couple come together relatively early in the
story, and to like each other, and then to do things together.
(Diane Sallans 7:48pm September 5, 2015)
I like a character with a sense of humor.
(Laura Gullickson 10:27pm September 5, 2015)
Registered users may leave comments.
Log in or register now!