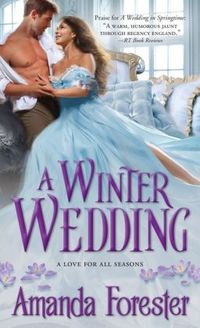 Purchase
Marriage Mart #3
Sourcebooks Casablanca
September 2014
On Sale: September 2, 2014
Featuring: Penelope Rose; Duke of Marchford
416 pages
ISBN: 1402271840
EAN: 9781402271847
Kindle: B00KLJHIYQ
Mass Market Paperback / e-Book
Add to Wish List

This adventurous duke... The Duke of Marchford requires a suitable bride, but catching spies for the Foreign Office takes up most of his time. Not wanting to face another London season as an eligible man, he employs the notorious Madame X to find him a match.
Has met his match Miss Penelope Rose knows the rules of marriage among members of the ton better than most. Her own unsuccessful attempts at matrimony did not stop her from becoming London's most exclusive matchmaker. Marchford proves to be a difficult client, but as he draws on her social expertise to help him flush out a dangerous traitor, they find that falling in love may be the riskiest adventure of all.
Comments
31 comments posted.
Re: A Winter Wedding

I'm afraid I'm rather sensible, like Penelope. I was, however, a winter bride, if that helps!
(G S Moch 4:28pm September 4, 2014)
I always wanted to be a Winter Bride, but was the next best
thing, an Autumn one!
(Carolyn Di Leo 8:48pm September 4, 2014)
I was a Oct. bride, I love this series can't wait to read this one.
Penney
(Penney Wilfort 9:06pm September 4, 2014)
I am not really the spontaneous type... I like to plan things out... loved WEDDING IN SPRINGTIME... looking forward to more from this series!!!
(Colleen Conklin 9:26pm September 4, 2014)
My favorite couple from the series! I wouldn't really call
it spontaneous but I would just act childish from time to
time to lighten up the mood at school. All my friends
would be stressing and I would try to cheer them up by
being childish
(Sandy Xiong 12:39pm September 5, 2014)
I rarely am crazy or bold or insensible. haha
Madame X, eh??
(Lisa Hutson 3:18am September 5, 2014)
I'm going to love Miss Penelope Rose. She sounds like
someone I know.
(Mary Preston 7:56am September 5, 2014)
Once in a while, that wild streak shows it's ugly head, if
you want to call it that. I may be older, but in my mind,
I'm always thinking like a teenager, which keeps me young!!
Where I live, it's a rural part of the state, and I'll ask
my Husband to pull off the road, to check out something
totally out of character for both of us!! The other day I
was on the phone talking to my Sister about something
personal between the two of us, and out of the blue, she
told me that I was a little demon and that I was devious!!
I just laughed, because I was always a bit of a prankster
from the time I was small, so anything I say can be taken
more than one way. I, too, was a Winter Bride, who woke up
on my Wedding day to an ice storm, which didn't make me the
happiest in that respect, but I was thrilled to marry the
man of my dreams. I've been married over 31 years now. The
cover to your book is beautiful, and I'm sure the story is
going to be a very worthwhile and heartfelt read!! I'm
looking forward to it very much!! Congratulations!!!
(Peggy Roberson 8:03am September 5, 2014)
Married twice - once in August - didn't last. Next time in
October - lasted 30 years until he passed. 5 kids.
(Gerri Lauzon 10:03am September 5, 2014)
What a delightful novel and a gorgeous cover. Winter has its
beauty which is why all of us were born during winter season.
Best wishes and much happiness.
(Sharon Berger 10:39am September 5, 2014)
This book sounds wonderful. I am pretty sensible, so I don't show my wild and crazy side much. Now, when I was young and in college...
(Cheryl Castings 10:42am September 5, 2014)
I am too sensible, but this sounds like a super great read.
thanks for the giveaway:)
(Barbara Studer 11:23am September 5, 2014)
I like to try new adventures.
(Lisa Garrett 11:30am September 5, 2014)
I love historicals, specially when the women think they want
one thing & get something else. Can't wait to read this book.
Thank you! :)
(Tina Meissinger 12:02pm September 5, 2014)
I have a rather zany sense of humor which I love to use on unsuspecting friends. LOL
(Marcy Shuler 10:02pm September 5, 2014)
I was a September Bride and still feel that way after 39
years. I always wondered what it would be like to be a
winter bride and would love to read how you portray this.
(Cindy Olp 11:15pm September 5, 2014)
Winter is what I love the most. I could wear nice clothing without feeling hot and uncomfortable in the warmer and hot weather.
(Kai Wong 2:39am September 6, 2014)
Ah! just in time for the winter season! Miss Penelope Rose...
(Hannah Brown 9:23am September 6, 2014)
I love the cover of this book! I'm afraid at my age I'm more on the sensible side for doing things but I do still have a great sense of humor. HA
(Bonnie Capuano 9:44am September 6, 2014)
I am not the wild crazy person anymore. I was when I was
younger eloped to Reno in my twenties and in my forties
married a man and moved with him to Scotland. Neither lasted
am now very happily single.
(Denise Austin 10:23am September 6, 2014)
Most of the time I'm too sensible, but there are times when I say things without enough thought. That's when I realize I've put my foot in my mouth --- again. A Winter Wedding sounds like a great read and reminds me I married in winter.
(Anna Speed 1:37pm September 6, 2014)
I am a very sensible person. Sometimes it just sucks because I
see my wild and crazy sister have a lot of fun because she is
so impulsive!
(Vicki Hancock 1:43pm September 6, 2014)
I'm on the sensible side, don't know if that's good or bad.
(Wilma Frana 3:57pm September 6, 2014)
I am already matched and I can be both sensible and wild depending on the
circumstances
(Diane McMahon 7:00pm September 6, 2014)
My father used to come home and say "let's go fishing" and we
went. This was in Texas and we always slept outside. I can
take a day trip this way.
Loooking forward to this read.
(Leona Olson 7:56pm September 6, 2014)
I'm not often very spontaneous, but once in a while I've
bought something not on sale!
(Diane Sallans 9:28pm September 6, 2014)
I love reading
(Susan Deutsch 9:38pm September 6, 2014)
Oh, I was a summer bride and totally sensible. But, the one
area that I've indulged myself over the years is with jewelry.
Not small tasteful pieces, but large semi-precious stones that
make statements whenever they are worn. And now I've reached
the fun part where I will take old pieces and have them remade
into something new. Looking through estate jewelry for bits
and pieces that can be remade into something new and exciting
is such a pleasure!
(Marcia Berbeza 10:29pm September 6, 2014)
Historical romance is so much fun to read!
(MaryAnne Banks 11:15pm September 6, 2014)
Although I consider myself a bit sensible I sometimes tend
to be a bit too bold in my honest opinions. I don't mean to
but they just come out! Some people appreciate that side of
me but others find it overly intimidating. But I swear I can
be nice, just don't ask me to sugar-coat the truth for you
because that can be a great feat for me, ha! =D
(Joanna Moreno 5:31pm September 18, 2014)
I have been sharing sundry write my papers with service grabessays.com in the yesterday year most of which have turned external to be ineffective. As such, I selected to explore external cause so numerous cannot render to a fixed horizontal. I discovered that the primary justification is holding some correspondents in united employ.
(David James 4:41pm February 25, 2015)
Registered users may leave comments.
Log in or register now!