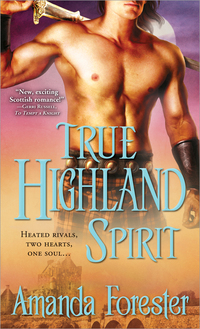 Purchase
Sourcebooks
March 2012
On Sale: March 6, 2012
416 pages
ISBN: 1402253079
EAN: 9781402253072
Kindle: B006YGH47G
Paperback / e-Book
Add to Wish List

A HEATED RIVALRY...
Morrigan McNab is a Highland lady, robbed of her birthright and with no choice but to fight alongside her brothers to protect their impoverished clan. When she encounters Sir Jacques Dragonet, she discovers her fiercest opponent...
IS GETTING EVEN HOTTER...
Sir Jacques Dragonet will give his life to defend Scotland from the English. He can\'t stop himself from admiring the beautiful Highland lass who wields her weapons as skillfully as he does, and endangers his heart even more than his life...
Comments
46 comments posted.
Finally a book with a woman warrior! Oh I can't wait to read this one.
(Tanisha Brown 1:17pm March 30, 2012)
Thank you for your post, Amanda.

Many romance readers and writers, and virtually all editors, have a list of traits and attributes a heroine must and must not have, of what she must and must not do. I have only one requirement.

She must be deeply involved in a situation I find interesting. Or better yet, fascinating.

Having said that, I can relate to a wide variety of heroines---active and passive, rich and poor, beautiful and plain, conformist and square-peg, sophisticated and simple, worldly-wise and naive, ambitious and laid-back.

But there are two types I probably wouldn't be interested in. One is a heroine who is downright stupid. Not ignorant; that can be dealt with by learning more. Stupidity is when someone can learn and should learn, but won't.

The other is a heroine who's a control freak. I've suffered too much at the hands of real ones. Everybody has. If she eventually realizes the error of her ways and changes---well, good for her. But I won't follow her story that far.

Good luck with the release of "True Highland Spirit"!
(Mary Anne Landers 1:21pm March 30, 2012)
Way cool - I love this already - very unusual occupation for a woman! :-)

The character traits I love in my heroes and heroines are self-confidence (and I wish it would rub off on me! LOL) and a fearless spirit (again...I would take some of that, too!).
(Felicia Ciaudelli 1:25pm March 30, 2012)
I love a protective hero. I like the heroine to take part in the action and control her own fate. She doesn't have to be strong at the beginning of the story but I want her to grow into a strong person by the end.
(Stacie Deramo 1:27pm March 30, 2012)
I LOVE A WOMAN WITH A SWORD..I AM IN IT TO WIN IT!
(Silvana Moscato 1:29pm March 30, 2012)
I love the idea of a woman warrior. I would like to win
this.
(Cindy Olp 1:38pm March 30, 2012)
I like women heroes who think for themselves and are independent.
(Sue Farrell 2:17pm March 30, 2012)
Thank you for not featuring a simpering female!!! We need strong women to look up to.
(Karen Gervasi 2:19pm March 30, 2012)
Great! A strong woman heroine. I'd like to win.
(Mary Hay 3:06pm March 30, 2012)
A strong man needs a strong woman.
(Robin Priddy 3:07pm March 30, 2012)
Strong women heroes are wonderful to read especially set in
Scottish history. Somehow I think all those Scot warriors
needed strong women at their sides. I'd love to win your book
and learn about more scot women. Thanks for the giveaway!
(Lenna Hendershott 3:26pm March 30, 2012)
Now I am going to have to read the book to see what the mysterious relic is. The
book sounds really good.
(Joy Isley 3:45pm March 30, 2012)
Women warriors! Good for you!
Blessings,
Marjorie
(Marjorie Carmony 4:25pm March 30, 2012)
I love a female warrior who can kick some butt!
(Diane Sallans 4:47pm March 30, 2012)
I like my heroes and heroines to be smart but have a sense of humor.
(Maureen Emmons 4:54pm March 30, 2012)
I like heroes and heroines who can communicate. Especially with EACH OTHER.
(Cheryl McEwen 4:59pm March 30, 2012)
My heroes,strong smart,and good looking.The heroine a fighter,smart and has some control of her own destiny.
(Deb Pelletier 5:00pm March 30, 2012)
Love a woman warrior (that's awesome)! Like my heroine to be independent, confident, with a likeable personality, and I like my hero to be protective, strong, good-looking, with a sense of humor.
Joan of Arc was very young girl when she fought in battles she led (very confident and strong-willed).
(Linda Luinstra 5:20pm March 30, 2012)
I love stories with strong women. Add in the Highlands and I'm so there! Can't wait to read this.
(Molly Wilsbacher 5:30pm March 30, 2012)
I love heroes and heroines that just get in and do whatever needs doing without overthinking it or wondering if they should leave it to someone else. I love strong women and the strong men who love them enough to not stifle them. This looks great and it is on my wish list.
(Patti Paonessa 5:43pm March 30, 2012)
I like a hero and heroine who stands up for what they believe and are willing to fight for it.
(Shirley Younger 5:47pm March 30, 2012)
I like strong women but I haven't really thought about going as far as being a warrior. But why not, Mulan works for a Disney princess!
(Kathleen Bianchi 5:52pm March 30, 2012)
This book sounds wonderful! I love reading books with strong women in them!
(Joanne Schultz 6:07pm March 30, 2012)
I most admire intelligent, industrious, honest, kind, generous, and courteous protagonists. Your Morrigan is all of those and very brave, I'm sure, as befits the lovely heroine you've described and about whom we all wish to read!
(Carla Schuller 7:34pm March 30, 2012)
I cherish the thought of a woman who is spirited as a warrior
yet will allow her heart to led her to her right path. The TV
series Witch Blade deeply impressed me years ago on TNT with
the overlapping of many strong warrior women, so I anticipate
reading of Morrigan's journey as it sounds just as powerful.
(Susan Jeffers 8:08pm March 30, 2012)
sounds great :) love a lady that can take care of things herself when need be & not afraid to do so :)
(d Kenney 8:09pm March 30, 2012)
Intelligence and a sense of humor. Then you can mix in a dash of snark, slightly broken and totally turned on by each other and you have a winning book!
(Jennifer Beyer 8:38pm March 30, 2012)
You are the best ever!! Thanks so very much for all the great work that you do!!
(Donna Long 9:14pm March 30, 2012)
For my hero, I like him to be strong, but not too overbearing. He should be able to take control over a situation, but also have a good and gentle heart, along with a good sense of humor. As for my heroine, she should be strong to a point, but never forget that she is also a woman. She should dare to love life to the fullest, and want to share that life with that special someone. She should also be smart. Your book sounds very interesting. I've never read a book about this time period, nor have I read one about Medieval Scotland, and would love to do so. The story line has me intrigued.
(Peggy Roberson 9:17pm March 30, 2012)
I so remember reading your first book when I saw it as a new author and I so had to tell other romance readers not to miss this one! I notice you pull out each character that makes them so unique. I could remember the child at the end of book 1 that would be the heroine of book 2! And thats another thing the heroes that are so unique. I do love those who are who they are! Some characteristics that I read that really take me by emotion is those too heroes who know and pursuit for love! They don't deny it to themselves. I love too that they are protective, I don't find that takes away the independence of the heroine, that it makes it stronger for them to need each other. I am so excited about this new book of yours! Congrats on the release!
(Cathie Morton 9:37pm March 30, 2012)
A great premise, thank you for sharing!
(E Felder 10:06pm March 30, 2012)
I like men and women who stand up fpr themselves and others and know that accepting help is not a sign of weakness.
(Mary C 10:08pm March 30, 2012)
I like heroes and heroines with strength, integrity and humor.

Good luck and happy writing!
(Tracie Travis 10:43pm March 30, 2012)
Oh I am loving the sound of your book! I enjoy when the main characters stand up for what they believe in even when they disagree with each other... I like a bit of friction between the characters... adds a bit more to the story.
(Colleen Conklin 11:02pm March 30, 2012)
sounds like a great book. i think a strong man needs a strong women!~!
(Jennifer Beck 11:28pm March 30, 2012)
I enjoy loyalty, love of family, strenght of one's convictions, and ability to act on those convictions. Thanks for the post.
(Lisa Kendall 11:41pm March 30, 2012)
i would enjoy reading this it looks really good all the books on this site look good
(Denise Smith 11:41pm March 30, 2012)
I'd love to win your book sounds wonderful. I love stories with a strong woman in it.
(Linda Hall 11:44pm March 30, 2012)
I like heroines and heroes to have foibles. Some way to make them feel real to the reader, and a way for us to better relate to them.
(Diane Chenier 11:53pm March 30, 2012)
I like to see intelligence, wit & independence.
(Mary Preston 5:18am March 31, 2012)
To have the confidence in what they know is needed and to be able to act on it. I love it when women know when to use their own strength and brains to do the job and then can turn around and still be the lady they are when needed. Thanks
(Margie Gagarin 9:48am March 31, 2012)
I like my main characters to be flawed and to struggle with resolving problems that come up. I also love the conversations overheard, definitely wanting to be heard and those you keep silent in your head. A good accent like Irish or Scottish helps, too.
(Alyson Widen 4:08pm March 31, 2012)
Like my heroine or hero to be brave, spirited, strong-willed and have flaws. A woman warrior story sounds like a great read!
(Rich Cook 4:47pm March 31, 2012)
I love strong, kick-ass heroines. The intriguing twist here is that she's a bad girl...a "highwaywoman"? Interesting. Sounds like there's potential for a rousing good time.
(Catherine Lee 5:06pm March 31, 2012)
I like the women to be strong but not bitchy, I like alpha males but they have to be softies down deep. I like honesty and if a book can make me lol or cry that means I am really involved with the characters.
(Jeanne Sheats 7:18pm March 31, 2012)
Congrat 4 your book, Amanda.
My fav heroine must be strong, sexy, passionate, confident, and tall.
N the hero should be more tall than the heroine, has a beautiful eyes n lip, possesive, sexy, charming, and passionate
(Rina Darmayanti 11:22pm March 31, 2012)
Registered users may leave comments.
Log in or register now!